Advisory: The editorial board of HNewsWire adopted the official policy to bypass many social media platforms. Some of these include: Facebook, Instagram, Twitter, Parler, and YouTube. We believe these companies are responsible for many of the spiritual ills our world faces today. In some cases, however, we have allowed our guest contributors to include content from their YouTube channel while we search for alternatives.
Gets Vaccinated — Satan Soldiers Has Friends In High Places…
A judge in New York City has blocked a father's right to see his three-year-old daughter unless he agrees to take the COVID-19 vaccine.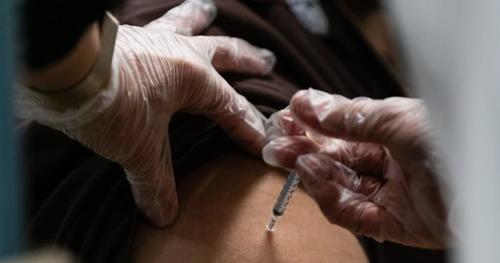 Yes, really.
In early September, Evan Schein, an attorney acting on behalf of the mother in the couple's divorce case (the family has not been named), raised concerns about the father's vaccination status, leading high profile judge Judge Matthew Cooper to suspend his visitation rights until he received the jab.
According to Cooper, the father needs to submit to the shot because it has become a prerequisite "to participate meaningfully in everyday society."
"The dangers of voluntarily remaining unvaccinated during access with a child while the COVID-19 virus remains a threat to children's health and safety cannot be understated," said the judge.

"Unfortunately, and to my mind, incomprehensibly, a sizable minority, seizing upon misinformation, conspiracy theories, and muddled notions of 'individual liberty,' have refused all entreaties to be vaccinated," he added.
The father's only other option is to pay for expensive PCR tests every week in addition to taking a biweekly antigen test within 24 hours of his every other weekend visits.
The ruling was praised by the mother's attorney, who called it "an incredibly important one that highlights the extraordinary times we are living in and reinforces that a child's best interests are paramount."
New York City judge STOPS Long Island father from visiting his three-year-old daughter in Manhattan unless he gets the shot or has weekly COVID-19 tests
via https://t.co/Ggez6clg1M https://t.co/vjFbA2NZ9e— Samantha DelVecchio (@SamanthaDelVec1) October 15, 2021
However, Lloyd Rosen, the father's attorney, warned that the ruling sets a terrible precedent.
"My client is not a conspiracy theorist," Rosen said.
"He has concerns about the vaccine. He's heard about side effects. He once had a bad reaction to a flu vaccine."
"This judge must feel that 80 million Americans who aren't vaccinated are placing their children at imminent risk or harm and, therefore, the courts should intervene and remove those children from their parents," he added.
"This is an absurd position to take."
The father has previously been infected with COVID-19, meaning he has antibodies that offer him far greater protection than the vaccine, but that isn't even being taken into account.
As we previously highlighted, patients who are in urgent need of life-saving organ transplants are now being denied treatment due to their refusal to take the vaccine.
As we warned all along, the agenda behind mandatory vaccination schemes is to make life a living hell for refusniks who don't comply, while maintaining all along that the vaccine isn't "mandatory."
Source: ZeroHedge HNewsWire HNewsWire
Ask The Blind Man ,He Saw it All
StevieRay Hansen
Editor,
HNewsWire.com
[email protected]
HNewsWire: "In October, November and December, There Will Be a Terrible Death Rate, Globally" Will Occur "Exclusively" With Vaccinated People. "Those Deaths Will Be Labeled Swiftly as a New Variant Strain of Covid
People are in a state of fear, they are susceptible to manipulation and easy for Satan Soldiers to control."
Do you understand what the elitist- YouTube, Fakebook and Twitter think of you, your basement dwellers and deserve to be controlled, Christian are Hate Fill Morons and Big Tech Will Control You…
Trust-WHO-FDA-CDC-GOV.-HELL-NO — TrustGOD Only
Global Predators Fauci, Gates, and Schwab Behind The Kill Shots COVID Reign of Terror
The 127 Faith Foundation: We do not solicit donations from "those on disability, on a fixed income, or those who cannot afford to give." Please Pray!
Or, make checks payable to:
The 127 Faith Foundation
PO Box 127
Pontotoc, TX 76869
The number of Orphans aging out of Child Protective Custody has grown at an alarming rate. The 127 Faith Foundation receives many requests each week to house them at our ranch. Our prayer is that the good people of our country will step up to the challenge and offer financial support for "the least among us." We need your help! StevieRay Hansen, Founder, The 127 Faith Foundation
We make every effort to acknowledge sources used in our news articles. In a few cases, the sources were lost due to a technological glitch. If you believe we have not given sufficient credit for your source material, please contact us, and we will be more than happy to link to your article.