Advisory: Be careful of what you read on social media. The algorithms used by these platforms have no regard for Biblical truth. They target your emotions to keep you engaged on their site so their advertisers can drop more ads. These platforms exist to enrich their stockholders. Consider God's promise to Believers in James 1:5, "If any of you lacks wisdom, you should ask God, who gives generously to all without finding fault, and it will be given to you."
You Are a Member of the Military Who Will Soon Be Called Upon to Participate in Operation Warp Speed and Help Distribute the New Experimental COVID Vaccine.
Be Careful That You Do Not End up on the Wrong Side of History! Just Claiming to Be "Following Orders" if Massive Deaths and Injuries Result From This Experimental Vaccine Will Not Save You!…
A Strong Warning to the U.S. Military about Operation Warp Speed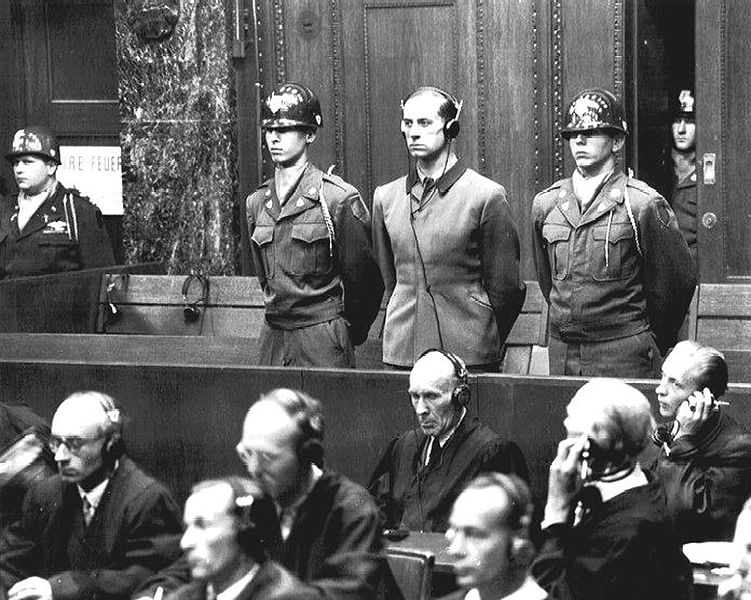 War Crimes Tribunal at Nuremberg and the "Doctors Trial." Adolf Hitler's personal physician, 43-year old Karl Brandt. Brandt was also Reich Commissar for Health and Sanitation, and was indicted by the U.S. prosecution with 22 other Nazi doctors. Brandt was found guilty of participating in and consenting to using concentration camp inmates as guinea pigs in horrible medical experiments, supposedly for the benefit of the armed forces. He was sentenced to death by hanging along with 6 other doctors who received death sentences. Image Source.
"Stay of Action" Filed Against FDA to STOP Approval of COVID Vaccine for Using Faulty PCR Tests in Trials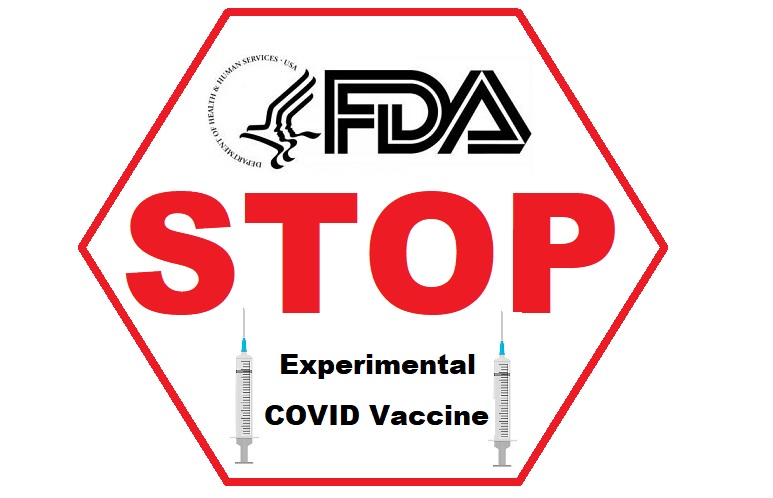 An ADMINISTRATIVE STAY OF ACTION has been filed with the Department of Health and Human Services and Food and Drug Administration (FDA) for the new Pfizer COVID vaccine that has been submitted for "emergency use authorization" (EUA).
It is widely expected that the FDA is going to grant EUA fast-track approval to Pfizer's experimental COVID vaccine within days.
The STAY OF ACTION is a Petition for Administrative Action Regarding Confirmation of Efficacy End Points of Phase III Clinical Trials of COVID19 Vaccines.
The STAY OF ACTION is based upon the faulty PCR tests that were used in the vaccine trials:
Before an EUA or unrestricted license is issued for the Pfizer vaccine, or for other vaccines for which PCR results are the primary evidence of infection, all "endpoints" or COVID-19 cases used to determine vaccine efficacy in the Phase 3 or 2/3 trials should have their infection status confirmed by Sanger sequencing, given the high cycle thresholds used in some trials. High cycle thresholds, or Ct values, in RT-qPCR test results have been widely acknowledged to lead to false positives.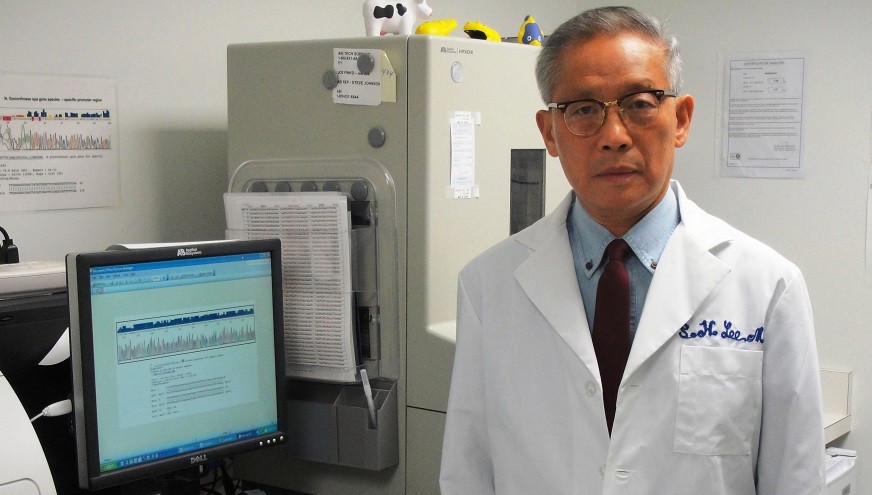 The Petitioner of this ADMINISTRATIVE STAY OF ACTION is Dr. Sin Hang Lee, a pathologist and founder of Milford Molecular Diagnostics, a CLIA-certified diagnostic laboratory in Milford, Connecticut.
Dr. Lee is a world-renowned expert on DNA sequencing-based diagnostics. He has trained and taught in some of the world's most prestigious institutions and has published scores of scientific articles in peer-reviewed journals.
He recognized very early on that the PCR tests and other tests fast-tracked by the FDA were not accurate in identifying SARSCoV-2 RNA, and even sent a letter, back in March, to Dr. Margaret Harris and Dr. Eduardo Guerrero of the World Health Organization, and Dr. Anthony Fauci at the National Institute of Allergies and Infectious Diseases of the National Institutes of Health (NIH), explaining why the tests to detect SARS-CoV-2 RNA were generating false positives and negatives.
You can read his March 22, 2020 letter here. He explained that a two-phased test would "guarantee no-false positive results" based on his research and published work from Japan.
According to Attorney Mary Holland of Children's Health Defense, he never received a reply from the WHO or the NIH. To this day, they continue to use faulty tests to identify COVID.
So here we are now at the end of November, 2020, and the FDA appears to be ready to grant EUA fast-track approval to COVID vaccines that have gone through Phase I, II, and III vaccine trials, all using these faulty COVID tests.
In Dr. Lee's ADMINISTRATIVE STAY OF ACTION, he recognizes the great risk for harm on the American public if the vaccine trials are approved based on these faulty tests.
Petitioner and the public will suffer irreparable harm if the actions requested herein are not granted, because once the FDA licenses this COVID-19 vaccine, both governments and employers may make this product mandatory (in general, or for airline or international travel) or may recommend it for widespread use.

If the assignment of cases and non-cases during the course of the trial is not accurate, the vaccine will not have been properly tested. If the vaccine is not properly tested, important public policy decisions regarding its use will be based on misleading evidence. The medical and economic consequences to the nation could hardly be higher.

The New York State Bar Association has already issued a report on COVID-19 recommending that, "a vaccine subject to scientific evidence of safety and efficacy be made widely available, and widely encouraged, and if the public health authorities conclude necessary, required…"

Thus, it is reasonable to suspect that COVID-19 vaccines, including the Pfizer vaccine, could become mandatory. Without the FDA assuring proper efficacy trials of the vaccine now, the Petitioner and the public may not have the opportunity to object to receiving the vaccine, which was approved based on currently deficient and unreliable clinical trial data.
How likely is it that HHS and the FDA will grant this stay and deal with the PCR testing deficiencies before issuing emergency use fast-track approval to the Pfizer vaccine?
Not very likely at all, unless the public puts pressure on them to be more transparent and deal with these testing deficiencies, that top scientists all around the world now are speaking out against. See:
Dr. Peter Marks is the head of the FDA's Center for Biologics Evaluation and Research, and will be the main person to make the decision of whether or not to issue an EUA for the Pfizer COVID vaccine. He recently told the press that "Americans can expect a very open process" in their evaluation of the experimental vaccine. (Source.)
We need thousands if not tens of thousands of Americans to contact Dr. Peter Marks and let him know the public is watching, and that we want the FDA to consider Dr. Lee's ADMINISTRATIVE STAY OF ACTION and respond to it.
Here is Dr. Marks' public contact info:
Dr. Peter Marks – email: [email protected] – Phone: 240-402-8116
Here is FDA Director Dr. Stephen Hahn's contact info:
Dr. Stephen Hahn – email: [email protected] – Phone (Main FDA #): 1-888-463-6332 – Twitter account: @SteveFDA
If you are a member of the military who will soon be called upon to participate in Operation Warp Speed and help distribute the new experimental COVID vaccine, be careful that you do not end up on the wrong side of history!
Just claiming to be "following orders" if massive deaths and injuries result from this experimental vaccine may not save you!
That is what many of the Nazi doctors in Germany who served under Hitler tried to claim, but during the Nuremberg trials, and specifically the "Doctors Trial" in 1946-1947, twenty of the twenty-three defendants were medical doctors, and were accused of having been involved in Nazi human experimentation and mass murder.
Of the 23 defendants, seven were acquitted and seven received death sentences; the remainder received prison sentences ranging from 10 years to life imprisonment.
What they did under German law, or maybe "emergency orders" during war time, was probably perfectly "legal" at the time, but after the Hitler regime was overthrown those who committed these "legal" actions that resulted in murder and crimes against humanity, were brought to justice after the war.
Dr. Peter Marks and Dr. Stephen Hahn would also do well to just not blindly excuse Dr. Lee's ADMINISTRATIVE STAY OF ACTION, because Dr. Lee appears to have close ties to Attorney Mary Holland, currently the Counsel for Children's Health Defense and former Professor of Law at NYU, and one of the nation's top attorneys when it comes to vaccines.
Mary Holland works now for Attorney Robert F. Kennedy, Jr., who himself has become one the top attorneys in the world taking on Big Pharma.
He currently has 4 lawsuits filed against pharmaceutical giant Merck, for their approval of the HPV vaccine, Gardasil, which has destroyed the lives of so many young people due to being fast-tracked into the market.
The work of Dr. Sin Hang Lee and his DNA sequencing-based diagnostic testing on the HPV Gardasil vaccine found DNA fragments in the vaccine, something that Merck and the FDA had denied. See:
His work in identifying these problems with the Gardasil vaccine led Japan to stop recommending the vaccine as part of their national vaccination program.
Here is a warning from a former Military Commander regarding current Commanders taking part of Operation Warp Speed, and the legal risks of doing so, published at Children's Health Defense.
Former Officer Warns Military of Pitfalls Surrounding COVID Vaccine Mandate
Fast tracking the SARS-CoV-2 vaccine for a probable military mandate creates unparalleled dilemma for commanders who will face prodigious legal, medical, safety and ethical questions.
By Pam Long
Children's Health Defense
As the former commanding officer of the Headquarters and Headquarters Detachment of the 36th Medical Evacuation Battalion, I recommend urgent caution for military commanders with orders to have all soldiers vaccinated with the experimental SARS-CoV-2 vaccine.
My concerns include the legality of a mandate, lack of treatment protocols and surveillance for adverse reactions, and a research-based risk assessment.
Legal challenges to a SARS-CoV-2 vaccine mandate
Under Emergency Use Authorization, state governments cannot mandate the SARS-CoV-2 vaccine in the civilian sector. A military mandate would require demonstration that the military sector had a compelling justification for a mandate. Healthy, young service members are not an at-risk group as they are not obese, not over the age of 65 and do not have comorbidities that cause complications from respiratory diseases.
The SARS-CoV-2 vaccine currently is not approved by the U.S. Food and Drug Administration (FDA). Even with a pending warp-speed FDA approval in the next month, the military, which still hasn't rectified the failures, summarized here, of its Anthrax Vaccine Immunization Program (AVIP) isn't in a position to implement a safe SARS-CoV-2 program. The Pfizer and Moderna SARS-CoV-2 vaccines, both of which use new mRNA technology, have much more potential for reactogenicity than the anthrax vaccine.
In short, federal courts have set precedent that mandating experimental vaccines in the military is illegal. As I wrote in a previous article:
"In 2008, the federal court affirmed that the FDA, [U.S. Department of Health and Human Services] HHS and [Department of Defense] DOD allowed an illegal AVIP program by mandating an experimental anthrax vaccine for military personnel that was not licensed for use against inhalation anthrax, nor approved for use by a presidential waiver."
The illegal anthrax vaccine mandate caused adverse health outcomes in thousands of service members, triggered a retention crisis among pilots and imposed disciplinary actions under the Uniform Code of Military Justice against service members who refused an experimental and highly reactogenic vaccine.
All of these outcomes are likely to reoccur under a SARS-CoV-2 mandate. The HHS distribution plan will allow for millions of people to take the SARS-CoV-2 vaccine within a short period of time before any signals of adverse reactions are identified.
A military mandate would also have to demonstrate compelling reason to remove the right of service members to vaccine exemption by confirming with blood titers testing that they have antibody immunity.
Virologists at the La Jolla Institute of Immunology reported to the New York Times in November 2020 regarding coronavirus:
"Eight months after infection, most people who have recovered still have enough immune cells to fend off the virus and prevent illness, the new data show. A slow rate of decline in the short term suggests, happily, that these cells may persist in the body for a very, very long time to come."
The researchers reported that natural immunity can last years.
Policy on treatment protocols and surveillance for adverse reactions
Commanders should reject any plan to mass vaccinate service members with the SARS-CoV-2 vaccine without an active surveillance policy in writing to review.
That policy should include a phased roll-out of the vaccine, a screening form for contraindications, vaccine exemptions (for medical contraindication, religious and personal belief accommodations, and those who are immune), education for service members on how to report adverse reactions to the Defense Medical Surveillance System, and training for medical providers on safe vaccine storage along with treatment protocols for adverse reactions.
The lack of established treatment protocols for immune backfiring known as Antibody Dependent Enhancement, when antibodies enhance uptake of the virus instead of neutralizing, should set off alarms for this entire mRNA vaccine program.
Review of the research-based risk assessment
Commanders should demand to see a research-based risk assessment from DOD on the SARS-CoV-2 vaccine. This risk assessment should be compared to the alternative "no vaccine mandate" course of action for a virus with a 99.9% survival rate.
Some of the hazards previously identified in mRNA animal research include liver damage in ferrets, enhanced respiratory disease in mice and ADE lung damage in monkeys. Furthermore, service members of child-producing ages, both male and female, should be informed that developmental and reproductive toxicity has not been established in this vaccine.
Since the U.S. has sidestepped identifying mitigating controls in animal trials for COVID vaccines, then the research implores that all humans should be screened for potential vaccine-induced autoimmunity, and health providers to be prepared for both excessive swelling and pathological clotting.
Safety precautions, as outlined in the study "mRNA Vaccines — a New Era in Vaccinology," include:
"However, recent human trials have demonstrated moderate and in rare cases severe injection site or systemic reactions for different mRNA platforms. Potential safety concerns that are likely to be evaluated in future preclinical and clinical studies include local and systemic inflammation, the biodistribution and persistence of expressed immunogen, stimulation of auto-reactive antibodies and potential toxic effects of any non-native nucleotides and delivery system components.

A possible concern could be that some mRNA-based vaccine platforms induce potent type I interferon responses, which have been associated not only with inflammation but also potentially with autoimmunity.

Thus, identification of individuals at an increased risk of autoimmune reactions before mRNA vaccination may allow reasonable precautions to be taken.

Another potential safety issue could derive from the presence of extracellular RNA during mRNA vaccination. Extracellular naked RNA has been shown to increase the permeability of tightly packed endothelial cells and may thus contribute to oedema. Another study showed that extracellular RNA promoted blood coagulation and pathological thrombus formation.

Safety will therefore need continued evaluation as different mRNA modalities and delivery systems are utilized for the first time in humans and are tested in larger patient populations."
Medical ethics require patients' informed consent in treatment
Given that the SARS-CoV-2 vaccine is designed to reduce symptoms and not to prevent infection or transmission, the military lacks a compelling justification for a vaccine mandate for members who are not at risk of virus complications.
This virus does not pose the fatality risks of anthrax or smallpox biological weapons in 2001. There has not been an "imminent risk" established within the military regarding COVID19 over the past six months, during which time the virus has downgraded in virulence.
In accordance with medical ethics, the chain of command is required to give service members choice in medical treatment with well-established efficacy and demonstrated safety. In 2005, the Journal of Virology reported that hydroxychloroquine was a "potent" treatment for SARs coronavirus, in "Chloroquine Is a Potent Inhibitor of SARS Coronavirus Infection and Spread."
Zinc was also established in 2010 to inhibit coronavirus and block replication of virus cells. Trace element zinc is revered as "Nature's Gift to Fight Unprecedented Global Pandemic COVID-19" in 2020 research and is associated with reduced in-hospital mortality for COVID-19.
In conclusion, the fast tracking of the SARS-CoV-2 vaccine for a probable mandate in the military will result in an unparalleled dilemma for commanders, with prodigious legal, medical, safety and ethical considerations that will clash with the DOD decision makers who have historically favored pharmaceutical vaccine contracts over medical choices of individuals.
The views and opinions expressed in this article are those of the authors and do not necessarily reflect the views of Children's Health Defense.
Pam Long is graduate of USMA at West Point and is an Army Veteran of the Medical Service Corps. She served as a medical intelligence officer for NATO Stabilization Forces.
Read the full article at Children's Health Defense.
Here are the Contact Details again for the FDA to urge them to address the issues in Dr. Lee's ADMINISTRATIVE STAY OF ACTION.
Dr. Peter Marks, head of the FDA's Center for Biologics Evaluation and Research – email: [email protected] – Phone: 240-402-8116
Dr. Stephen Hahn, Director of the FDA – email: [email protected] – Phone (Main FDA #): 1-888-463-6332 – Twitter account: @SteveFDA
Tell them America does not want an experimental COVID vaccine until there are accurate tests available to identify SARS-CoV-2! Until then, they need to grant Dr. Lee his "Stay of Action"!
This dreary picture is echoed in the New Testament. Jesus said it will be a time of tribulation "such as has not occurred since the beginning of the world until now, nor ever shall" (Matthew 24:21). In fact, Jesus said it will be so terrible that if it were not stopped at the end of seven years, it would result in the destruction of all life (Matthew 24:22). The Apostle John states that the chaos will be so great that the leaders of the world will crawl into caves and cry out for the rocks of the mountains to fall upon them (Revelation 6:15-16).
Source: HNewsWire vaccineimpact HNewsWire HNewsWire HNewsWire HNewsWire HNewsWire HNewsWire
StevieRay Hansen
Editor, HNewsWire.com
Watchmen does not confuse truth with consensus The Watchmen does not confuse God's word with the word of those in power…
A greasy nerd (Bill Gates) brought the world a personal computer now Gates brings us hell through Digital ID, it is the Mark of the beast, this is where the antichrist (Benjamin Netanyahu) makes his appearance, He has all the answers, the world falls for his deceit be prepared for hell on earth…
"Truth is the first casualty of war."
The role of a watchman: Gives insight into the world at the end of this age. They see the dark gathering clouds on the world's horizon that spell the end of Satan's reign as the god of this world and author of all its evil. This leads them to mount the "walls" of society and shout a warning to any who will hear. To say: "God is sovereign. He will bring a time of judgment on the world to prove that He alone is God. All other gods erected by people to hide His truth will be destroyed."
A national affliction
Today America and Great Britain stand at a crossroads. For more than 200 years they have dominated the world in virtually every arena. As Great Britain retreated from its empire after World War II, America was there to take its place and continue the legacy set by the English through their peak years.
But America's dominant power is under siege from many sectors. Its will to stay the course in Iraq is being tested, its military machine strained under the pressure of the extended fighting. Though it is the primary engine for the world's economy, a weakened dollar and a trade balance deficit are both troubling indicators of a major crisis ahead.
God warns us through the message of the prophets that sins will demand a day of reckoning. People cannot continue worshipping the false gods of materialism and self, blindly stumbling along in their own righteousness, and expect their affluent standard of living to continue.
God's Word confirms there will be an accounting; the lesson of history is that any people who corrupt their moral core will eventually fade from power. God calls on America and Great Britain to wake up, acknowledge their sins, and repent before national calamity descends on them.
"Do this and live"
Amos the prophet walked into the city of Samaria, capital of the northern kingdom of Israel, and boldly told the king and city leaders to repent or face captivity at the hands of the Assyrians. He pointed to neighboring states that had fallen and said, "You are no better than they were."
He rebuked those who did not want to hear a "message of doom." To those who stocked their homes with the finest luxury goods and gourmet foods, trusting that affluence was a sign of God's blessing, he said, "Don't trust in materialism." The citizenry, at all levels, looked only to their comfort and ease and did not grieve "for the affliction of Joseph" (Amos 6:6).
Those who "grieve" and "sigh and cry" over societal sins are called to a unique role. They are part of God's elect, called to the duty of proclaiming the announcement of the Kingdom of God. That message includes the good news of Jesus Christ's return to restore all things (see Acts 3:19-21). The message also contains a warning to repent and receive God's blessing or ignore the warning and face the judgment of God. It is a double-edged message—plain-spoken, yet full of hope.
Fulfilling this role requires courage, perseverance, and a love for the people addressed. One of the best examples of this was the prophet, Jeremiah. Jeremiah spent more than 40 years in the role of a watchman to the nation of Judah, urging people to heed his warnings and return to the ways of God.
Notice this passage: "Stand in the ways and see, and ask for the old paths, where the good way is, and walk-in it; then you will find rest for your souls. But they said, 'We will not walk in it' " (Jeremiah 6:16).
God's main message throughout the Bible is to return to His paths, His teachings, as the solution for the suffering and pain of human life. "Do this and live," He says.
Jeremiah and others like him have stood in the role of a watchman. "Also, I set watchmen over you, saying, 'Listen to the sound of the trumpet!' But they said, 'We will not listen.' Therefore hear, you nations … Behold, I will certainly bring calamity on this people —the fruit of their thoughts, because they have not heeded My words nor My law, but rejected it" (Jeremiah 6:17-19).
Today's watchmen
Examining the concept of watching in the New Testament helps to complete the picture of this role. The Greek word Gregorio, translated as "watch," means to keep awake, to watch, and to take heed. Through neglect or laziness, we could let down and be overcome with sin, or a sudden calamity could overwhelm us spiritually.
Notice in Mark 13:32-37, in Jesus' prophecy of the end time, that He urges His disciples three times to "watch" during the times leading to His second coming. The emphasis is on a personal watch through prayer to know the times.
By prayer and righteous living, we stay tuned to Jesus Christ. Through this way of life one can discern the moral climate of the times and avoid being tossed around with every shifting ideology of modern culture. Walking in God's laws and instruction insulates us from the course of the world and its deceptions.
Revelation 16 describes a massive end-time deception perpetrated by Satan and demons that work through the human instruments called "the Beast" and "the False Prophet" (Revelation 16:13). Their influence gathers the leaders of the earth "to the battle of that great day of God Almighty . . . to the place called in Hebrew, Armageddon" (Revelation 16:14-16).
In our fascination over these otherworldly figures, we can easily skip over Christ's charge: "Behold, I am coming as a thief"—suddenly and unexpectedly. "Blessed is he who watches, and keeps his garments, lest he walks naked and they see his shame" (Revelation 16:15, emphasis added throughout).
Jesus pronounces a blessing for those who, during mankind's darkest moment, watch. That is, they are living prudently and properly. The natural by-product of this close relationship with God is being alert to religious deception. Those who frame their life around the coming Kingdom of God will watch and keep themselves from the wiles of the devil.
This is the end result of fulfilling the role of a watchman within the Body of Christ—to be found standing in the faith, blessed of God at the dawn of His Kingdom on this earth.
Our world is moving toward this time of the global cataclysm. Revelation 16 describes a future moment when people will be caught up in events engineered through the Beast and False Prophet. The former is a political leader of compelling personality and ability; and the other, a religious leader unlike any in modern times.Together they will convince armies to move toward Jerusalem to fight Jesus Christ at His coming.
Warning and hope
This is a time for the watchmen to mount the walls and sound a clear, unmistakable warning message of the dangers facing not just the English-speaking peoples but also the whole world. It is time to make known the hope of the coming Kingdom of God.
Isaiah's message stands bright and clear today: "How beautiful upon the mountains are the feet of him who brings good news, who proclaims peace, who brings glad tidings of good things, who proclaims salvation, who says to Zion, 'Your God reigns!' Your watchmen shall lift up their voices, with their voices they shall sing together; for they shall see eye to eye when the Lord brings back Zion" (Isaiah 52:7).
Come, take your place on the walls, work for the Kingdom and pray for its speedy arrival!
These special servants understand the dangers of the present world. They see the dark clouds gathering on the world's horizon and are moved to proclaim a warning message to all who will hear.
HNewsWire Live Stream 24/7 News UpDates and World Events Go Live HNewsWire: By Frank Bergman March 19, 2023 New York's Democrat Governor Kathy Hochul……...
Read More
We make every effort to acknowledge sources used in our news articles. In a few cases, the sources were lost due to a technological glitch. If you believe we have not given sufficient credit for your source material, please contact us, and we will be more than happy to link to your article.