Sanctions And Developments Against Russia, From the Historical and Geographical Description Given in the Bible, Appears to Be Russia, One of the End Times Countries
SRH: "Unless God has brought you up for this particular purpose, you will be exhausted by man's and devil's hostility"...
The Watchman distinguishes between truth and consensus. The Watchman does not conflate God's message with the word of those in authority at the time, or with popular opinion. This is because powerholders and the majority might fall prey to a deceptive spirit—a spirit capable of seizing the majority of experts, political leadership, and the general people.
HNewsWire- If my memory serves me well, Clinton convinces Ukraine to disarm its nuclear weapons and warns them not to worry about spending too much money on an army because we've got their backs. Following that, Obama takes no action when Russia invades Crimea. When Russia returns for another bite of the apple, it will be during Diaper Joe's tenure. It seems as if the democrat party and the democrat-controlled state department are hell-bent on handing Ukraine over to Russia piecemeal.
Russia: Allowing Ukraine to Use Its Airfields 'May Be Seen as Entering Conflict'
HNewsWire- Russia's Defense Ministry warned on Sunday that any nation that allows Ukraine's military to use its airfields for assaults against Russian installations may be regarded to have joined the conflict.
"The use of these countries' airfield networks to base Ukrainian military aircraft and their subsequent use against the Russian armed forces may be interpreted as these states becoming involved in an armed conflict," Russian Defense Ministry spokesman Igor Konashenkov told Interfax on Sunday evening local time.
Without elaborating, Konashenkov said that Russian authorities are aware of "Ukrainian battle preparations that previously flew to Romania and other nearby countries."
Since the crisis began on February 24, the US, NATO allies, and other European states have poured missiles, anti-tank missiles, ammunition, weaponry, and other supplies into Ukraine. Additionally, there have been claims that European and NATO nations are attempting to send combat planes to Ukraine.
Meanwhile, the Financial Times reported that an unidentified White House source said that the US is coordinating with Polish authorities to transfer the planes to Ukraine's military, but Poland's government denied the accusations as incorrect.
On March 3, 2022, thick smoke rises over automobiles obstructing a road in Enerhodar, Ukraine. (AP/Screenshot obtained from The Epoch Times)
"FRAUDULENT NEWS! Regrettably, your quote from 27/02/22 is spreading disinformation. Poland will not deploy fighter planes to #Ukraine or permit the use of its airports. We also provide considerable assistance in a number of other sectors," the Polish prime minister's office said on Sunday morning in a tweet to pro-Kyiv news source NEXTA, which reiterated the accusation that Poland and the US are attempting to bring fighter jets to Kyiv.
Ukraine's President Volodymyr Zelensky has frequently pleaded with the US and NATO to deploy planes or enforcing a no-fly zone, imploring American members of Congress to do so again in a Zoom call on Friday.
However, NATO Secretary-General Jens Stoltenberg and senior White House officials have stated that a no-fly zone over Ukraine, which is not a NATO member, is not being considered because it would entail US or NATO planes shooting down Russian military aircraft or attacking Ukrainian and Russian assets. Stoltenberg warned late last week that the decision would precipitate a dramatic escalation of the fight with Russia, which has perhaps the world's greatest nuclear arsenal.
Despite the dangers, some members of Congress, like departing Republican Rep. Adam Kinzinger (Ill.), have urged for the establishment of a no-fly zone above the Eastern European country.
Sen. Marco Rubio (R-Fla.) told ABC News on Sunday morning that a no-fly zone over Ukraine would precipitate another global war.
"The term 'no-fly zone' has become ubiquitous. "I'm not sure many people get what it implies," Rubio told ABC News. "This entails flying AWACS 24 hours a day and demonstrating a readiness to shoot down and engage Russian aircraft in the skies. That implies, honestly, that those planes cannot be deployed unless they are ready to destroy the anti-aircraft systems placed by the Russians, not only in Ukraine, but also in Russia and Belarus," Rubio added.
Not Going To Happen!
In this piece, which is based on a report from Goldman Sachs, we provide a non-exhaustive list of the most important developments for financial markets over the past several days for those market participants who have trouble following the ever changing news-flow. We will add to the list in chronological order as new measures are made public.
Thursday (February 24)
As a first response, the US and its allies announced sanctions to target 6 Russian financial institutions including the second-largest lender, VTB. In regard to these 6 banks, "assets held in U.S. financial institutions will be instantly frozen and inaccessible to the Kremlin", implying that any USD-denominated assets of these banks would be frozen.

Furthermore, the US prohibited the debt and equity issuance of major state-owned and private entities to "limit Russia's ability to finance its invasion against Ukraine". Among the entities were Sberbank, Gazprom, and Alrosa.
Weekend Developments (February 25 – 27)
An agreement was made over the weekend by the G7 to exclude selected banks from the SWIFT messaging system. According to the EU commission, the US and EU would work with SWIFT to see if energy-related transactions could be exempted and if certain banks could be excluded (President von der Leyen statement).
President Von der Leyen announced on Saturday that the new sanctions agreed to by the G7 would include the Russian Central Bank (CBR), preventing it from using its 640B in FX reserves. Data on the distribution of the Russian FX reserves is only available as of Q2-21. At that time, 13% of the reserves were held in CNY, 22% in gold, and the rest likely in G7 currencies.
The US similarly stated it would sanction transactions involving the CBR (restrictive measures on international reserves as they may undermine the impact of US sanctions), the National Wealth Fund and the Ministry of Finance.

Five central banks have been sanctioned before but none with the economic size and financial integration of Russia: Afghanistan, Iran, Syria, Venezuela, and Libya.

The CBR stated that "The Bank of Russia has the necessary resources and tools to maintain financial stability and ensure the operational continuity of the financial sector."

It will provide banks with cash and non-cash liquidity in RUB, with an unlimited repo auction on Monday. The Lombard list will be expanded too.
The CBR also announced it had started buying gold on the domestic market.

We discussed the implications of these sanctions in our most recent CEEMEA in Focus, Marking our Russia Forecasts to the Newly Announced Sanctions. We consider the freezing of G7 currency reserves the most disruptive one as we believe it undermines the stability of the domestic financial system and the ability of the CBR to manage the Ruble vs capital outflows.
Monday (February 28)
Wednesday (March 2)
The EU put out a statement listing the banks to be cut off from SWIFT. According to the press release, they are Bank Otkritie, Novikombank, Promsvyazbank, Rossiya Bank, Sovcombank, VEB and VTB Bank.

A grace period of 10 days (March 12) was granted. "This will give SWIFT and other operators a brief transition period to implement the measure, thereby mitigating any possible negative impacts for EU businesses and financial markets." Payments are most likely front-loaded.
Furthermore, investing, participating or contributing to future projects co-financed by the Russian Direct Investment Fund are prohibited.
The sale, supply, transfer and export of euro banknotes to Russia is prohibited (exceptions apply).

The CBR also announced it was temporarily halting the transfers of holdings to non-Russian residents to prevent the withdrawal of funds from the Russian financial markets and support stability (coupon payments on OFZs, dividends, etc.). Transfers to non-residents without opening an account have been limited to USD5,000 monthly. It seems the details have not yet been worked out regarding custodians and what this means for a technical event.
Trading on the Moscow Stock Exchange was suspended and the CBR was to decide the following day at 9am local time if the stock exchange would open for the day.
Russia's largest bank, Sberbank, decided to leave the European market as it cannot provide liquidity to its European affiliates due to the CBR's instructions of capital outflows.
According to Bloomberg, Gazprom intends to fulfill its financial obligations and has wired the coupon payment on its bond on Monday, February 28, leaving this as one of the last few FX outflow channels.
Thursday (March 3)
The US Treasury announced overnight that it was taking steps to prohibit exporters from assisting the CBR to circumvent the sanctions. The details are not yet clear. The CBR ordered exporters to sell 80% of their exports proceeds to local banks and the local market.
Foreign OFZ holders' coupons were paid locally to the National Settlement Depository (NDS) but did not receive yesterday's (Mar 2) coupon in their foreign bank accounts, on order of the CBR. According to Bloomberg, "since Russia made the coupon payment, it remains unclear whether the government is technically in default" because it is not clear how foreigners can access the cash (this would constitute the first default since 1998). The NDS confirmed it received the coupon.

Typically, the Ministry of Finance would send the payment, which would be confirmed by the NDS. The depository would then transfer it to the bondholder's account. So technically the MinFin paid yesterday; however, it remains unclear whether this constitutes a technical default event.
There is a 30-day grace period according to Clearstream.

The CBR announced on Telegram (most Russian government websites remain down due to decentralised cyberattacks) that it would impose a 30% surcharge on FX purchases by individuals, in addition to the previously announced FX restrictions such as those on the transfer of money and leaving the country with more than USD10,000 in cash.
Friday (March 4)
The CBR announced that Russian entities would not be allowed to service their debt in foreign currencies from domestic resources. Thus, debt payments on Russian bonds and loans to non-residents would need to be paid either from accounts the Russian entity holds abroad or in Rubles domestically.
After the CBR announced yesterday (Mar 3) on Telegram would impose a 30% surcharge on retail FX purchases through brokers as of today, it lowered the surcharge to 12% for individuals. Furthermore, the CBR set a 12% surcharge for legal entities.
Putin: I Play Chess With American Hooligans...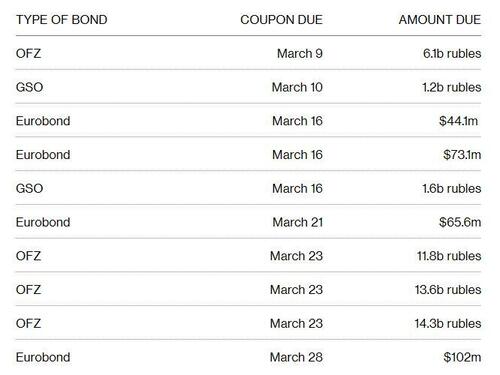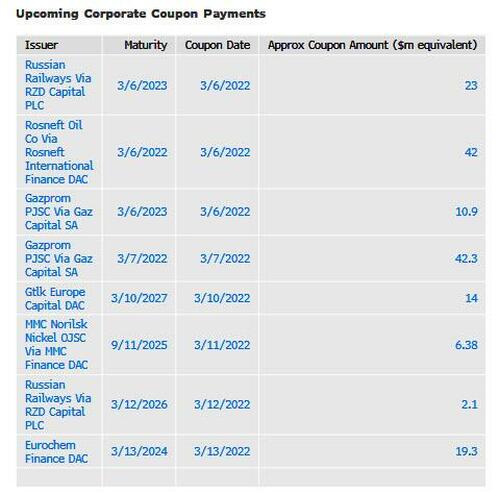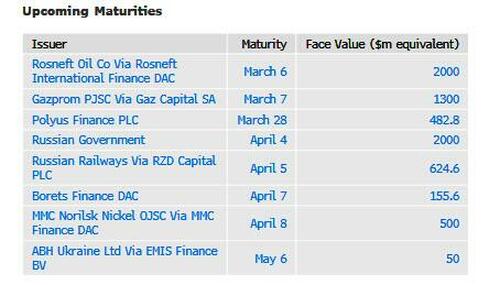 SRH: "Unless God has brought you up for this particular purpose, you will be exhausted by man's and devil's hostility"...
The Watchman distinguishes between truth and consensus. The Watchman does not conflate God's message with the word of those in authority at the time, or with popular opinion. This is because powerholders and the majority might fall prey to a deceptive spirit—a spirit capable of seizing the majority of experts, political leadership, and the general people.
Meet Moses! He's a young man who grew up in the most challenging circumstances. Today, he has larger-than-life goals to achieve something extraordinary.
A Thrilling Ride
Every once in awhile, a book comes across your path that is impossible to put down. A Long Journey Home is not a casual book that you read in a week or earmark to complete at a later date. Once you begin, cancel your schedule, put your phone on silent, find a quiet place where you cannot be disturbed, and complete the journey. Click Here to Purchase on Amazon.com!
US Launching Five Digital Dollar Pilot Programs... By now it's common knowledge that China is leaps and bounds ahead of all other central banks in launching a ...
Read More

→