Update: 3/6/22 @ 1:35 PM Convoy's Live Cams,The People's Convoy" Makes Its Way to the Nation's Capital in Protest of COVID-19 Mandates — As DC National Guard, Homeland Security and Emergency Management Agency and Metropolitan Police Department (MPD) are on High Alert
Two hours ago, the first wave of the "People's Convoy" entered the Capital Beltway encircling Washington, D.C. At the time, traffic data supplied by TomTom showed the 64-mile loop around the metro area was without congestion, but that has all changed.
TomTom shows "major" and "minor" delays throughout the highway stretch.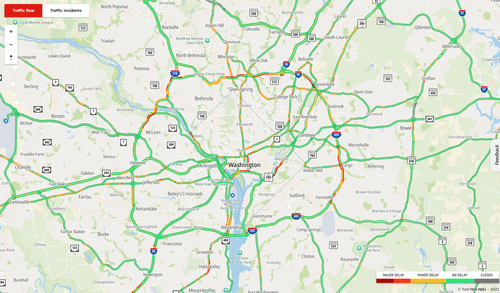 Source: ZeroHedge
HNewsWire- The "People's Convoy" of semi-trucks (some with trailers), RVs, trucks, SUVs, and vehicles departed from the Hagerstown Speedway in Hagerstown, Maryland, on Sunday morning. They're scheduled to gather on the Capital Beltway later today and circle the length of roadway that encircles the District of Columbia "until the group's demands are granted," convoy organizer Brian Brase told the Washington Post.
According to TomTom data, the convoy has already departed Hagerstown and is jamming miles of roadway. Hagerstown is about a 70-mile drive from Washington, DC. According to the Daily Mail, the convoy might stretch up to 30 kilometres.
Brase said that the convoy's goal on Sunday is to travel slowly (without stopping) twice around the Beltway before returning to the Hagerstown staging point. Each day of the week, the maneuver will be repeated until the convoy's needs are satisfied.
Sunday "is a demonstration of our size and seriousness," the convoy's organizer stated. He said that the organization wants the national emergency designation issued in response to the viral outbreak more than two years ago to be lifted immediately.
"We're going to cause a lot of trouble," Brase said. He said that further convoys are on their way and will join them.
"We're attempting to cooperate with local law enforcement because we want them to realize that we are law-abiding individuals expressing our right to protest," he said. However, "every day will raise what we accomplish."
"We want to demonstrate to the American people our size." As Brase said. "And we want to demonstrate to our congressional leaders that we are serious about negotiating. We are here to converse. We are law abiding citizens. We are tranquil. We have no intention of shutting anything down, and we will not be coming downtown."
According to social media users, the caravan is on route to the Capital Beltway.
Maryland State Police have issued a caution to motorists, advising them to prepare for "increased traffic volumes" today.
Monitor the convoy's live cams.
At least 1,000 'freedom convoy' vehicles converged at a speedway in Hagerstown, Maryland, on Friday night and through Saturday morning into the afternoon as some made the 2,500-mile journey from Southern California, according to WaPo. The convoy is at a staging area where their next move could be Washington, D.C., to protest the COVID-19 vaccine and other public health mandates.
NBC4 Washington reports the convoy is planning to drive onto the Capital Beltway on Saturday, but a convoy spokesperson said they'll stay in Hagerstown for another night.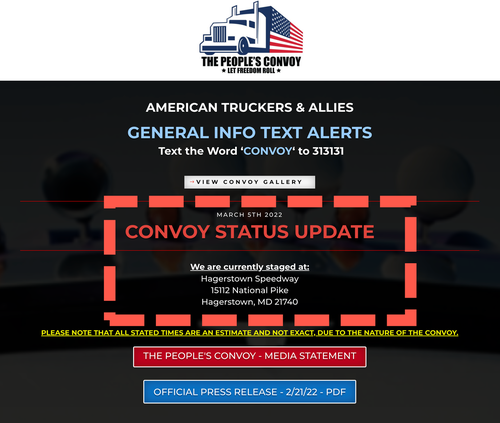 The convoy left a rural parking lot in Adelanto, California, on Feb. 22 and is now at its last staging area, about 73 miles outside of D.C.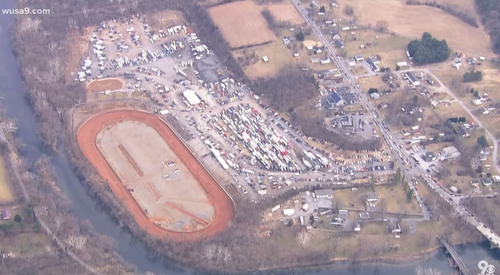 Here's the convoy's route across America as it appears Hagerstown is the last staging area before D.C.
Adelanto, California
Kingman, Arizona
Lupton, Arizona
Glenrio, Texas
Elk City, Oklahoma
Vinita, Oklahoma
Sullivan, Missouri
Indianapolis, Indiana
Cambridge, Ohio
Hagerstown, Maryland
The D.C. Beltway area
As the Epoch Times notes:
Organizers of the convoy told The Epoch Times that the group has adjusted its plans and are no longer aiming to arrive in Washington on Saturday as previously reported. Rather, they will be staying in Hagerstown, Maryland—about 70 miles northwest of Washington—for Saturday, and will be headed to an unspecified location two miles from the D.C. Beltway area either on Sunday or Monday.
U.S. Trucker Convoy Arrives in Maryland, Headed Toward D.C.
In Hagerstown, Maryland, "The People's Convoy" has arrived.
The trucker convoy, which began last month in Adelanto, California, is making its way to Washington, DC, to protest federal coronavirus regulations and to call for an end to President Joe Biden's emergency proclamation.
On Friday evening, organizers will conduct a rally on the eve of their journey into the D.C. beltway region.
'The American People Are Awakening, and They Are Moving East,' Truckers Said.
HNewsWire- Several trucker convoys totaling tens of thousands of cars congregated in Monrovia, Indiana, late Wednesday for a demonstration before continuing their journey to Washington to protest COVID-19 limitations and demands.
On February 23, the People's Convoy left California. Before reaching in Indiana, it went through many states, including Arizona, Texas, Oklahoma, and Missouri. Before arriving in Washington on March 5, the caravan will make two additional stops in Ohio and Maryland.
Trucker convoys in Canada that made international headlines denouncing COVID-19 regulations inspired the organization.
It's difficult to estimate how many individuals are actively involved in The People's Convoy, much alone the tens of thousands who have congregated along highways and overpasses throughout the nation to cheer them on.
2nd convoy of US truckers
On Feb. 28, 2022, a youngster displays a banner in favor of The People's Convoy, a convoy of trucks and automobiles, in Missouri.
Along the route, vehicles and trucks have joined the convoy. Some are bound for Washington, while others will accompany the convoy for dozens to hundreds of miles before dispersing, according to one of the convoy's organizers.
Meanwhile, hundreds of thousands of automobiles and trucks that have followed and led the convoy and honked in support have sometimes been mistaken for direct participation.
When the convoy traveled through Cuba, Missouri, on Monday, Feb. 28, it had grown to around 80 trucks and more than 200 more vehicles.
On February 28, 2022, a convoy of four trucks gathers in Cuba, Missouri.
On Tuesday and Wednesday, there were almost 2,000 automobiles and over a hundred trucks in Monrovia, Indiana, where additional U.S. truck convoys joined. It's uncertain how many automobiles will make the trip to Washington, D.C.
At the gathering, which took place late Wednesday at Ted Everett Farm Center, were Indiana Attorney General Todd Rokita and Mark McCloskey, a Republican running for U.S. Senate in Missouri.
Rokita told The Epoch Times, "I'm quite happy to be here amongst other Hoosiers and Americans who care about their nation." "It was an honor to provide them encouragement this evening, but they returned the favor with much more inspiration and energy."
On March 2, 2022, United States Senate candidate Mark McCloskey (L) and Indiana Attorney General Todd Rokita (R) attend a rally in Monrovia, Indiana.
In 2020, McCloskey, a Missouri lawyer, gained global news after using his pistol in self-defense against a group of protestors who marched into his gated community. "The people of America have woken up," he told The Epoch Times on Wednesday. "We're going to stand up and we're not going to tolerate it."
"I can tell you one thing: if you look at this crowd, the future freeways, the overpasses, you can conclude that the socialists will never finish their takeover of the United States," he stated.
The audience outgrew the interior space, which could only hold a few hundred people. Outside, hundreds more people had gathered.
"The American people are waking up and marching east," one of the convoy's organizers, Brian Brase, told The Epoch Times late Wednesday.
On March 2, 2022, Brian Brase, an organizer of The People's Convoy, talks on stage at Ted Everett Farm Center in Monrovia, Indiana.
"You can and should stand up to a government that tries to violate your Constitutional rights," he urged the audience. At this point, it is your civic obligation to speak up, as it is the civic duty of all Americans, as well as all people of the globe."
"Liberty isn't free... "To join in the convoy, individuals are sacrificing their salaries and spending time away from their loved ones," he added, adding that people are sacrificing their wages and spending time away from their loved ones.
"I implore every truck driver in the world to rise up right now," he said, later adding, "Now is your chance to stand up and send a message to your global leaders and governments that they work for us."
"It's on to us to take care of our own health, not the government," Dr. Ryan Cole, an Idaho pathologist who operates a medical lab, addressed the gathering as part of the Front Line COVID-19 Critical Care Alliance (FLCCC).
On March 2, 2022, Dr. Ryan Cole (C) sits with convoy organizers Brian Brase (L) and Maureen Steele (R) during an evening demonstration in Monrovia, Indiana, in support of The People's Convoy.
He said, "This is a government that has overstepped its borders." "These are health-care organizations that have gone too far. It is past time for our wonderful nation to reclaim its independence. There is no longer any medical emergency. They're lying if they tell you that."
Since March 2020, the federal government has had COVID-19 pandemic emergency powers. President Joe Biden said on February 18 that the emergency powers will be extended beyond March 1.
"Today we're all truckers," Cole addressed the gathering late Wednesday. Keep on, and let us stand together in freedom and togetherness, with peace, firmness, and a resolute resolve. This is about our children, and we will never allow this to happen again."
Another organizer, Leigh Dundas, told The Epoch Times that due to Russia's recent intervention into Ukraine, U.S. convoys have gotten little, if any, public attention.
"Everyone is saying, 'Oh, it's such a shame that the truckers can't get a break in the news cycle because of Ukraine and Russia.' "I'm sure Ukraine and Russia have difficulties," she said, "but the timing is fascinating."
"If I were this administration, and I'd seen what occurred in Canada, I'd... It's the last thing I'd want to be up against a brick wall down here south of the border. Any diversion, I believe, is the name of the game. However, it isn't functioning.... "The people have spoken, and they have had enough."
On March 2, 2022, Leigh Dundas, an organizer of The People's Convoy, talks on stage at Ted Everett Farm Center in Monrovia, Indiana.
The convoy "will not be traveling in downtown D.C. for reasons that you all know," she informed the crowd that night.
"I don't have to spell things out; all I have to say is that [truckers] need to keep safe, and we've seen what happened last year, and that's all we need to know."
In anticipation of truck convoys coming in Washington, authorities have rebuilt fence around the US Capitol and have asked for "additional security" among law enforcement agencies in the region. Following the breach of the US Capitol on Jan. 6, 2021, fencing was erected and removed in July 2021.
Dundas hailed The Unity Project and the American Foundation for Civil Liberties and Freedom for their assistance in creating The People's Convoy, calling it "a 100 percent peaceful, safe, fantastic, transcontinental adventure."
On March 1, 2022, trucks go along the road as part of the People's Convoy in St. Claire, Missouri.
On February 28, 2022, supporters of The People's Convoy hold placards near an overpass in Missouri.
"We have working dogs, we have security, we have huge logistics teams, we have former naval commanders—not because we don't trust the truckers to be safe, but because we want to make sure they are safe, because they are leading the charge in restoring freedom to America," she told the crowd, which erupted in applause and cheers.
On February 28, 2022, Chance Heiner, an Army veteran and participant in The People's Convoy, in Cuba, Missouri.
"We've got to exhaust our last nonviolent measures," army veteran Chance Heiner told The Epoch Times on Feb. 28 while the convoy was in Cuba, Missouri. This is exactly what we must do. We're calm, and that's exactly how we should be.
"Right now, we're peaceful, and we're hoping the government will return our rights to us."
He went on to say, "And well, the Second Amendment is there for a reason." "However, we are a nonviolent movement, and we hope the government does not drive people to that point."

Since Departing California, the United States' Largest Truck Convoy Has Grown in Size and Is Attracting Thousands More Supporters as It Makes Its Way to the East Coast
HNewsWire- The People's Convoy began with roughly 150 automobiles and grew to over 250 during the weekend as it traveled across Texas and Oklahoma.
For longer periods of time, more automobiles have participated. This, along with the convoy's length, makes determining the precise number of participants impossible.
"It depends. Let's imagine there are 50 truckers who are aware that the convoy is approaching and may have already passed through this region. They'll pull over to an exit and wait for the convoy to pass, after which they'll join it. "They would join it for 200 miles or 100 miles and then continue on their way since they were traveling in the same direction as us," Maureen Steele, one of the convoy's organizers, told The Epoch Times.
"Then there are the automobiles that join in... and some of them continue for 30 miles, 100 miles, 200 miles, and then they stop."
For around 25 miles, Collin Walters joined the convoy.
"This is a movement that should be supported by everyone." The Epoch Times quoted Walters as saying, "This is a national event; this is creating history."
"It's a lot of fun," he continued.
His aunt, Kathy Walters, said she opposes COVID-19 vaccination regulations like the ones enforced by the federal government. They, she believes, are infringing on Americans' "free will."
Vaccine requirements, the federal government's continuance of a national emergency declaration over COVID-19, and other acts by President Joe Biden's administration are all being opposed by the convoy organizers.
On February 26, 2022, supporters of the Convoy gather in Texas.
On February 27, 2022, truckers from The People's Convoy drive past an overpass with supporters in Oklahoma.
On February 27, 2022, supporters of the convoy wave American flags along the side of the road in Oklahoma.
On February 27, 2022, supporters of the Convoy gather in Oklahoma.
On February 27, 2022, supporters of the Convoy gather in Oklahoma.
Organizers have been sending drones aloft to gather estimates of the number of cars going with the convoy, which has drew thousands of people to the roadside as it goes by.
In Weatherford, Oklahoma, Chuck Frantz stepped up to offer his support for the caravan.
On a highway bridge, Frantz told The Epoch Times, "This is attracting people's attention." He called the requirements unlawful, despite the fact that some of them have been overturned by courts.
There were no problems, according to a spokeswoman for the Amarillo, Texas Police Department, which worked to ensure the convoy's seamless passage.
Several trucks in the convoy were engaged in an accident approximately 15 miles west of Big Cabin, Oklahoma, according to KTUL-TV. The reason of the collision is under investigation, according to the Oklahoma Highway Patrol, which did not reply to requests for comment.
On Sunday night, the caravan arrived in Big Bend, Oklahoma, and was preparing to go to Missouri on February 28. It is expected to arrive in Washington on March 5, when officials will restore fence surrounding the Capitol.
Bob Bolus, the organizer of one of the U.S. trucker convoys, told The Epoch Times that it plans to shut down traffic on the Capital Beltway, a 64-mile Interstate Highway that encircles Washington. "We're going to have a shutdown," Bolus said.
"It's too bad if it disrupts traffic," Bolus said. "[People] should stay home then, because it's going to be disruptive. I don't care if it was considered an accident on the Beltway, and traffic got backed up. It is what it's going to be. We have every right to be on the Beltway and on every other road in the interstate system of the United States."
However, Bolus said the convoy will be peaceful and that lanes would be kept open for emergency responders. He did not comment on whether or not the truckers plan to halt traffic purposely.
On Tuesday, Washington D.C. issued an alert to residents ahead of the trucker convoy arrival.
"Mayor [Muriel] Bowser is being briefed by public safety officials as we continue to monitor the situation closely, and our agencies remain in regular contact with their local, regional and federal partners," the alert said, according to a screenshot posted by .
"Layered mitigation measures are being put in place, including some that will be visible to the public and others that are not," the alert states. "We appreciate the approval of our D.C. National Guard traffic support request as we pull together the resources to support our public safety personnel."
As a result of the DC politicians' anxiety about the people's convoy truckers' freedom movement approaching the nation's capital, the DC police department, homeland security, secret service, and national guard have been placed on high alert. Is this high alert level in place to keep us safe from them? What a bunch of cowards, hiding behind laws passed in the middle of the night. Any law enforcement personnel who helps to stifle people's freedom to demonstrate is a terrorist in their own right. Such voices have been drowned out by media demonizing the truckers as racists or insurrectionists.
"Public Safety Authorities Are Briefing Mayor (Muriel) Bowser as We Continue to Closely Monitor the Situation," the Notice Stated. "Our Agencies Maintain Constant Touch With Local, Regional, and Federal Partners, and We Have Tiered Mitigation Procedures in Place."
As of Tuesday, No Permission Application Has Been Submitted to the Metropolitan Police Department, According to the Notice. Residents Were Also Urged to Be Watchful and Report Any Unusual Activities. Permit,mm That Is Not Stated in the Constitution.
As a fresh group of around 1,000 truckers nicknamed "The People's Convoy" makes its way to the nation's capital in protest of Covid-19 regulations, the Washington DC National Guard is ramping up preparations "for imminent Trucker demonstration" slated to commence on Tuesday.
The DC National Guard Land Component Command will be "encamped" starting today, according to a document acquired by Breitbart News. "Encamped" is a military term that means "to occupy a place," according to one source.
The National Guard will encamp until Monday, March 7, according to the announcement. Soldiers were already on standby, according to the notification, to assist the State of the Union address, which is slated for March 1.
The campsite might stay longer than March 7, according to a separate notification, and would be in support of the D.C. Homeland Security and Emergency Management Agency and the Metropolitan Police Department (MPD). -Breitbart
The National Guard is reportedly "scrambling to get hefty tow vehicles to pull away semis that may try to obstruct roadways," according to Fox News' Brad Pergram.
On Wednesday, a new trucker protest named "The People's Convoy" will leave Barstow, California for Washington, D.C. Around 1,000 people are expected to attend, with more expected to join along the journey to the nation's capital (via the Daily Mail)
Rep. Beyer (D-VA) has previously stated that a convoy in DC would be a "disaster" and "extremely undesirable," adding, "I don't know anybody who lives in metropolitan Washington who would want to be part of something like this."
The US Capitol Police (USCP) claimed in a news statement on Friday that they are "closely coordinating" with several groups, including the DC National Guard, ahead of the scheduled convoy.
According to the news release:
'Law enforcement agencies around the National Capital Region are aware of preparations for a series of truck convoys to arrive in Washington, DC around the State of the Union address.' The USCP, like with any demonstration, will assist legitimate First Amendment activities. The USCP is working closely with local, state, and federal law enforcement agencies, including the DC Metropolitan Police Department, the US Park Police, the US Secret Service, and other allied agencies such as the DC National Guard.' – The Capitol Police of the United States
Here's some more information to answer some of the questions we've gotten this evening:
'The US Capitol Police and the US Secret Service have been collaborating closely to prepare for the forthcoming State of the Union address. The temporary inner-perimeter barrier is still being discussed and is an option, but no decision has been taken at this time.' – The Capitol Police of the United States
There's no news on how many demonstrators the USCP wants to shoot.
New Zealand's COVID cops fail to disband the Freedom Convoy, and the public is fed up with medical kill shot terrorism. Despite many police attempts to disperse them, including blaring the Macarena on repeat, arrests, and even turning on the garden sprinklers, New Zealand's freedom caravan remained outside the Parliament on Saturday. After failing to…
Meet Moses! He's a young man who grew up in the most challenging circumstances. Today, he has larger-than-life goals to achieve something extraordinary.
Outright civil war is the worst-case scenario. This is just too terrifying to consider, yet it is a possibility. Mr. Biden has stated that his patience is running out. This is true in both directions. In Australia, things are heating up. It's possible that it will happen here as well.
A Thrilling Ride
Every once in awhile, a book comes across your path that is impossible to put down. A Long Journey Home is not a casual book that you read in a week or earmark to complete at a later date. Once you begin, cancel your schedule, put your phone on silent, find a quiet place where you cannot be disturbed, and complete the journey. Click Here to Purchase on Amazon.com!
Featured Story: World renowned CV19 critical care and pulmonary expert Dr. Pierre Kory says the data is clear the CV19 injections are "not safe, not ...
Read More

→