VP Harris, a.k.a. Dark Princess,Her True Sentiments Known, the Migrants From Ukraine Are a Funny Scenario, She's a Very Dark Sick Woman, and Only Satan Soldier Biden Could Choose Someone Else as Demonic for the VP
HNewsWire- Despite being deployed to Poland to attempt to smooth up the MiG planes for Ukraine mess, Vice President Kamala Harris just made matters more difficult during her joint news appearance with Poland's President Andrzej Duda in Warsaw.
She burst out laughing, which may have made President Duda noticeably uncomfortable considering how long the cackling continued when asked a series of questions regarding the region's escalating refugee situation. Watch:
The moment arose when a reporter asked Harris questions for which she seemed unprepared, and Harris and Duda glanced at one other to decide who would speak first.
"It's an improvised system that can work for maybe two weeks but not indefinitely," the reporter continued, before asking, "And I'm wondering what the US is going to do more specifically to set up a permanent infrastructure and, relatedly, is the US willing to make a specific allocation for Ukrainian refugees?"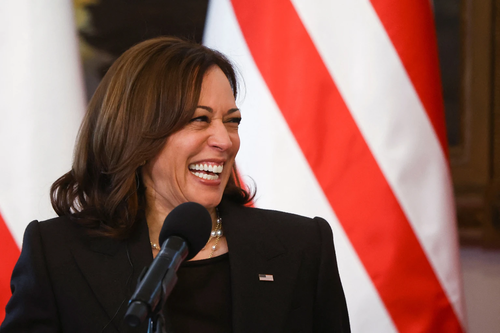 "OK," Harris said, and continued to tell a joke, bursting out in deep laughter that seemed to last an inappropriate amount of time. According to one story, it lasted up to 15 seconds.
"A friend in need is really a friend," she continued, giggling at her own 'joke.' The refugee crisis that has erupted in Ukraine after two weeks of conflict has now been dubbed the greatest since World War II, with the United Nations estimating that over 2.4 million Ukrainians had left amid the Russian invasion by the middle of this week.
During a news conference with Poland's president, VP Harris burst out laughing, according to Reuters.
The New York Post and others compiled some fast replies after she was chastised by numerous experts for speaking at an unsuitable time given the severity and terrible nature of the situation:
"Only Kamala Harris would feel it OK to giggle while discussing Ukrainian refugees," Benny Johnson of the Republican organization Turning Point USA tweeted.
"Kamala Harris has been quite consistent throughout her live statements with Poland's premier," said George Papadopoulos, a former Donald Trump campaign assistant. "She's laughing uncomfortably. Again. It is not amusing to talk about refugees. "It's bizarre why she laughs at this."
"There's nothing amusing about any of this," Fox News senior meteorologist Janice Dean noted.
"The vice president's increasingly typical chuckling at inopportune times with international leaders was received with significant condemnation," according to The Daily Mail.
According to new data from The Wall Street Journal, about 1.4 million Ukrainian migrants are currently in Poland alone, with two refugees entering the nation every three seconds.
Putin: Don't Blame Me" For Soaring Energy Prices, Talk To Biden Pals At The NWO
SRH: If I am to be offended, I must first respect your viewpoint.
The watchman distinguishes between truth and consensus. The Watchman does not conflate God's word with the word of those in authority at the time, or with the majority's view. This is because powerholders and the majority might be victims of a lying spirit—that is, a power that seizes the majority of experts, political leaders, and the general population.
A Thrilling Ride
Every once in awhile, a book comes across your path that is impossible to put down. A Long Journey Home is not a casual book that you read in a week or earmark to complete at a later date. Once you begin, cancel your schedule, put your phone on silent, find a quiet place where you cannot be disturbed, and complete the journey. Click Here to Purchase on Amazon.com!
SRH: Big Pharma and mainstream media are largely owned by two asset management firms: BlackRock and Vanguard Drug companies are driving COVID-19 responses - all ...
Read More

→