Prepare Yourself. FDA Official: Fifth Covid-19 Vaccine Kill Shot Will Be Required in the Fall, Satan Soldiers Kill Shots Agenda, Just For You!
HNewsWire-Prepare yourself FDA Official: Fifth Covid-19 Vaccine Kill Shot Required in Fall; Satan Soldiers Plan Kill Shots Agenda, Just For You!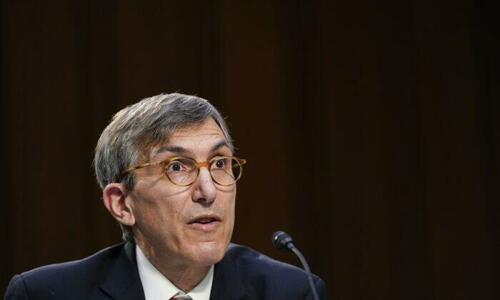 An FDA official said that a fifth dose of the Moderna and Pfizer COVID-19 vaccines may be required in the autumn, only hours after the FDA allowed a fourth shot for all Americans 50 and older.
"I don't want to surprise anyone, but there may be a need for people to get an additional booster in the fall, along with a more general booster campaign if that occurs, because we may need to shift over to a different variant coverage," Dr. Peter Marks, head of the FDA's vaccine regulatory center, told reporters on a call on March 29.
In this file picture, Dr. Peter Marks, head of the FDA's Center for Biologics Evaluation and Research, talks in Washington. (Photo by Susan Walsh/Pool/Getty Images) )
The new emergency use permission allows for a fourth dose for Americans aged 50 and older, as well as a fifth shot for those as young as 12 with compromised immune systems. Moderna and Pfizer's boosters target the strain of SARS-CoV-2, sometimes known as the CCP (Chinese Communist Party) virus, that was circulating in early 2021. Since then, other strains have arisen and grown prevalent in the United States. The most recent is Omicron.
Moderna and Pfizer are investigating vaccination formulations that are especially designed to target Omicron.
"It may be that a decision is made that, rather than what we currently have, which are vaccines against the prototype virus, that we will move to a vaccine that is either against one of the variants—whether it's Omicron, Beta, or Delta, or something else, I can't say right now that's up for discussion—or whether it's some mix of different ones," Marks said. "However, it is conceivable that individuals will need another immunization."
The FDA approved the outmoded boosters because officials believed they may save lives and because it would take many months to determine if an Omicron-specific booster worked, he noted."And it's not obvious what the appropriate booster should be," Marks said.The issue will be considered at a meeting of the FDA's expert advisory group on April 6.
Some scientists have expressed reservations about administering COVID-19 vaccinations to humans on a regular basis. Concerns derive in part from the primary vaccines' use of a technology, messenger RNA, that had never been licensed for use prior to the pandemic, with others pointing out that alternative vaccinations give enough protection via doses provided yearly or at less regular intervals.
If boosters are given repeatedly, "we will end up potentially having problems with immune response and immune response may end up not being as good as we would like it to be, so we should be careful in not overloading the immune system with repeated immunization," Marco Cavaleri, the European Medicines Agency's (EMA) head of vaccines strategy, said at a January briefing.
Dr. Robert Malone, a co-inventor of the mRNA technology, said that data he's read suggests that the vaccinations might cause immunological suppression, a condition in which the body's natural immune system is compromised against all types of infection and illness.
"This is the danger involved with this reboosting method," he told The Epoch Times.When confronted with Marks' claims, Malone dismissed them as "pure supposition and unsubstantiated.""That is a forward-thinking statement." There is no scientific foundation for assessing it. And, in my judgment, the FDA should not be guessing in this manner," he stated.
Satan Soldiers Have Spoken: Supreme Court Declines to Block Vaccine Mandate for Health Workers
Taking into account that nearly 300 young athletes "have dropped from the playing field," among "70 percent" of whom passed away, Dove asked, "What's going to happen now that they're injecting this into five-year-olds?" "I can describe it in no other way than child sacrifice. Dr. Hodgkinson
The U.S. Supreme Court declined to block a vaccine mandate for health workers in the state of Maine on Tuesday, sending a potential green light to state mandates across the country.
It was the first time the Supreme Court weighed in on a statewide vaccine mandate. It previously rejected challenges of vaccine requirements for New York City teachers and Indiana University staff and students.
Justice Stephen Breyer rejected the emergency appeal but left the door open to try again as the clock ticks on Maine's mandate. The state will begin enforcing it Oct. 29.
The Maine vaccine requirement that was put in place by Democratic Gov. Janet Mills requires hospital and nursing home workers to get vaccinated or risk losing their jobs.
Opponents tried to block the mandate, but a federal judge rejected the request Oct. 13. The judge said the record indicated regular testing alone wasn't sufficient to stop the spread of the delta variant.
That decision set off a flurry of emergency appeals to the 1st U.S. Circuit Court of Appeals and then the U.S. Supreme Court.
A three-judge panel of the appeals court in Boston quickly dismissed the emergency appeal but fast-tracked additional arguments. That timetable provides enough time for another ruling before enforcement of the vaccine mandate begins at the end of next week.
Mat Staver, founder and chair of the Liberty Counsel, which challenged the vaccine mandate, said the Supreme Court is ready to consider the case "if we do not get relief" from the appeals court in the coming days.
The Maine attorney general's office declined to comment.
The Liberty Counsel, which filed the lawsuit in federal court in Maine in August, claimed to be representing more than 2,000 health care workers who don't want to be forced to be vaccinated.
Dozens of health care workers have opted to quit, and Central Maine Medical Center in Lewiston already curtailed some admissions because of an "acute shortage" of nurses. But most health workers have complied.
State agencies vowed to work with hospitals and nursing homes individually to address issues.
Joe Biden imposed a federal vaccine mandate in September requiring all companies with more than 100 employees to ensure their workers are either vaccinated or take a weekly COVID-19 test. The mandate would affect roughly 100 million Americans, and many groups plan to challenge the policy as soon as it goes into effect.
"We're going to protect vaccinated workers from unvaccinated co-workers," Biden said when introducing the mandate. "We'll reduce the spread of COVID-19 by increasing the share of the workforce that's vaccinated in business all across America."