If you subscribed to HNewsWire notifications in the past, please know that we have changed the technology platform to align with our values. To continue receiving notifications when we publish news articles, please subscribe again by clicking the "OK" button in the upper left-hand corner.
To Households via FedNow accounts…
People's hearts are troubled. Their minds are in a state of confusion. The Bible tells us that there will be a time of great delusion that will come upon the people. That time has arrived. The politicians must come up with more significant and more believable lies to bring on the Antichrist. We have entered the Tribulation.
"Unless God has raised you up for this very thing, you will be worn out by the opposition of man and devils." ~ SRH
If you read up on the Fed's plans for its own digital currency and the FedNow system, you'll come to understand that the Fed has concluded that supporting consumption (i.e. giving money to households to enable more spending) is too important to leave in the corrupt hands of the legislative bodies (Congress) or the Treasury, which must issue debt to raise cash to distribute to households, debt that further burdens federal revenues and spending.
We can't count on you, broker-dealers or Congress, so we're taking charge, as the system is now so over-extended that any misadventure by other players could well be catastrophic. The only alternative from the Fed's point of view is to take charge and cut the untrustworthy, self-serving incompetents out of the loop.
So the Fed's plan is to create new money out of thin air and deposit it directly in household accounts via the FedNow system.
The danger of this power grab is that the Fed will misjudge the situation, and that will prove catastrophic because the system has been stripped of resilience, feedback and redundancy.
I suspect the Fed sees itself as trapped by the incompetence and greed of the other players and by its own policy extremes that were little more than expedient "saves" of a system that is unraveling due to its fragility and brittleness.
Most central banks are busy preparing for the potential introduction of central bank digital currency (CBDC). CBDC is a digital currency issued by the central bank. It is sometimes referred to as a digital version of a bank note, but in many cases this is not correct. There are indeed many different potential variants.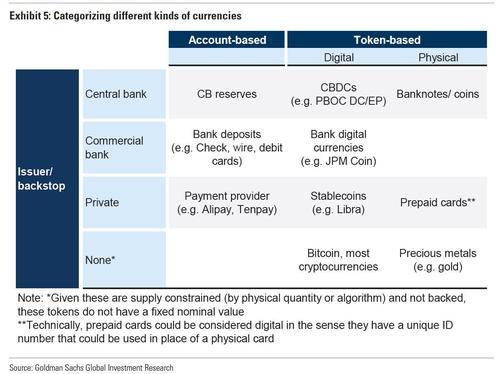 So far, virtually all the central banks are keeping their options open as to whether a CBDC will ultimately appear.
As the system unravels, the Fed's primary imperative is to save the financial system and economy from the greed-soaked incompetence of the other players, public and private, by taking charge of critical swaths of the financial system and economy.
After the subprime debacle almost took down the entire global financial system, the Fed (with a bit of help from Congress) essentially took over the entire $10 trillion U.S. mortgage market.
Private-sector lenders had figured out how to issue guaranteed-to-default mortgages and pass off the fraudulent mortgage-backed securities (MBS) to a global cast of suckers who believed America's financial system was properly regulated. (Haha, the joke's on you.)
In response, the Fed basically nationalized the mortgage market, buying more than $1 trillion in mortgage-backed securities and ensuring that virtually all mortgages in the U.S. were guaranteed or originated by federal agencies: Fannie Mae and Freddie Mac (after their bankruptcy as quasi-private agencies), FHA and VA.
More recently, the Fed realized the private broker-dealer banks that handle the all-important issuance of Treasury bonds could no longer be trusted.
As analyst Christopher Whalen explains, "The Fed's primary concern is not employment or inflation, but rather keeping the market for Treasury securities functioning."
In response, the Fed is cutting the broker-dealers out as unreliable players. The Treasury market and the U.S. dollar are the foundations of federal spending and power, and so the Fed has realized that, just as it did with the fraudulent embezzlers of the private-sector mortgage market, it has to bypass or neuter the private-sector players as threats to stability.
Next up on the Fed's agenda: take charge of the issuance of new money to households and cut Congress out of the loop.
AntiChrist Will Make His Move SOON–Globalists Call for Cashless Society in Response to Corona-virus, Warning Physical Money Is Dirty…
"And that no man might buy or sell, save he that had the mark, or the name of the beast, or the number of his name." This cryptic verse from the book of Revelation describes a future dystopian world where cash is no longer king, as it's been replaced by the mark of the beast that's right now being unveiled before our very eyes in response to the Wuhan coronavirus (CoVid-19).
Not long after Beijing started "quarantining" physical money all throughout China because it might be infected with the novel virus, the Federal Reserve here in the United States decided to do the same thing by "quarantining physical dollars that it repatriates from Asia before recirculating them in the U.S. financial system," according to a Fed spokesperson.
While all money isn't quite yet been fully and systematically removed from American circulation, we're witnessing the precursors to this exact thing happening in the soon coming days as Wuhan coronavirus (CoVid-19) fear and panic continues to run its treacherous course.
The money quarantine decision comes as a "precautionary measure," with the Fed indicating that said money will have to remain under mandatory lockdown for at least 10 days before recirculating. Specifics about how these paper dollars will be effectively sanitized before being reintroduced have not been disclosed by the Fed.
Evil men and impostors will proceed from bad to worse, deceiving and being deceived. You, however, continue in the things you have learned and become convinced of, knowing from whom you have learned them, and that from childhood you have known the sacred writings which are able to give you the wisdom that leads to salvation through faith which is in Christ Jesus. All Scripture is inspired by God and profitable for teaching, for reproof, for correction, for training in righteousness; so that the man of God may be adequate, equipped for every good work.
One of the signs of the end times I speak about in this article is that "lawlessness" in society will become pervasive. Hear the words of Jesus as he mentions this fact in His message about end times events.
Source: HNewsWire HNewsWire HNewsWire ZeroHedge
Please Do Not Post Hnewswire Articles on Gab, Parler, FaceBook, Reddit or Twatter Social Media Platform, We Are Not Comfortable With Their Anti-Christian — Anti-American Nazi Philosophy. StevieRay Hansen
It is impossible to find anyone in the Bible who was a power for God who did not have enemies and was not hated.
StevieRay Hansen
Editor,
HNewsWire.com
[email protected]
"My job is protecting children. It has taken me from big cities to rural outposts, from ghettos to penthouses, and from courtrooms into demonic battlefields. But whatever the venue, the truth remains constant: Some humans intentionally hurt children. They commit unspeakable acts—for their pleasure, their profit, or both." ~ StevieRay Hansen, CEO Of The 127 Faith Foundation
The 127 Faith Foundation: We do not solicit donations from "those on disability, on a fixed income, or those who cannot afford to give." Please Pray!
Or, make checks payable to:
The 127 Faith Foundation
PO Box 127
Pontotoc, TX 76869
The 127 Faith Foundation: We do not solicit donations from "those on disability, on a fixed income, or those who cannot afford to give." Please Pray!
Or, make checks payable to:
The 127 Faith Foundation
PO Box 127
Pontotoc, TX 76869
The number of Orphans aging out of Child Protective Custody has grown at an alarming rate. The 127 Faith Foundation receives many requests each week to house them at our ranch. Our prayer is that the good people of our country will step up to the challenge and offer financial support for "the least among us." We need your help! StevieRay Hansen, Founder, The 127 Faith Foundation
We make every effort to acknowledge sources used in our news articles. In a few cases, the sources were lost due to a technological glitch. If you believe we have not given sufficient credit for your source material, please contact us, and we will be more than happy to link to your article.