There's a Tidal Wave of Distressed Homeowners
There's a treacherous conspiracy at work that involves both sides of the American political counterfeit coin… While the Fed keeps touting the "transitory" nature of runaway inflation, millions of Americans will soon be living under a bridge as both house prices and rents are now rising at a record pace (at least until cities start…
(Approximately 2.54 Million )...
Satan Soldiers Plan the Unraveling of Our Social Fabric, Leaving Many Family Households on The Streets, "Homeless"…
The Consumer Financial Protection Bureau (CFPB) warned mortgage firms Thursday "to take all necessary steps now to prevent a wave of avoidable foreclosures this fall."
As of March 30, approximately 2.54 million homeowners remain in forbearance or about 4.8% of all mortgages, according to the latest data from Black Knight's McDash Flash Forbearance Tracker.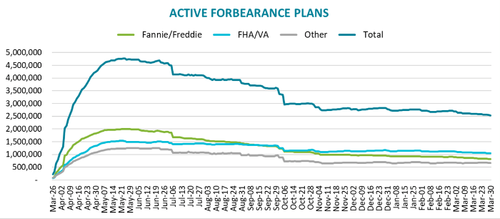 CFPB said mortgage firms should "dedicate sufficient resources and staff now to ensure they are prepared for a surge in borrowers needing help." To avoid what the agency called "avoidable foreclosures" when the forbearance relief lapses, mortgage servicers should begin contacting affected homeowners now to guide them on ways they can modify their loans.
"There is a tidal wave of distressed homeowners who will need help from their mortgage servicers in the coming months," said CFPB Acting Director Dave Uejio. He said,

"There is no time to waste and no excuse for inaction. No one should be surprised by what is coming."
The Coronavirus Aid, Relief, and Economic Security (CARES) Act provided a safety net for borrowers with federally-backed mortgages who could access forbearance programs. With millions of borrowers in the program set to lapse in the second half of the year, unavoid foreclosure will occur despite the government trying everything under the sun to keep people in their homes.
"Our first priority is ensuring struggling families get the assistance they need. Servicers who put struggling families first have nothing to fear from our oversight, but we will hold accountable those who cause harm to homeowners and families," Uejio said.
With the CFPB focused on preventing avoidable foreclosures, the government's forbearance programs ends in September, which could result in the quick unraveling of the social fabric for many households who may find themselves homeless.
The UN-godly' tactics are a "systematic shredding of GOD's will for Mankind and undermining the rule of law, by the same system that was designed to protect the citizens is willing to lie against the innocent and promote injustice (1 Ki. 21:9-13) and seeks to overpower mankind.
Case No. 19-8538 has been docketed (attached) and an opposition has been filed. I want you to know about this case because I am the only one bringing these God-given rights issues before the Highest court in the land, when no one else could or would do it. My appeals also goes to the Creator as his people are under severe oppression and tyranny now and are crying out for simple justice, so that this evil will end. Others who are suffering have come to me for help.
In 2018, I was forced to file a Federal civil rights lawsuit against the county to stop the misrepresentation and fraud going on here (They filed false claims of indebtedness while misclassifying my home as commercial property ).
Somehow, after all the shenanigans pulled by the lower courts, including the deliberate interference of a District judge to kill this case, I am now docketed with the Supreme Court of the United States of America .
This has been a very long fight and it has also taken a serious toll on my health. The Berks country tax claim bureau has caused me to suffer heart and related disabilities because of their constant threats to take my home without due process.
One thing most rural Americans can agree on is that urban America has lost its moral foundations. America can only stay great if the big cities are taken back from the reprobates. That is not going to happen if Christian men in the cities do not man up and take action to stop the subversion of our nation coming from the Marxists and Islamist's. Christian men are supposed to protect their families, not roll over so that their children can be brainwashed by the heathen and lost.