Advisory: Be careful of what you read on social media. The algorithms used by these platforms have no regard for Biblical truth. They target your emotions to keep you engaged on their site so their advertisers can drop more ads. These platforms exist to enrich their stockholders. Consider God's promise to Believers in James 1:5, "If any of you lacks wisdom, you should ask God, who gives generously to all without finding fault, and it will be given to you."
Many Christians use the cliché "Love the sinner; hate the sin." This saying is not found in the Bible in so many words; however, Jude 1:22–23 contains a similar idea: "Be merciful to those who doubt; save others by snatching them from the fire; to others show mercy, mixed with fear—hating even the clothing stained by corrupted flesh." According to this, our evangelism should be characterized by mercy for the sinner and a healthy hatred of sin and its effects. Transgender by any name is redesigning God's plan for humanity, society has now turned their sights on our children, transgender fluid is a tricky way of saying sin is okay, the virus spread until it's consumed their intended target" children", parents be forewarned- the whole movement is demonic, protect your children at all cost…..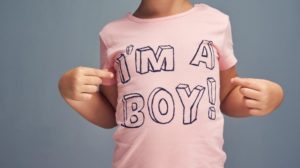 Our schools have been corrupted in many ways that are difficult to fathom: U.S. History has been distorted, English composition has been bastardized, standards continue to be lowered to accommodate the worst students. And now we are brainwashing students as early as kindergarten, saying that transgender students are normal. How did we arrive at this place?
We often point to the Leftist agenda for these changes in education. Just to give you an idea of how sophisticated these efforts are, we can look at Washington State, where the Office of Superintendent of Public Instruction (OSPI) has established new requirements. This summary gives you the highlights, from K-12. In the case of the OSPI, parents were not notified of these changes.
There is abundant data, which the mainstream media ignores, to show that allowing children to pursue changes to become transgender is child abuse. The potential damage these efforts can cause to our children is frightening. Michelle Cretella, M.D., pediatrician, and president of the American College of Pediatricians, warns:
These professionals are using the myth that people are born transgender to justify engaging in massive, uncontrolled and unconsented experimentation on children who have a psychological condition that would otherwise resolve after puberty in the vast majority of cases. Today's institutions that promote transition affirmation are pushing children to impersonate the opposite sex, sending many of them down the path of puberty blockers, sterilization, the removal of healthy body parts, and untold psychological damage.
Yet Harvard Medical School has started a project:
. . . 'The Sexual and Gender Minorities Health Equity Initiative,' [is] styled as 'a three-year plan to amend the core MD curriculum' to reflect recent beliefs about transgenderism and gender ideology. The program is meant to teach medical students how to 'provide high-quality, holistic health care for sexual and gender minority patients of all ages.'

The new program seeks a broad overhaul of the medical school's curriculum in order to eliminate 'assumptions or errors about sex and gender, such as conflating sexual orientation with gender identity, presuming gender is immutable or treating heterosexuality as a default.'
The thought of a six-year-old child who is trying to figure out his or her place in the world being bombarded with data that insists on "gender fluidity" is unconscionable.
And yet parents are believing this claptrap. Why?
The Progressives in our society have a tremendous advantage in spreading these lies. First, they rely on "authorities." These authorities thrive on touting the latest thought and innovations in their fields, whether they are therapists, doctors, scientists or other professionals who tend to be elevated by the rest of society. They are, after all, "in the know." They are supposed to be the guardians of society, the people who care for us, heal us, alleviate our pain and doubts.
Next, parents want their children to be special, to be seen by others as different from the rest. What better way to have a special child than to have him or her (or her or him) on the forefront of acknowledging their own gender fluidity? He or he is free to choose who they are and to do everything they can to realize and complete their own identity. And of course, parents want to be known as loving and supportive and caring, so they encourage these children to express and live their sexuality, however, they "feel."
Another reason that may be discussed less often is the single-parent family or the socially isolated family. They have been raised with little or no religious identification, and do not see a religious community as a source for companionship, fellowship or counseling. Those communities are demonized in every way possible, so if a parent is looking for guidance in trying to decide how to respond to a child in distress about his or her sexuality, where should a parent go? Even if they went to a church or synagogue, the church leader could support gender fluidity and criticize parents for not supporting a confused child.
Not only are medical professionals seen as reliable authorities, but the education system is still held in esteem by many. If a teacher assures parents that they are doing the right thing to encourage a child to switch genders, they must know what is the proper thing to do — right? Many schools are now providing curricula that teach these distortions, and the curricula look professional and age-appropriate. Why should parents question what is true, when the schools have gone to all this trouble to educate their children?
A caring parent wants to do everything he or she can do to make a child feel whole and complete. The "abuse" from the school authorities needs to be offset by loving, protective parents, according to supporters of this movement:
Too often, school officials themselves single out these youth by refusing to respect their gender identity and even punishing them for expressing that identity. For example, 59% of trans students have been denied access to restrooms consistent with their gender identity. Rather than focusing on their education, many students struggle for the ability to come to school and be themselves without being punished for wearing clothes or using facilities consistent with who they are. Some are denied opportunities to go on field trips or participate in sports. Together with bullying and victim-blaming, these conflicts can lead to disproportionate discipline, school pushout, and involvement in the juvenile justice system.
I believe we live in a society of fools; of people who have forgotten, or never had a clear idea of what evil looks like; of how in trying to help our children we can destroy their lives; of how the pressures to conform can cloud our vision, distort our understanding and turn the meanings of good and evil on their heads.
As Ryan T. Anderson said and elaborates on in his book, When Harry Became Sally: Responding to the Transgender Moment :
We should begin by recognizing that sex reassignment is physically impossible. Our minds and senses function properly when they reveal reality to us and lead us to knowledge of truth. And we flourish as human beings when we embrace the truth and live in accordance with it. A person might find some emotional relief in embracing a falsehood, but doing so would not make him or her objectively better off. Living by a falsehood keeps us from flourishing fully, whether or not it also causes distress. Source
This is what sin produces, a mass confusion of life, of a life God created. Know this, God is not the God of confusion.
StevieRay Hansen
Editor, HNewsWire
John Wesley who said that what we tolerate in our generation, will be embraced by the next. Wesley is 100% correct! We are living in sick times.
Justice is a word that stands alone, adding anything to it demeans it….
It is impossible to find anyone in the Bible who was a power for God who did not have enemies and was not hated.
Children are being misplaced or lost in our foster care system, we must demand more openness and accountability from each state.
If you have information or believe there is a child in danger that's being exploited please contact The 127 Faith Foundation
[email protected]
The 127 Faith Foundation
Please help me help these kids(orphans) that are in trouble, PLEASE 80% of the book sales goes directly to The 127 Faith Foundation
HNewsWire Radio
15.8K Views On YouTube
"It is better to be divided by truth than to be united in error. It is better to speak the truth that hurts and then heals, than falsehood that comforts and then kills. Let me tell you something, friend, it is not loved and it is not friendship if we fail to declare the whole counsel of God. It is better to be hated for telling the truth than to be loved for telling a lie. It is impossible to find anyone in the Bible who was a power for God who did not have enemies and was not hated. It's better to stand alone with the truth, then to be wrong with a multitude. It is better to ultimately succeed with the truth than to temporarily succeed with a lie. There is only one Gospel and Paul said, 'If any man preaches any other gospel unto you than that which we have preached unto you, let him be accursed."
Proverbs 31:8 (NIV)
Speak up for those who cannot speak for themselves,
for the rights of all who are destitute
MY MISSION IS NOT TO CONVINCE YOU, ONLY TO INFORM…
Jesus come quick, there is nothing left in society that's sacred….
The 127 Faith Foundation: We do not solicit donations from "those on disability, on a fixed income, or those who cannot afford to give." Please Pray!
Or, make checks payable to:
The 127 Faith Foundation
PO Box 127
Pontotoc, TX 76869
The number of Orphans aging out of Child Protective Custody has grown at an alarming rate. The 127 Faith Foundation receives many requests each week to house them at our ranch. Our prayer is that the good people of our country will step up to the challenge and offer financial support for "the least among us." We need your help! StevieRay Hansen, Founder, The 127 Faith Foundation
We make every effort to acknowledge sources used in our news articles. In a few cases, the sources were lost due to a technological glitch. If you believe we have not given sufficient credit for your source material, please contact us, and we will be more than happy to link to your article.