Advisory: Be careful of what you read on social media. The algorithms used by these platforms have no regard for Biblical truth. They target your emotions to keep you engaged on their site so their advertisers can drop more ads. These platforms exist to enrich their stockholders. Consider God's promise to Believers in James 1:5, "If any of you lacks wisdom, you should ask God, who gives generously to all without finding fault, and it will be given to you."
Missouri AG sues Jim Bakker for coronavirus 'cure' claims…
There are numerous pathetic souls who, though they have severed formal fellowship ties with a local church, nonetheless are so spiritually apathetic as to be practical enemies of the Lord…
is."
The New York attorney general's office has ordered disgraced televangelist Jim Bakker to stop misleading consumers about a fake cure for coronavirus.
Lisa Landau, chief of the AG's Health Care Bureau, sent a cease and desist letter to Bakker on Thursday threatening legal action if he fails to stop touting his "Silver Solution" as an effective treatment for the deadly virus. Landau wrote that she was "extremely concerned" about his latest promotion because there is no specific medicine to prevent or treat the novel coronavirus.
"Any representation on the Jim Bakker Show that its Silver Solution products are effective at combatting and/or treating the 2019 novel coronavirus violates New York law," the letter warned.
Last month, Bakker interviewed Sherri Sellman, an integrative naturopathic doctor, on his program and asked her if his Silver Solution product would be effective in treating the "influenza that is now circling the globe."
"Well, let's say it hasn't been tested on this strain of the coronavirus, but it's been tested on other strains of the coronavirus and has been able to eliminate it within 12 hours," Sellman said. "Totally eliminate it, kills it, deactivates it and then it boosts your immune system."
Bakker was a leading televangelist until 1987 when he resigned his ministry amid a sex scandal. He later served more than four years in prison on federal charges that he defrauded his followers.
A statement from Bakker's program to the media claimed Silver Solution wasn't a fraud and could cure many illnesses, including HIV, and that links to documentation would soon be provided.
The Food and Drug Administration has warned that the colloidal silver — particles of silver metal suspended in a liquid — in Silver Solution wasn't safe or effective for treating any disease or condition. The National Institutes of Health also warned it could be dangerous.
Missouri AG sues Jim Bakker for coronavirus 'cure' claims
Missouri Attorney General Eric Schmitt (R) on Tuesday filed a lawsuit against televangelist Jim Bakker for misrepresenting a "Silver Solution" sold through his show as a cure for the novel coronavirus.
The lawsuit, which names Bakker and his Morningside Church Productions as defendants, says Bakker and "naturopathic doctor" Sherrill Sellman falsely claimed the solution could cure the virus in a Feb. 12 episode of "The Jim Bakker Show."
Sellman noted the product had not been tested on COVID-19 but said it had cured other strains over the course of 12 hours.
Both the Food and Drug Administration (FDA) and New York Attorney General Letitia James's (D) office sent cease and desist letters to Bakker following the broadcast, with the FDA letter advising that there are no known vaccinations or over-the-counter products approved to treat or cure the virus.
"The 2019 novel coronavirus poses serious consequences to public health, and consumers are concerned as to how they can best protect themselves and their families," James said in the letter. "Your show's segment may mislead consumers as to the effectiveness of the Silver Solution product in protecting against the current outbreak."
The Missouri suit requests a restraining order and permanent injunction against Bakker selling the solution as a coronavirus treatment, according to Schmitt's office.
The Hill has reached out to "The Jim Bakker Show" for comment.
Jim Bakker Warned By FDA For Hawking Coronavirus Snake Oil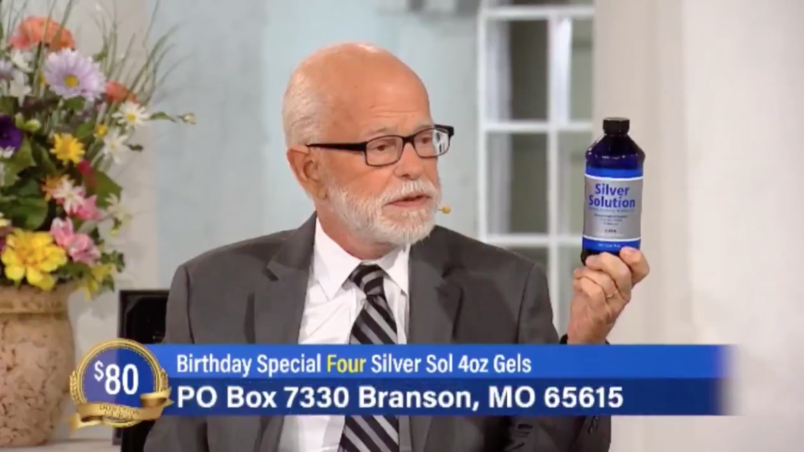 Disgraced televangelist Jim Bakker wants you to know that, as long as you've got he branded "Silver Solution" on your side, the novel coronavirus epidemic sweeping the globe doesn't stand a chance. If only those pesky federal regulators hadn't gotten in the way!
Bakker, a once-mainstream Evangelical disgraced by a sex scandal and a fraud conviction, is now best known for his relentless merchandizing, including with his buckets of freeze-dried food.
And with viewers' virus concerns peaking last month, he recently took to marketing a miracle cure: "Silver Solution."
"This influenza that is now circling the globe, you're saying that Silver Solution would be effective?" Bakker asked the naturopathic doctor Sherrill Sellman on his Feb. 12 show, holding up a bottle of the product.
Silver Solution hadn't been tested on the current strain of the coronavirus, Sellman responded, but "it has been tested on other strains of the coronavirus, and has been able to eliminate it within 12 hours. Totally eliminates it, kills it, deactivates it."

Right Wing Watch✔@RightWingWatch
The Jim Bakker Show is suggesting that the silver solution it sells can kill the coronavirus within 12 hours.2,3851:17 PM – Feb 12, 2020Twitter Ads info and privacy3,617 people are talking about this
Elsewhere in the same episode, Sellman said of the product, "it has been proven by the government that it has the ability to kill every pathogen it has ever been tested on, including SARS and HIV."
The Food and Drug Administration and Federal Trade Commission told the Jim Bakker show Friday that that pitch, and several others, had crossed the line.
"You should take immediate action to correct the violations cited in this letter," officials from the agencies wrote to Bakker's show in a letter dated March 6.
"The claims cited above are not supported by competent and reliable scientific evidence," the regulators added later. "You must immediately cease making all such claims."
New York Attorney General Leticia James also warned Bakker to stop selling the snake-oil cures in a March 3 letter.
The FTC and the FDA sent similar warnings to six other companies that falsely advertised an assortment of natural and herbal remedies, dietary supplements and colloidal silver as effective against coronavirus.
Bakker's show didn't respond to TPM's request for comment. But representatives of three companies that received warnings — Vital Silver, GuruNanda LLC and Herbal Amy Inc. — told TPM they'd removed statements from their websites with which regulators had taken issue.
The FTC could take enforcement action against companies that continue to market "scam" treatments, FTC Chairman Joe Simons said in a statement.200
Jim Bakker Is Now Selling Real Estate and $150 Water Bottles
Jim Bakker slipped out of most people's collective consciousness after he fell from grace following a sex scandal and his 1989 fraud conviction. But the disgraced televangelist is back, focusing on the apocalypse and urging people to buy both real estate and eye-popping expensive "extreme survival warfare" water bottles from him to prepare.
Bakker, who served five years in prison for 24 counts of wire and mail fraud and conspiracy, is selling cabins in Missouri's Ozark mountains, telling followers the area (which he calls Morningside) will be "the safest place to live" when the Apocalypse hits. Prices for the cabins weren't disclosed, but you can rent one for as little as $85 per night right now.
"Where are you going to go when the world's on fire? Where are you going to go? This place is for God's people. … We need some farmers to move here," Bakker said on a recent episode of The Jim Bakker Show, whose website carries the tagline "Prophecy and End Time News."
In that same episode, Bakker claimed government research (which he didn't specify) found the area was "the safest place to live in troubled times."
Bakker, of course, is one of the iconic figures of the 1980s. The former leader of "The PTL Club," he and then-wife Tammy Faye were among the most prominent televangelists of the time. That empire began to crumble when former church secretary Jessica Hahn came forward with allegations of a sexual affair with Bakker.
The baby-faced Bakker so many people were familiar with at that time is now gone. Today, he's 78 years old, balding and sports a closely trimmed white beard. He has remarried (and his wife co-hosts the new show with him.)
Beyond his real estate efforts, Bakker is also selling 28-ounce "warfare" water bottles, which he says filter out contaminants. Viewers can buy a half-dozen for $150. Don't want that? You could opt for the "tasty pantry deluxe bucket" for $175, a prepper's food service delight, with a claimed 374 servings of fettuccine alfredo, mac and cheese and more, boasting a 30-year shelf life. (Want 10,472 servings? That'll be $3,700.)
"This is the best food offer in the world," he claimed.
The Daily Mail visited Morningside in August 2017, describing the community as "similar to a theme park, featuring a brightly painted indoor town square dominated by a 15-foot tall Jesus statue."
THE PROBLEM OF MATERIALISM
(Mark 8:36-37)
I. The meaning of materialism.
A. Materialism is defined as a preoccupation with or emphasis on material
objects, comforts, and considerations, with a disinterest in or rejection of
spiritual, intellectual, or cultural values.
B. Notice in the definition that it is a preoccupation that leads to the
disinterest or even rejection of spiritual values.
C. Many acts as if it is a respectable sin.
D. Ira Rice wrote, "The worship of finite things of this world rather than the
infinite things of the Spirit of God is one of the greatest curses the church
faces today."
E. What materialism does is replace God on the throne of our heart with the
the desire for and the pursuit of money and things of this life.
F. Is there anything wrong with owning TVs?
G. Is there anything wrong with owning cars?
H. Is there anything wrong with buying clothes?
We know the answer to this is not yes or no.
The answer is maybe.
I. There is no certain amount of money one can make that makes one
materialistic.
There were rich people in the Bible who were not materialistic
(Abraham, Job, Barnabas).
There were people who weren't rich who were materialistic (Achan
and Gehazi).
J. Material prosperity and materialism are two different things.
K. The attitude in back of materialism is addressed by Paul (1 Timothy 6:9).
The phrase "they that will" has a reference to a deliberate mindset.
The desire of these people is to get rich.
The getting and keeping of wealth is that on which their hearts are
set.
L. So, materialism is a mindset that replaces the getting of wealth and goods
over one's relationship with God.
II. The manifestation of materialism.
A. There are many different reasons for materialism.
We believe that money and goods protect us.
We believe that money and goods define us.
We believe that money and goods enliven us.
B. There are signs of materialism in our own lives for which we need to be
looking so we don't fall into its trap.
C. We show a spirit of materialism when we are intent on accumulating things.
How much of what we own do we truly need?
Someone once said that the religion of the first class is taking the place
of the religion of Jesus Christ.
Luke 12:15.
D. We show a spirit of materialism when we spend more time shopping and
looking for things than we do in the pursuit of spiritual aims.
How much time is spent in stores and how much time is spent in
God's word?
When the time spent getting things is more than the time spent in
worship, study or benevolence, we are showing signs of a problem.
E. If we get mad when someone preaches or teaches about this topic we are
showing signs of a problem (James 4:1-2).
F. We show signs of being materialistic when we turn from the truth of God's
word in order to appease people so they won't leave the congregation.
This has happened in congregations across the world.
The congregation has something come up that costs money and
some in the congregation who have that are appeased in various
ways in order to keep their money from leaving.
G. We show signs of materialism when we are so caught up in our work that
we fail to attend the way we should try to earn more money.
H. We show signs of materialism by accumulating great amounts of debt.
The average indebted household is $15, 608 deep in credit card
debt.
We need to remember that the borrower is a slave to the lender
(Proverbs 22:7).
III. The madness of materialism.
A. Falling into the trap of materialism is madness because of these things
cannot do for us that which we hope they can.
B. They don't make us happy.
1 Timothy 6:9-10.
C. They are going to perish.
2 Peter 3:10-11.
D. It will separate us from God, the giver of all good things, here on earth
(Isaiah 59:1-2).
E. It will keep us out of heaven (1 Corinthians 6:9).
F. The Bible describes riches as "uncertain" (1 Timothy 6:17).
They are such because they can disappear more quickly than they
appeared.
We can lose riches through many different means
(mismanagement, theft, fire, deflation, etc.).
G. We need to remember that all the things we accumulate, and all the
the wealth we can make will just be left for those to whom we leave it when
we die (Ecclesiastes 2:18-21).
H. The chasing after it is pure madness.
IV. The method of overcoming materialism.
A. If we can remember three words that start with the letter "c" we can
overcome materialism.
B. The first word is "confession."
We need to realize if we are materialistic and then confess that to
God (1 John 1:9).
All the signs we discussed previously will reveal to us whether or
not we are materialistic.
God will forgive us if we confess that sin to Him and repent of it.
We then need to confess that fault to a brother or sister in Christ who can hold us accountable (James 5:16).
a. I have come to believe this type of confession is neglected among the vast majority of Christians.
b. We need to have a close Christians group of friends who will be able to help us with our problems and hold us accountable for our weaknesses.
C. The second word is "contentment."
It is interesting that right before Paul told Timothy about the
problems of seeking after wealth, he told Timothy to preach to
Christians to be content (1 Timothy 6:8).
Content is defined as "satisfied with what one is or has; not wanting more or anything else. "
It is a learned attribute (Philippians 4:11).
It is also a command (Hebrews 13:5).
We are a rich people in America, but we are not content people.
We need to learn to make do with what we have and not
constantly be pursuing bigger, better, faster things.
God blesses us with all the things we need if we can just learn to be
content with them (Matthew 6:31-32).
Too many times we are busy running after things that we don't
need, we miss out on the blessings that we do need.
D. The third word is "commitment."
We need to make a commitment to God that we are going to seek
Him above all else.
We want to be a friend of God, not the world.
Loving the things of the world is condemned (1 John 2:15-17).
When we love the world we are enemies of God (James 4:4).
We have to be committed to God and His way of life that is best for us in order to keep from being overcome by materialism.
They perverted justice among themselves (v. 7): "You turn judgment to wormwood, that is, you make your administrations of justice bitter and nauseous, and highly displeasing both to God and man.'' That fruit has become a weed, a weed in the garden; as nothing is more venerable, nothing more valuable, than justice duly administered, so nothing is more hurtful, nothing more abominable, than designedly doing wrong under color and pretense of doing right. Corruptio optimi est pessima —The best, when corrupted, becomes the worst.
This whole movement is nothing more than prosperity gospel on steroids…
Jesus come quick, there is nothing left in society that's sacred….
Source The Daily Sheeple thehill.com HNewsWire talkingpointsmemo.com
StevieRay Hansen
Editor, HNewsWire.com
God often uses men who are not of the best moral character. Pharaoh, Nebuchadnezzar, Cyrus, Herod, and Trump (amongst others), to accomplish His will in events He orchestrates during human history. We either trust the sovereignty of God or we don't. Nothing happens apart from Him…
The best index to a person's character is how he treats people who can't do him any good, and how he treats people who can't fight back…
The Birth Pains Are Growing Stronger….
One of the signs of ruling class collapse is when they can no longer enforce the rules that maintain them as a ruling class. When the Romans started making exceptions to republican governance, it was a matter of time before someone simply decided the rules no longer applied to them. Perhaps the robot historians will consider Obama our Marius or Sulla. Maybe that person is in the near future. Either way, the rule of law is over and what comes next is the rule of men.
"Don't piss down my back and tell me it's raining." Outlaw Josey Wales
"Man will ultimately be governed by God or by tyrants." as in Nancy Pelosi (D-San Fran-feces)
My name is Steve Meyers and I need to share a vision and warning that the Lord showed me back in April 2007….
Many of you will ask why I waited so long to share the warning. I didn't. I shared the story with everyone that would listen from pastors to friends to family to colleagues. Immediately following the initial vision, I called a close friend. I told him to sit down that I had something to tell him. I needed it documented as I knew this was supernatural and from God. As I witness events unfolding today, I need to share the vision again.
StevieRay Hansen, Pestilence, revelations, disobedience, biblical, food shortage, biblical prophecy, Triblution, CDC, coronavirus, Hospitals, Jim Bakker Show, Snake Oil
HNewsWire Live Stream 24/7 News UpDates and World Events Go Live HNewsWire: By Frank Bergman March 19, 2023 New York's Democrat Governor Kathy Hochul……...
Read More
We make every effort to acknowledge sources used in our news articles. In a few cases, the sources were lost due to a technological glitch. If you believe we have not given sufficient credit for your source material, please contact us, and we will be more than happy to link to your article.