Scourge of the Heavens: Biden War Cry " Build Blackouts Better"— Half of America Faces Power Blackouts This Summer, Regulator Warns
HNewsWire:
The Plandemic Is Deadly According to HNewsWire, a mega-drought, heatwaves, and reduced power generation could cause widespread rolling electricity blackouts from the Great Lakes to the West Coast, citing a new report from the North American Electric Reliability Corporation (NERC), a regulatory body that manages grid stability.
NERC has warned that electricity supply in the Western United States may be stretched this summer as a prolonged drought decreases hydroelectric power output owing to dropping reservoir levels and an abnormally hot summer. Compounding the hellish weather backdrop with grids decommissioning fossil fuel power plants to combat climate change and their inability to bring on new green power generation, such as solar, wind, and batteries, in time is a perfect storm waiting to happen, resulting in electricity deficits that may force power companies to implement rolling blackouts for stability.
The regulatory authority said that supply-chain issues are delaying big Southwest solar projects, while certain coal plants are having difficulty obtaining supplies due to rising exports. They also said that cyber assaults from Russia are becoming more common.
The Midwest electrical system will be significantly constrained by geography. Power generating capacity in the Western United States has fallen by 2.3 percent since last summer, despite rising demand. Grids in the area may have to rely on electricity from neighboring grids when consumers turn up their air conditioners. According to the NERC, low wind speeds might cause blackouts. They described how the Midwest might confront power shortages as a result of the retirement of fossil-fuel power facilities.
Last year, NERC issued a similar warning, indicating that electrical systems serving 40% of the US population were at danger of blackouts. After a year, there was just one significant blackout, which occurred last June amid a heatwave in the Pacific Northwest, leaving 9,000 customers without electricity. However, with decreased electricity producing capacity surpassing new green energy sources, the probability of blackouts is growing this year.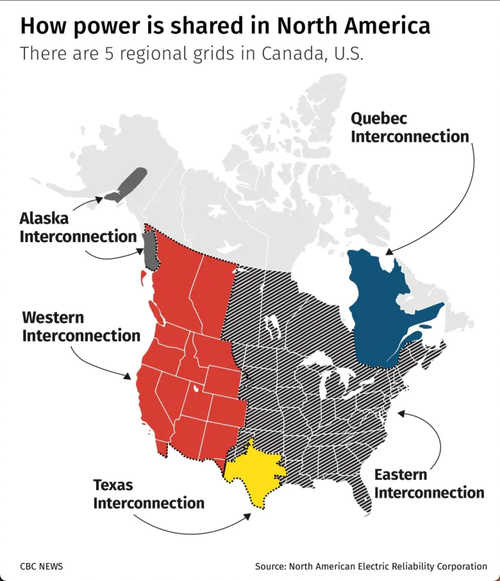 In Texas, the Electric Reliability Council of Texas (ERCOT) has already issued repeated warnings about system stress as early summer-like heatwaves brought temperatures into the triple digits in certain areas of the state.
California's grid managers have also warned of increased blackout risks over the next three summers as the state switches to renewable energy sources. On top of decommissioned fossil fuel power facilities, the drought and declining reservoir levels have limited hydroelectric power output. "We realize that dependability will be tough in this transition period," stated Alice Reynolds, head of the California Public Utilities Commission, during a news conference on May 6.
The NERC study is eye-opening for anyone living in the Western United States. Many families are facing out-of-control inflation, skyrocketing gasoline costs, and food shortages ahead of what could be a summer of upheaval as the Biden administration prepares for a wave of violence after the Supreme Court's decision to overturn Roe v. Wade.
America is collapsing as families experience what it's like to live in Venezuela. It's not all that different from what people are dealing with today: surging inflation, scarcity, Satan Soldiers governing government that many feel was not elected by the majority, and, probably, rolling blackouts, Hell On Earth and Tribulation Playing Out In Real Time
This past week during a conference discussing Biden's "Build Back Better" scheme House Speaker Nancy Pelosi was confronted with questions on skyrocketing inflation. After referring to higher gas prices as the "Putin Tax", she went on to offer perhaps the dumbest (or most insidious) denial on the causes of inflation that I have ever heard. She…
SRH: People Are Beginning to Realize We've Entered the Great Tribulation, Which Means Your Personal Freedoms No Longer Exist, You Can Thank the Ungodly Progressives, Big Tech, Social Media and the Biggest Culprit of All, Our Elected Officials…

The Increasingly Iron-Fist Internet Censorship — as We Watch Satan Soldiers Tightening the Noose the Free People Have Become Slaves to the Ungodly, Hell on Earth…
Free speech is one of the pinnacles of a free society. But it's often the first thing to go when a free society is in decline. Certain forms of unsavory speech are deemed as "hate" speech, and speech that doesn't conform to the status quo is regarded as potentially terroristic speech. It's a very slippery slope, but it's how fascism creeps in and topples a nation.
The UN-Godly — Those That Suppress the Truth, the social media giants built multi-billion dollar empires by giving everyone a voice, but now that they have such a dominant position on the Internet they have decided that many prominent conservative voices should be completely silenced.
Social media giants like Facebook don't have much regard for individual entities. They are engineering reality for many people by suppressing stories, thoughts and ideas they don't like while promoting things they do like. That would be fine if everyone thought alike, but we do not.
The First Amendment exists for a reason. It exists to protect speech that is unpopular, even offensive. But when anti-Christian speech is given a pass on social media and Bible readings are banned, there exists a serious problem. We have no idea what the engineers at these firms are doing with our news and information. But at which point they take it upon themselves to decide what we want to see, they are censoring. And censorship is never part of a healthy society.
Will Putin Fulfill Biblical Prophecy and Attack Israel?