Advisory: Be careful of what you read on social media. The algorithms used by these platforms have no regard for Biblical truth. They target your emotions to keep you engaged on their site so their advertisers can drop more ads. These platforms exist to enrich their stockholders. Consider God's promise to Believers in James 1:5, "If any of you lacks wisdom, you should ask God, who gives generously to all without finding fault, and it will be given to you."
Second Thessalonians 2:9-12 speaks of a strong delusion God will send in the end times: "The coming of the lawless one is by the activity of Satan with all power and false signs and wonders, and with all wicked deception for those who are perishing, because they refused to love the truth and so be saved. Therefore God sends them a strong delusion, so that they may believe what is false, in order that all may be condemned who did not believe the truth but had pleasure in unrighteousness."
Some schools have fully implemented policies; others are on the fence
Activists at numerous universities around the country continue to demand menstrual products in men's restrooms, as part of a push to support LGBT students on campus. In some cases schools have capitulated, placing tampons and menstrual pads in bathrooms reserved for men.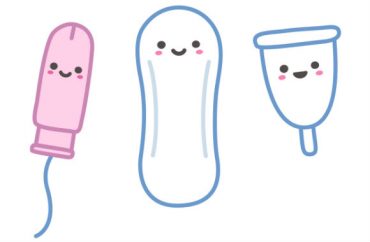 Syracuse University is among the institutions that have placed tampons in men's restrooms. In 2016 that the school's student government approved funding to get menstrual products into the bathrooms on campus. The products were scheduled to be restocked every Friday by a "group of volunteers." (Women's and gender-neutral bathrooms were instructed to have 20 menstrual pads total, but men's restrooms were only ordered to have ten.)
It is not clear if the program is still running, or how successful it has been. Multiple emails and phone calls to Syracuse University went unanswered. Numerous messages sent to the school's official Facebook page were marked as "read" but no response was ever elicited. Attempts to contact one of the student leaders who pushed through the program, Keelan Erhard, were similarly fruitless.
Cornell University also moved to install tampons in both male and female restrooms around the same time. Like Syracuse, however, nobody on that campus is willing to discuss it. In 2016 students at Cornell voted overwhelmingly to "provide all bathrooms on campus of both genders–yes, men's too–with free menstrual products throughout the year." In all, 3,034 students cast ballots, with 78.6% voting in favor. The Cornell Daily Sun later reported that the administration had agreed to run a "pilot program in select bathrooms."
Asked by The College Fix if the program is still running and to explain why women's hygiene products are needed inside men's bathrooms, the school declined to comment. "Unfortunately, we won't be able to participate at this time," campus spokeswoman Rebecca Valli told The Fix via email.
The question on Cornell's ballot read, "Should pads and tampons be available free of charge to students in all bathrooms on campus?" Students had the opportunity to vote yes or no and explain why they voted that way. Some individuals said that menstrual products are "a basic human right, like water or shelter." Others claimed it was "ridiculous" and "insane" that tampons weren't already offered by Cornell University free of charge.
Students who voted against the referendum cited worries that the program would cost too much and might create logistical issues. Others simply stated that they'd be in favor of free menstrual health products offered only in women's bathrooms.
Student government voted in favor, but school not on board
The University of Arkansas's student government recently passed the "Menstrual Equity for All Act" just as the spring semester was concluding. The legislation declared that the Associated Student Government "believes in equality for all individuals regardless of their sex or gender identity."
The act claims that the placement of tampon dispensaries only in women's bathrooms "limits the ability of members of the transgender community to safely and easily access [menstrual products] on-demand." The declaration stated that the school's facilities department "has a duty to create equal access to education, and therefore must prioritize near-universal accessibility to Menstrual Hygiene Management at no cost to students forthwith."
Local news station KFSM reported that a "university spokesman" said the school is "in the planning stage of implementing the legislation." But campus spokesman Steve Voorhies told The College Fix via email that the school will not actually be dispensing tampons in men's restrooms.
"There are no plans to put tampon dispensaries in the men's rooms on campus. I understand it's a funny idea, or maybe something to get people riled up, but there is no truth to it."
"We have no definite plan in place, but expect to have the dispensaries in women's restrooms and single restrooms early next semester. The cost will depend on the plan, so still not determined," Voorhies said, adding: "The administration is not bound by student government resolutions, although we work with students to achieve their goals when possible."
'Working to make campus more welcoming'
The University of Wisconsin-Madison offers free tampons in men's bathrooms, and a spokeswoman there indicated that the program has been a success.
Introduced in 2017, the program actually installed free tampons in bathrooms in several locations around campus. In the school's Red Gym, the menstrual products were installed in both men's and women's restrooms. Campus spokeswoman Meredith McGlone told The Fixthat 10 male bathrooms in that building are equipped with the dispensaries.
McGlone said that "no problems or concerns have been reported" with the menstrual dispeners in men's rooms.
"This is one way the university is working to make campus more welcoming to students across the spectrum of gender identity, gender expression, and sexual orientation," she said.
In some cases, activists have taken pains to downplay the association between women and menstrual products. When reporting on the new tampon rule, the University of Wisconsin-Madison's student newspaper The Badger Herald initially described tampons and pads as "women's hygiene products." The newspaper subsequently edited the article to state that tampons and pads are merely "menstrual products." Source
First, it is clear this strong delusion will take place during the time of the lawless one (2 Thessalonians 2:8), also called the Antichrist or beast elsewhere in Scripture (Revelation 13). He is the one Jesus will kill with "the breath of his mouth" (2 Thessalonians 2:8; Revelation 19:15).
Second, God sending a delusion is only part of the account. Two other aspects are clear. Satan is involved (2 Thessalonians 2:9) and this delusion applies to those "who did not believe the truth" (v. 12). It is incorrect to simply say God tricks these people. Instead, those who are influenced by Satan and do not believe are among those who accept the delusion God will send into the world during this time. God desires for all to be saved (1 Timothy 2:4).
Third, this strong delusion will also be during the time when many will rebel against God. Second Thessalonians 2:3 says, "For that day will not come, unless the rebellion comes first, and the man of lawlessness is revealed." The Antichrist will arise and many will join him in rebellion against God.
Fourth, people will be fooled during this time by Satan's power and false miracles. Second Thessalonians 2:9 states, "The coming of the lawless one is by the activity of Satan with all power and false signs and wonders." In Revelation 13:3-4 there is another prediction that this will occur. The Antichrist will appear to die or come close to death, yet be healed: "One of its heads seemed to have a mortal wound, but its mortal wound was healed, and the whole earth marveled as they followed the beast. And they worshiped the dragon, for he had given his authority to the beast, and they worshiped the beast, saying, 'Who is like the beast, and who can fight against it?'" Many will be tricked into worshiping the Antichrist as a result.
This strong delusion God will send is something that will serve as part of God's overall judgment of the earth during the seven-year tribulation period following the rapture of believers to heaven (1 Corinthians 15:51-58; 1 Thessalonians 4:13-18). Those who remain on the earth will live under the tyranny of the Antichrist, experience many judgments, and many will believe in the Antichrist and worship him. Yet even today many reject Christ and believe the lies of Satan. God calls us to confess Jesus as Lord and believe in Him as the resurrected Son of God (Romans 10:9). Only then do we experience the changed life Jesus gives and escape the lies of Satan.
StevieRay Hansen
Editor, HNewsWire.com
Conservative Christian World News
"And it shall come to pass afterward, that I will pour out my spirit upon all flesh; and your sons and your daughters shall prophesy, your old men shall dream dreams, your young men shall see visions." (Joel 2:28.)
John Wesley who said that what we tolerate in our generation, will be embraced by the next. Wesley is 100% correct! We are living in sick times.
Usually, the Lord doth no great thing for or against his people, without giving warning of it before it comes.
They perverted justice among themselves (v. 7): "You turn judgment to wormwood, that is, you make your administrations of justice bitter and nauseous, and highly displeasing both to God and man.'' That fruit has become a weed, a weed in the garden; as nothing is more venerable, nothing more valuable, than justice duly administered, so nothing is more hurtful, nothing more abominable, than designedly doing wrong under color and pretense of doing right. Corruptio optimi est pessima —The best, when corrupted, becomes the worst.
It is impossible to find anyone in the Bible who was a power for God who did not have enemies and was not hated.
2 Corinthians 4:8-11 New King James Version (NKJV)
8 We are hard-pressed on every side, yet not crushed; we are perplexed, but not in despair; 9 persecuted, but not forsaken; struck down, but not destroyed— 10 always carrying about in the body the dying of the Lord Jesus, that the life of Jesus also may be manifested in our body. 11 For we who live are always delivered to death for Jesus' sake, that the life of Jesus also may be manifested in our mortal flesh.
The 127 Faith Foundation: We do not solicit donations from "those on disability, on a fixed income, or those who cannot afford to give." Please Pray!
Or, make checks payable to:
The 127 Faith Foundation
PO Box 127
Pontotoc, TX 76869
#facebook #pedophiles #lawlessness #dragqueen #indoctrinatingchildren #molested #lgbtq #christian, #pro-transgender, #reprobate mind#truth #apologetics #christ #spiritualbattle #GOD #antichrist, Bible Prophecy, Conservative Christian World News, End Times, HNewsWire.com Conservative Christian World News, HNewsWre.com, LGBTQ, LGBTQ Spreading Hate, Trans People
The number of Orphans aging out of Child Protective Custody has grown at an alarming rate. The 127 Faith Foundation receives many requests each week to house them at our ranch. Our prayer is that the good people of our country will step up to the challenge and offer financial support for "the least among us." We need your help! StevieRay Hansen, Founder, The 127 Faith Foundation
HNewsWire: Whatever It Is, I Don't Know if He/She Is Male or Female, Sounds Like Their Mayor, Lost, Void of God's Plan for Humanity. No…
Read More
We make every effort to acknowledge sources used in our news articles. In a few cases, the sources were lost due to a technological glitch. If you believe we have not given sufficient credit for your source material, please contact us, and we will be more than happy to link to your article.