Advisory: Be careful of what you read on social media. The algorithms used by these platforms have no regard for Biblical truth. They target your emotions to keep you engaged on their site so their advertisers can drop more ads. These platforms exist to enrich their stockholders. Consider God's promise to Believers in James 1:5, "If any of you lacks wisdom, you should ask God, who gives generously to all without finding fault, and it will be given to you."
Sin is described in the Bible as transgression of the law of God (1 John 3:4) and rebellion against God (Deuteronomy 9:7; Joshua 1:18). Sin had its beginning with Lucifer, probably the most beautiful and powerful of the angels. Not content with his position, he desired to be higher than God, and that was his downfall, the beginning of sin (Isaiah 14:12-15). Renamed Satan, he brought sin to the human race in the Garden of Eden, where he tempted Adam and Eve with the same enticement, "you shall be like God." Genesis 3 describes Adam and Eve's rebellion against God and against His command. Since that time, sin has been passed down through all the generations of mankind and we, Adam's descendants, have inherited sin from him. Romans 5:12 tells us that through Adam sin entered the world, and so death was passed on to all men because "the wages of sin is death" (Romans 6:23).
11 year old drag queen "Desmond is Amazing" has been making the rounds on media for over two years now. He, along with another little boy who calls himself "Lactatia," has been the subject of glowing spreads in publications like Elle, as well as being celebrated on shows like Good Morning America. All along the way, liberals have promoted what's going on as empowerment and progress.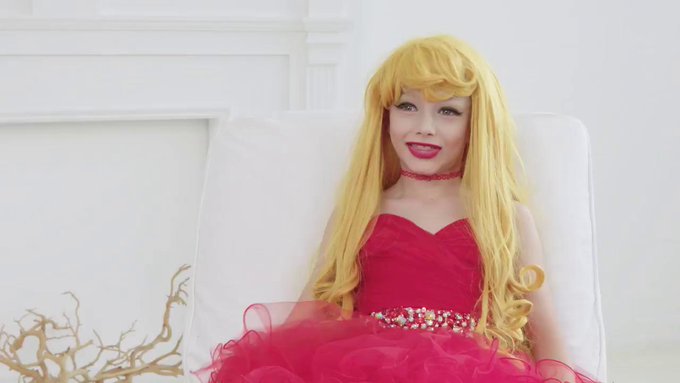 ELLE Magazine (US)✔@ELLEmagazine
This 8-year-old boy loves transforming into drag queen Lactatia—& he won't let other people stop him from doing what makes him feel accepted28.6K9:03 AM – Sep 2, 201714K people are talking about thisTwitter Ads info and privacy
Disgusting is too mellow of a word for this, as things have only gotten more disturbing as time has progressed.
9 year old drag superstar Lactatia at @RuPaulsDragCon with a message for her haters!!

wearing her infamous sequin onesie from @TheHouseofMann!! pic.twitter.com/iaKmsI0jSc

— Brandon Hilton (@BRANDONHILTON) May 15, 2018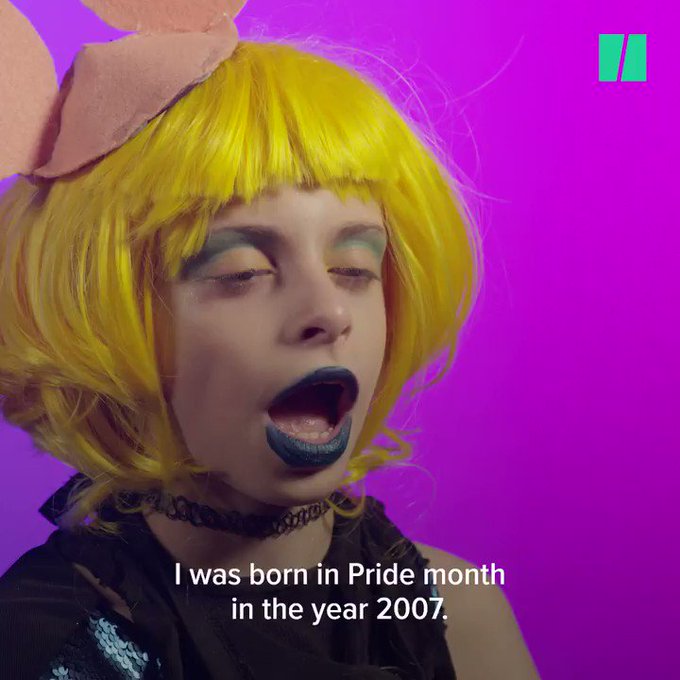 As Pride month comes to a close, Desmond Is Amazing, the ten-year-old drag kid from New York, is proof that the future is queer. 3,27310:45 AM – Jun 29, 20185,765 people are talking about thisTwitter Ads info and privacyTRENDING
At 10 years old, "Lactatia" was photographed posing with a naked man.
10-Year-Old Boy 'Drag Kid' Photographed With Naked Adult Drag Queen

I worked on child-protection legislation in 15 states and federally.

This is absolutely child pornography. These people are sick depraved criminals.
I have no idea how authorities didn't react to that, but they didn't. Were they scared of the blow back from the LGBTQ community? I don't know, but it's crazy that a ten year old was allowed to take photos with a naked man without any repercussions for the parents.
Now "Desmond is Amazing" is back in the news after a video has emerged of him hanging out with another middle-aged drag queen and mimicking snorting Ketamine, which is a horse tranquilizer used in clubs as a psychedelic.

The video is tough to watch because of just how sad it is to see a child abused like this. No kid is naturally this way. This is learned behavior pushed by his parents who have a desperate desire to be famous. His mother, who's been promoted along side him, is an awful parent who has no business retaining custody of her child at this point.
Children have been taken away from parents for far, far less than this. That's not to say all those cases are legitimate and that the government doesn't overstep at times, but in this case you've got an 11 year old who's clearly being emotionally and mentally abused. He's also being exposed to dangerous lifestyles, hanging out with mentally ill men who like to dress like women, do illicit drugs, and take naked pictures with minors. There's nothing normal, safe, or healthy about this.
This is child abuse, plain and simple. It's time for authorities to step in and do something.
UPDATE: It's come to my attention that the kid in the newest video is actually "Desmond is Amazing," another child drag queen that's been widely promoted (including on Good Morning America). I've updated the article to reflect that as sources were conflicting at first. Regardless, as far as the editorial portion of this article goes, everything stands. This is child abuse and the authorities need to act.
The Lord created families as a beautiful extension of His image. Sadly, in our fallen world we are born in a natural sinful state and can only be redeemed by our Creator. Our natural state is selfish at best and pathological at its worst. Dysfunction comes naturally to us. That is why salvation through Jesus is the key to breaking generational sin. Jesus offers us forgiveness, cleansing of sin, and real, unconditional love (1 John 1:9). Jesus gives His followers the power to love like He does, a love that is filled with grace and compassion. He is our example for how to love rather than loving ourselves or pleasures (John 13:34).
Jeremiah 32:18 says that the consequences of sin from one generation are visited on the next generations. Sin's destructive consequences hurt the person committing the sin as well as those around him. Each generation has the choice to let their natural inclination repeat the cycle or to find a better way. People often want to break negative cycles but do not know how because the way of thinking they were raised with has confused them. In addition, breaking the cycle can divide families when a person decides to follow Jesus instead of family traditions (see Luke 12:51–53). Some family members will choose Christ and be rejected by their relatives for doing so.
StevieRay Hansen
Editor, HNewsWire.com
It is impossible to find anyone in the Bible who was a power for God who did not have enemies and was not hated.
Like Joseph and Daniel of the Old Testament who served secular kings, we are called to serve everyone and help them fulfill their divine destiny. Jesus made it clear that people who want to lead or be great must be the servants of all. Serving is the way of leadership in the kingdom.
Forcing our way onto the world is not great leadership. Some accuse us of doing this very thing because we speak up on moral issues. It is important that we speak up on issues, but it's also equally important that we love everyone no matter their persuasions.
Someday Jesus will rule the world; in the meantime, we should just serve well and let our good works speak of our Father who loves everyone.
Evil Exists So Spiritual Warfare Becomes Necessary!
MY MISSION IS NOT TO CONVINCE YOU, ONLY TO INFORM…
Evil men don't understand the importance of justice, but those who follow the Lord are much concerned about it. ~ Proverbs 28:5
Jesus come quick, there is nothing left in society that's sacred….
We make every effort to acknowledge sources used in our news articles. In a few cases, the sources were lost due to a technological glitch. If you believe we have not given sufficient credit for your source material, please contact us, and we will be more than happy to link to your article.