Update: 11/25/21 America Is Next — Quarantine Camps for the Unvaccinated What for Months Has Been Dismissed as an Idle Conspiracy Theory Is
Now Becoming Horribly True in Australia's Northern Territory Under the Region's Tinpot Dictator, Michael Gunner
As the World Has Witnessed Not One Country Has Stepped up to the Plate and Called Out Australia on Their Inhuman, Ungodly Decision to Put Individuals in Quarantine Camps, Folks This Is Tribulation Unfolding Before Your Very Eyes, Get Right With the Creator
Vice President of the Lower Austrian Medical Association Gerrit Loibl has suggested that the government should levy a monthly fine of up to €100 to anyone unvaccinated.
Loibl has suggested that those who have not been vaccinated should pay between €90 and €100 (£78-£84/$90-$113) per month to the government, claiming that the amount is based on the current tax on tobacco products.
The proposed monthly fines would be part of Austria's already announced vaccine mandate for all residents that is scheduled to begin in February of next year.
Medical law expert Karl Stöger was critical of the proposal, however, and said it was questionable whether or not fines would encourage people to get vaccinated, as some people would simply accept to pay them rather than be vaccinated, newspaper Kronen Zeitung reports. Source: breitbart
Quarantine encampments. What for months has been dismissed as an idle conspiracy theory is now developing into horribly true in Australia's Northern Territory under the region's tinpot fascist, Michael Gunner.
The Australian Prime Minister has deployed 28 Australian Defense Force soldiers and several army trucks to the region.
Two Northern Territory communities in Australia, Binjari and Rockhole, have imposed Draconian lockdowns after nine new positive China corona-virus cases were registered. The military has been called in to bring positive cases and close contact to a quarantine center.
On Sunday, Satan Soldier, a.k.a Chief Minister of the Northern Territory, Michael Gunner, said that a 78-year-old woman was being treated at the Royal Darwin Hospital. The area's remaining eight cases and 38 close contacts have been transferred to the Howard Springs quarantine center.
Health workers have begun bashing on people's doors to boost kill shot "vaccination" rates in the communities, where Gunner moans the rates were much lower than 70 percent.
In the past 24 hours, the regime successfully pressured 29 people to get the jabbed in Rockhole, with 27 receiving their first injection.
Dehumanizing The Unvaccinated
Gunner blasted those who have been campaigning against vaccine mandates in the Northern Territory. "If you are anti-mandate, you are absolutely Anti-VAX," Gunner said during a corona-virus press conference. "People are actually reinforcing the idea of a teacher being unvaccinated in a remote community classroom, with kids who cannot be vaccinated,' Gunner said. 'I reject that utterly … Stuff it, shove it."
The rules in the quarantine camps are extremely strict.
A person in quarantine must;
Stay in the person's allocated room, including on any veranda space allocated to the room, unless permitted by an authorized officer; and
When not in their room, or on their veranda, residents must take all reasonable measures to stay at least 1.5 meters away from any other person in the quarantine facility, except for the person's spouse, de facto partner, child or parent; and Wear a face mask outside their room unless an authorized officer permits the person to remove the face mask; and
Comply with any directions given by an authorized officer to avoid people congregating in a quarantine zone; and
Must not leave the quarantine zone in which the person's allocated room is located unless the person is escorted by an authorized officer, except in an emergency.
You are not able to share or hand over physical objects to residents who are not your family members. COVID-19 live on surfaces, so you must not give items, toys, food, activities, or play games like cards with people outside your family.
The Quarantine facility force will remind you about wearing your mask, staying on your veranda and physically distancing through information in your resident booklet, by sending you SMS reminder texts and verbally in person if we see you are not following the direction.
Conversation" With Each Other… You've Been Lied To, if You're Complying With a Government, There Objective is Genocide,You're Going Along With Your Own execution… The chief health officer of New South Wales gave a press conference telling Australians that they shouldn't "engage in conversation with each other," even if they're wearing masks, in order to reduce the transmission of COVID. Yes, really. Dr. Kerry Chant made the remarks in response to people in NSW being ordered to comply with yet another lockdown triggered by just a handful of new cases, which included a man in Cootamundra who visited a Woolworths supermarket, Pizza Hut restaurant, petrol station and Officeworks store. "Whilst it's human nature to engage in conversation with others, to be friendly, unfortunately this is not the time to do that," said Chant."So even if you run into your next…
Economy — Coming To America Soon… The premier of the state of Victoria in Australia warned on Sunday that unvaccinated citizens may be hindered from participating in the local economy once the state achieves its vaccination targets to reopen. Victoria premier Daniel Andrews said that once the state gets to the "[70 and 80%] vaccination double-dose thresholds, the notion of a lockout of the whole community is far less relevant." "What will become a bigger part of our response is a lockout of many venues for those who are not vaccinated," Andrews announced, according to The Guardian. "I am not going to lock the whole state down to protect people who would not protect themselves. If you are not vaccinated, and you could be, the chances of you booking a ticket at a sporting event, going to a pub…will be very…
In Sydney — America Is Next, Trump's Warp Speed!… In what was already being called the harshest pandemic restrictions in Australia, New South Wales police have requested 300 Australian Defense Force troops to help enforce lockdown rules in eight local government areas in the suburbs of Western Sydney. "The personnel will deploy on Friday, Defence Minister Peter Dutton said, and will begin assisting police with ensuring compliance with restrictions next week," Reuters reports. "Army troops will door-knock homes of people who have tested positive to COVID-19 and those deemed to be close contacts to ensure they are isolating in a crackdown on Sydney hotspots after NSW reached a record number of new infections," the Sydney Morning Herald reports. This would be the same ADF which has been caught committing horrific war crimes in Afghanistan, by the way. These are the wonderful people who will be going door to…
The Australian army has begun forcibly removing residents in the Northern Territories to the Howard Springs quarantine camp located in Darwin, after nine new Covid-19 cases were identified in the community of Binjari. The move comes after hard lockdowns were instituted in the communities of both Binjari and nearby Rockhole on Saturday night.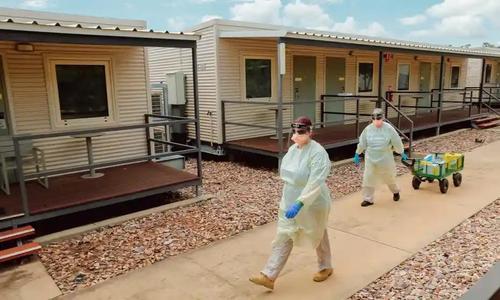 "Residents of Binjari and Rockhole no longer have the five reasons to leave their homes," said Northern Territory chief minister, Michael Gunner, referring to the country's five allowable reasons to avoid lockdown (buying food and supplies, exercising for up to two hours, care or caregiving, work or education if it can't be done from home, and to get vaccinated at the nearest possible location).
"They can only leave for medical treatment, in an emergency, or as required by law."
"It's highly likely that more residents will be transferred to Howard Springs today, either as positive cases or close contacts," he continued, adding "We have already identified 38 close contacts from Binjari but that number will go up. Those 38 are being transferred now."
"I contacted the Prime Minister last night. We are grateful for the support of about 20 ADF personnel, as well as army trucks to assist with the transfer of positive cases and close contacts – and to support the communities.
We are doing an assessment today of what extra resources we might need from the Feds, and the Prime Minister is ready to help further – I thank him for that."
Watch:
AUSTRALIA - The army is now transferring positive Covid cases and contacts in the Northern Territories to 'Quarantine Camps' by army truck.

So it wasn't a conspiracy theory then. #COVID19 #Australia pic.twitter.com/NfJzqrO1fz

— Bernie's Tweets (@BernieSpofforth) November 22, 2021
"We're conscious of the fact that this can have some impacts on people's mental health as well as their general well being," Police Commissioner Jamie Chalkner told NT News.
Of note, the Northern Territories are home to a large percentage of indigenous Australians. As the Epoch Times' Steve Milne notes:
According to the Australian Institute of Health and Welfare, in 2018-19, almost one in five Indigenous Australians lived in overcrowded dwellings (18 percent), compared to 5 percent of non-Indigenous Australians. Although this percentage had decreased from 27 percent in 2004, it still meant an estimated 145,340 Indigenous Australians were living in overcrowded dwellings in 2018-19.

In addition, the more remote an area, the higher the proportion of Indigenous Australians living in overcrowded dwellings (26 percent in remote areas and 51 percent in "very remote" areas), compared to 8 and 22 percent in non-remote areas.
Five days ago, NT Senator Malarndirri McCarthy told ABC that over crowding in Indigenous communities was a "massive problem," pointing to the region's second cluster of new infections - which included nine members of McCarthy's direct family, including her sister who flew from Katherine to Robinson River while unknowingly bringing COVID-19 with her, per the report.
"If we could get housing in there right now, I would be pushing that straight away to the federal government and the NT government to work on that, but we obviously need the resources to do so," she said.
Of the nine new cases in Binjari, four are women and five are men, including a 78-year-old woman who has been transported to Darwin Hospital.
There were zero new COVID-19 cases reported on Sunday, however Minister Gunner said he was worried about 'mingling between households' in Binjari and Rockhole, whose populations are around 220 and 130 respectively.
On Sunday, Gunner said: "Yes, these are strong measures, but the threat to lives is extreme."
Nice people...
StevieRay Hansen
Editor,
HNewsWire.com
[email protected]
I'm not injecting an unneeded, untested, and rushed concoction with no long-term data into my arm–not least one vended by convicted criminals (Pfizer) and pushed by pocket-lining politicians.
Depressingly though, the mandating of said experimental procedure is now being rolled-out across the globe. This is our reality. And even more concerning: only the minority are pushing back.
Those in charge have lied at every corner. Vaccines were supposed to spell the end of this nightmare. Original CDC guidelines stated that 'once vaccinated you can't catch COVID'. That was a demonstrable lie, clearly. Because not only can you still catch COVID after being vaccinated, but the efficacy of the shots has been shown to wane rapidly. Hence now that booster shots are required, as are boosters for the boosters.