Advisory: Be careful of what you read on social media. The algorithms used by these platforms have no regard for Biblical truth. They target your emotions to keep you engaged on their site so their advertisers can drop more ads. These platforms exist to enrich their stockholders. Consider God's promise to Believers in James 1:5, "If any of you lacks wisdom, you should ask God, who gives generously to all without finding fault, and it will be given to you."
Had Things Under Control We Could Go Back to Our Regularly Scheduled Lives, Just Another Lie to Manipulate the People…
How did we go from "flatten the COVID-19 curve" to "shut up and wear the mask – or else" in just a few short months? Back in March, we were told that lockdowns were necessary to ensure COVID-19 cases would not overwhelm hospitals and, in particular, intensive-care units. In most parts of the country, hospitals were not only not overwhelmed, many were forced to lay off nurses and other employees because elective procedures were put on hold – a move that likely cost lives as people postponed health critical screenings and avoided going to the hospital when they had chest pains for fear of catching COVID-19.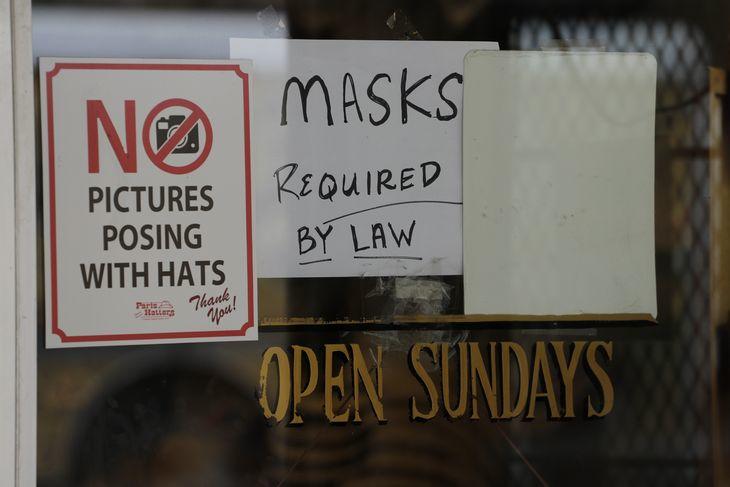 At the beginning of the pandemic, we were assured that once hospitals had things under control we could go back to our regularly scheduled lives, with the understanding that as things reopened and testing increased there would be a spike in the number of cases. Now it seems the goalposts are moving again and we're being sent into further lockdown —in some cases more stringent lockdowns than before — by governors and other mini-tyrants who are in panic mode because people are catching a contagious (but not very deadly for most people) disease that is, you know, contagious.
Case in point, Ohio Gov. Mike DeWine, who on Wednesday announced a statewide mask order that came with a threat: We'd all better obey him if we want schools to open in the fall.
A Google search turned up no stories about hospitals being overwhelmed or nearing ICU capacity in Ohio, yet DeWine, who is the Democrats' favorite Republican these days, went ahead with his mask order — the first statewide mask order in Ohio since the pandemic began. To hear DeWine talk (and tweet), you'd think hospitals are overwhelmed with COVID patients (who are probably lying on filthy FEMA cots) and we are all in very grave danger:
Nice school you've got there. It would be a shame if anything happened to it.
But while the number of diagnosed cases of COVID-19 has risen in Ohio over the last month, hospital admissions haven't kept up and the number of deaths has plummeted: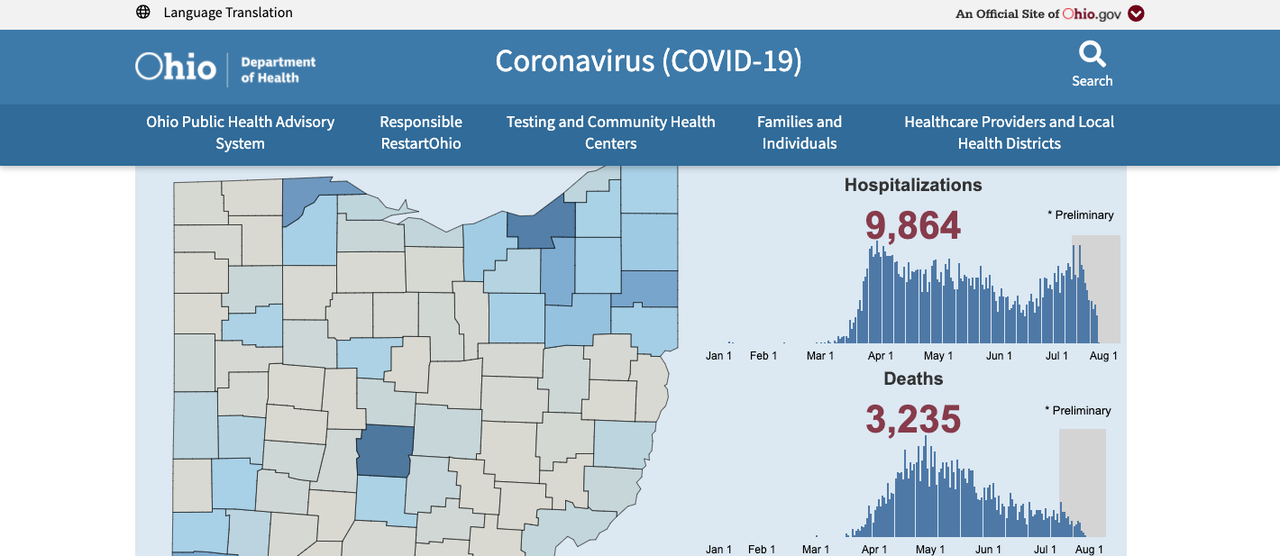 (Ohio Dept. of Health, July 22, 2020)
You have to dig around the Ohio Dept. of Health website to find these numbers. When you land on the site you're greeted with a graph showing the cumulative number of deaths and hospitalizations, which make it appear there's been a huge spike, when in fact it's showing the growth of the cumulative total over time: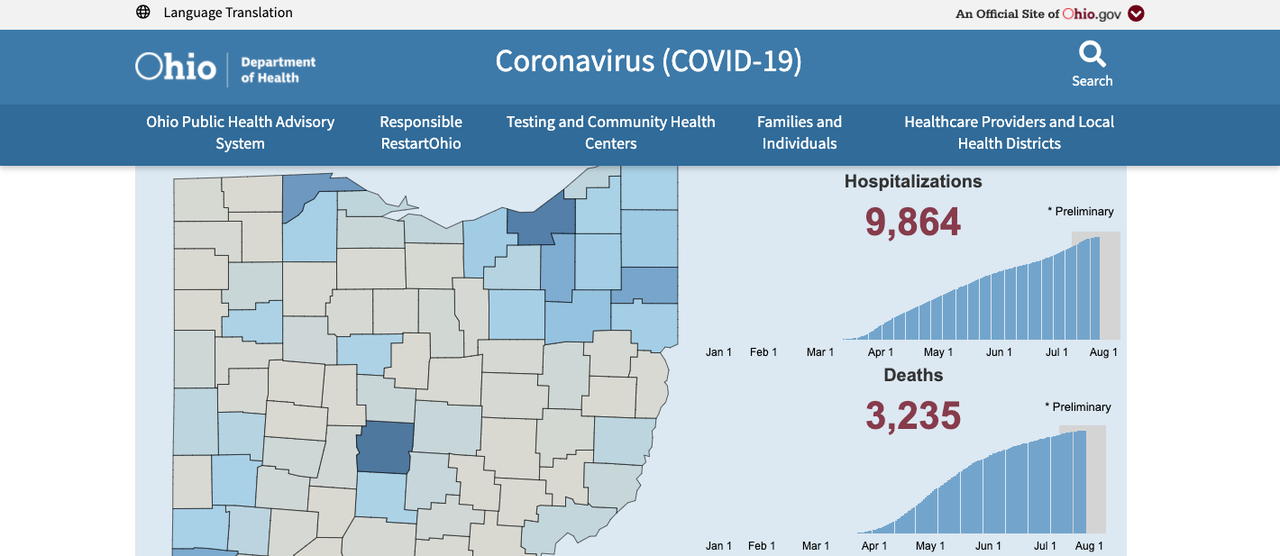 (Ohio Dept. of Health, July 22, 2020)
Meanwhile, in Wayne County, where I'm blessed to live, it doesn't feel like we're in grave danger—and the numbers bear that out: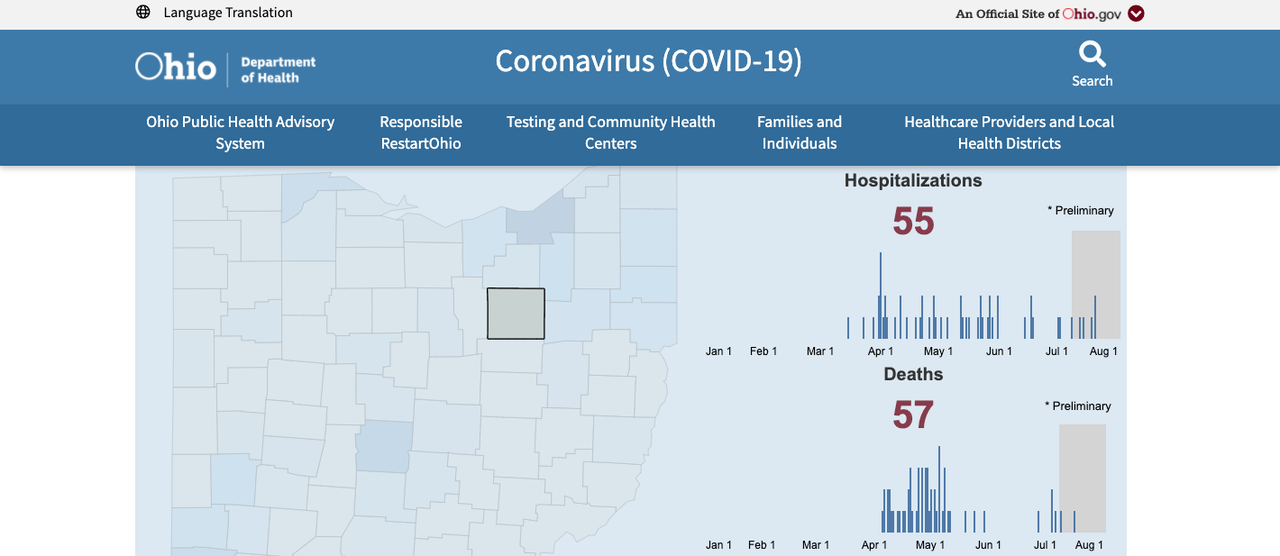 (Ohio Dept. of Health, July 22, 2020)
That's 55 total hospitalizations since the pandemic began. Last week there were two COVID hospitalizations recorded and no deaths. This despite the fact that nearly everything in the county reopened in mid-May and very few people are wearing masks. To date, we've had a grand total of 398 cases of COVID-19 and 59 deaths (most of them in nursing homes) out of a population of 117,710. Yet DeWine's draconian new OMG-hair-on-fire statewide mask order is being forced on us and we'll all have to wear them while singing in church on Sunday and smiling at babies in the park.
Look, I'm not denying COVID-19 is a serious and sometimes deadly illness. It is, and many families are grieving the loss of loved ones who've died of it. And many families are grieving the loss of loved ones from the flu, from auto accidents, and from cancer. Death catches up to all of us eventually.
I'm also not denying that masks can slow down the spread of disease. They can. But what is the goal at this point? Are we to wear masks until COVID is completely eradicated in the U.S.? Until we have zero cases? And once COVID is eradicated (it won't be, but stick with me here), shouldn't we continue to wear them until the flu is eradicated? And the common cold? Rotavirus? RSV? We're being told that if we love our neighbors (and, by the way, you're not a real Christian if you don't' want to wear a mask) we should be happy to wear a mask to protect them from COVID-19. If that's the case, we're going to have to continue to wear them until all contagions have been purged from the face of the earth—in other words, forever.
There's risk inherent in living life. Each day we calculate the potential risk and make decisions about what we'll do and where we'll go. Most of us climb into a car every day and buckle up knowing that there are 1.25 million deaths from car crashes each year and our morning commute could be our last. Some choose not to drive because the risk is too high. Others drive faster than the speed limit, making the calculus that the benefits of getting to where they're going faster outweigh the risks.
Decisions individuals make about whether to wear a mask or stay home when there are contagions floating around are no different. Unfortunately, high on their own power, politicians like DeWine are gleefully soberly making those decisions for us. And now that they've done it with COVID-19, what's to stop them from issuing other, more onerous, orders or locking us down every year during flu season or using health department orders to confiscating our firearms because gun violence is on the rise and PUBLIC HEALTH CRISIS!!!
That's what worries me most about these orders, many of which have, thank goodness, already been ruled unconstitutional. There's a growing sense that this is the new normal – in fact, many of these mayors and governors have said as much. If that's the case, we can kiss our liberties goodbye.
Everyone Was Wrong About the Coronavirus, but Fear Mongering Will Continue in an Effort to Paralyze Humanity
Into Believing a Seasonal Flu Has Become Pandemic, No– It Was a Plandemic That Has Failed…
One week ago, when looking at the growing divergence between the growing number of new coronavirus cases in the US and shrinking number of fatalities, we referred to Nordea's strategist Andreas Steno Larsen, who observed that "we are entering "crunch time" on fatalities since they should start to rise in early July given the lead/lag structure versus new cases."
As Larsen further predicted, "if fatalities don't spike early in July, then people will conclude that it's probably spreading amongst a part of the population that is not as sensitive, or that it is a resulted of increased testing or that the virus has become less deadly as we move into the summer months. Governors in Texas, California and Florida seem to have concluded that the below correlation holds, but the jury is still out."
His conclusion was that "the next 6-10 days will be crucial."
Well, one week later, we decided to follow up on the current status and… well, there is no spike in fatalities at either the federal level…
​​
… or even state level as can be seen in the Florida cases vs deaths chart below:
​​
Meanwhile, as cases appear to be plateauing in several states, not only do deaths refuse to inflect higher but are at the lowest level since March.
So were most experts wrong that the surge in cases would also lead to a spike in deaths?
And while we are debating that question, here's another one: back in late March and early April, consensus emerged that unless the first coronavirus wave is contained, it would result in an even more acute and deadly second wave. Why? Because both professional and armchair epidemiologists were using the Spanish flu as a case study as shown in the following chart from JPMorgan.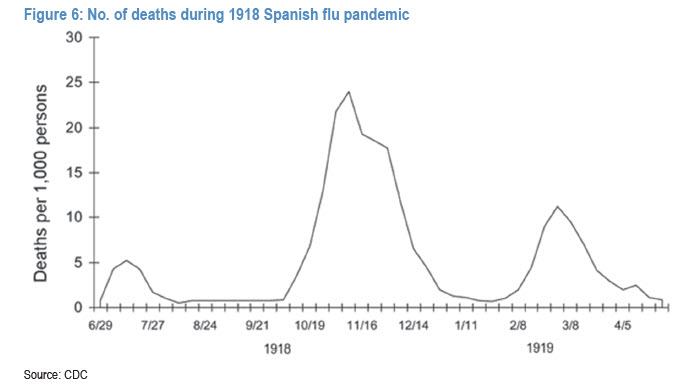 Now, according to Deutsche Bank, it appears that this comparison to the 1918 Spanish Flu may have also been terribly wrong.
As DB's Jim Reid writes, one paper that influenced market thinking in the early days of the Covid-19 pandemic looked at the effect of non-pharmaceutical interventions like social distancing and school closures during the Spanish flu (link here). The paper found that the US cities that implemented these measures tended to have better economic outcomes over the medium term. This offered historical support to the argument that there wasn't such a big trade-off between economic activity and public health, because you needed to suppress the virus to enable consumers to be more confident and for businesses to operate as normal.
However, a major difference between Spanish flu and Covid-19 is the age distribution of fatalities, as shown in the chart below.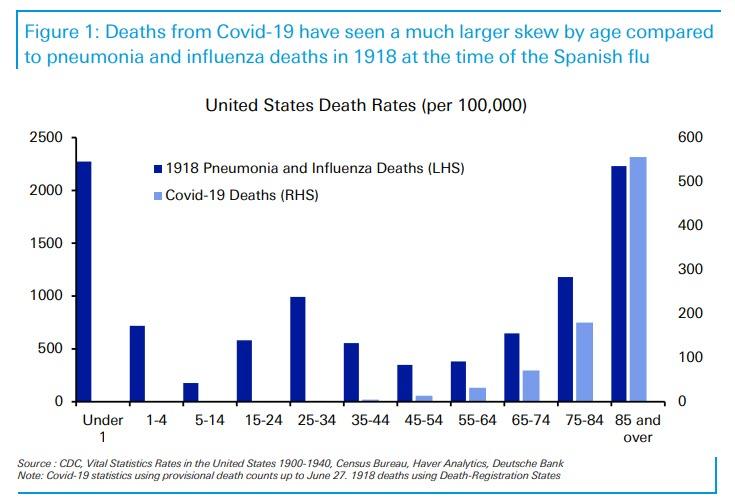 For Covid-19, the elderly have been overwhelmingly the worst hit. For the Spanish flu of 1918, the young working-age population were severely affected too. In fact, the death rate from pneumonia and influenza that year among 25-34 year olds in the United States was more than 50% higher than that for 65-74 year olds, "a remarkable difference to Covid-19."
This, as the strategist then notes, therefore begs the question of how history will judge the lockdown response to Covid-19, given its much more limited impact on workers in the economy. In short, we have an interesting situation at the moment, where rapidly rising cases in the US are slowing reopenings (negative) but the death rate is falling (positive).
Here are some further observations conducted by another DB strategist, Francis Yared, which suggest that the second wave is far less serious than the media is making it out to be.
Conclusion: The overall mortality rate as measured by weekly deaths/ weekly new cases (2 weeks lead) is about 1/3rd of the level observed in the second half of April
Analysis: We calculate (1) the hospitalization rate as currently hospitalized (weekly average) / new cases (weekly sum, 1 week lead) and (2) the hospitalization mortality rate as Deaths (weekly sum) /currently hospitalized (weekly average, 1 week lead). The latter is a normalization of last week's calculation from daily deaths to weekly deaths. We focus on weekly averages and weekly lags as the time spent in hospital is about 1 week and to smooth the volatility due to week-end effects.
Results:
The hospitalization rate has declined to ~20% by 10-15pp since the second half of April. This may be due to (a) increased testing and better quality of the tests capturing milder cases and (b) self-selection of the population taking risks (e.g. average age of new cases declining)
The hospitalization mortality rate halved to ~10% (last week's results scaled from daily to weekly deaths) since the second half of April.
The overall mortality rate (deaths over lagged new cases) is the product of the previous two calculations. Since the second half of April, it has declined by about 2/3rd from 6.5% to 2%.
For the three largest states with hospitalization data CA/NY/TX, the respective current levels are as follows. Hospitalization rate: 18.1%, 18.7%, 19.4%. Hospitalization mortality rate: 7.8%, 6.9%, 5.2%. Overall mortality rate: 1.7%, 1.5%, 1.0%.
The NWO lies are getting bigger and bigger, which means they're getting desperate to lock humanity down, now we are being told that this coronavirus is "10 times more infectious" then it was when it first started spreading in China, Satan Soldiers Are Starting to Get Concerned…
"And how did you manage to bring so many souls to hell at that time? -Because of fear. -Ah, yes. Excellent strategy; old and always current. But what were they afraid of? Fear of being tortured? Fear of war? Fear of hunger? -No. -Fear of getting sick. -But then, no one else got sick at that time? -No. -Yes, they were sick. -I'm sorry. -Nobody else was dying? -Yes, they died. -But there was no cure for the disease? -There was. -Then I don't understand. – Since no one else believed and taught about eternal life and eternal death, they thought they had only that life, and they clung to it with all their strength, even if it cost them their affection (they did not hug or greet each other, they had no human contact for days and days); their money (they lost their jobs, spent all their savings, and still thought themselves lucky to be prevented from earning their bread); their intelligence (one day the press said one thing and the next day it contradicted itself, and still they believed it all); their freedom (they did not leave their house, did not walk, did not visit their relatives. …it was a big concentration camp for voluntary prisoners! They accepted everything, everything, as long as they could overcome their miserable lives one more day. They no longer had the slightest idea that He, and only He, is the one who gives life and ends it. It was like that, as easy as it had ever been."
The World Is In Big Trouble, for Those That Believe We Will Go Back to Some Sense of Normal Life Here on Earth, You Will Be Sadly Disappointed, Seven and Half Years of Hell on Earth Which Began January 1, 2020
"Our courts oppose the righteous, and justice is nowhere to be found. Truth stumbles in the streets, and honesty has been outlawed" (Isa. 59:14, NLT)…We Turned Our Backs On GOD, Now We Have Been Left To Our Own Devices, Enjoy…
While Mainstream Media Continues to Push a False Narrative, Big Tech Has Keep the Truth From Coming out by Shadow Banning Conservatives, Christians, and Like-Minded People, Those Death Attributed to the Coronavirus Is a Result of Those Mentioned, They Truly Are Evil…
Source: HNewsWire ZeroHedge HNewsWire
StevieRay Hansen
Editor, HNewsWire.com
Watchmen does not confuse truth with consensus The Watchmen does not confuse God's word with the word of those in power…
In police-state fashion, Big Tech took the list of accused (including this site), declared all those named guilty and promptly shadow-banned, de-platformed or de-monetized us all without coming clean about how they engineered the crushing of dissent, Now more than ever big Tech has exposed there hand engaging in devious underhanded tactics to make the sinister look saintly, one of Satan's greatest weapons happens to be deceit…
The accumulating death toll from Covid-19 can be seen minute-by-minute on cable news channels. But there's another death toll few seem to care much about: the number of poverty-related deaths being set in motion by deliberately plunging millions of Americans into poverty and despair.
American health care, as we call it today, and for all its high-tech miracles, has evolved into one of the most atrocious rackets the world has ever seen. By racket, I mean an enterprise organized explicitly to make money dishonestly.
All the official reassurances won't be worth a bucket of warm spit. The Globals are behind the CoronaVirus, It Is a Man-Made Bioweapon.
For those of you who care, Google and your favorite social media platforms have misled you, and now we all pay a heavy price for trusting the ungodly, Google and company, They knew exactly what they were doing, removing our history while preparing you to accept the New World Order playbook, Enjoy.
HNewsWire: 'Amoral vision' For half of his very long life, Henry Kissinger – who died yesterday at 100 – exerted a profound influence on U.S.…
Read More
We make every effort to acknowledge sources used in our news articles. In a few cases, the sources were lost due to a technological glitch. If you believe we have not given sufficient credit for your source material, please contact us, and we will be more than happy to link to your article.