Advisory: Be careful of what you read on social media. The algorithms used by these platforms have no regard for Biblical truth. They target your emotions to keep you engaged on their site so their advertisers can drop more ads. These platforms exist to enrich their stockholders. Consider God's promise to Believers in James 1:5, "If any of you lacks wisdom, you should ask God, who gives generously to all without finding fault, and it will be given to you."
Shots Reign of Terror
Who Rose to the Top of America's Foul-Smelling Stew of Corruption, A Hard Rain's a-gonna fall…
Satan Soldier Global Predator Tedros Adhanom
Tedros Adhanom Ghebreyesus, as well as being the first WHO director without a medical degree, also has a somewhat political background compared to his predecessors. In his online biography, the WHO lays out his qualifications as Ethiopian Minister of Health from 2002 to 2012, impressive stuff.
Aside from his medical credentials, Tedros happens to be a member of the Tigray People's Liberation Front (TPLF) which is an organization about as peaceful as its name suggests. Founded as a communist revolutionary party that came to power in 1991, it led a guerrilla campaign against the Mengistu dictatorship and formed a coalition with two other ethnic parties after his exile. The Story
Satan Soldier Global Predator Anthony Fauci
Anthony Fauci Being Terrorizing the American Populace for Decades. Give Him a Padded Cell, a Mirror, and a TV Camera and He Will Be Happy…
Dr. Fauci is the chap who tells anyone who will listen that, when it comes to vaccine mandates, "There comes a time when you do have to give up what you consider your individual right of making your own decision for the greater good of society."
Ah, yes, "greater good of society"—as defined, it goes without saying, by A. Fauci.
It is long past time for this fomenter of hysteria to go. He has being terrorizing the American populace for decades.
Give him a padded cell, a mirror, and a TV camera and he will be happy.
Back in the 1980s, Fauci was a superspreader of the myth that an important vector for the transmission of HIV was heterosexual intercourse.
For the last couple of years, he has been terrifying the public with tales from the crypt about the virus he helped develop with American taxpayer money for "gain of function" research in a Chinese virology lab in Wuhan.
The fact that this Bela Lugosi of the medical establishment is also a publicity addict who can't pass a television camera without primping and dispensing contradictory but depressing dicta makes him a public nuisance.
You see his baneful influence everywhere.
In our former newspaper of record, for example, The New York Times.
On Oct. 1, the Times ran one of its long emetic specials on COVID, the Delta Diaries.
Deploying their signature mixture of nauseating human interest pabulum and tendentious statistics, they paid homage to the CCP virus for giving them something to write about now that Donald Trump is, for the time being, off the menu. The Story
Satan Soldier Global Predator Bill Gates
Bill Gates: Introduction Into Destruction, The Mark Of The Beast "ID2020 Alliance"
Bill Gates Brought US The Personal Computer; Now He Brings US The Mark Of The Beast Under The Guise Of Virus Safety…
"Immunity Certificates" Are Coming – COVID-Survivors To Get 'Special Passports' Enabling Return To 'Normalcy'
American health care, as we call it today, and for all its high-tech miracles, has evolved into one of the most atrocious rackets the world has ever seen. By racket, I mean an enterprise organized explicitly to make money dishonestly.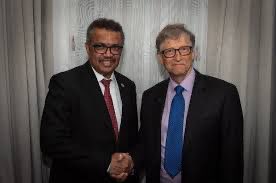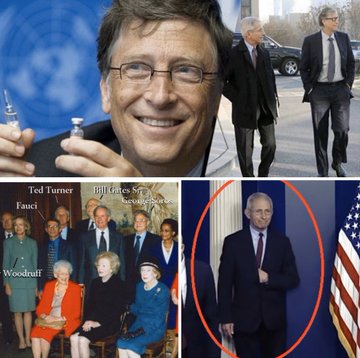 Update: Even more prophetically, billionaire hedge fund manager Bill Ackman tweeted about his "optimism" and the need for
"…Hydroxychloriquine and antibiotics appear to help. There is increasing evidence that the asymptomatic infection rate could be as much as 50X higher than expected.

If this is true, the severity and death rate could be much lower than anticipated, and we could be closer to herd immunity than projected. Highly accurate antibody tests are scaling production and distribution which will definitively answer this question hopefully soon.

One could imagine a world in the next few months where everyone is tested and all but the immune-compromised go back to a socially distanced but more normal life.

We wear bracelets or carry a phone certificate which indicate our status, and track infections where they emerge…"
Yay, let's all cheer for antibody-based freedom.
The rollout of immunity certificates across the world will likely be government-issued to first responders and citizens who have developed resistance to COVID-19.
People who have contracted the virus and have recovered, normally develop antibodies to fight the virus, could be their golden ticket to escape regions that have strict social distancing measures and or lockdowns.
Just imagine, immunity certificates granted by governments to people who have recovered or have developed resistance to the virus could be considered special passports that will allow them to freely travel across states, countries, and or the world — while everyone else remains hunkered down in their homes or doomsday bunkers.
Some of the first talks of this has originated in the UK. The government could roll out immunity passports to Britons who have already contracted and recovered from the virus so they can reenter the economy, reported The New York Times. The Story
Satan Soldier Global Predator Klaus Schwab
Satan Soldier Klaus Schwab Calls For Global Health Pass Based On Implantable Microchip…
Bill Gates and other globalists used MIT and other universities to develop these systems, but when the public resists this Orwellian takeover, they denounce it as a conspiracy theory — the ultimate form of gaslighting.
But now, World Economic Forum founder Klaus Schwab called for a mandatory global health pass in the form of implantable microchips within 10 years.
In a 2016 interview that's now gaining national attention, Schwab, also the founder of the globalist Great Reset agenda, explained that within a decade humanity will be required to have implantable microchips to serve as a global health pass.
The interviewer asked Schwab in French, "we are talking about chips that can be implanted. When will that be?"
"Certainly in the next 10 years," Schwab responded.
"And at first we will implant them in our clothes. And then we could imagine that we will implant them in our brains, or in our skin."
Schwab went even further, describing the globalists' transhumanist dream of a direct "fusion" of consciousness to the "digital world."
"And in the end, maybe, there will be a direct communication between our brains and the digital world," he said.
"What we see is a kind of fusion of the physical, digital, and biological world."
He insisted that people will soon be able to simply say "I want to be connect with anyone now" to directly link their minds with another person's.
First, Satan Soldiers engineered a false predicament whereby all effective COVID-19 treatments were quite deliberately not approved by the American regulatory agencies and medical establishment. That deceitful move alone set up the FDA's legal maneuver to approve the various Covid 'vaccines' for "Emergency Authorization Use" only. Once that happened, Big Pharma, W.H.O., along with Bill Gates & Company, illicitly took over the management of this transparently fabricated plandemic.
Satan Soldiers of the NWO — Moderna, Pfizer Is Pushing the mRNACOVID as a Vaccine, Both Medically and Legally. It's Not a Vaccine: the mRNA COVID Kill Shot Technology Is Now Being Militarily Deployed in Many Nations Worldwide Is Not a Vaccine… It's NOT a vaccine. The mRNA COVID Kill Shot technology now being militarily deployed in many nations around the world, is NOT a vaccine.…
The NWO Lies Are Getting Bigger and Bigger Which Means They're Getting Desperate to Lock Humanity Down Now We Are Being Told That This Corona-virus Is "10 Times More Infectious"…
The worthless NWO Pukes employs all forms of communication using his "mouth," "eyes," "feet," and "fingers" to advance his evil agenda. There companions understand his various forms of language and consent to do his bidding. Solomon describes them as one "who with perversity in his heart continually devises evil." That is, they revels in the natural inclinations of there own depravity (Jer. 17:9; Mark 7:21-22), and in there activities "spreads strife" among men.
StevieRay Hansen
Editor,
HNewsWire.com
[email protected]
HNewsWire: "In October, November and December, There Will Be a Terrible Death Rate, Globally" Will Occur "Exclusively" With Vaccinated People. "Those Deaths Will Be Labeled Swiftly as a New Variant Strain of Covid
People are in a state of fear, they are susceptible to manipulation and easy for Satan Soldiers to control."
Trust-WHO-FDA-CDC-GOV.-HELL-NO — TrustGOD Only
The 127 Faith Foundation: We do not solicit donations from "those on disability, on a fixed income, or those who cannot afford to give." Please Pray!
Or, make checks payable to:
The 127 Faith Foundation
PO Box 127
Pontotoc, TX 76869
The number of Orphans aging out of Child Protective Custody has grown at an alarming rate. The 127 Faith Foundation receives many requests each week to house them at our ranch. Our prayer is that the good people of our country will step up to the challenge and offer financial support for "the least among us." We need your help! StevieRay Hansen, Founder, The 127 Faith Foundation
We make every effort to acknowledge sources used in our news articles. In a few cases, the sources were lost due to a technological glitch. If you believe we have not given sufficient credit for your source material, please contact us, and we will be more than happy to link to your article.