Advisory: Be careful of what you read on social media. The algorithms used by these platforms have no regard for Biblical truth. They target your emotions to keep you engaged on their site so their advertisers can drop more ads. These platforms exist to enrich their stockholders. Consider God's promise to Believers in James 1:5, "If any of you lacks wisdom, you should ask God, who gives generously to all without finding fault, and it will be given to you."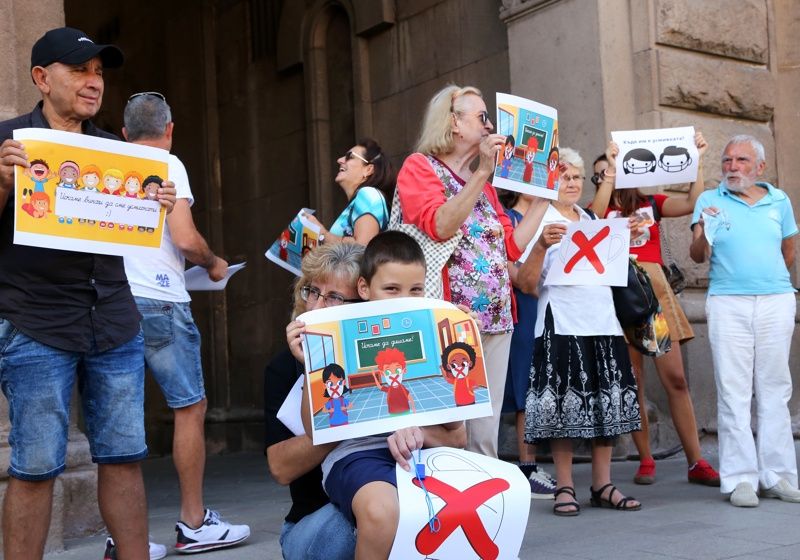 When California lifted the indoor mask mandate for vaccinated adults while awaiting the decision for all K-12 kids and instructors, many parents lost patience.
On the morning of Feb. 15, hundreds of parents and students protested in front of the Chino Valley Unified School District.
"It's time for our children to speak up for their rights, and for our parents to support our children in their right to choose whether or not to wear the mask," Kadie Kirkpatrick, a student's mother, told The Epoch Times.
She believes that requiring students to wear masks for an extended period of time causes more harm than good.
"Masks are something they despise. They no longer want to go to school. "Everything at school is really sad and miserable," she remarked.
With the number of new COVID-19 cases and hospitalizations declining, California has chosen to lift its indoor mask mandate, which will take effect on Feb. 15, but students in the Golden State will still be required to wear masks at school. "It makes no sense," Kirkpatrick believes.
"There's just been so much emotional upheaval that the kids have gone through since the pandemic started," she lamented. "I don't think they're stupid when they see people at the Super Bowl, they see it everywhere except the kids at school wearing their mask."
Many kids took part in the demonstration, waving signs that said "End the Mandatory," "We Can't Breathe," and "Freedom of Choice."
Elena Ochoa, an 11th grader at Chino High School, told The Epoch Times, "We don't want to wear masks eight hours a day." "We respect everyone who does and has that decision, but we should be able to make our own."
Because of the mask and vaccine regulations, Ochoa said she was barred from participating in certain school events. She was looking forward to a vacation her school had planned for everyone a while ago, only to be told that everyone had to produce proof of immunization status in order to travel. "That was unjust," she remarked.
Other students at the event said that wearing a mask put them under a lot of pressure and stress, but that if they didn't wear one, they would face discrimination and verbal abuse.
"I was thrown out of class and told I was a bad person for not wearing a mask." Kendall Hall, a Chino High School student, claimed, "I'm killing people."
She was then seated alone at a small dinner table, but many of her classmates wanted to sit with her. Many parents were outraged and protested as a result of the occurrence. According to Hall, school officials "haven't apologized once" for the incident.
"We need to do rid of the anti-mask discrimination in these mandates," she said, adding that pupils frequently need to walk out and remove their masks to get some fresh air. "I'm not advising you to remove your mask. "All I'm saying is, please make it a choice," she said.
As of press time, Christina Gagnier, president of the Governing Board of the Chino Valley Unified School District, has not responded to The Epoch Times' query. Meanwhile, Andrew Cruz, the vice president of the school board, stated emphatically that schools should let parents and kids to "select what they want."
"There is NO LAW that mandates our children to be masked," Cruz wrote.
Cruz expressed his frustration with the school administration's failure to adequately address parents' concerns in a follow-up phone discussion with The Epoch Times, and he wants to raise the subject again at the next school district meeting.
Sonjia Shaw, chair of Chino Valley USD Parent Advocacy, claimed that her group will assist more parents in filing formal complaints with the school district and county government.
"The next step is to go after the teachers union for what they're doing to our children," she told The Epoch Times. "We've already been hitting our county and our state with the same kind of complaints, will continue to push, and the next step is to go after the teachers union for what they're doing to our children."
The data has never indicated that children are at risk of infection or severe illness from COVID-19 throughout this entire plandemic. What we're witnessing is the brainwashed left putting their loyalty to a tyrannical globalist agenda on display despite their lack of understanding of the implications. The data has shown however, that masking these children is extremely harmful psychologically. It's very hard to watch these parents believe that they're doing the right thing by sending their kids to school masked and incapable of learning social cues. To vaccinate these children is a whole other level of deranged, as the data has never suggested that these children require such inoculations. Yet as we already know, these parent are paying their dues to the tyrants in hope for protection and dependence. Stay inquisitive in the word of God, and the world around you.
Following the success of a recent effort to have the Internal Revenue Service (IRS) scrap its facial recognition program, privacy advocates are now targeting other agencies that employ the technology.
Public interest groups and legislators from both parties reacted angrily to reports last month that the IRS required people to upload selfies for an identity verification program managed by ID.me. Sen. Ron Wyden (D-Ore.) called on the IRS to end the program, while Sen. Roy Blunt (R-Mo.) sought a blanket prohibition on the IRS collecting biometric data. The Electronic Privacy Information Center (EPIC) and the Media Alliance have joined the chorus of public interest groups calling for the IRS to abandon its plan.
Their advertising was a big hit. The IRS announced on February 7 that it will not utilize a third-party business to use face recognition to authenticate new accounts.
The IRS isn't the only target of the privacy campaigners. EPIC and a coalition of 40 other interest groups sent a letter to other government agencies on Feb. 14 urging them to halt their facial recognition programs.
"Using a third-party face verification service also causes unnecessary security risks that are facilitated by government authorities, pushing people to pass over biometric data to a private corporation." "Fraudulent activity is increasingly targeting biometric data, notably faceprints," the organisations warned.
"The use of faces as a credential to access sensitive information by federal and state authorities is likely to result in large-scale data breaches of a credential that cannot be easily updated."
Senators Ron Wyden (D-Oregon), Cory Booker (D-N.J.), and Elizabeth Warren (D-Massachusetts) joined the chorus a day later with a letter to the Department of Labor requesting it to assist state unemployment offices in ditching ID.me.
According to the letter, more than half of the states require job seekers to first create an ID.me account before filing for unemployment benefits. After the start of the COVID-19 epidemic, when most of their business moved online, government agencies' usage of facial recognition accelerated.
In their letter, Wyden, Booker, and Warren said, "It is alarming that so many state and federal government agencies have outsourced their key digital infrastructure to the private sector." "One of the most notable companies in the market, ID.me,… utilizes facial recognition software and lacks transparency about its processes and outcomes, which is particularly troubling."
A request for comment from ID.me about the public campaign against it was not returned.
The business introduced a new way to authenticate identity without using computerized facial recognition on February 8.
"We've listened to user complaints concerning facial recognition software and are implementing this essential adjustment," said ID.me CEO Blake Hall. "We've added an option for users to check directly with a human agent to guarantee customers have even more choice and control over their personal data."
"In recent weeks, we've tweaked our procedure so that government institutions can provide consumers the option of verifying their identification with an expert human agent rather than a selfie check. This configuration is currently available to agencies. Beginning March 1, all ID.me users will be able to erase their selfie or photo from their ID.me account."
Not everyone agrees that the government should forsake facial recognition. "The IRS was wrong to cave in to frenzy," the Information Technology & Innovation Foundation (ITIF) remarked on Feb. 8.
"As tax season begins, it is sad to learn that the IRS has caved in to advocacy groups opposed to any and all forms of facial recognition," the ITIF said. "Every year, the IRS tries to prevent billions of dollars in return fraud, identity theft, and other financial crimes that harm ordinary Americans, and more facial recognition would have been a step in the right direction."
Those in favor of biometric data collection by large corporations, and government agencies are merely consumers concerned with ease of access. They lack a fundamental understanding of the implications of releasing open ended technology coupled with continuous innovation. The Fourth Industrial Revolution is a way of describing the blurring of boundaries between the physical, digital, and biological worlds. It's a fusion of advances in artificial intelligence (AI), robotics, the Internet of Things (IoT), 3D printing, genetic engineering, quantum computing, and other technologies. It's the collective force behind many products and services that are fast becoming indispensable to modern life. Things like GPS systems that suggest the fastest route to a destination, voice-activated virtual assistants such as Apple's Siri, personalized Netflix recommendations, and Facebook's ability to recognize your face and tag you in a friend's photo.
The person who labeled today's advances as a new revolution was Klaus Schwab, founder and executive chairman of the World Economic Forum and author of the book, The Fourth Industrial Revolution. In a 2016 article, Schwab wrote that "like the revolutions that preceded it, the Fourth Industrial Revolution has the potential to raise global income levels and improve the quality of life for populations around the world."
Let's not forget that Klaus was also the author of 'COVID-19: The Great Reset'. Directing his attention to a post pandemic paradigm shift. In which the very driving force behind our economic growth comes from advancements in technological cultivation of nature. Once Klaus got his message across, the royal family posted a two minute video displaying their support in the World Economic Fourm's intentions. The end of the video displays the photo below, i'll let those with keen eyes find what's hidden here.
What most fail to grasp is that when all of the leading technologies of our civilization are combined, we've entered dangerous territory. If you combine advanced robotics, and artificial intelligence alone you'll have a soulless person. There are kids playing around with AI code in their rooms nightly. This isn't some far off threat, it's a golden ticket for the less fortunate who want to make it big. Learning just two programming languages is enough to make six figures if you've got an extensive portfolio.
Why are tech companies paying so much for programmers? They're in a rush to find the pinnacle of efficiency and innovation. But they never ask, what's on the other side of that door? Once society reaches peak efficiency, Christians will already be subject to persecution. Because why would they bow to Jesus when they've got all the tricks up their sleeves? They will be taught to believe that we haven't looked at life from their point of view. Everyone will paint the Christian man as evil for simply detesting human nature.
The technology comes with a price, if you don't play by the same rules as the UN, WEF, Lucis Trust, etc. you're going to be a second class citizen. The elite have cast their shadows on civilization to make their mark during each and every industrial revolution. Today we see Elon Musk trying to influence the crypto market by entertaining careless young traders. While at the same time, trying to make a breakaway civilization to get to mars.
"The Fourth Industrial Revolution, finally, will change not only what we do but also who we are. It will affect our identity and all the issues associated with it: our sense of privacy, our notions of ownership, our consumption patterns, the time we devote to work and leisure, and how we develop our careers, cultivate our skills, meet people, and nurture relationships"

Klaus Schwab
The Fourth Industrial Revolution is reshaping every sphere of human life — from government to commerce; from education to healthcare. It is even impacting human values, opportunities, relationships and identities by modifying virtual as well as physical worlds of human beings. It is in my firm belief that Christians won't get access to much of the technologies to come. By choice of course, because that is the nature of the puzzle God has laid out for us. We've been given free will to live for the world and repent there after. But to be born again, solidifies your role in this world. We've identified ourselves based on the values the bible emphasizes, and used them for the foundation of our very identities. To walk away from that is the unthinkable. Stay inquisitive in the word of God, and the world around you.
The 127 Faith Foundation: We do not solicit donations from "those on disability, on a fixed income, or those who cannot afford to give." Please Pray!
Or, make checks payable to:
The 127 Faith Foundation
PO Box 127
Pontotoc, TX 76869
The number of Orphans aging out of Child Protective Custody has grown at an alarming rate. The 127 Faith Foundation receives many requests each week to house them at our ranch. Our prayer is that the good people of our country will step up to the challenge and offer financial support for "the least among us." We need your help! StevieRay Hansen, Founder, The 127 Faith Foundation
HNewsWire: Whatever It Is, I Don't Know if He/She Is Male or Female, Sounds Like Their Mayor, Lost, Void of God's Plan for Humanity. No…
Read More
We make every effort to acknowledge sources used in our news articles. In a few cases, the sources were lost due to a technological glitch. If you believe we have not given sufficient credit for your source material, please contact us, and we will be more than happy to link to your article.