The US Increases Intelligence Sharing and Arms Sales to Ukraine, Including Helicopters. the United States is at War With Russia. A French Journalist Who Returned From Ukraine After Arriving With Volunteer Fighters Told Broadcaster CNews That Americans Are Directly "In Charge" of the War on the Ground
HNewsWire-A French journalist who returned from Ukraine with volunteer fighters told CNews the Americans are directly "in control" of the ground fighting. Georges Malbrunot, Le Figaro's senior foreign reporter, made the claim.
The White House is seeking to drastically increase its intelligence cooperation with Ukraine, The Wall Street Journal says, based on administration sources.
The Biden administration is seeking to greatly enhance the information it is supplying to Ukraine's troops so they may target Moscow's armed formations in Russian-occupied Donbas and Crimea and perhaps take back land, U.S. officials said.
Furthermore, it comes as Biden has stated the Pentagon would increase up its arms transfer to Kiev. This was disclosed during a phone chat with Zelensky on Wednesday, when Biden said he told his Ukrainian colleague he'd approved an extra $800 million in guns, ammunition, and other security support to Ukraine, according to the official readout.
Crucially, the delivery of helicopters was specified as part of the revised support plan. Some of them are weaponry systems the Pentagon has never supplied Ukraine before. As the portion of the readout shows as follows:
These new capabilities include artillery systems, artillery ammunition, and armored personnel carriers. I have also authorised the transfer of more helicopters. In addition, we continue to assist the transfer of substantial capabilities from our friends and partners throughout the globe.
The constant supply of armaments the United States and its friends and partners have delivered to Ukraine has been vital in continuing its battle against the Russian invasion. It has contributed to Putin's inability to fulfill his original military aims of capturing and dominating Ukraine. We cannot relax now. As I informed President Zelenskyy, the American people will continue to stand with the valiant Ukrainian people in their battle for independence.
It was earlier claimed that they will likely be Mi-17 helicopters.
The WSJ story additionally observes that the new intelligence advice has been given as Russian troops look set for a big fresh offensive further into the Donbas in the coming days.
Meanwhile, and enormously frightening, the Kremlin has put out the following statement, claiming that all of this is a formula for widening the war:
In a statement, the Russian Ministry of Defense spokesman, Maj. Gen. Igor Konashenkov, stated, "We witness efforts at sabotage and attacks by Ukrainian soldiers on objects on the territory of the Russian Federation." "If such situations persist, the Armed Forces of the Russian Federation will strike at decision-making centers, including in Kyiv, from which the Russian army has so far avoided."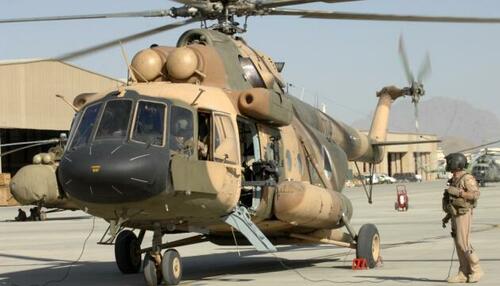 Mi-17 military cargo helicopter, file picture
At a moment when the Pentagon has vowed to "speed up" weapons deliveries to Ukraine's forces, and after Slovakia announced earlier this week that it is in discussion with NATO allies to provide Kiev with MiG-29 fighter jets, the Kremlin has repeated its warning that any weapons shipments entering the country will be viewed as "legitimate military targets."
The latest threat was given Wednesday by Russia's Deputy Foreign Minister, Sergei Ryabkov, who told TASS news agency that the military is ready to destroy any US or NATO trucks detected moving weapons into the battlefield.
"We are warning that US-NATO weapons transfers through Ukrainian territory would be viewed by us as valid military targets," said Ryabkov, after last month the Kremlin made a similar threat. But this time, the wording has been condensed to clearly put the US and NATO on notice, when earlier this was left rather unclear.
He further warned that any efforts to attack Russian personnel will be "harshly crushed," noting that
"We are ensuring the Americans and other Westerners realize that efforts to slow down our special operation, to inflict maximum harm on Russian contingents and formations of the DPR and LPR (Donetsk and Luhansk People's republics) would be ruthlessly punished."
Ryabkov's statements came days after the Kremlin alleged ship-fired cruise missiles destroyed S-300 anti-air systems that had been delivered by a European nation.
According to state sources, Defense Ministry spokesman Major General Igor Konashenkov said on Monday that Russian Kalibr missiles destroyed on Sunday four S-300 launchers concealed in a hangar on the outskirts of the central-eastern Ukrainian city of Dnipro, hitting 25 Ukrainian soldiers in the attack.
However, Slovakia—which had just acknowledged supplying an S-300 system to Kiev—as well as Ukraine itself, rejected the Russian accusations. Given the apparent delivery of such big weapons to Ukraine, it's possible other European and NATO nations will follow in by delivering more and heavier armament, especially amid allegations of Soviet-era tank shipments.
Meanwhile, Reuters reports that the Department of Defense is looking to further ramp up its own shipments to Kiev: "The Pentagon's Defense Security Cooperation Administration is having weekly meetings of its European Crisis Management Team to review specific requests related to Ukraine," writes Reuters.
And the study adds that things are going to accelerate up: According to Reuters, "To speed up U.S. government permission for sales and transfers of armaments made by American military contractors, the Pentagon has re-established a team to react to the increasing demand."
HNewsWire-A French journalist who returned from Ukraine with volunteer fighters told CNews the Americans are directly "in control" of the ground fighting.
Georges Malbrunot, Le Figaro's senior foreign reporter, made the claim.
Malbrunot said that he had previously fought with two French volunteers against ISIS.
"I was surprised, as were others, to learn that to be allowed to join the Ukrainian army, well, it's the Americans who are in control," Malbrunot said.
The journalist went on to say that he and the volunteers were "nearly detained" by the Americans, who claimed to be in command. They were then compelled to sign a contract "till the conclusion of the conflict," according to the journalist.
"And who is in command?"
It's the Americans' fault. "I witnessed it with my own eyes," Malbrunot said, adding, "I believed I was with the international brigades, and then I found myself facing the Pentagon."
Malbrunot also claimed that the US was supplying Ukraine with switchblade suicide drones, which Defense Secretary Lloyd Austin confirmed on Twitter. Ukrainian troops were using the drones near Biloxi, Mississippi, where they were being trained.
Malbrunot also tweeted, citing a French intelligence source, that British SAS forces "have been present in Ukraine from the beginning of the conflict, as have the American Deltas."
Other nations' commandos, who have been in the region since February, are engaged in a "secret battle" in Ukraine.
Both the US and the UK have officially said that there would be no "boots on the ground" in Ukraine, although there seems to have been a US-UK military presence from the beginning of the conflict.
"Polls revealed that the vast majority of Americans wanted our government to remain out of it in the run-up to the conflict, but our leaders know better and are more than willing to risk World War III in support of Ukraine's puppet state," says Chris Menahan.
SRH:During the future tribulation period, the world will be ruled by a godless man presiding over an evil governmental system. The Bible associates this end-times ruler with a terrible beast in Revelation and in Daniel.
As of November 15, 2019, the rule of law no longer exists in the United States of America.
This has become abundantly apparent with the rigged jury decision to incarcerate Roger Stone for the "process crime" of misstating memories during interrogations with federal agents. In an era where Hillary Clinton is openly allowed by the director of the FBI (treasonous criminal James Comey) to destroy evidence, obstruct justice and get away with high-level crimes because "she didn't mean to" violate the law, Roger Stone is about to be sentenced to what will essentially be life in prison (he's 67 years old).
In an era when former president Barack Obama illegally laundered billions of dollars through international banks in order to fly actual pallets of cash to Iran to fund their nuclear weapons program, Julian Assange rots in custody, denied his freedom, his health and his sanity for over a decade, all as punishment for daring to expose the dark secrets of the military-industrial complex.
Will Putin Fulfill Biblical Prophecy and Attack Israel?