Update: False Flag, More Fear Porn Coming Out of The White House: Biden Rambling, Russia Might Invade Ukraine "As Soon As Tomorrow" or Next Week, or Sometime!
The White House's New Friday Ukraine Panic Porn Is Called "Distraction & Disinformation" by Russia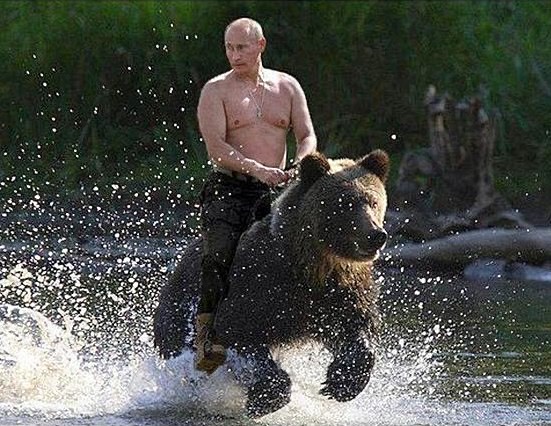 Despite the administration's usual contradictory message, on the one hand serving up another dose of afternoon panic and market turmoil over reports that Russia will invade Ukraine in a matter of days (it's been "days" and "imminent" for several weeks at this point), nothing appears to have changed on the ground at the Russia-Ukraine border. Russian forces have reportedly pushed closer to the border, according to Blinken.
Multiple White House officials have told various major US news outlets that the US now believes Putin has chose to invade Ukraine - though in a public news briefing, Jake Sullivan painted a mixed picture, telling US citizens to leave Ukraine immediately because a military offensive is imminent, while also cautioning that he's not sure Putin has made the final decision.
And now Moscow is "called bullshit" once more. According to the news wires, the Kremlin replied late Friday night local time to the current headline panic-fest in the aftermath of the White House afternoon briefing, calling the fresh "predictions" another more US "disinformation."
WESTERN COUNTRIES WANT TO DISTRACT ATTENTION FROM THEIR OWN AGGRESSIVE ACTIONS, RUSSIA SAYS, BY SPREADING DISINFORMATION ABOUT THE PLANNED RUSSIAN INVASION OF UKRAINE.
And, from earlier in the day, here's Secretary of State Blinken:
New Russian soldiers have arrived at the border, according to Blinken, in "extremely worrying indicators of Russian aggression."
Mr Blinken explained, "We're in a timeframe where an invasion may start at any moment, and to be clear, that includes during the Olympics [which conclude on February 20]."
According to reports, the US Embassy in Kiev is calling US citizens personally to urge them to leave:
The EU has stated that it will not cut diplomatic staff in the country; nevertheless, some nations, like Israel and the United Kingdom, are advising their citizens to leave:
The United Kingdom, the Netherlands, Latvia, Japan, and South Korea are among the countries urging nationals to evacuate. All British nationals "should depart now while commercial ways are still available," according to the British foreign office.
Latvia noted "a major danger to security presented by Russia" in its warning.
Biden is now said to be trying to arrange a phone chat with Putin.
With all of this in mind, a little Friday humour is in order...
updated (2:51 p.m. ET): The White House is now advising Americans in Ukraine to leave the country "immediately," giving them 24 to 48 hours to do so. All US citizens in Ukraine should "depart immediately," according to National Security Adviser Jake Sullivan. The number of Americans in the nation is frequently believed to be in the tens of thousands, with dual citizens accounting for roughly 30,000.
THE UNITED STATES OF AMERICA ORDERS AN ADDITIONAL 3,000 TROOPS TO POLAND.
"On this topic, we want to be quite explicit. Anyone in Ukraine who is an American should evacuate as quickly as possible, preferably within the next 24 to 48 hours "Sullivan stated. "Obviously, we cannot foresee the future. We don't know what will happen, but the danger is now enough high, and the threat is now sufficiently urgent. If they stay, Americans "assume danger with no certainty that there would be another opportunity to evacuate and no chance of a US military evacuation in the case of a Russian attack," according to the report "Added he.
"Now is the time to depart," he stated. "We are in a window where an invasion might start at any time if Vladimir Putin orders it." In the afternoon press briefing, Sullivan also stated that US intelligence believes Putin might launch an invasion before the conclusion of the Olympics...
"We're still seeing indicators of Russian aggression, such as troops approaching the border. As we've already stated, we're in the midst of a window in which Vladimir Putin might command an invasion at any time. I will not comment on the specifics of our intelligence information, but I do want to be clear that it might start during the Olympics, despite widespread anticipation that it will start thereafter."
Following all of the worried threats coming out of the White House, there came this... "but an official says the US doesn't know if Russia has chosen either way," according to the WSJ.
Despite the fact that it's unclear what has changed on the ground, President Biden is encouraging all Americans in Ukraine to "leave now." In a new NBC News interview, Biden stated, "American people should go now." He was speaking about the Russian force build-up that is threatening Ukraine.
The president cautioned that "things might go wild rapidly" in the region, adding that US people should make arrangements to leave the nation as soon as possible. In the whole interview, which will run later today, he goes on to say, "It isn't as if we are dealing with a terrorist group. We're up against one of the world's largest militaries. It's a whole different circumstance, and things might easily spiral out of control."
File from Kiev, courtesy of the Moscow Times
However, at other points in the conversation, he implied that President Putin's goals had not been made plain. If Putin is "foolish enough to go in," Biden said NBC, "he's clever enough not to...do something that would badly harm American civilians."
The Pentagon said earlier this week that it wants to set up a logistical operation along the Polish-Ukrainian border, just inside Poland, to help with any potential large-scale evacuation of US nationals from Ukraine in the event of a Russian invasion. With NBC, Biden elaborated on the possibility:
During his NBC interview, Biden stated that "there isn't" a circumstance that would cause him to send US forces to Ukraine to rescue Americans seeking to flee the country, adding, "When Americans and Russia start firing at each other, that's a world war."
Approximately 2,000 extra US troops have already been dispatched to Poland from Fort Bragg and Germany in order to set up the necessary logistics for an evacuation.
Meanwhile, the US State Department continues to advise against all travel to Ukraine by Americans. It also reissued a travel advice from last month, citing "increasing concerns of Russian military action" as a reason for Americans to leave.
The alert cautions Americans that "in the event of Russian military action anywhere in Ukraine, the US administration will not be able to remove US people."
Without a doubt, the US leadership is still haunted by the tragic Afghan evacuation disaster. As a result of measures that were too little, too late, US citizens and dual nationals are still alleged to be stuck in Taliban-run Afghanistan.
At the same time, Ukraine's administration has attempted to temper Washington's rhetoric, claiming that it is spreading unwarranted concern among the country's citizens. Kiev is unlikely to be pleased with Biden's recent remarks urging Americans to leave the country, which Zelensky himself has described as premature and alarming.
It was only last Wednesday that the White House walked back its prior consistent assertions that a Russian invasion of Ukraine was "imminent".
Russian ambassador calls fears of Ukraine invasion 'bluff' and 'hysterical' reaction of the West
Fears of a Russian invasion of Ukraine are a "bluff" and a "hysterical narrative" being pushed by Western nations, says Vladimir Chizhov, the long-time Russian ambassador to the European Union, adding the Kremlin has no intentions to carry out such a dramatic action.
"Russia has no plans to invade either Ukraine or any other nation. It's a farce produced not in Russia but in those nations that are now disseminating this hysterical message across Europe and the globe," Chizhov said in an interview with Euronews' Efi Koutsokosta.
"We believe in diplomacy, and I can only hope that our interlocutors here in Europe and beyond the Atlantic, continue to the same concept that any issue can and should be handled by diplomatic methods."
Putin: Remember WMDs in Iraq and I remember that Kabul is not gonna fall.
A Thrilling Ride
Every once in awhile, a book comes across your path that is impossible to put down. A Long Journey Home is not a casual book that you read in a week or earmark to complete at a later date. Once you begin, cancel your schedule, put your phone on silent, find a quiet place where you cannot be disturbed, and complete the journey. Click Here to Purchase on Amazon.com!
December 1, 2023 There has been a continued conflict calling about the need for the Separation of State and Church for a long time in ...
Read More

→