DC COVID-19 Vaccine Mandate to Shop, Dine Goes Into Effect — We Have Enter the NWO Death March — Traveling Papers Are Required — It Looks Like Social Media Has Lied to us — YouTube the Biggest Fraudster!!
A Thrilling Ride
Every once in awhile, a book comes across your path that is impossible to put down. A Long Journey Home is not a casual book that you read in a week or earmark to complete at a later date. Once you begin, cancel your schedule, put your phone on silent, find a quiet place where you cannot be disturbed, and complete the journey. Click Here to Purchase on Amazon.com!
Shoppers and diners 12 and older in the nation's capital now have to show proof of COVID-19 vaccination under new rules that took effect on Saturday.
Washington Mayor Muriel Bowser's executive orders, announced last month, force people entering a range of indoor venues to prove they've gotten a COVID-19 vaccine by using the paper card people get when receiving a jab, a record of the card, or a verification application.
The mandate applies to people entering restaurants, nightclubs, and coffee shops; movie theaters, bowling alleys, and venues hosting concerts; gyms, fitness studios, and any facilities used for group fitness classes; and venues for indoor events and meetings.
Bowser, a Democrat, said the mandate was a way to ensure hospitals in the city don't get overwhelmed amid a spike in COVID-19 cases.
Republicans urged Bowser to rescind the mandate before it took effect, arguing it would disproportionately harm businesses in the District of Columbia and drive people to spend their money in nearby locales.
"Everyone I've talked to says, 'Oh, I'll just go to Virginia. It's so close,'" Rep. Marjorie Taylor Greene (R-Ga.) told NTD.
Bowser and her administration have defended the mandate, asserting it will lead to more people getting vaccinated and make indoor establishments safer.
"So there are two reasons why we have the vaccine requirement: one, to encourage more people to get vaccinated, and two, to make sure that we have safer environments when we all gather together," John Falcicchio, Washington's deputy mayor for planning and economic development, told reporters on Friday.
He appeared at Dauphine's, where one of the partners expressed his support for the vaccination requirements.
"We're leaning into the mayor's vaccine mandate and really stressing to people that it's safe to come in the restaurants. We're going to do everything we can to make it a safe experience for you," he said.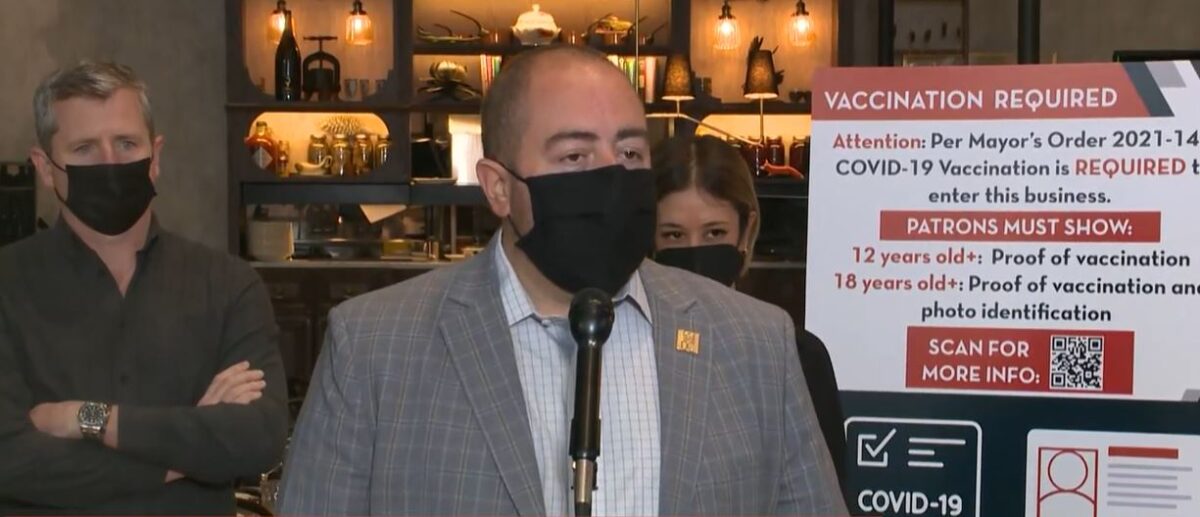 Neither were questioned on their statements, which clash with studies and data from the United Kingdom, South Africa, and elsewhere that suggest the vaccines don't protect people against getting infected by the CCP virus following the emergence of the Omicron variant of the CCP (Chinese Communist Party) virus, which causes COVID-19.
The new rule makes people show they've had one dose of a vaccine; on Feb. 15, people must prove they've been fully vaccinated, or gotten two doses of the Moderna or Pfizer jab or the single-shot Johnson & Johnson one.
Adults have to show identification along with proof of vaccination.
Kathy Hollinger, president and CEO of the Restaurant Association of Metropolitan Washington, called the forcing of businesses to check vaccination status "burdensome" and said that "our bigger issue is the policing of everything and the layering mandates of having to have a small business police various mandates." At the same time, she expressed gratitude that the city wasn't trying to force so-called non-essential businesses to curb service or shut their doors like earlier in the pandemic.
Some establishments signaled they won't comply with the mandate.
"As has always been the case for us, everyone is welcome. This rule applies yesterday, today, and tomorrow. Hopefully we'll see you Jan. 16," The Big Board said on Twitter.
The the New Testament, the writer Paul – moved by the Holy Spirit – describes in 2 The 7-9 a "mystery of lawlessness" that is already at work in the world:
2 Th 7: "For the mystery of lawlessness is already at work; only He who now restrains will do so until He is taken out of the way."
2 Th 8: "And then the lawless one will be revealed, whom the Lord will consume with the breath of His mouth and destroy with the brightness of His coming".
2 Th 9: "The coming of the lawless one is according to the working of Satan, with all power, signs, and lying wonders,
This "mystery" of lawlessness is the force of evil, working through financiers, governors, majors, and other politicians. There is a demonic force at work behind all of this – – the hijacking of the Covid-19 virus to create a pandemic of fear, the destruction of economies around the world to remove security and life support from millions, and now the violent protests designed to flame the fires of hatred among people.
This is the work of the evil one, pure and simple.  As Jesus said, he is a liar and the father of lies.  He is the destroyer, and wants to rule the world through the power of an "anti-Christ" – a one-world ruler.  He knows that his time is short, and that the Messiah Jesus is coming and will one day consume him with the "breathe of His mouth". He will soon be revealed as a calm and confident individual, charismatic even, one who promises to restore order and bring peace to the nations.  This is the "great deception" that is spoken of in the Bible: see 2 Thessalonians 2:11, which predicts that God will, in an end-times judgment, send "a powerful delusion so that they will believe the lie."
2 Thess 2:11: 11 "Therefore God sends them a strong delusion, so that they may believe what is false,
in order that all may be condemned who did not believe the truth but had pleasure in unrighteousness."
This is a thorough analysis of future travel that requires you to secure and carry a "vaccine passport" proving that you are clear of virus particles. I suggest that you read every word, listen to each video and carefully consider what it means for you.
Around the world, there's considerable resistance against mandatory COVID-19 vaccination, but even if the vaccine ends up being "voluntary," refusing to take it will have severe implications for people who enjoy their freedom.
For months, the writing has been on the wall: Forced vaccination is part and parcel of the plan to "reset" the global economic system, forever altering life as we know it along the way. Now, global vaccine passports are in fact being introduced, and it's only a matter of time before vaccination status will be a prerequisite for travel.
Just how voluntary is it if you have to have the COVID-19 vaccine if you ever want to leave the country — or perhaps even state — in which you live, at any point during the rest of your life?
CommonPass
CommonPass1 is a digital "health passport" framework initiated by The Commons Project, the World Economic Forum and The Rockefeller Foundation, which during the first week of July 2020 convened more than 350 leaders from the public and private sectors in 52 countries to design a common framework "for safe border reopening" around the world. The proposed framework involves the following:
Every nation must publish their health screening criteria for entry into the country using a standard format on a common framework
Each country must register trusted facilities that conduct COVID-19 lab testing for foreign travel and administer vaccines listed in the CommonPass registry
Each country will accept health screening status from foreign visitors through apps and services built on the CommonPass framework
Patient identification is to be collected at the time of sample collection and/or vaccination using an international standard
The CommonPass framework will be integrated into flight and hotel reservation and check-in processes
Eventually, the CommonPass framework will be integrated with already existing personal health apps such as Apple Health and CommonHealth. If you want to travel, your personal health record will be evaluated and compared to a country's entry requirements, and if you don't meet them, you'll be directed to an approved testing and vaccination location.
A screen grab from the video illustrates the general idea of how this will all work. When you get your test result or vaccine, that data is uploaded to an app on your cellphone. The app generates a barcode that is then scanned at the airport, at hotel check-in and wherever else vaccine status verification is deemed necessary.
That the Rockefeller Foundation is one of the three founders of CommonPass should surprise no one, considering they basically laid the groundwork for it in their April 21, 2020, white paper2 "National COVID-19 Testing Action Plan — Strategic Steps to Reopen Our Workplaces and Our Communities."
That white paper laid out a strategic framework that is clearly intended to become part of a permanent surveillance and social control structure that severely limits personal liberty and freedom of choice.
It also warns that elimination of privacy will be required, stating that "Some privacy concerns must be set aside for an infectious agent as virulent as COVID-19 …" The tracking system proposed by The Rockefeller Foundation also demands access to other medical data, which tells us the system will have any number of other uses besides tracking COVID-19 cases.
Worldwide Tracking Begins
This digital clearance system is currently being tested by United Airlines3 on flights between London and Newark, and Cathay Pacific on flights between Hong Kong and Singapore.4 As reported by Tott News, November 15, 2020:5
"Volunteer travelers landing at Newark Liberty International Airport on United Airlines Flight 15 from London Heathrow used the CommonPass health pass on their mobile phone to document their COVID-19 status and share it with airline staff upon disembarking.
Officials from U.S. Customs and Border Protection and the Centers for Disease Control and Prevention (CDC) observed the CommonPass demonstration in Newark … The transatlantic trial followed a successful trial of CommonPass on a Cathay Pacific flight from Hong Kong to Singapore on October 6.
Paul Meyer, CEO of The Commons Project, says it is anticipated that following initial trials, CommonPass will be rolled out on other routes, including international travel to and from Australia …
We are now seeing the beginning phases of a worldwide tracking system that will be linked to the health status of each and every individual … This has always been the agenda. Track and trace; identify the undesirables through deception."
Across Its US Stores The First "Amazon Fresh" grocery store equipped with "Just Walk Out" technology has opened, allowing customers to purchase groceries without having to wait in a long checkout line… The catch is that all customers will be surveilled and tracked using an advanced system of cameras and artificial intelligence (AI). And the eventual…
Do You Understand What Satan Soldiers Youtube, Fakebook, Parler, Gettr and Twatter Think of You?

Your a Basement Dwellers That Deserve to Be Controlled, Take a good look at YouTube's HYPER REPROBATE Chief Product Officer Neil Mohan trash-talking idiot, his is NOT a Christian That For Sure, In Fact The Google Groups Hates Christian…
YouTube's Chief Product Officer has insulted his own users as basement-dwellers who deserve to be relegated by the algorithm in favor of "authoritative" mainstream sources.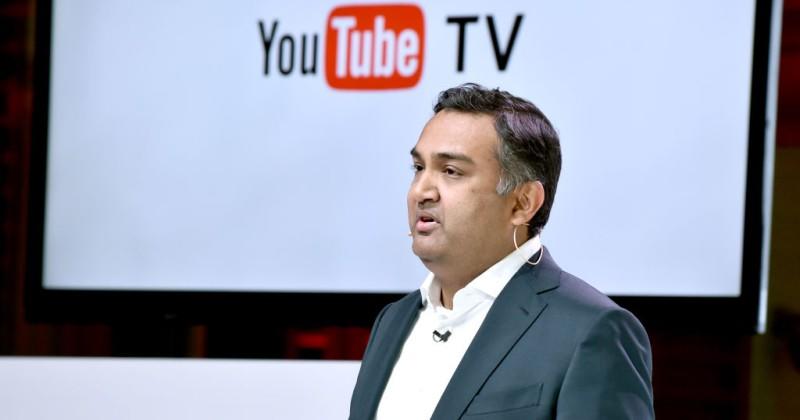 Things To Come: It has been 7 years on 17th/1/2023 since 'the little horn[son]' -the Bibi[baby] son whose name /number adds to 666 renewed the Mosaic Covenant with Pope Francis…
Read More
A Thrilling Ride
Every once in awhile, a book comes across your path that is impossible to put down. A Long Journey Home is not a casual book that you read in a week or earmark to complete at a later date. Once you begin, cancel your schedule, put your phone on silent, find a quiet place where you cannot be disturbed, and complete the journey. Click Here to Purchase on Amazon.com!
Things To Come: It has been 7 years on 17th/1/2023 since 'the little horn[son]' -the Bibi[baby] son whose name /number adds to 666 renewed the Mosaic Covenant with Pope Francis…
Read More