Advisory: The editorial board of HNewsWire adopted the official policy to bypass many social media platforms. Some of these include: Facebook, Instagram, Twitter, Parler, and YouTube. We believe these companies are responsible for many of the spiritual ills our world faces today. In some cases, however, we have allowed our guest contributors to include content from their YouTube channel while we search for alternatives.
A friend of mine who lives in a country with very strict and successful gun control laws recently informed me of how many people in that country have been killed in knife and bomb attacks in recent years. It is staggering. The state-controlled media suppresses the news, so it is not widely known. (I am intentionally not mentioning the country in which he resides for his own protection.) This demonstrates that guns are not ultimately the problem. People are the problem (Romans 3:10-23).
It's time for some "common sense" knife-reform…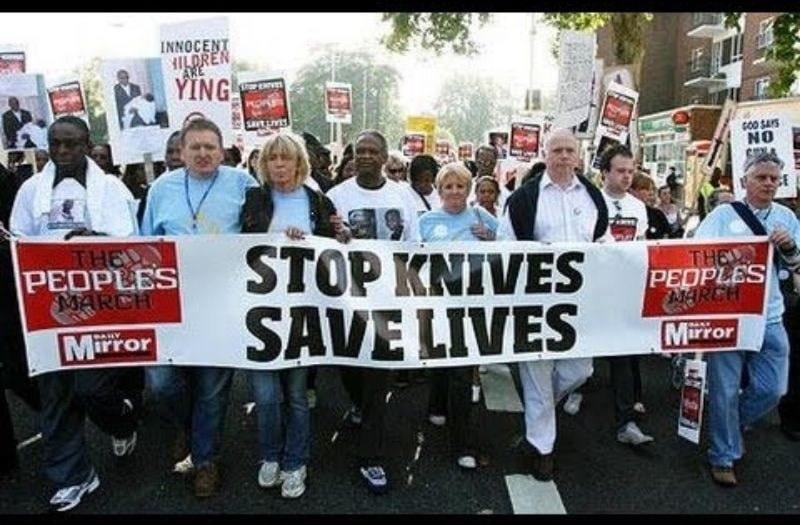 In downtown Pittsburgh, two women were stabbed. One died and the other is in stable condition at last report. Over on the other side of the country, a 33-year-old Hispanic man in Santa Ana, CA, went on a two-hour stabbing spree. Four people are dead and two wounded. Back on the East Coast, with horrified patrons as a backdrop, a man walked into a nail salon in Queens, NY and plunged a knife into his wife's back over and over until she lay dead on the floor. All this in just a couple of days in America.
Time For Knife-Control
It's obvious the time has come for a national knife control bill. Since we must legislate all weapons based on their usage, it is vital that at the very least we begin background checks on those who want to purchase knives. The suspect in California, after all, had a criminal record.
Progressive retailers across America sprang into action. Within hours of the nationwide epidemic of stabbings, Williams-Sonoma, Sur La Table, Bed, Bath & Beyond, and the kitchen departments in Macy's, Kohl's, and Target began removing kitchen knives from the shelves.
Executives from Walmart HQ said they are seriously considering taking similar action.
Meanwhile on Capitol Hill – and flanked by fellow members of the Democratic Party – Speaker Nancy Pelosi (D-CA) held a press conference calling for a national ban on knives. "If it means eating our watermelon whole and cutting our meat with plastic, then Democrats plan to lead the way to a more safe and secure America." After Pelosi spoke, she graciously yielded the microphone to Rep. Alexandria Ocasio-Cortez (D-NY). "I am proud to be the one who stopped J.A. Henckels from relocating to New York City. No amount of jobs is worth trading for American lives," she said.
On the campaign trail, Rep. Joaquin Castro (D-TX) said he plans to publish the names of every national knife manufacturer CEO who does not take immediate action to restrict knife sales. Castro then took to Twitter, saying, "People need to know who is willing to sell knives and who is not. It's a matter of national safety. Anyone selling knives without thorough background checks should be shamed for putting profits above lives. As such, I am calling for people all over this great nation of ours to rise, boycott and protest #walmart, @dickssportinggoods and #acehardware."
Not to be outdone, Sen. Elizabeth Warren (D-MA) pointed out that the Cherokee Nation stopped using knives generations ago and that she plans to donate to the National Indigenous Women's Resource Center to honor the fallen. Then, while at a campaign stop at Chipotle in Iowa, Sen. Cory Booker (D-NJ) said, "Under my watch, New Jersey was the first state in the union to call for rigorous blade background checks."
On the South Lawn of the White House, the press corps gathered to get a reaction regarding the stabbing frenzy from the president. CNN's Jim Acosta could be heard shouting over the whirring blades of Marine One, "Mr. President, in light of the recent spate of stabbings, do you support a national knife ban?" President Trump responded, "Knives? I have always liked knives, especially when I'm eating steak."
This comment set off a firestorm from the Fourth Estate, with The New York Times out in front of the pack. Just before the deadline for their failing print edition, editors put up a front-page article entitled "Trump Says Steak Comes First – American Lives Second."
This caused the Portland, OR, ANTIFA Chapter to don their masks and take to the streets, where police stood by as concrete milkshakes were thrown at the CEO of Cuisinart, owner of the Knife Center based in Oregon. A shaken Steel M. Blade was taken to the hospital following the melee. He is reported in stable condition.
Meanwhile, in Fairfax, VA, at the headquarters of the National Knife Association, angry protesters swarmed the building. Fairfax County police were called to the scene to put those inside the NKA on lock-down until they could clear the area.
Do Americans have a right to own knives? Should extensive background checks regarding the criminal records and mental health of potential knife buyers become law? These are the crucial questions flooding the airwaves of the nation. Ultimately, it comes down to whether Americans are willing to rip meat from the bone with their bare hands or be permitted to cut it in with a knife in a civil way. Source
Only time will tell.
StevieRay Hansen
Editor, HNewsWire.com
Jesus chastised religious leaders in the first century for not knowing the time of His arrival. Will we make the same mistake today? Christ stated how His second coming would be preceded by global events signifying the end of our age. We may not know the day or the hour, but we can know the season!
"And it shall come to pass afterward, that I will pour out my spirit upon all flesh; and your sons and your daughters shall prophesy, your old men shall dream dreams, your young men shall see visions." (Joel 2:28.)
Education is useless without the bible (Daniel Webster)
"Courage is as "fear that has said its prayers."
John Wesley who said that what we tolerate in our generation, will be embraced by the next. Wesley is 100% correct! We are living in sick times.
Usually, the Lord doth no great thing for or against his people, without giving warning of it before it comes.
The 127 Faith Foundation: We do not solicit donations from "those on disability, on a fixed income, or those who cannot afford to give." Please Pray!
Or, make checks payable to:
The 127 Faith Foundation
PO Box 127
Pontotoc, TX 76869
The number of Orphans aging out of Child Protective Custody has grown at an alarming rate. The 127 Faith Foundation receives many requests each week to house them at our ranch. Our prayer is that the good people of our country will step up to the challenge and offer financial support for "the least among us." We need your help! StevieRay Hansen, Founder, The 127 Faith Foundation
We make every effort to acknowledge sources used in our news articles. In a few cases, the sources were lost due to a technological glitch. If you believe we have not given sufficient credit for your source material, please contact us, and we will be more than happy to link to your article.