Nurses Give Two Young Children COVID Kill Shot Vaccines Despite Lacking Authorization – Force Is Now the Only Rule Remaining in Satan-Controlled America. Everything Else Has Collapsed
Nurses in Texas recently administered COVID Kill Shot vaccines to two young children despite the vaccines not being authorized for their age group, leaving their families shocked.
Julian Gonzalez was with his family, including his 6-year-old son, at a trick or treat event at the Mount Hebron Missionary Baptist Church in Garland on Halloween.
Gonzalez decided to get a booster shot at a pop-up vaccination clinic run by the city at the church.
Nurses there asked the ages of the family's children. When they learned one was 6, they said he could get the Pfizer vaccine.
"Going off of their confidence and what we had read, we were all for it," Gonzalez told KTVT-TV.
A neighbor's 7-year-old boy also got the jab.
But on Oct. 31, the shot wasn't cleared by federal health authorities for use in anybody under 12.
Even after it was this week, health care workers are being directed to give children between 5 and 11 a 10-microgram dose, not the usual 30-microgram injection.
One of the reasons for the lower dosage is because children have seen elevated rates of heart inflammation after getting the vaccine.
The city of Garland called the Gonzalez family on Monday to inform them the boys should not have gotten the jab, and that they got three times the recommended dosage level.
"Where did that decision come from? Who was it that told them they could go ahead and offer it?" Gonzalez wondered.
In a statement to news outlets, the City of Garland Health Department confirmed two shots that shouldn't have been administered were administered.
The doses were administered "in error," health officials said, adding that they were communicating with the children's parents, who were monitoring their children for side effects, and had alerted state health officials.
The city was investigating what happened.
The city couldn't be reached and the church did not immediately respond to a request for comment.
The Gonzalez boy's parents said he was suffering some side effects but they had eased. The condition of the other boy wasn't known.
AstraZeneca and Pfizer Targeting Children: COVID-19 Vaccine to Be Tested in Children as Young as Six… Satan Soldiers Moving At Warp Speed, As In Trump's 
Warp Speed
On Tuesday the 26th October 2021, the Food and Drug Administration (FDA) panel voted to formally recommend that children between the ages of 5 and 11 years old  be authorised to receive Pfizer–BioNTech COVID-19 vaccine under emergency use authorization (EUA).
Looking at the reported adverse events in VAERS a bold note accompanying the reports can be clearly seen stating  *Note that the total number of deaths associated with the COVID-19 vaccines is greater than the number of deaths associated with all other vaccines combined since the year 1990. That statement alone should mean end of discussion, particularly when that discussion is referring to the roll out of the emergency use authorization of what is termed "COVID Vaccine".
When rulers turned away from God, He would use evil spirits to discipline them (Judg 9:23; 1 Sam 16:14-15). This resulted in the disciplined person experiencing mental madness and murderous behavior (1 Sam 18:10-12; cf. 1 Sam 19:9-10). God used an evil spirit to bring about the military defeat and death of King Ahab (2 Chron 18:18-22).
Children as young as six will be part of a new COVID-19 vaccine trial, the University of Oxford announced Saturday.
"Building on previous trials of the vaccine, which have shown that it is safe, produces strong immune system responses and has high efficacy in all adults, this trial will assess if children and young adults aged 6–17 years make a good immune response with the ChAdOx1 nCoV-19 vaccine," the university said in a statement.
ChAdOx1 was developed by the university and AstraZeneca in a bid to prevent transmission of the CCP (Chinese Communist Party) virus, which causes COVID-19.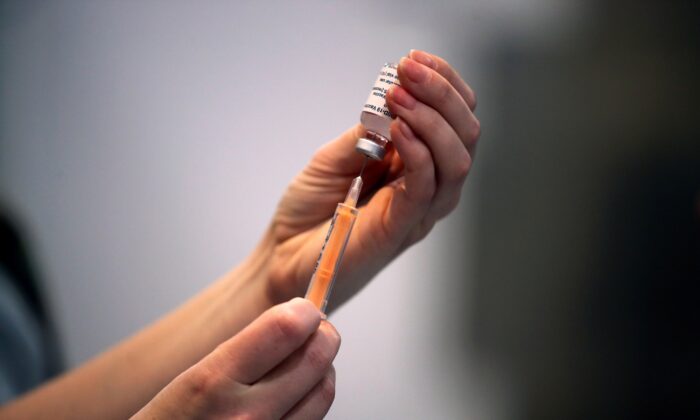 COVID-19 is a disease that began appearing in late 2019 in China.
The new trial will be single-blind, randomized, and phase II. It will enroll 300 volunteers, of whom up to 240 will get the vaccine. The others will be injected with a control meningitis vaccine.
Children between the ages of 6 and 17 are being targeted in the new trial, which is being funded by AstraZeneca and the UK's National Institute for Health Research.
Studies show that most youth suffer little when they get COVID-19. Few deaths among those with the disease worldwide have been recorded among youth.
Some 2.3 million people have died with COVID-19 as of Feb. 13, according to a tracker run by Johns Hopkins University.
Hope You're Awake by Now, Satan Soldiers Intend to Make Your Life ,Your Children's Life
a Living Hell, Food Has Been Weaponized to Bring You Under Control…
Update; 10/3/21 Is Pfizer Doing Illegal Experiments on Orphan Babies in Poland, Spain, Finland and the US?
Children's Health Defense was recently alerted by Polish whistle-blowers that Pfizer is conducting experiments on orphan babies 6 months old to test their new vaccines. Babies and children do not die from Covid and rarely transmit the disease. This alone should be enough to refuse any kind of clinical trials with experimental vaccines.  But Pfizer seems to be operating outside legal boundaries. If this is case, it is simply unacceptable and needs to stop. Answers and action are needed.
A group of lawyers, medical professionals and activists asked members of the Polish parliament and Senate to organise a conference on Saturday October 2nd  entitled:
"MEDICAL TESTS ON CHILDREN AND INFANTS – MEDICAL, LEGAL AND ETHICAL ISSUES ".
The conference is organized by Polish associations and foundations such as The Polish Association of Independent Doctors and Scientists, The Association of Lawyers Voice of Freedom, Dobrostan Health Information Center Association, and the New Spectrum Foundation
International speakers will feature Dr. Natalia Prego Cancelo from Spain, Dr. Meryl Nass and Mrs. Vera Sharav from the United States.
Here are some of the major questions that need to be answered:
– Is Pfizer conducting experiments on orphan children who are the most vulnerable and have no one to take their interests at heart if things go wrong? If so why and who consented to this?
– Why is Pfizer allowed to do clinical trials on babies with a product that has not completed phase 3 of the clinical trials and that is a new technology?
– Why is Pfizer refusing elected officials the get access to their documents?
– What is happening in the other countries where these experiments are conducted?
– Are the EMA and the FDA really doing their job?
And finally…are vaccine manufacturers operating in complete secrecy and outside any legal control?
Other information on the science and ethics of the clinical trials on children have also raised our concerns. Yaffa Shir- Raz, a risk-communication researcher of the University of Haifa in Israel has published an article on the very questionable methods used by the company called 'Serious violations and manipulations of the trial protocol: This is how Pfizer managed to obtain the FDA's emergency authorization for children'.
This article points to troublesome facts questioning Pfizer's intention to demonstrate safety of the use of its vaccines in children. For example, children who suffered severe depression were suddenly found to have pre-existing psychiatric conditions that should have excluded them from the study cohort and the reporting criteria seem to have been designed to exclude signals of adverse events.
Vaccine developers have a long story of experimenting on the most vulnerable: orphans, mentally and physically disabled, political refugees and impoverished populations. Stanley Plotkin, who patented numerous vaccines and is nicknamed 'the pope of vaccines' once defended himself by saying that disabled people 'were only human in form'.
Getting rid of the weakest has always been practiced in the name of the greater good. Now is the time to take responsibility and put an end to this barbarian practice.
Letter from Polish activists and medical associations on the medical tests on children and infants
Dear All,
We would like to invite you to participate in a conference that will be taking place on the 2nd of October 2021 at 12:00 Warsaw time in the Polish Parliament.
The conference will include medical and legal debate in regards to testing medical products on children and very young babies. This conference is apolitical and non-religious. It is organized by Polish associations and foundations such as The Polish Association of Independent Doctors and Scientists, The Association of Lawyers Voice of Freedom, Dobrostan Health Information Center Association, and the New Spectrum Foundation. Representatives of the parliament and the government as well as main stream media have been invited to passively participate and to help the public understand the depth of the issue.
This conference has been requested in connection with the theoretical and practical analysis of clinical trials involving children and infants due to the fact that children cannot consent to participate in a biomedical study and therefore additional safeguards should and must be applied to protect them. We believe this is not happening at present.
We are therefore asking for your help in defending Polish children and children in clinical trials around the world. This is now happening in at least four countries because of the misinformation and the confidential agreements imposed by Pfizer.
Since June 2021, Pfizer has been conducting experimental trials on Polish children with vaccines against Covid-19. To our knowledge these experiments are done on healthy infants from 3 and 6 months of age up to age of 11.
Remember when they all said that they were never going to demand forced vaccinations and that the passports were a "conspiracy theory"? Well guess what? We "conspiracy theorists" were right yet again.
Source: HNewsWire   HNewsWire   TPT   Reference
StevieRay Hansen
Editor,
HNewsWire.com
[email protected]
Remember, the first people Hitler put in concentration camps weren't the Jews. The first people were the intellectuals, because if you take the intellectuals and the doctors off the street, if you stop people from talking, you can control the people.
You can't say no, you can't sue for harm, and you can't see the data underlying the government's claim that the product is safe and effective. That seems fair.