Advisory: Be careful of what you read on social media. The algorithms used by these platforms have no regard for Biblical truth. They target your emotions to keep you engaged on their site so their advertisers can drop more ads. These platforms exist to enrich their stockholders. Consider God's promise to Believers in James 1:5, "If any of you lacks wisdom, you should ask God, who gives generously to all without finding fault, and it will be given to you."

In the United States, an increasing number of biotech, genomics, and medtech companies with ties to the Chinese Communist Party (CCP) are raising worries about the security of medical and genetic data.
China's sovereign wealth fund has more than $1 trillion in assets, accounting for more than 33% of global sovereign wealth fund holdings. As part of the CCP's Made in China 2025 initiative, most of this money has been pouring into U.S. biotech companies since 2017. Biotech is particularly identified in the industrial policy as a strategic industry that is eligible for government funding. As a result, Beijing has set aside $100 billion for investment in the industry.
China spent $5.1 billion in biotech companies in the United States in 2018, up 25% from the previous year. The People's Liberation Army (PLA) is participating in biotech research to produce bioweapons that target specific ethnic groups, as part of the CCP's "military-civil fusion policy." The health, pharmaceuticals, and biotechnology sectors received half of China's investment in the United States in 2019, followed by financial and business services, and information and communications technology. The number of Chinese drugmakers filing for FDA approval was at an all-time high in 2021.
In the United States, the number of Chinese biotech companies and joint ventures is gradually expanding. Innocube Bioscience Inc., based in Texas, is the U.S. headquarters for China's Lepu Biopharma Co., which is strongly backed by the State Development and Investment Corporation of Beijing (SDIC). BeiGene, a Chinese pharmaceutical and research company based in San Mateo, California, undertakes gene sequencing research on molecularly targeted therapies. The company's Chinese research center, which has received major support from the Chinese government, focuses on genetic engineering.
U.S. people and even the government assist the CCP in infiltrating the bio and medical industries in the United States. The US Army Contracting Command awarded Chinese firm Andon Health Co. a $1.28 billion contract to supply COVID-19 self-test kits last month. In December, Andon's iHealth Labs subsidiary signed a $120 million contract with the New York State Department of Health for self-test kits.
Republican legislators reacted angrily to these purchases. The Republicans proposed a law barring the purchase of Chinese-made COVID test kits, which was defeated by the Democrats. The purchases were hailed by the Chinese tabloid Global Times as evidence that the US is reliant on China to plug supply-chain gaps.
Complete Genomics, a California-based corporation that maintains the genetic information of US residents, was purchased by the PLA-linked BGI Group, formerly known as the Beijing Genomics Institute. A Chinese government sovereign wealth fund bought 1.4 million shares in BGI Genomics last year. State Development and Investment Corporation (SDIC), another wealth fund, owns more than 33% of BGI. Huatai Securities, a Chinese state-owned securities firm, became BGI's fifth-largest stakeholder after purchasing shares from two other Chinese state-owned securities firms.
WuXi Pharma Tech bought NextCODE Health in the United States in 2015, becoming WuXi NextCODE Genomics. There were 15 Chinese genetic testing or genomic sequencing companies operating in the United States as of 2019.
WuXi Biologics purchased a Pfizer manufacturing unit in China, gaining access to some of Pfizer's data in the process. In 2015, the corporation also purchased a share in 23andMe, an American DNA testing company. Massachusetts and New Jersey are now home to WuXi Biologics. It received a funding from the Chinese government to build a pharmaceuticals facility in Delaware. WuXi Advanced Therapies (WuXi ATU) announced the opening of a cell and gene therapy testing center in the Philadelphia Navy Yard in November 2021.
The Foreign Investment Risk Review Modernization Act of 2018 (FIRRMA) broadened the Committee on Foreign Investment in the United States' (CFIUS) authority to ban investments that the government considers to be a national security danger. CFIUS is increasingly using its jurisdiction to put a stop to Chinese biotech investments.
A number of Chinese biotech enterprises are expected to be blacklisted by the US in the near future. Meanwhile, a slew of Chinese biotech corporations are working in the United States, harvesting Americans' genetic data.
It's imperative that we take note of China's use of DNA sequencing data to produce biometric facial recognition software. This armed the Chinese communist party with the ability to find any face, as long as they've attained DNA samples from the subject before hand. But as we know, the CCP has already done that among other jurassic measures. So the question remains, why has the American public not been made aware of the lengths that the CCP has gone to persecute these people?
The answer to that is simple, it's because many Americans will see the most raw results of malicious intent behind a computer. This single topic of conversation alone is enough to make someone who takes interest in technology wonder what is next for America. Considering the divide we've seen in society due to COVID-19 propaganda. The person next to you on a bus could be experiencing life in America completely bought into Fauci's lies. But your choice to refuse vaccination could become troublesome for the sleeping sheep. Only because the lying "omniscient" medical practitioners suggest as such. Stay inquisitive in the word of God, and the world around you.
The non-FDA approved drug Ivermectin has become quite controversial since the outbreak in 2020. Multiple public figures have been scrutinized for their use of the drug to aid their COVID-19 symptoms. Interestingly enough, despite scrutiny the drug appears to have shown as effective against COVID-19 symptoms.
Joe Rogan contracted COVID-19 on or about September 1st, after conducting a stand up show. He then took to instagram to spread the news to his followers.
"So we threw the kitchen sink at it, all kinds of meds," Rogan said, specifying he took a Z-Pak (aka the antibiotic azithromycin), prednisolone (a corticosteroid used to treat inflammation) and Ivermectin, which is a drug used to treat parasitic worms in horses.
The New York Times reported on Aug. 30 that Ivermectin has "repeatedly failed in clinical trials to help people infected with the coronavirus."
If the New York Times is so sure of themselves, what do they have to say about Joe Rogan walking and talking today? or how about the 71 year old man Epoch Times wrote about today who made a full recovery after being administered ivermectin due to a court order that the hospital fought for their lives to disregard?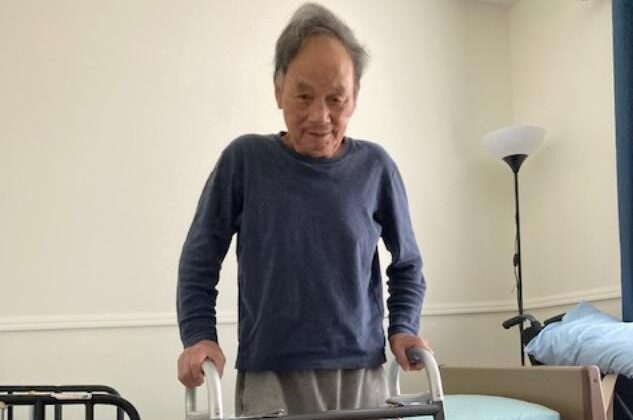 Sun Ng, 71, who was visiting the United States from Hong Kong to celebrate his granddaughter's first birthday, became ill with COVID-19 and within days was close to death. He was hospitalized on Oct. 14 at Edward Hospital, in Naperville, Illinois, a part of the Edward-Elmhurst Health system. His condition worsened dramatically and he was intubated and placed on a ventilator a few days later.
Ng's only child, Man Kwan Ng, who holds a doctorate in mechanical engineering, did her own research and decided her father should take ivermectin, which some medical doctors believe is effective against COVID-19 despite the FDA's guidance to the contrary.
But against the daughter's wishes, the hospital refused to administer ivermectin, and denied access to a physician willing to administer it.
The daughter went to court on her father's behalf and on Nov. 1, Judge Paul M. Fullerton of the Circuit Court of DuPage County granted a temporary restraining order requiring the hospital to allow ivermectin to be given to the patient. The hospital refused to comply with the court order.
At a subsequent court hearing on Nov. 5, Fullerton said that one physician who testified described Sun Ng as "basically on his death bed," with a mere 10 to 15 percent chance of survival.
Ivermectin can have minor side effects such as dizziness, itchy skin, and diarrhea at the dosage suggested for Ng, Fullerton said, but the "risks of these side effects are so minimal that Mr. Ng's current situation outweighs that risk by one-hundredfold."
The judge issued a preliminary injunction that day directing the hospital to "immediately allow … temporary emergency privileges" to Ng's physician, Dr. Alan Bain, "solely to administer Ivermectin to this patient."
The hospital resisted the order on Nov. 6 and 7, denying Bain access to his patient. The hospital claimed it couldn't let Bain in because he was not vaccinated against COVID-19 and that its chief medical officer wasn't available to "proctor" Bain administering ivermectin.
The daughter's lawyers filed an emergency report with the court Nov. 8 and Fullerton heard from both sides. The judge admonished the hospital and restated that it must allow Bain inside over a period of 15 days to do his job. When the hospital filed a motion to stay the order, Fullerton denied it, again directing the facility to comply.
Apparently, the ivermectin worked and Sun Ng has recovered from COVID-19. He was discharged by the hospital on Nov. 27.
The US National library of Medicine posted a 'Review of the Emerging Evidence Demonstrating the Efficacy of Ivermectin in the Prophylaxis and Treatment of COVID-19'. The conclusion of multiple studies conducted goes as follows:
Meta-analyses based on 18 randomized controlled treatment trials of ivermectin in COVID-19 have found large, statistically significant reductions in mortality, time to clinical recovery, and time to viral clearance. Furthermore, results from numerous controlled prophylaxis trials report significantly reduced risks of contracting COVID-19 with the regular use of ivermectin. Finally, the many examples of ivermectin distribution campaigns leading to rapid population-wide decreases in morbidity and mortality indicate that an oral agent effective in all phases of COVID-19 has been identified.
Clear distinctions have been made between ivermectin intended for animal use and human use. It seems that ivermectin for animal use is strongly recommended against due to adverse effects; However ivermectin for human use, appears to have significant effect on COVID-19 symptoms. With that being said, we all know why ivermectin is such a controversial topic.
It takes money out of the pockets of big pharma during a time in which society is expected to turn to them with no questions asked. As they should of expected, much of humanity has a growing distrust for multi-billion dollar institutions such as these. Especially since there has been very limited transparency about the origin of the virus. We already know the origin, they simply want to avoid explanation and convince you to get vaccinated. It's safe to say that most freedom loving Americans are watching closely as they trick over half of society into backing their agenda.
We make every effort to acknowledge sources used in our news articles. In a few cases, the sources were lost due to a technological glitch. If you believe we have not given sufficient credit for your source material, please contact us, and we will be more than happy to link to your article.