Advisory: Be careful of what you read on social media. The algorithms used by these platforms have no regard for Biblical truth. They target your emotions to keep you engaged on their site so their advertisers can drop more ads. These platforms exist to enrich their stockholders. Consider God's promise to Believers in James 1:5, "If any of you lacks wisdom, you should ask God, who gives generously to all without finding fault, and it will be given to you."
White People AL Sharpton…
Jesse Jackson Hospitalized With COVID-19 After Being Fully Vaccinated…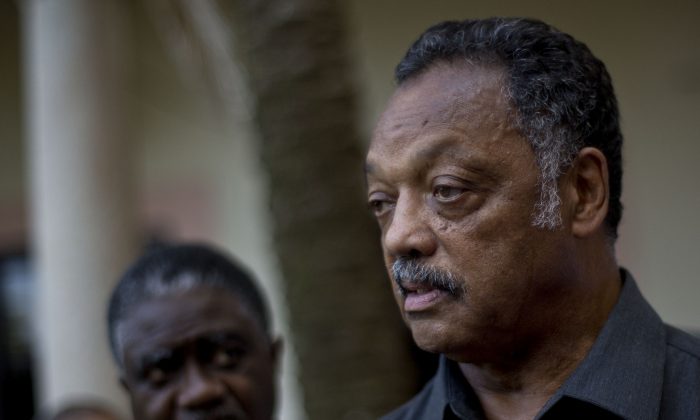 Civil rights leader Jesse Jackson—who is fully vaccinated—and his wife, Jacqueline Jackson, were both hospitalized with COVID-19, according to a statement on Saturday.
Jesse Jackson, 79, received his first dose of a COVID-19 vaccine in January 2021 during a publicized event and urged others to get the vaccine as soon as possible. It's not clear if his wife, who is 77, also got the vaccine.
Both are being treated at Northwestern Memorial Hospital in Chicago, according to a statement from Jackson's nonprofit, the Rainbow/PUSH Coalition. It did not provide an update on their status.
"Let us all pray for Rev. and Mrs Jesse Jackson. They need our sincere and intense prayers. Prayer changes things!!!" wrote MSNBC host Al Sharpton on Twitter.
Jackson , AL Sharpton Are Pharisees Wrapped in Sadducee Loincloth — Hypocrites
Oprah Winfrey Is a Racist, She Is in the Same Category as Al Sharpton And Jackson…
Jesse Jackson, and a Host of Black I Hate White People Troublemakers, It's the Lack of God in Their Heart That Turns Them to Hate and Wants Revenge in the Name of Skin Color…
Billionaire media mogul Oprah Winfrey declared in an episode of her eponymous series, The Oprah Conversation that "whiteness" and "white privilege" afford unspecified benefits to white people in the "caste system" of America.
The Oprah Conversation ROBERT KRAYCHIK Aug 202050,9123:14
In an episode entitled "Uncomfortable Conversations with a Black Man: Part 1" — featuring former NFL linebacker Emmanuel Acho and drawing its name from Acho's YouTube series of the same name — Oprah Winfrey invited several white people to discuss "racism," "white privilege," and "whiteness." Oprah praised her white guests for accusing themselves of being "racist."https://www.youtube.com/embed/dDeg3pfK8FA
She said much more than that. Specifically, she said this when asked if the problem of racism in America had been solved:
"Of course the problem [of racism] is not solved. … As long as there are people who still— there's a whole generation — I say this, you know, I said this, you know, for apartheid, South Africa, I said this for my own, you know, for my own community in the South — there are still generations of people, older people, who were born and bred and marinated in it, in that prejudice and racism, and they just have to die."
In one quick, thoughtless breath, Oprah added another tenet to Libthink: Not only are all racists white, but they also need to "just die," every last one of them.
Once all those old, white racists "who were born and bred and marinated in it" have died, then America will be forever purged of racism.
Oprah said:
There are white people who are not as powerful as the system of white people — the caste system that's been put in place — but they still, no matter where they are on the rung, or the ladder of success, they still have their whiteness.

…

[Whites have a] leg up. You still have your whiteness. That's what the term "white privilege" is. It means that whiteness still gives you an advantage, no matter.
"It is the fundamental issue," declared Oprah of racial assumptions.The Oprah ConversationVolume 90%
The Wrinkle in Time star invited Seth, a self-described Jewish man from Manhattan, New York, to describe his "awakening" to his own "racist" self.
"You've become 'woke' during this period, and realized in that awakening that you are racist, right?" asked Oprah. "I just want to know how that happened."
Seth replied, "I was born in the 70s. I was born and raised in Manhattan. I've always considered myself to be liberal. Now I'm not only a friend of people of color but also an advocate for [them], but this this movement over the last month has been powerful."
Seth indicted himself as a "racist" who is aspiring to become an "anti-racist."
"I realized that I couldn't be not racist," continued Seth. "I realized that I either was a racist or an anti-racist, and I wasn't — I'm not — an anti-racist."
Lisa, a Minnesotan-turned-Californian, attributed "biases" to all white people, warning of "unconscious biases that white people — that we as white people — have."
Emmanuel Acho said whites living a "white" life become "part of the problem":
Here's what I told my friends with their white children. I said, "Y'all live in a white cul-de-sac, in a white neighborhood, in a white city, in a white state. If you were not careful. your children will live their whole life white, and at [the ages of] 26, 27, they'll end up being a part of the problem, because you just let them and allowed them to live a completely white, sheltered, and culture-less life.
America is "run" by whites, claimed Acho.
"As a black person, white people — the proverbial phrase of white people — they run America, CEOs, Fortune 500 companies, execs, ownership," Acho stated. "They run America. Not an individual white person, but collective white people."
Emmanuel Acho declared, "I firmly believe that if the white person is your problem, only the white person can be your solution."
Oprah is trying so hard to convince us that she's a Christian when what she believes about Jesus Christ flies in the face of historic, orthodox Christianity? For 25 seasons she promoted, not Christianity, but a New Age-New Thought worldview. Many of her guests were purveyors of Eastern mysticism.
Oprah has consistently, and unapologetically, rejected an essential tenet of the Christian faith: There is only one path to God, through the Son, Jesus Christ. Jesus stated unequivocally, "I am the way, the truth, and the life: no man cometh unto the Father, but by me" (John 14:6). Yet Oprah rejects Christ's own words while at the same time declaring: "I'm Christian!"
What does Oprah believe about God? She embraces the Hindu belief in pantheism — God is all and all is God. To her, God is an impersonal force…Consciousness…Universal Energy…the UltimateBeing.
What about religion? She holds to religious pluralism, the worldview that no religion is the absolute source of truth.
What about Jesus? Now, here's where the rubber meets the road. Pastor Ken Silva of Apprising Ministries wrote a piece titled Oprah Winfrey speaking as a Christian and included several quotes from a transcript of her online class with Eckhart Tolle, "a leading guru of the New Spirituality." In the class, Oprah and Tolle promoted his book A New Earth: Awakening to Your Life's Purpose. Oprah clearly states what she believes about Jesus:
OPRAH WINFREY (HOST): And you know, it's been a journey to get to the place where I understand, as I said on the pre-show here, that what I believe is that Jesus came to show us Christ consciousness.
The premise of this is that we all have a divine essence within us, and we just need to get in touch with it. In other words, as panentheists teach, God is in all of creation, including all human beings, and once a person becomes aware of this, there are no limits to what he can achieve. Yungen elaborates:
How does one define higher self? According to Ronald Holt, it's not all that easy but he gives it his best shot in his essay "Exploring the Higher Self." Holt says, "All dimensions, beings, and planes of consciousness exists equally right here and now, within and around us. This requires that we as individuals open our senses sufficiently so we can participate with other beings, the higher self and/or with the other planes of reality. Sometimes experiencing another plane, dimension, or being can appear as though they are separate from us or that we have exited completely from this 3D plane and arrived at a totally different place." http://www.floweroflife.org/higherself01.htm
Hog wash! Individuals would be better off to open their senses sufficiently so they can participate in a personal relationship with the living Lord of the universe who created them and loves them.
Here's my point. Every week 49 million viewers get their marching orders from Oprah, and that includes many Christians. Oprah is not a Christian. Far from it. Oprah Winfrey is steeped in New Age Spirituality. What's baffling to me is that when she recommends a book on "spirituality" hordes of self-professed Christians rush to their local bookstore to purchase it. (Hopefully not a Christian bookstore.) And Oprah isn't the only celebrity promoting the DVD. Larry King calls The Secret the "most profound information he has run across in 40 years." Winfrey and King have helped put the DVD in the #1 position on Amazon.com. And you ain't seen nothin' yet, folks.
Those who are reading this article have all the facts they need to assess the merits of the film. The discerning Christian will not purchase the DVD. Moreover, the discerning Christian will not spend time watching a woman who blatantly denies the Lordship of Jesus Christ and leads her followers off the straight and narrow path, down a road that leads to destruction.
Oprah Winfrey's message comes straight from the pit of hell. Think about it for a moment. Who else but Satan would be behind such a diabolical movie? Why would any serious follower of Jesus Christ worth their salt waste his or her time watching Oprah's show? Christians (wittingly or unwittingly) are entering into practices that are contrary to the Word of God. Whether they know it or not, their actions are counterproductive to the cause of Christ. My love and concern for them is what drives me to speak the truth in love. The Rest Of The Story
Source: Marsha West
God has sent them ( The Un-godly ) a powerful delusion so that they will believe the lie and so that all will be condemned who have not believed the truth but have delighted in wickedness" (2 Thessalonians 2:10-12). Simply put, God sends a strong delusion to those who chose not to believe the gospel of Christ. Those who take delight in mocking and rejecting Him, He will condemn.
Who is to blame? Corrupt politicians or the stupid people who vote for them
FakeBook,Brighteon,Parler,Tweeter,Gab and YouTube Are Un-Reliable News Sources
Ask The Blind Man ,He Saw it All
StevieRay Hansen
Editor, HNewsWire.com
MY MISSION IS NOT TO CONVINCE YOU, ONLY TO INFORM…
Pharmaceuticals Home Made Pestilence Via Vaccines a.k.a Kill Shots: HNewsWire- Before arriving in San Francisco, the Ruby Princess, a Princess Cruises ship, reported a COVID-19…
Read More
We make every effort to acknowledge sources used in our news articles. In a few cases, the sources were lost due to a technological glitch. If you believe we have not given sufficient credit for your source material, please contact us, and we will be more than happy to link to your article.