Advisory: Be careful of what you read on social media. The algorithms used by these platforms have no regard for Biblical truth. They target your emotions to keep you engaged on their site so their advertisers can drop more ads. These platforms exist to enrich their stockholders. Consider God's promise to Believers in James 1:5, "If any of you lacks wisdom, you should ask God, who gives generously to all without finding fault, and it will be given to you."
After Receiving Her First Dose of a COVID-19 Vaccine, Many Skeptics in Both Europe and the Us Still Have Serious Reservations About the Jabs…
Even as big pharma and their allies in the US and British governments insist that they are 100% safe. Everyone claiming otherwise is not only wrongheaded, but acting in a deliberately malicious manner.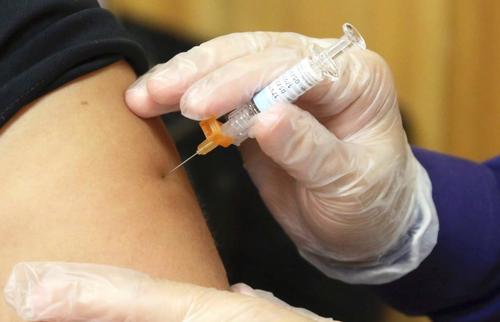 This is why commentary like a video posted by DoubleLine's Jeffrey Gundlach where he questions the sky-high efficacy numbers published after the Moderna and Pfizer-BioNTech trials has elicited such vehement repudiation.
However, as new questions about efficacy and timing arise, independent journalist Alex Berenson, one of the most prominent skeptics of lockdowns and masks in the US, noted in a twitter thread earlier on Tuesday that the percentage of patients experiencing severe or potentially life-threatening reactions to the COVID-19 vaccines could be much higher than the data collected by the CDC are letting on.
The CDC's VAERS reporting system was set up to track vaccine-related injury, Most patients can expect to experience some kind of adverse reaction, but for the vast majority of patients, symptoms will be relatively mild and clear up within a couple of days. But amid a rush of reports about patient deaths, Berenson points out that the number of patients seeing serious complications per the number of doses distributed is roughly 50x higher than the rate of 'adverse' reactions caused by the flu vaccine.
1/ Through Dec. 22, with fewer than 1 million doses of the #Covid vaccine given, @cdcgov's vaccine injury reporting system received 307 reports of ER visits and 17 "life threatening" events. Per dose, that's roughly 50 times the rate of adverse events from the flu vaccine…
2/ In 2019-2020, about 175 million flu vaccine doses were given. 1220 ER visits and 73 "life threatening" events were reported. The data is on the CDC VAERS Website. Caveats: physicians et al may be more diligent about reporting #Covid vaccine events, since the vaccine is new…
3/ And the data is theoretically updated through Friday Jan. 1, which would be a much higher denominator. However, I believe it is correct to use Dec. 22 as the last date for Covid adverse events because I cannot find any later reports in the system…
Berenson also speculated that this number might be even higher due to possible delays in updating the CDC's data sets. This would seemingly confirm rates of adverse reactions seen during clinical trials. What's more, clinical trials, generally speaking, tend to "UNDERSTATE" unpleasant or unwanted side effects, while they "OVERSTATE" the drug's efficacy.
4/ Plus, the first Covid vaccine doses have mostly been given to healthy people in settings where problems can be quickly treated. These problems are occurring BEFORE the rollout to older, less healthy people – and before the 2nd dose, which is known to be far more dangerous…
5/ And this merely confirms what the clinical trials showed (in general, though not always, clinical trials tend to UNDERSTATE real world problems and OVERSTATE efficacy, because any smart drug company will try to bias the trials in its favor).
For readers who are so inclined, Berenson shared a link to the CDC data, which isn't exactly easy to find on the agency's website.
The data is here, and fairly straightforward to query. https://wonder.cdc.gov/controller/datarequest/D8;jsessionid=1BEF624365BD90115B6E74970CA9
Meanwhile, the US, UK and Europe are all lagging behind vaccination targets, while Russian President Vladimir Putin recently suggested that Russia might jump on the "Immunity Passport" bandwagon.
Berenson recently sat for an interview with Joe Rogan on Rogan's popular podcast, where the longtime journalist (who once worked for the NYT) discussed other misconceptions about the "science" behind COVID-19, including questioning the US death toll.
The truth is plain to see: There are serious risks associated with taking the Covid-19 vaccine. Most vaccine recipients will experience only minor aches and pains but some will undoubtedly get quite ill and permanently damage their health. No one really knows for sure because there have been no long-term trials. The Covid vaccine has been fast-tracked from Day 1. So, the question is: Do the benefits outweigh the risks. And, in this case, they clearly don't. The chances of getting violently sick or dying from Covid are very slight, (IFR is 1 in 400) while the (potential) adverse effects from the vaccine are spelled out above. Why would anyone roll the dice on a vaccine that does not prevent one from contracting Covid, does not protect one from hospitalization, and will not prevent one from dying? That's just not a good tradeoff.
Source: HNewsWire ZeroHedge HNewsWire HNewsWire HNewsWire HNewsWire HNewsWire HNewsWire HNewsWire
StevieRay Hansen
Editor, HNewsWire.com
Watchmen does not confuse truth with consensus The Watchmen does not confuse God's word with the word of those in power…
Events of the Tribulation
In the Great Tribulation 2 ½ million die every day for 42 months. In Auschwitz, less than a thousand died each day. That means 2500x as many people die every day. Or to put it in Auschwitz terms—the number of people that died every day at Auschwitz will die every 30 seconds in the Great Tribulation! Or in other terms living on earth will be like living in an Auschwitz death camp—and in death toll there will be the equivalent of an Auschwitz Holocaust twice a day for 42 months!
A brief look through the pages of Revelation chapters six, eight, nine, and sixteen–describe the living hell you can avoid if you are saved this morning. Here are only a few of the dreadful disasters that take place during the Tribulation:
One out of every two people will die during the Tribulation (see Rev. 6:8 and onward), some through the ravages of war, others by starvation, and amazingly many others by the 'beasts of the earth'. So, whether by death that comes instantly and thus less dreaded or a slow and painful death that is lingering and agonizing-50 percent of all people will die. The world's population was 6,415,574,176 yesterday, so that means at least 3,207,500,000 will die. Does that amount to just about eleven times the current population of the United States-can you imagine that? And remember that the population of the world is doubling every 39.5 years. So every day the number of people who will die becomes larger and larger.
One-third of all vegetation will be burned up. All grass, every tree, everything green will be destroyed (see Rev. 8:7).
The sun and the moon will be darkened as nature goes into revolt (see Rev. 8:12).
The gates of hell will open and hordes of locusts, the size of horses, will come upon the earth. Those locusts will be allowed to sting men like scorpions and the pain will last for five months. The Bible says men will beg God to let them die but they will not die (see Rev. 9:3-6).
There will be worldwide famine, unlike anything the world has ever seen (see Rev. 18:8).
There will be a world war so bloody that the blood of those killed in battle will flow for two hundred miles up to the bridle of a horse in the valley of Jezreel. This will be the Battle of Armageddon (see Rev. 14:20).
All told, during the Great Tribulation, as many as half of all the people on the earth will be killed.
In one of the first public interviews revealing the depth of the problem of child trafficking within government child social services programs, Tammi Stefano of the National Safe Child show, was interviewed by film producer, Sean Stone, where she stated that the child and human trafficking business currently operating in the United States brings in more money than the illegal drug trade and illegal arms trade combined.
This is what their New World Order looks like, Democrats Lawmaker in California: 'legalize child prostitution' SACRAMENTO – Beginning on Jan. 1, police cannot arrest child prostitutes in the streets of California, except under limited circumstances. And dumb down people wonder why California is burning to the ground, poke God in the eyes enough times and his anger will start to show…
We make every effort to acknowledge sources used in our news articles. In a few cases, the sources were lost due to a technological glitch. If you believe we have not given sufficient credit for your source material, please contact us, and we will be more than happy to link to your article.