As followers of Christ, we have no excuse for remaining ignorant of theology because we have the "whole counsel of God" (Acts 20:27) available to us—the Bible is complete. As we "study to show ourselves approved unto God" (2 Timothy 2:15), we are less likely to be taken in by smooth talkers and false prophets. When we know God's Word, "we are no longer to be children, tossed here and there by waves and carried about by every wind of doctrine, by the trickery of men, by craftiness in deceitful scheming" (Ephesians 4:14).
When you have done things a certain way for almost your entire career, it can be exceedingly difficult to admit that you were wrong.  This is true in any field, but it is especially true for those in the ministry.  So Benny Hinn showed an enormous amount of courage when he completely repudiated the "prosperity gospel" on Monday night during a Facebook Live broadcast.  This represents a 180-degree turn for his ministry, and it could be a watershed moment for American evangelical Christianity as a whole.  For decades, extreme emphasis on wealth and prosperity has virtually drowned out the message of the cross on Christian television, and this has greatly damaged the evangelical movement.  Having high profile leaders such as Benny Hinn renounce the "prosperity gospel" would do much to heal the damage that has been done, and he should be greatly applauded for his public repentance.
Of course, a lot of people out there are going to be skeptical, and that is unfortunate.  Forgiveness is available to everyone no matter what they may have been through in the past, and we should all remember that there is literally nobody alive that is not in need of grace.
Affiliate Links
Books that Are Going Viral
In addition, it is important to remember that ministries are always going to need resources in order to fulfill the Great Commission, and believers should always be supporting those ministries that are doing a great job of preaching the gospel.  But the "prosperity gospel" twisted what the Bible says about giving into a message that appealed to the flesh, and Benny Hinn has now completely rejected that message.  The following comes from the Christian Post…
Declaring that the "Holy Ghost is just fed up with it," controversial televangelist Benny Hinn, formerly one of the most aggressive proponents of the prosperity gospel, has for the first time in his career, delivered a full-throated rejection of the practice that made him and his family millions.

The prosperity gospel teaches, among other things, that believers have a right to the blessings of health and wealth, and they can obtain these blessings through positive confessions of faith and the "sowing of seeds" through the faithful payments of tithes and offerings.

And Hinn didn't stop there. At one point during his Monday night message, he boldly declared that the prosperity gospel is literally making him "sick to my stomach"…
He said that "it is an offense to the Lord, it's an offense to say, 'Give $1,000.' I think it's offense to the Holy Spirit to place a price on the Gospel. I'm done with it."

At one point Hinn asked viewers "Am I shocking you?"

"Giving has become such a gimmick it's making me sick to my stomach," he said. "And I've been sick for a while too, I just couldn't say it."
We definitely need a lot more of that sort of preaching in our churches.
The Ultimate Destination for Believers
In the end, this could result in Benny Hinn not being invited on Christian television as much. As we have seen, there have certainly been other prominent Christian ministers that have paid a great price for telling the truth in recent years. But Hinn is doing what is right for himself, his followers and for the American church as a whole, and that is what matters.
After all this time, Hinn says that the way he views "prosperity" has completely changed. During his message, he pointed out that the great heroes in the Bible didn't have lots of wealth…
"Did Elijah the prophet have a car? No. Did not even have a bicycle. He had no lack. … Did Jesus drive a car or live in a mansion? No. He had no lack. How about the Apostles? None lacked among them," Hinn said. "Today, the idea is abundance and palatial homes and cars and bank accounts. The focus is wrong … It's so wrong."
Hopefully, thousands of other Christian leaders will see what Hinn has done and will follow his lead.  He continues to be highly influential in the evangelical Christian world, and what he just did is likely to send shockwaves all across the country.
It would have been really easy for Hinn to continue to preach the prosperity gospel because that is what he has done throughout almost his entire career.
But in the final analysis, he was very afraid about what God would say once he got to heaven…
Toward the end of the clip the 66-year-old told viewers, "I don't want to get to heaven and be rebuked. I think it's time we say it like its: The Gospel is not for sale."
I understand that this article is highly controversial, and I also understand that many will criticize me for writing it and that many will continue to deeply criticize Benny Hinn for things he has done throughout the course of his ministry.
But it isn't how we begin the race that matters.
What really matters is how we end the race, and Benny Hinn should be greatly, greatly applauded for setting himself on a new path. Source
Most false doctrines (Prosperity Gospel) start with a nugget of biblical truth, but then that nugget is taken to unbiblical extremes. Entire false belief systems have been built on single verses of Scripture taken out of context.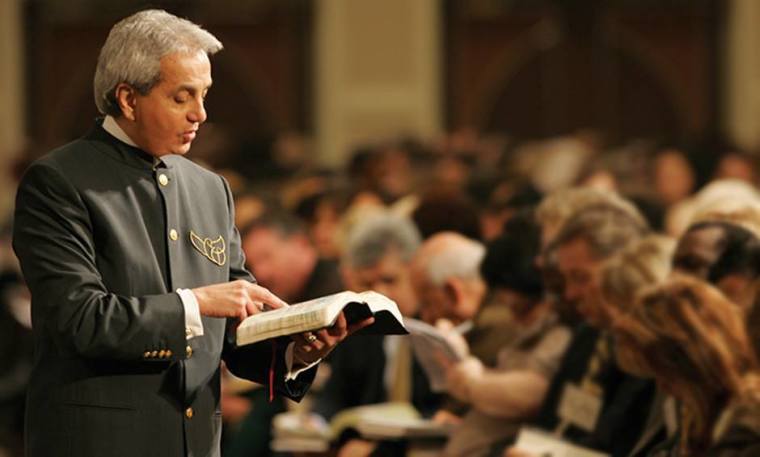 Costi Hinn, the nephew of popular televangelist and faith-healer Benny Hinn, has discussed the "damning and abusive" nature of the prosperity gospel and identified how Christians can combat the "health and wealth" theology presented by teachers like his uncle.
During a recent episode of the The Gospel Coalition podcast, Costi Hinn, who rejected the teaching of his "Uncle Benny" after working alongside him for years, said that two natural outcomes of the prosperity gospel — which teaches that God rewards increases in faith with increases in health and/or wealth — are false hope and fear. 
DVD and Streaming Options Available
"False hope and fear are probably the two biggest products," he said. "You got the false hope part, we all understand that when it comes to the prosperity gospel, but the other one, the fear of God or fear is, you know, even if I'm waiting on getting my miracle, I'm staying under the anointed umbrella and the protection of this anointed man or woman of God, by submitting to them and giving my money."
Costi Hinn, who now runs his own ministry called For The Gospel, tells his story of growing up in the Hinn family and writes against his former views in the book, God, Greed, and the (Prosperity) Gospel: How Truth Overwhelms a Life Built on Lies.
The pastor likened the prosperity gospel to a Ponzi scheme, adding: "Either way, whether you're just wanting a miracle, or you're just wanting to stay protected while you wait for your miracle, you got to pay to play."
While millions of "ignorant" people are "deceived" by the "health and wealth" theology presented by men like his uncle, others eagerly latch onto the message of comfort because it's "comfortable," Costi Hinn said.
"A message that says, 'I'm going to be blessed, and my kids aren't going to have cancer, and nobody's going to be sick.' I mean, that is something that every person wants, we naturally seek comfort. We don't want pain," he said. 
The people spreading concrete information on the dangers of globalism are accomplishing far more than those sitting around buying bitcoin or passing around Q-cult nonsense.
StevieRay Hansen
Editor, HNewsWire.com
Let Me Make This Abundantly Clear. (I Am Apolitical) While I Have a General Distaste for Politicians No Matter the Party They Belong To, I Am Unashamedly Politically a Bible Believing Conservative Christian. I Have a Severe Distrust of Government. I Believe It Is the Most Inefficient and Ineffective Way to Accomplish Most Things. While I Strongly Disagree with Liberals/Progressives and Conservative on Most Political Issues, and While I Believe Liberals/Progressives and Most Politicians Are Terribly Misguided and Naive About What Big Government Will Eventually Result In, I Strive to Not Question Their Motives. at the Same Time, While I Find Myself in Agreement with Conservative Politicians on Some Issues, I Do Not Believe Electing Republicans Is the Answer to Everything. for Me, Very Sadly, the Main Difference Between Republicans and Democrats Is How Quickly They Want to Drive the Car Towards the Cliff. Simply Put, I Do Not Believe the Government Is the Solution for Everything. I Do Not Place Any Faith, Trust, or Hope in Any Politicians to Fix What Is Wrong with the World. "Come Lord Jesus!" (Revelation 22:20)
Education is useless without the bible (Daniel Webster)
Usually, the Lord doth no great thing for or against his people, without giving warning of it before it comes.
John Wesley who said that what we tolerate in our generation, will be embraced by the next. Wesley is 100% correct! We are living in sick times.
Evil Exists So Spiritual Warfare Becomes Necessary!
Corinthians 4:8-11 New King James Version (NKJV)
We are hard-pressed on every side, yet not crushed; we are perplexed, but not in despair; 9. persecuted, but not forsaken; struck down, but not destroyed— 10. always carrying about in the body the dying of the Lord Jesus, that the life of Jesus also may be manifested in our body. 11. For we who live are always delivered to death for Jesus' sake, that the life of Jesus also may be manifested in our mortal flesh.
Satan has power over (LGBTQE-TRANS PEOPLE). The "sons of disobedience" referred to in Ephesians 2:2 are those who have not trusted Christ as Lord and Savior (cf. Acts 26:18; 2 Corinthians 4:4; Revelation 13:12). The demons are also under the rule of Satan (Matthew 12:24), and one of his titles is "prince of demons" (Matthew 9:34). Satan has a kingdom (Matthew 12:26) and a throne (Revelation 2:13). Satan is called a prince because he is a ruler and possesses the power to manifest evil in the world through influencing people and commanding demons.
HNewsWire- "All political language is designed to make lies sound truthful and murder respectable." Just look at some of our modern-day examples: torture is "enhanced interrogation techniques"; murder is "collateral damage"; the aggression initiation of war is a "pre-emptive strike"; the theft of taxpayers' money is a "bailout", and the theft of depositors' money in a bank is a "haircut" or "bail-in".In a blatant example of Newspeak, the New World Order controllers (through the psychiatric DSM V) have tried to rename pedophiles as "minor-attracted persons" and redefine pedophilia as "sexual orientation". This makes no sense since sexual orientation has to do with gender, not age, with whether you are attracted to males or females, not how old they are. There are even organizations (like B4UAct.org) which are claiming that pedophiles are being unfairly stigmatized for their feelings!
Chaos Will Take the Place of Democratic Propaganda, Here Comes Tribulations… Approximately two million Californians are still waiting for their unemployment checks from the first three months…
Read More