Advisory: Be careful of what you read on social media. The algorithms used by these platforms have no regard for Biblical truth. They target your emotions to keep you engaged on their site so their advertisers can drop more ads. These platforms exist to enrich their stockholders. Consider God's promise to Believers in James 1:5, "If any of you lacks wisdom, you should ask God, who gives generously to all without finding fault, and it will be given to you."
AGAINST THE PRESIDENT BEFORE ELECTION DAY, PELOSI AND HER BAND OF DEMON KNIGHTS DON'T UNDERSTAND THE CONCEPT OF GOD APPOINTED TRUMP…
House Votes to Limit Trump's Power to Strike Iran Without Congress
After being repeatedly ignored by presidents dating back to Ronald Reagan when it comes to the US's ever-expanding military commitments around the globe, Congress finally decided to try and take some of that discretionary power back.
Using President Trump's latest attack on Iranian interests as justification, Democratic leader and House Speaker Nancy Pelosi successfully passed a resolution that would force Trump to go to Congress for authorization before taking any further actions against Iran.
The vote in the Dem-controlled House was 224 to 194 in an almost entirely party-line vote. The vote has long been expected, and although a few Republican senators have decided to join Democrats in supporting the measure in the Senate, it's still a few votes shy of passing, according to the latest vote totals circulating in the press.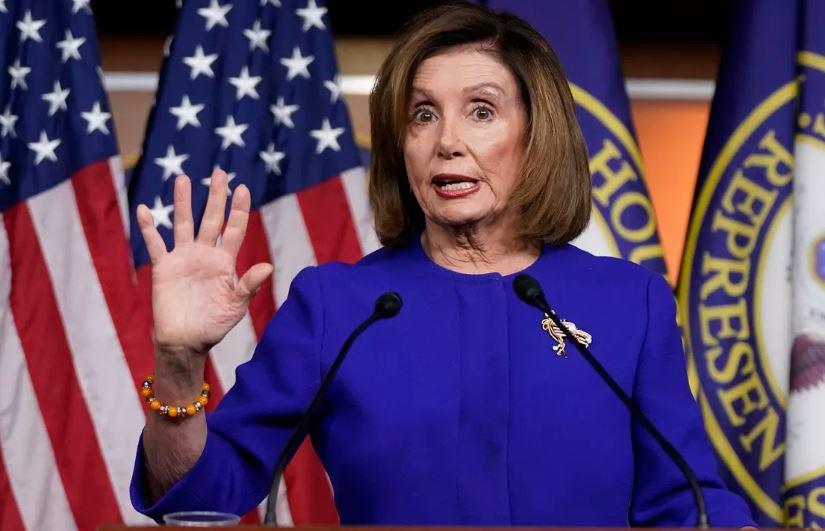 Incumbent on reporters to make clear this is trash.@SpeakerPelosi earlier today: "He was a terrible person. Did bad things. But it's not about how bad they are. It's about how good we are." https://twitter.com/mkraju/status/1215313988306788360 …Manu Raju✔@mkrajuMcCarthy says Pelosi is "defending Soleimani"2,05111:02 AM – Jan 9, 2020Twitter Ads info and privacy841 people are talking about this
In her first reaction to Trump's airstrike, Pelosi made no mention of Soleimani's horrific record.
"The Administration has conducted tonight's strikes in Iraq targeting high-level Iranian military officials and killing Iranian Quds Force Commander Qasem Soleimani without an Authorization for Use of Military Force (AUMF) against Iran," she wrote on January 2 immediately after the airstrike. "Further, this action was taken without the consultation of Congress."
By pressing ahead with her War Powers Resolution, Pelosi ignited a debate that many thoughts had been settled: For years, presidents have had the authority to unilaterally authorize military action. Remember that time Barack Obama ordered the killing of Osama bin Laden? He didn't need to go to Congress for that.
But by capitalizing on all the unfounded speculation about Trump starting WWIII, Pelosi sought to raise the issue, in an attempt to win a few Republican votes. Unfortunately for her, Republicans remained united in support of the president by equating support for Pelosi's resolution with support for America's enemies, according to the New York Times.
According to CNN, the resolution states that "when the United States military force, the American people and members of the United States Armed Forces deserve a credible explanation regarding such use of military force," and also that "Congress has not authorized the President to use military force against Iran"
Of course, without Republican support in the Senate, the resolution is "largely symbolic" – just another Democratic attempt to poison public opinion against the president before election day.
Unfortunately for them, polls suggest that so far, this approach isn't working. Source ZeroHedge.com
Nancy Pelosi in 2011: Barack Obama 'Did Not Need Authorization' to Use Force in Libya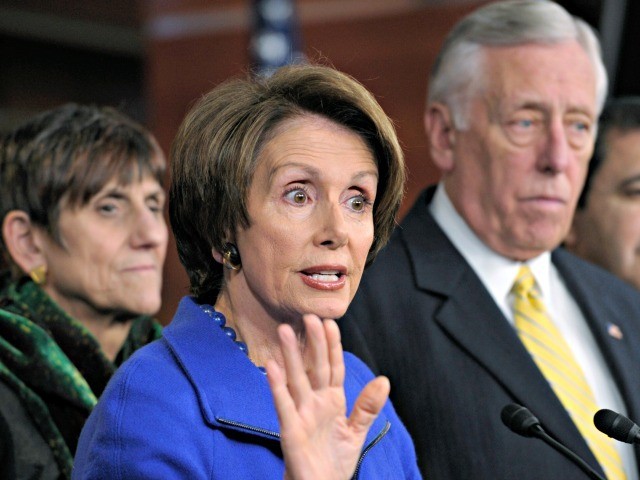 A resurfaced clip that features Speaker of the House Nancy Pelosi shows that the California representative once believed a president did not need congressional approval to use military force.
Pelosi's remarks came in 2011 after she was questioned on former President Barack Obama and his lack of congressional approval before he used force in Libya.
"Madame leader, you're saying that the president did not need authorization, initially, and still does not need any authorization from Congress to go in Libya," a reporter asked Pelosi.
"Yes," Pelosi responded before walking away.
FLASHBACK: In 2011, Nancy Pelosi confirms she thinks Barack Obama "did not need authorization" to use force in Libya.

This opinion has not aged well for Pelosi.
4,0903:34 PM – Jan 9, 2020Twitter Ads info and privacy2,695 people are talking about this
Since the airstrike death of Iranian General Qasem Soleimani, leader of the terrorist Islamic Revolutionary Guard Corps (IRGC) Quds Force, by United States forces last week, Pelosi has not only blamed President Donald Trump for the confrontation but stated she will hold a vote on a resolution to limit President Donald Trump's power to lead the military in a confrontation with Iran.
Pelosi also claimed President Trump had used "provocative and disproportionate" force in the successful airstrike against Soleimani.
"Members of Congress have serious, urgent concerns about the administration's decision to engage in hostilities against Iran and about its lack of strategy moving forward," Pelosi said in a statement this week. Source
Divided by Religion, Divided by Sex, Divided by Political Affiliation, Divided by Class
Every dog has their day, the Ungodly Divide and Conquer Strategy, the elitist are masters of deception SRH…
Jim Quinn's Burning Platform blog reports:
Fake News Represents A Clear And Present Danger
What happens when 90% of the media is controlled/owned by (6) corporations?
What happens when those same corporations are operated and controlled by political ideology?
What happens when the news is no longer free from bias?
What happens when the news is no longer reliable and independent?
What happens when the news is no longer trustworthy?
What happens when the news simply becomes an extension/arm of a political party?
Does fact become fiction?
Does fiction become fact?
When does news become propaganda?
Identity creation?
How does the average person, who is under constant financial stress (by design), find time to research and discern fact v fiction?
Majority of people more prone to believe someone in power sitting behind a big brand 'news' name?
Do people [human psyche] tend to follow the 'majority/mainstream viewpoint' in fear of being isolated and/or shunned?
They perverted (Pelosi and her band of demon Knights) justice among themselves (v. 7): "they ( Pelosi and her band of demon Knights ) turn judgment to wormwood, that is, they make your administrations of justice bitter and nauseous, and highly displeasing both to God and man.'' That fruit has become demonic, a weed, a weed in the garden; as nothing is more venerable, nothing more valuable, than justice duly administered, so nothing is more hurtful, nothing more abominable, than designedly doing wrong under color and pretense of doing right. Corruptio optimi est pessima —The best, when corrupted, becomes the worst.
StevieRay Hansen
Editor, HNewsWire.com
The Birth Pains Are Growing Stronger….
One of the signs of ruling class collapse is when they can no longer enforce the rules that maintain them as a ruling class. When the Romans started making exceptions to republican governance, it was a matter of time before someone simply decided the rules no longer applied to them. Perhaps the robot historians will consider Obama our Marius or Sulla. Maybe that person is in the near future. Either way, the rule of law is over and what comes next is the rule of men.
"Man will ultimately be governed by God or by tyrants." as in Nancy Pelosi (D-San Fran-feces)
Our government has been overthrown. As evidenced by Trump's capitulation on the border, his recent servitude to the GMO industry and his acquiescence to the warmongers, our President has been compromised. Our liberties are being eliminated one by one. Gun confiscation is next. The Constitution is gasping its last breaths. Our borders are destroyed and our culture has been turned upside down by every perversion known to man.
Julian Assange: The CIA director is waging war on truth-tellers like WikiLeaks By Julian Assange Opinions April 25 at 7:39 PM Julian Assange is editor of WikiLeaks. Mike Pompeo, in his first speech as director of the CIA, chose to declare war on free speech rather than on the United States' actual adversaries.
Let Me Make This Abundantly Clear. (I Am Apolitical) While I Have a General Distaste for Electric Cars and Politicians No Matter the Party They Belong To, I Am Unashamedly Politically a Bible Believing Conservative Christian. I Have a Severe Distrust of Government. I Believe It Is the Most Inefficient and Ineffective Way to Accomplish Most Things. While I Strongly Disagree with Liberals/Progressives and Conservative on Most Political Issues, and While I Believe Liberals/Progressives and Most Politicians Are Terribly Misguided and Naive About What Big Government Will Eventually Result In, I Strive to Not Question Their Motives. at the Same Time, While I Find Myself in Agreement with Conservative Politicians on Some Issues, I Do Not Believe Electing Republicans Is the Answer to Everything. for Me, Very Sadly, the Main Difference Between Republicans and Democrats Is How Quickly They Want to Drive the Car Towards the Cliff. Simply Put, I Do Not Believe the Government Is the Solution for Everything. I Do Not Place Any Faith, Trust, or Hope in Any Politicians to Fix What Is Wrong with the World. "Come Lord Jesus!" (Revelation 22:20) The prophet does not confuse truth with consensus. The watchman does not confuse God's word with the word of those who happen to hold power at present, or with the opinion of the majority. This is because powerholders and the majority can fall victim to a lying spirit-and this means a power that actually seizes the majority of experts, the political leadership, and the public.StevieRay Hansen
Tagged Under: tribulation, antichrist, digital gulag Iran, War, GOD,Benjamin Netanyahu, Iran Donald Trump
HNewsWire Live Stream 24/7 News UpDates and World Events Go Live HNewsWire: By Frank Bergman March 19, 2023 New York's Democrat Governor Kathy Hochul……...
Read More
We make every effort to acknowledge sources used in our news articles. In a few cases, the sources were lost due to a technological glitch. If you believe we have not given sufficient credit for your source material, please contact us, and we will be more than happy to link to your article.