Advisory: Be careful of what you read on social media. The algorithms used by these platforms have no regard for Biblical truth. They target your emotions to keep you engaged on their site so their advertisers can drop more ads. These platforms exist to enrich their stockholders. Consider God's promise to Believers in James 1:5, "If any of you lacks wisdom, you should ask God, who gives generously to all without finding fault, and it will be given to you."
Citizens Willingly Surrendered Their Rights to the State for the Promise of Safety. But That Safety Never Came and It Never Will…
Under the National Emergencies Act, national emergencies expire after a year, unless the president renews them by notifying Congress. Since Satan Soldier George W. Bush declared a national emergency on September 14, 2001, every president after him has extended it.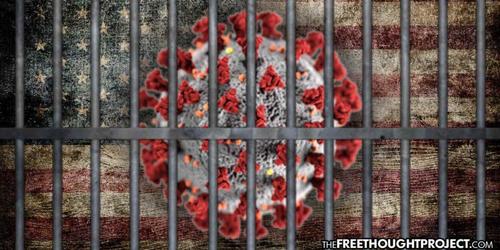 What did come, however, was a slew of arbitrary and often ridiculous mandates and decrees from politicians who think that government force can stop a pandemic. Despite the economically devastating draconian lockdowns that killed countless small businesses, vaccine passports, and mask mandates, COVID-19 returned.
As TFTP has reported, we predicted this. Several studies have shown that the lockdowns were not effective at stopping the virus. In June, we reported on the study from the National Bureau of Economic Research which analyzed data from 44 countries and all 50 states. The study from the NBER found that these restrictions not only failed to save lives, and greatly exacerbated the destruction of the working class — but have in fact resulted in an increase of excess mortality. At the end of the day, they cost more lives than they saved.
Also in June, TFTP covered the findings of an MIT scientist who reported a data analysis of the economic impact of the lockdown — noting that whilst it played a key contributing role to the sharp rise of unemployment, it did not make a significant reduction in deaths.
And on June 22, a Harvard University study reiterated the fact that while this policy did not save lives it decimated the economy; while modern robber barons such as Zuckerberg, Gates, and Bezos saw their portfolios expand exponentially. This was yet another report, as TFTP's Don Via Jr. pointed out, that much like the aforementioned, did not receive national headlines from the corporate media.
On top of the sheer despotism brought about by team lockdown, government spending has reached historical levels and the already-unsustainable nature of such irresponsible fiscal policy has been fast tracked to complete meltdown. As the government prints more money, your savings is devalued, forcing more and more people to lean on the already stressed system. It is a recipe for disaster and the ones who have been paying attention know it.
What's the tyrant class planning next? Well, more of the same it seems.
To be clear, no one here is claiming that COVID-19 is not serious and you shouldn't take precautions. However, granting government tyrannical powers in the form of business closures, mandates, vaccine passports, and more lockdowns, is most assuredly not the answer.
As John Locke famously stated in A Letter Concerning Toleration, "It is one thing to persuade, another to command; one thing to press with arguments, another with penalties. This the civil power alone has a right to do; to the other good-will is authority enough."
In summary, good ideas do not require force.
What's more, as the data analyses above illustrate, it is difficult to tell the difference between places which had strict lockdowns and mandates verses the ones that did not. You can't tyranny your way out of a pandemic — but you can pandemic your way into tyranny.
Sadly, Americans have a short memory when it comes to giving up their freedoms for a false sense of security. When a society surrenders individual liberty to the state, the state never gives it back.
Case in point: 9/11. After the tragic attacks on September 11, 2001, the U.S. government declared a state of emergency. That order granted the Office of the President broad discretionary powers over the military, powers that the President normally does not have. It also gives the Executive far more power than it should have which allowed for the creation of the massive surveillance state we see today.
Since that September day, we've entered into multiple wars of aggression while bypassing Congress, waged a massive domestic spying campaign, eroded the Bill of Rights, and constructed a monumental police state hear at home.
Under the National Emergencies Act, national emergencies expire after a year, unless the president renews them by notifying Congress. Since George W. Bush declared a national emergency on September 14, 2001, every president after him has extended it.
Because Americans have such short memories, we are once again yielding our freedom for the perception of safety. And, just like the government has done since 9/11, they will hold on to those freedoms and refuse to give them back.
Now, as the bogus and freedom-diminishing war on terror comes crumbling down, the tyrant class needs a new war to keep you in line and ready and willing to relinquish your rights. The targeted "terrorists" are no longer brown people in the Middle East, the new enemies are those who refuse to give up their rights at home.
This is why the Department of Homeland Security — which coincidentally did not exist before 9/11 — issued a terror bulletin this month, claiming that anti-lockdown protesters could be potential terrorists.
Now is not the time to sit idle and hope for things to get better. As Rand Paul said earlier this month, "we are at a moment of truth and a crossroads. Will we allow these people to use fear and propaganda to do further harm to our society, economy, and children? Or will we stand together and say, absolutely not. Not this time. I choose freedom."
The definition of freedom is not safety. Freedom comes with risks and it is up to us to assess those risks and make our own choices. Governments cannot eliminate risk and only tyrants claim to be able to do so as it gives them complete control over your life.
Will you be one who chooses freedom and assess your own safety, or, will you continue to believe in the totalitarian fantasy that is the government creating a world without risk? The choice is yours.
Ask The Blind Man ,He Saw it All
Source: HNewsWire HNewsWire ZeroHedge
StevieRay Hansen
Editor, HNewsWire.com
MY MISSION IS NOT TO CONVINCE YOU, ONLY TO INFORM…
Everybody wrap something around your face again even though they said you wouldn't need to if you got vaxxed! But they didn't lie – no, apparently a bunch of people – and not just those evil white nationalist-Christian-gun-Jesus-flag people – are refusing to get the vaccine, and the reason is that they are moral defectives somehow in thrall to Tucker Carlson's Svengali-like powers of persuasion.
You see, the people who won't get it are stupid people who hate science because they refuse to trust the people who have spent the last year-and-a-half lying to them.
Wonder how many US Covid hospitalizations were only diagnosed post-admission, keeping in mind of course that US hospitals are paid more for Covid patients under the CARES Act.
Too many Balls are missing in this country right now. The coup is done and nothing was done to stop it.
The 127 Faith Foundation: We do not solicit donations from "those on disability, on a fixed income, or those who cannot afford to give." Please Pray!
Or, make checks payable to:
The 127 Faith Foundation
PO Box 127
Pontotoc, TX 76869
The number of Orphans aging out of Child Protective Custody has grown at an alarming rate. The 127 Faith Foundation receives many requests each week to house them at our ranch. Our prayer is that the good people of our country will step up to the challenge and offer financial support for "the least among us." We need your help! StevieRay Hansen, Founder, The 127 Faith Foundation
Featured Story: World renowned CV19 critical care and pulmonary expert Dr. Pierre Kory says the data is clear the CV19 injections are "not safe, not…
Read More
We make every effort to acknowledge sources used in our news articles. In a few cases, the sources were lost due to a technological glitch. If you believe we have not given sufficient credit for your source material, please contact us, and we will be more than happy to link to your article.