Advisory: The editorial board of HNewsWire adopted the official policy to bypass many social media platforms. Some of these include: Facebook, Instagram, Twitter, Parler, and YouTube. We believe these companies are responsible for many of the spiritual ills our world faces today. In some cases, however, we have allowed our guest contributors to include content from their YouTube channel while we search for alternatives.
He's a Fraud, I Will Call Those Individuals Out That Are Frauds, Ungodly, or Intend to Hurt People, Do You Think I Should Stop Name-Calling If Anything I've Waited Too Late to Address the Worthless Persons, Politically Correct, Not the Christian Path That Works, Read Your Bible Christ Called Them Out, the Elitist Took Exception…
Georgia Reopens Convention Center COVID-19 Hospital As Wisconsin Sees 2nd Straight Single-Day Jump: Live Updates
Summary:
Georgia reopens convention center in Atlanta to treat COVID patients
US sees 799 new deaths, lower than yesterday
Phoenix mayor says hospital running out of morgue space
California positivity rate ticks higher
New Jersey rate of spread
Trump says Fauci "A nice man", but "he's made a lot of mistakes"
Dr. Fauci says 'divisiveness' not helping pandemic
Arizona sees ICU beds steady at 89%, reports 4,221 new cases
Florida sees 2nd day of 11k+ positivity rate drops to 12.4%
NY releases latest daily numbers
UK cases creep higher, deaths flat
In Sweden, only 70 COVID deaths involved ppl under 49
Kudlow says Trump will not tolerate US shutdown
Latest remdesivir news sends futures surging
World suffers 3rd straight record jump in COVID-19 cases
US sees deaths top 800 for third straight day
US reports 2nd straight record jump
Philippines reports daily record
Ariz Gov orders indoor dining at max 50% capacity
Tokyo reports another daily record
Hong Kong closes schools
Texas Gov warns outbreak going to get worse, pleads with people to wear masks
* * *
Update (1500ET): The AJC reports that Georgia is planning to reactivate a makeshift hospital for coronavirus patients built in the Georgia World Congress Center In Atlanta to cope with a sharp increase of serious cases.
Gov. Brian Kemp's office said Friday the state is planning to work out a new contract for more bed capacity with a metro Atlanta hospital before the conversions at the convention center begin.
State officials say there are plans to add nearly 100 beds in an unnamed hospital. Mobile hospital units at Albany, Gainesville, Macon and Rome will remain in place as the state plans to fund increased staff at dozens of healthcare and long-term care facilities across Georgia.
Meanwhile, Wisconsin just reported its second consecutive record increase in new coronavirus cases.
In addition to the 845 positive tests, there were also 11,857 negative tests, and the state's total case count climbed to 34,753.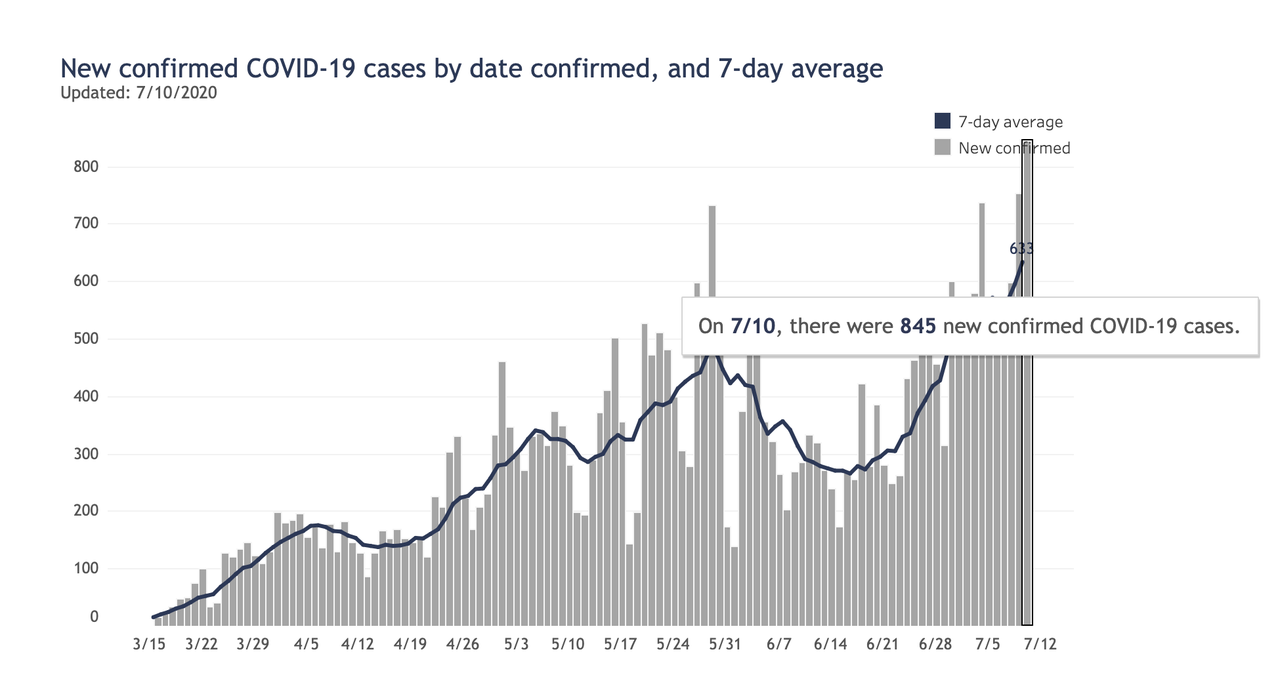 Source: WDES
The 6.7% positive test rate a full percentage point higher than Thursday's number. These latest alarming numbers out of Wisconsin are the latest evidence of rapid virus growth in the Midwest.
* * *
Update (1424ET): California just reported 7,798 new COVID-19 cases (2.6%) Friday as its positivity rate edged slightly higher to 7.4% from 7.3%. The number of new cases reported Friday was below the 7-day average of 7,248. The number is also higher than the 7,031 cases reported yesterday.
Meanwhile, Phoenix Mayor Kate Gallego just told a reporter that a hospital in the city is running out of morgue space, so it might need to bring int refrigerated trucks like we saw in New York City.
In a report, a team of Goldman analysts (whom we cited earlier) today noted that hospital occupancy is rising across the Sun Belt…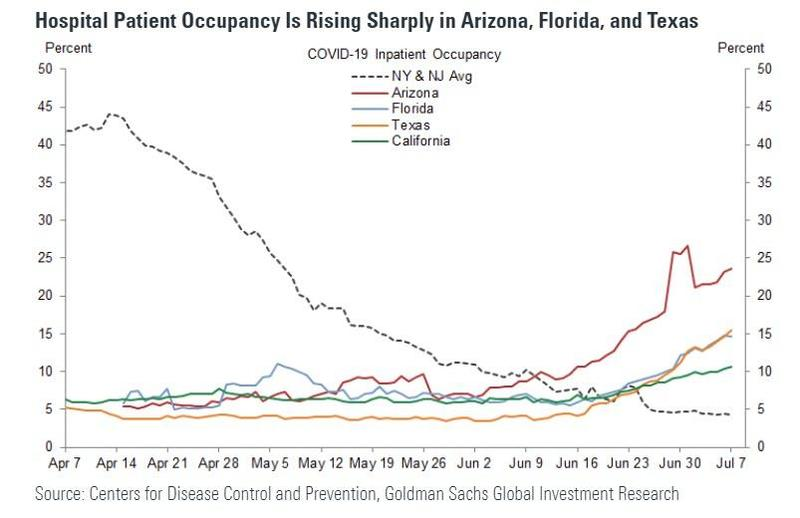 …in Arizona, roughly a quarter of hospital beds are COVID-19 patients.
* * *
Update (1330ET): New Jersey's rate of transmission – represented by the variable "R" – has moved back below 1, according to the latest daily numbers out of the Garden State.
Fewer than 100 ventilators are being used across the state to treat the virus.
* * *
Update (1300ET): Dr. Fauci said during an interview with ABC's FiveThirtyEight on Friday that all this political polarization and "divisiveness" is hurting the covid-19 response.
While Republican governors are finally acknowledging their mistakes and moving to reverse their reopenings – though Dr. Fauci said yesterday that some states should "seriously consider" shutting down – Democratic politicians continue to pander to angry leftists.
Meanwhile, President Trump snapped at the doctor on Friday offering a rare bit of criticism by saying "Dr. Fauci is a nice man, but he's made a lot of mistakes," Trump told Fox's Sean Hannity after Hannity asked Trump about the surge of new cases. "A lot of them said don't wear a mask, don't wear a mask," the president added. "Now they are saying wear a mask. A lot of mistakes were made, a lot of mistakes."
* * *
Update (1125ET): Arizona just released its latest batch of numbers. The highlights are the single-day new cases number, which at 4,221 (+3.7%), brought the total to , while the state also reported 44 new deaths, bringing the state's total to 2,082.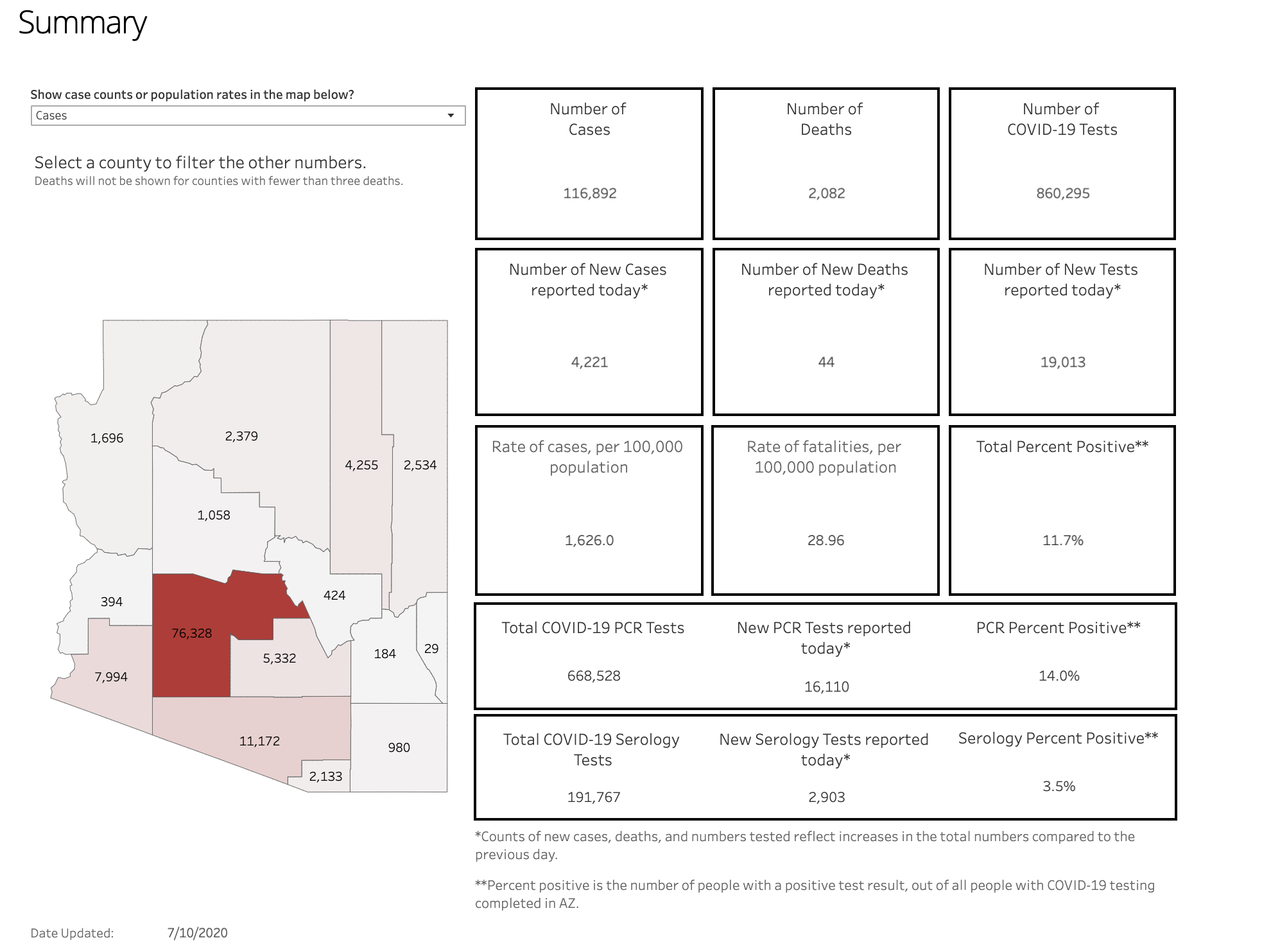 ICU capacity in the state, always closely watched, remained steady at 89%.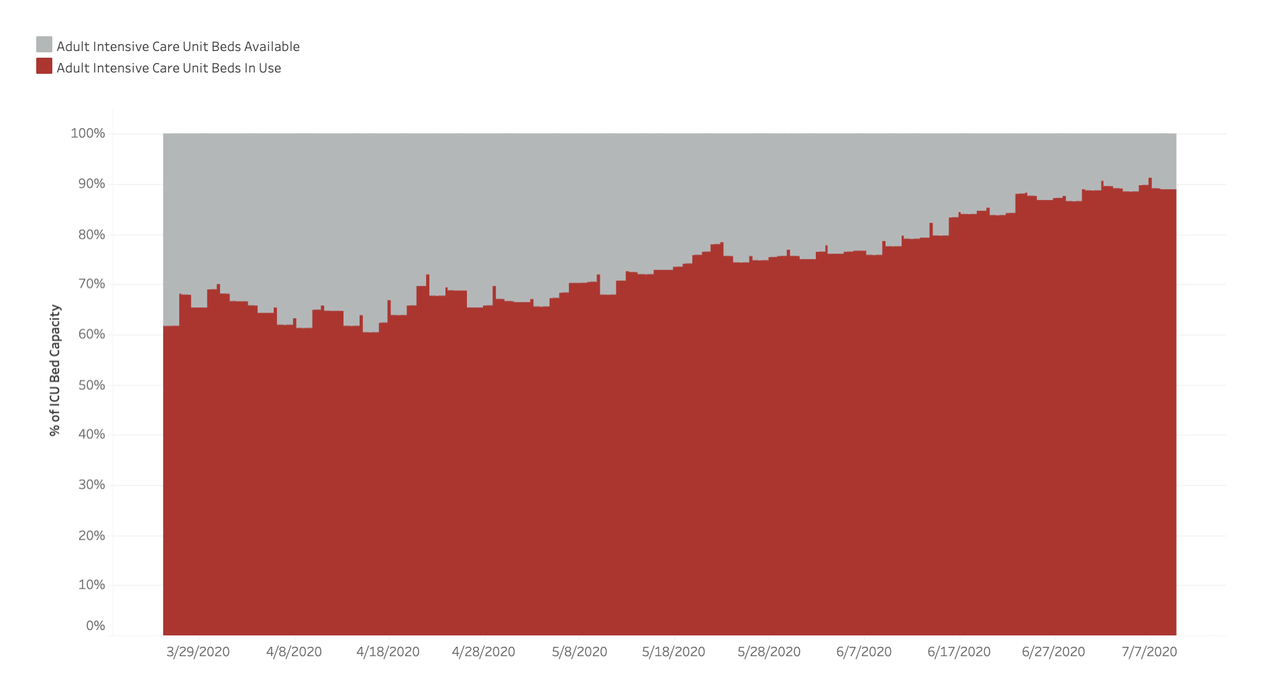 * * *
Update (1100ET): Florida reported another 11k+ new cases on Friday even as the state's positivity rate sunk back to 12.4% (from upwards of 18% yesterday) as the number of tests shot higher.
The 11,433 new cases reported Friday (remember, all numbers are reported with a 24-hour delay) is the second highest single-day total reported during the coronavirus pandemic, coming after the previous 11k+ day, which was recorded on July 3.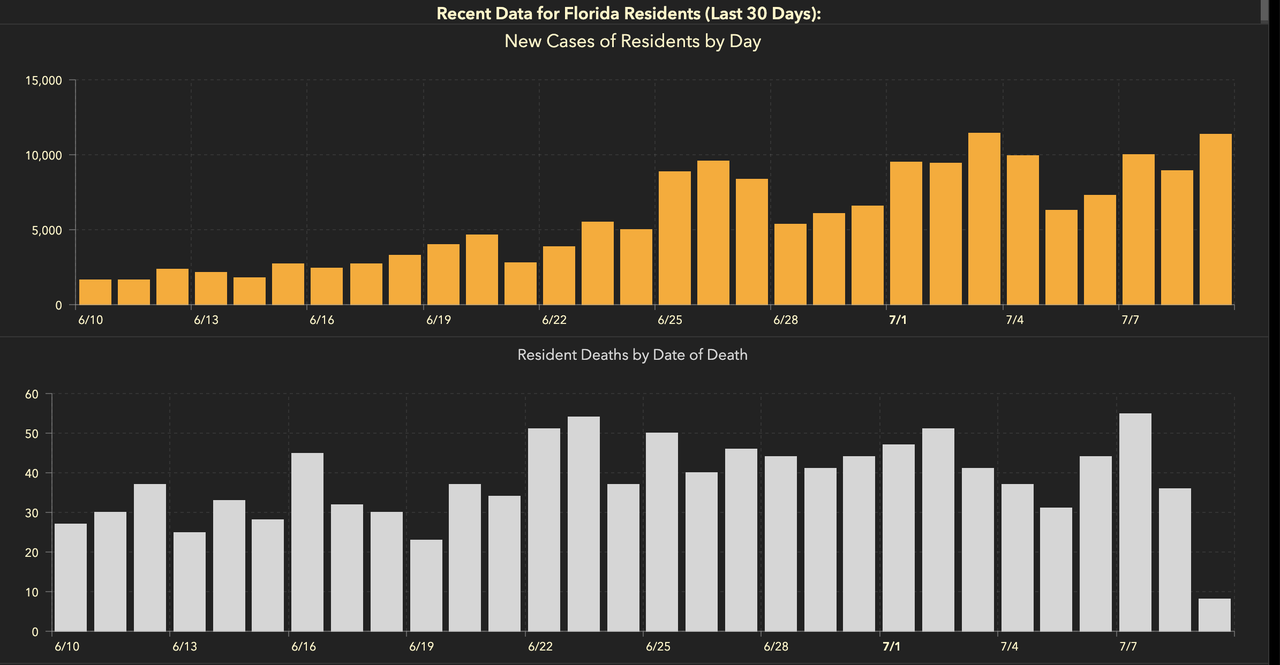 The new numbers have brought the total to 244,151 cases in Florida. Officials also reported 93 new deaths from the coronavirus on Friday. The death toll now stands at 4,102.


Notably, the state reported just 8 new deaths, even as the median age has trended higher.

Deaths have been trending higher over the past 3 days, with most of the new deaths being contributed by key sun belt states. Though Fla's Friday figure is a welcome departure from that ghastly trend.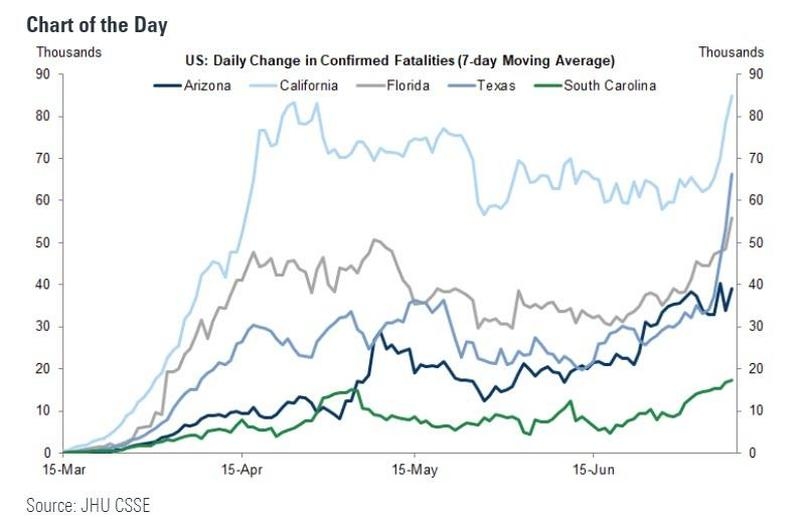 Meanwhile, here are the latest numbers for NY.
The news follows reports that a second 11-year-old died form the virus in Florida. She reportedly died in Broward County yesterday.
Italy also reported its latest daily figures…
ITALY REPORTS 276 NEW CORONAVIRUS CASES, 12 DEATHS FRIDAY
ITALY REPORTS 242,639 TOTAL CORONAVIRUS CASES, 34,938 DEATHS
…all of which were in line with recent averages.
* * *
Update (1000ET): The UK just released its latest COVID-19 data.
UK public health officials reported 512 new deaths.
In other news, Larry Kudlow said during a cable news interview Friday morning that Trump would "never tolerate" a full economic shutdown.
He also insisted yet again that the US is in a recovery. But we suspect the strength of Kudlow's jawbone alone likely won't be enough to revive consumer confidence, or create tens of millions of jobs.
Before we go, we'd like to point out this latest factoid from Sweden (population 10.25 million): Sweden has been controversial for refusing to impose a lockdown. While schools and the economy remained open, the country has suffered the highest fatality rate per capita in the world – some 5,482 deaths (compared with roughly 75k cases, and 10.1 million people), which has led to Sweden's neighbors keeping travel restrictions in place.
Though the popularity of the approach remains popular, its favorability has sagged since the early days of the outbreak as deaths have climbed.
But one analyst pointed out that of all these fatalities, only 70 people under the age of 49 years old have died from the virus. That's only 1.3% of overall deaths. For context, average annual deaths in Sweden over the last 5 years for under-49-year-olds have been 3,417.
Perhaps there might be a way to manage the outbreak in a more "sustainable" way that doesn't make the world so dependent on front line workers.
* * *
Update (0900ET): The latest Gilead press release touting a new drop in mortality tied to remdesivir, the drug it initially developed to treat ebola that is now being repurposed to fight COVID-19.
As one might expect, the news sent the market, and shares of Gilead, surging higher.
Time for a secondary offering?
* * *
The market's torrid recovery rally has encountered some more resistance this week as a massive retail-driven market bubble in China and a resurgence of US deaths linked to COVID-19 (most of which are occurring in the Sun Belt) has stoked fears that we might have finally arrived at the top of another down-slope as the reality of massively inflated valuations accompanied by the inevitable return to lockdown, as the deaths that former FDA head Scott Gottlieb has warned about during his morning appearances on CNBC finally begin to emerge.
Investors appeared to focus on the number of deaths reported on Thursday, which eclipsed 800 for the third day in a row, pushing the 7-day average to levels that we haven't seen since early June.
According to Reuters, the US reported 60,565 new COVID-19 cases on Thursday, a record-breaking tally for the second day in a row. There was, as usual, some disagreement on the numbers, as AFP tweeted that the record sum reported yesterday was higher than 65,000, citing Johns Hopkins data.
Globally, we saw 227,038 new cases yesterday, the third consecutive record.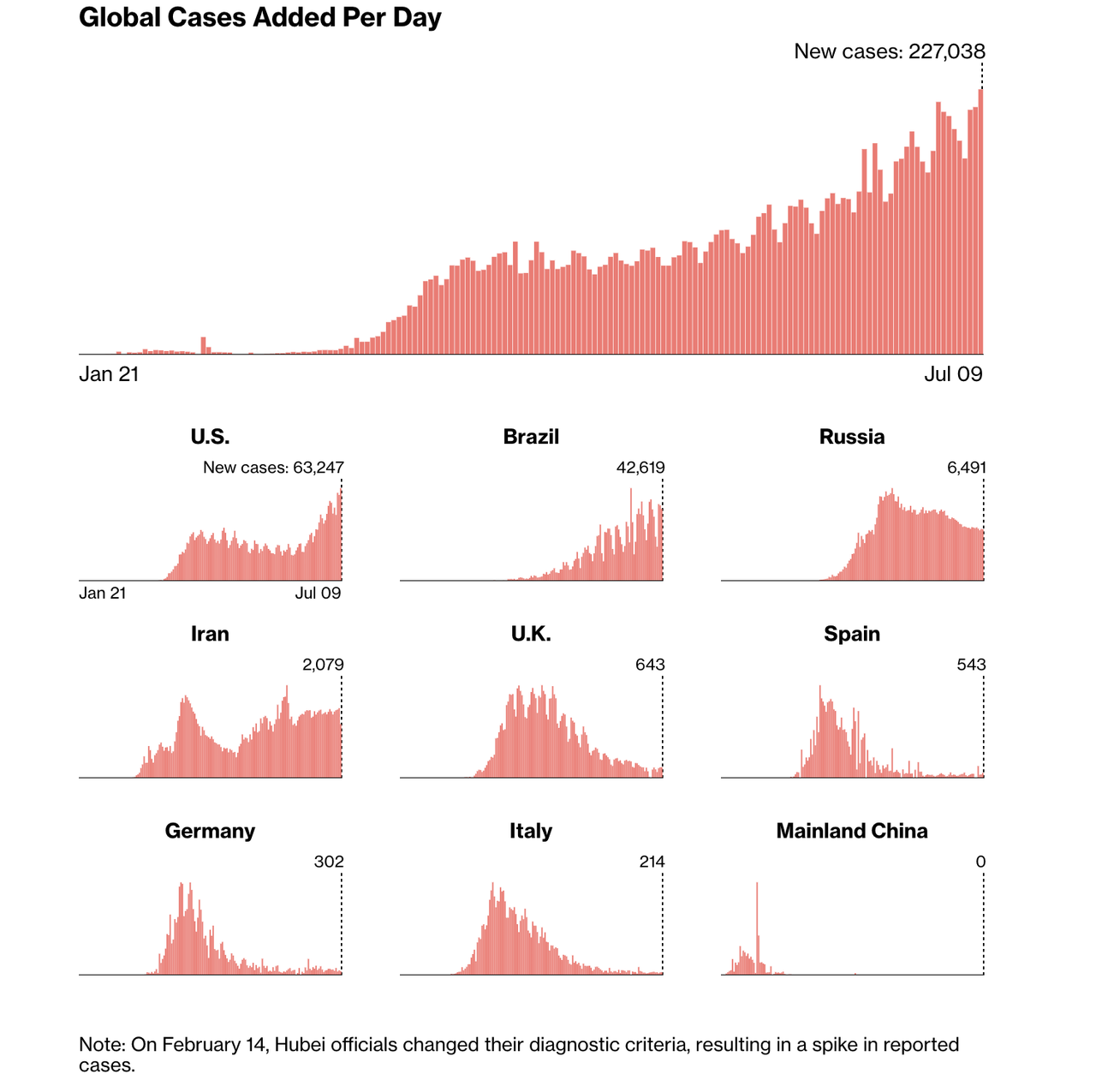 Those numbers were mostly driven by the "Big 4" states – Texas, Florida, California, Arizona – as Florida reported a record 120 deaths, as we reported yesterday, and California had 136 new deaths, just below the record sum it reported the day before, according to the tally. Texas reported a record number of new cases north of 10k.

But almost equally as depressing are the multiplying signs that the outbreak is spreading to other states in the Midwest and South which haven't seen the level of spread as the most troubled Sun Belt states.
Even outside the nation's three most populous states, cases are rising. Alabama, Montana and Wisconsin saw their biggest single-day increases yet on Thursday. Viral spread is climbing in 41 out of 50 states, according to a Reuters analysis of data collected over the past 2 weeks.
As Bloomberg reported, the Sun Belt states are seeing their highest levels of deaths yet (though most are nowhere near the mortality rates seen in New York earlier this year). Still, the virus is overrunning hospitals and exhausting supplies.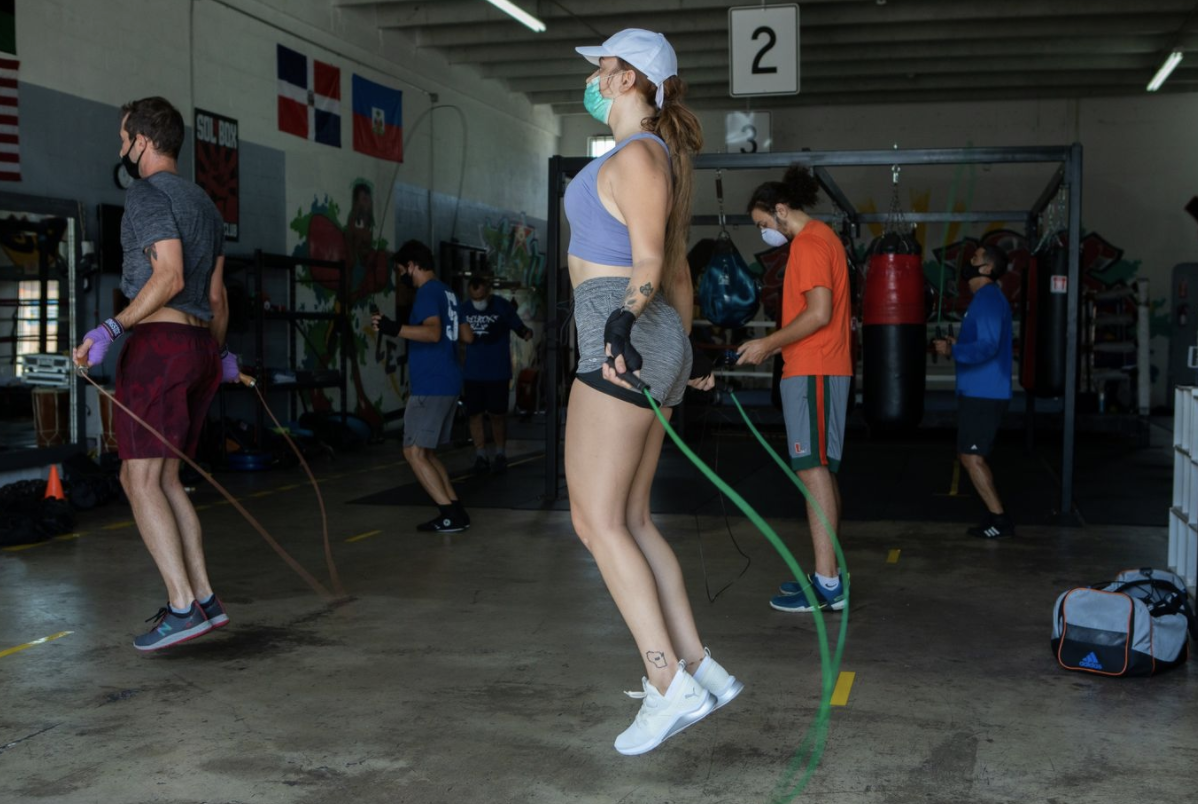 Yesterday, AZ Gov Doug Ducey announced measures including increasing testing capacity (testing across the country has continued to expand, though in many sun belt states, it hasn't been nearly fast enough to prevent hours-long lines) and limiting dine-in capacity to 50%.
In Mississippi, where many lawmakers are resisting wearing masks, 26 of them tested positive, including the leaders of both legislative chambers.
"We're not in a good situation. That may be a little too gentle. Probably what I really think is not fit to print," said Jaline Gerardin, an expert in disease modeling and an assistant professor of preventive medicine in epidemiology at Northwestern University Feinberg School of Medicine in Chicago. "I'm very worried."
Ariz. has seen a 50% jump in the number of new cases reported daily over the last three weeks. Governor Ducey said Thursday: "We have had a brutal June."
Meanwhile, more Republican governors are pleading with the public to take steps like wearing masks when in public. In Kentucky, which is now reporting at least 200 or so new cases a day, Gov Andy Beshear said he would order mask-wearing statewide beginning 5pmET.
Of course, the US isn't the only country struggling with a disturbing resurgence. In Asia, Tokyo, Hong Kong, the Philippines (which reported another single day record of new cases earlier on Friday) and Indonesia are all struggling with new clusters (or outbreaks that never really went away).
Just look at those curves (source: BBG):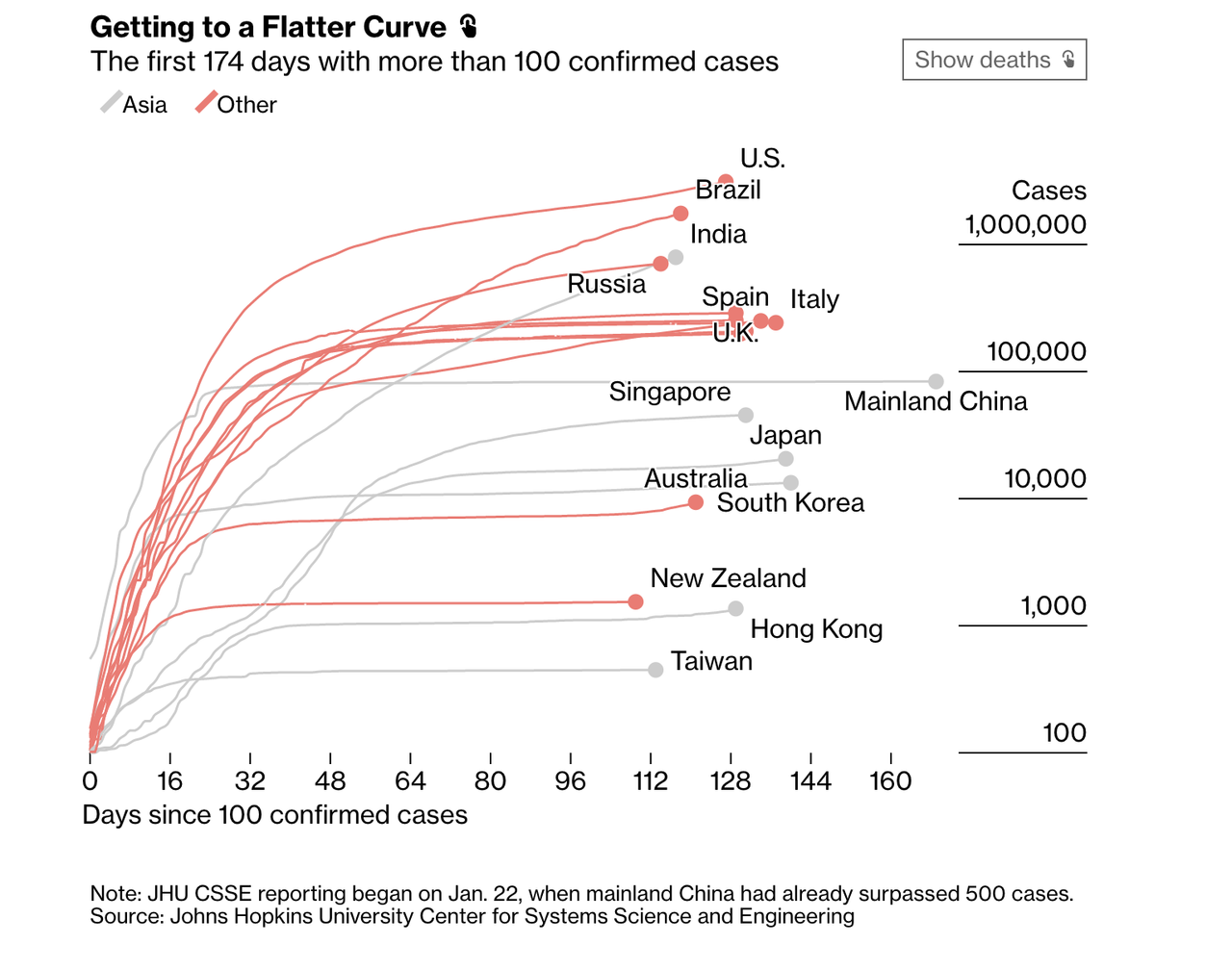 Meanwhile, as President Trump pushes the CDC to develop new guidelines that would support his hopes for reopening schools across the country in August, Hong Kong eported 42 new cases, 34 of them locally transmitted, and announced on Friday plans to close schools due to the recent outbreak, which has been traced back to an old folks home and restaurants.
Hong Kong has reported 1,365 cases with seven deaths since the pandemic began.
The World Is In Big Trouble, for Those That Believe We Will Go Back to Some Sense of Normal Life Here on Earth, You Will Be Sadly Disappointed, Seven and Half Years of Hell on Earth Which Began January 1, 2020
"Our courts oppose the righteous, and justice is nowhere to be found. Truth stumbles in the streets, and honesty has been outlawed" (Isa. 59:14, NLT)…We Turned Our Backs On GOD, Now We Have Been Left To Our Own Devices, Enjoy…
While Mainstream Media Continues to Push a False Narrative, Big Tech Has to Keep the Truth From Coming out by Shadow Banning Conservatives, Christians, and Like-Minded People, Those Death Attributed to the Coronavirus Is a Result of Those Mentioned, They Truly Are Evil…
StevieRay Hansen
Editor, HNewsWire.com
Watchmen does not confuse truth with consensus The Watchmen does not confuse God's word with the word of those in power…
In police-state fashion, Big Tech took the list of accused (including this site), declared all those named guilty and promptly shadow-banned, de-platformed or de-monetized us all without coming clean about how they engineered the crushing of dissent, Now more than ever big Tech has exposed there hand engaging in devious underhanded tactics to make the sinister look saintly, one of Satan's greatest weapons happens to be deceit…
The accumulating death toll from Covid-19 can be seen minute-by-minute on cable news channels. But there's another death toll few seem to care much about: the number of poverty-related deaths being set in motion by deliberately plunging millions of Americans into poverty and despair.
American health care, as we call it today, and for all its high-tech miracles, has evolved into one of the most atrocious rackets the world has ever seen. By racket, I mean an enterprise organized explicitly to make money dishonestly.
All the official reassurances won't be worth a bucket of warm spit. The Globals are behind the CoronaVirus, It Is a Man-Made Bioweapon.
For those of you who care, Google and your favorite social media platforms have misled you, and now we all pay a heavy price for trusting the ungodly, Google and company, They knew exactly what they were doing, removing our history while preparing you to accept the New World Order playbook, Enjoy.
The 127 Faith Foundation: We do not solicit donations from "those on disability, on a fixed income, or those who cannot afford to give." Please Pray!
Or, make checks payable to:
The 127 Faith Foundation
PO Box 127
Pontotoc, TX 76869
The number of Orphans aging out of Child Protective Custody has grown at an alarming rate. The 127 Faith Foundation receives many requests each week to house them at our ranch. Our prayer is that the good people of our country will step up to the challenge and offer financial support for "the least among us." We need your help! StevieRay Hansen, Founder, The 127 Faith Foundation
We make every effort to acknowledge sources used in our news articles. In a few cases, the sources were lost due to a technological glitch. If you believe we have not given sufficient credit for your source material, please contact us, and we will be more than happy to link to your article.