Escaped Wuhan Roughly 13 Months Ago, the US Reported More Than 4k COVID-Linked Deaths in a Single Day, a New Record…
Summary:
US sees record 4K+ new deaths; 266K new cases
Global cases are 88.2
UK approves Moderna jab for emergency use
London mayor warns city in "crisis mode"
Alabama, Nevada and Arizona see most hospitalizations per person
Queensland, Australia imposes 3 day lockdown on Greater Brisbane
EU agrees to buy 300MM more Pfizer jabs
Greece orders mandatory 1-week lockdown
* * *
For the first time since SARS-CoV-2 escaped Wuhan roughly 13 months ago, the US reported more than 4K COVID-linked deaths in a single day, a new record. Meanwhile, down in Brazil, authorities saw the national death toll eclipse 200K.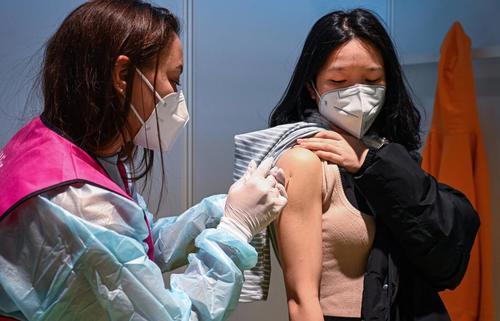 All told, the US is closing in on 21.6MM confirmed cases, while the death toll (still the highest in the world, according to the official number) is closing in on 400K. Cases also saw a record-breaking surge of 266K new cases, as the backlog of cases from the holiday has finally disappeared.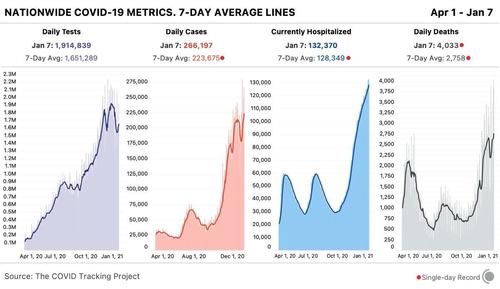 Among the four major regions of the US, the South is now struggling with surging hospitalizations led by Texas and Florida, while California (itself led by LA County) drives hospitalizations higher in the West.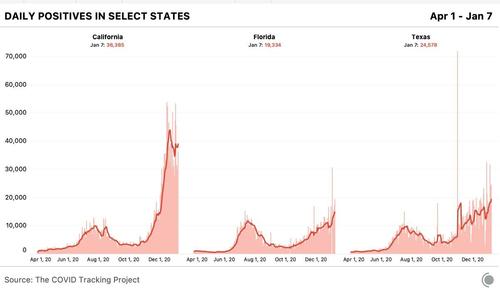 On a per capita basis, Alabama, Nevada and Arizona are leading the country in current hospitalizations.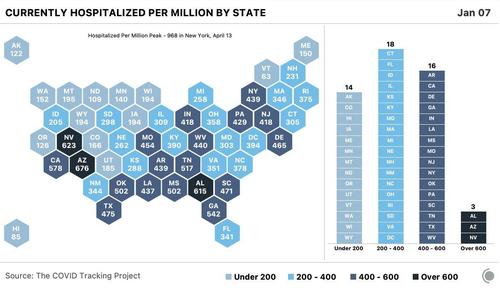 Europe, meanwhile, is seeing cases surge, presumably driven by the "mutated" strains first isolated in Britain and South Africa. Case in point: daily infections per capita in the UK have surged.

Speaking of the "mutant" COVID variants, new early study data shows the Pfizer-BioNTech vaccine likely is effective against the new COVID "variants" discovered in the UK and South Africa. On the supply side, the European Commission President Ursula von der Leyen struck a new deal with Pfizer to buy another 300MM doses of the COVID vaccine it developed with BioNTech. On the other hand, the UK on Friday authorized the jab developed by Moderna for emergency use.
According to Bloomberg, the trial testing the vaccines against the new COVID strain found that research examined the response to the mutant viruses in blood samples taken from 20 people who had gotten the companies' mRNA vaccine as part of a previous clinical trial. The research didn't study other mutations in the spike protein. Still, the antibodies in the vaccinated people's blood did just as good a job at disarming the mutant virus as they did with the non-mutant version.
As the UK leads the world (aside from Israel) in vaccinations, the country has ordered 7MM doses, which are expected to be delivered later in the year. It has previously approved vaccinations from Pfizer and AstraZeneca. The mayor of London, meanwhile, warned that the city is presently caught up in a COVID induced crisis.
Here's some more COVID-19 news from overnight and Friday morning:
Australia's Queensland state Premier announced a 3-day lockdown in Greater Brisbane due to COVID-19, while Australian PM Morrison said the COVID-19 situation in Brisbane is serious and that they will require pre-flight COVID testing on international flights, as well as reduce caps by half on international arrivals to some states through to February 15th (Source ssooo
Japan's Kyoto, Osaka and Hyogo are reportedly to cooperate and request for the government to declare a state of emergency for them. While Tokyo coronavirus cases increase by more the 2,300 today, according to NHK. (Source: Newswires)
Greece is introducing a compulsory one-week quarantine for all international air arrivals, including from other European Union countries. Arrivals from the U.K. will additionally face stricter testing under the rules, which run through Jan. 21, the country's civil aviation authority said Friday (Source: Bloomberg).
Croatia extended pandemic-fighting restrictions until Jan. 31, Deputy Prime Minister Davor Bozinovic told reporters in Zagreb. The measures, previously due to end Jan. 10, include the closure of bars, restaurants, gyms and most schools (Source: Bloomberg).
* * *
Finally, Spain's coronavirus outbreak has worsened as the number of cases continues to rise in the next few weeks, Health Minister Salvador Illa said at a press conference in Madrid. To dig the country out of this mess, it will be critical for the public to follow new restrictions on travel and movement.
Vaccines are a putrid amalgam of neurotoxins, animal DNA, disease, baby tissue stolen from murdered infants at birth.. How Godly is this? This is nothing more than sorcery and witchcraft and it is so called in scripture – Read Nahum chapter 3, and Revelation 18:23 to see that the US is about to be destroyed for our crimes against humanity, which are military, spiritual, and medical. The writers and owners of rags like this Christian so called post – and their false premises made to push a luciferins doctrine.. will be judged with the strictest judgment.
People's hearts are troubled, their minds are in a state of confusion, the Bible tells us a time of great delusion that will come upon the people, that time has arrived, the politicians must come up with more significant and more believable lies in order to bring on the antichrist, we have entered the doorstep Tribulation.
"Unless God has raised you up for this very thing, you will be worn out by the opposition of man and devils"… SRH
A Warning
Source: HNewsWire ZeroHedge HNewsWire HNewsWire HNewsWire
StevieRay Hansen
Editor, HNewsWire.com
Watchmen does not confuse truth with consensus The Watchmen does not confuse God's word with the word of those in power…
The 127 Faith Foundation Thanks You
The 127 Faith Foundation: We do not want donations from "those on disability, on a fixed income, those that cannot afford to give" Please Pray!
My job is protecting children. It has taken me from big cities to rural outposts, from ghettos to penthouses, and from courtrooms, into demonic battlefields. But whatever the venue, the truth remains constant: Some humans intentionally hurt children. They commit unspeakable acts—for their pleasure, their profit, or both. StevieRay Hansen, CEO The 127 Faith Foundation
Amazon Wish List For The 127 Faith Foundation
The number of Orphans aging out of Child Protective Custody has grown at an alarming rate. The 127 Faith Foundation receives many requests each week to house them at our ranch. Our prayer is that the good people of our country will step up to the challenge and offer financial support for "the least among us." We need your help! StevieRay Hansen, Founder, The 127 Faith Foundation