The Bible prophesies of many events that will occur in the end times. These events can be categorized as natural signs, spiritual signs, sociological signs, technological signs, and political signs. We can look to what the Bible says about these things, and, if the signs are present in abundance, we can be certain that we are, in fact, living in the end times.
Luke 21:11 lists some of the natural signs that will occur before Jesus' second coming: "There will be great earthquakes, famines, and pestilences in various places, and fearful events and great signs from heaven." While we shouldn't interpret every natural disaster as a sign of the end times, an increase in natural disasters seems to be a warm-up to what is coming next—"birth pangs," as Jesus called them (Matthew 24:8).
The Philippines has recorded more tremors beneath the Taal volcano island, keeping its warning that hazardous explosive eruption may happen within hours to days.
The Philippine Institute of Volcanology and Seismology recorded 486 volcanic earthquakes including four low-frequency ones in the past 24 hours. "Such intense activity likely signifies continuous magmatic intrusion beneath the Taal edifice, which may lead to further eruptive activity," it said in its 8 a.m. report Friday.
The volcanology agency, in maintaining the second-highest alert, said a hazardous eruption is possible within hours or days and reiterated that total evacuation of the volcano island and other high-risk areas within the 14-kilometer radius from the main crater be observed.
On Friday morning, the volcano was releasing thick smoke, the Philippine Star reported.
The Philippine Star✔@PhilippineStar
LOOK: Thick smoke emanates from Taal Volcano on Friday morning.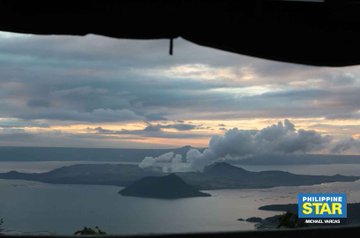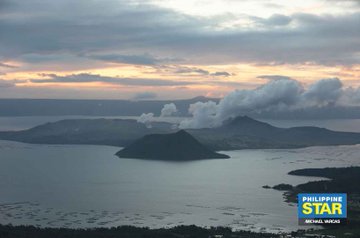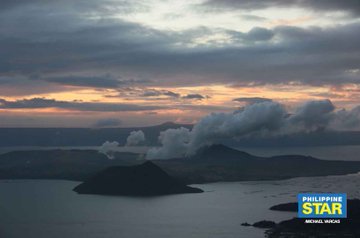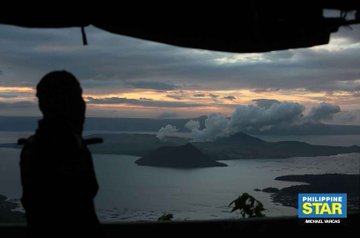 3725:06 PM – Jan 23, 2020Twitter Ads info and privacy168 people are talking about this
Volcanology agency head Renato Solidum said the volcano 65 kilometers south of the capital Manila started releasing white steam-laden plumes past 5 a.m. local time, CNN Philippines reported. The tremors beneath the island suggest boiling of groundwater, which may exist from the volcano as steam or an explosion can happen if there's enough pressure, he said.
Authorities this week widened an order compelling villagers to move away from the Taal volcano, including parts of popular tourist spot Tagaytay city.
The police and military on Thursday started implementing forced evacuation and total lockdown of areas within the 14-kilometer danger zone from the restive volcano, which has already sent tens of thousands of people to evacuation centers.
Taal is one of the most active and deadliest volcanoes in the Philippines, which sits on the "Pacific Ring of Fire." The volcano, which has 47 craters and lies in an island in the middle of a lake, is a top tourist attraction.
A massive earthquake has just struck off the coast of Indonesia, recorded at 7.4 magnitudes and 62 km deep, according to the US Geological Survey.
It was registered in the Molucca Sea, about just over 130km northwest of the Indonesian island of Ternate, at 4:18 pm local time on Thursday. Indonesian authorities have issued a tsunami alert.
Daniel 9:27 gives a few highlights of the seven-year tribulation period: "He will confirm a covenant with many for one 'seven.' In the middle of the 'seven', he will put an end to sacrifice and offering. And on a wing of the temple, he will set up an abomination that causes desolation, until the end that is decreed is poured out on him." The person of whom this verse speaks is the person Jesus calls the "abomination that causes desolation" (Matthew 24:15) and is called "the beast" in Revelation 13. Daniel 9:27 says that the beast will make a covenant for seven years, but in the middle of this week (3 1/2 years into the tribulation), he will break the covenant, putting a stop to sacrifice. Revelation 13 explains that the beast will place an image of himself in the temple and require the world to worship him. Revelation 13:5 says that this will go on for 42 months, which is 3 1/2 years. Since Daniel 9:27 says that this will happen in the middle of the week, and Revelation 13:5 says that the beast will do this for a period of 42 months, it is easy to see that the total length of time is 84 months or seven years. Also see Daniel 7:25, where the "time, times, and half a time" (time=1 year; times=2 years; half a time=1/2 year; a total of 3 1/2 years) also refers to "great tribulation," the last half of the seven-year tribulation period when the beast will be in power.
Source: bloomberg.com HNewsWire
Corinthians 4:8-11 New King James Version (NKJV) We are hard-pressed on every side, yet not crushed; we are perplexed, but not in despair; 9. persecuted, but not forsaken; struck down, but not destroyed— 10. always carrying about in the body the dying of the Lord Jesus, that the life of Jesus also may be manifested in our body. 11. For we who live are always delivered to death for Jesus' sake, that the life of Jesus also may be manifested in our mortal flesh.
Giant Clouds Of Ash Miles Into The Air?…
There certainly hasn't been a lack of seismic activity so far in 2020. Just a few days ago, I wrote about the horrific earthquake swarm that Puerto Rico is currently experiencing. More than 1,000 earthquakes have rattled Puerto Rico so far, and as you will see below, it was just hit by another very large earthquake. But right now volcanic eruptions have taken center stage. In particular, a massive eruption in the Philippines is making headlines all over the world, but what most people don't realize is that several other volcanoes have also blown their tops in spectacular fashion within the past week. Suddenly, volcanoes all over the globe are shooting giant clouds of ash miles into the air, and this is greatly puzzling many of the experts.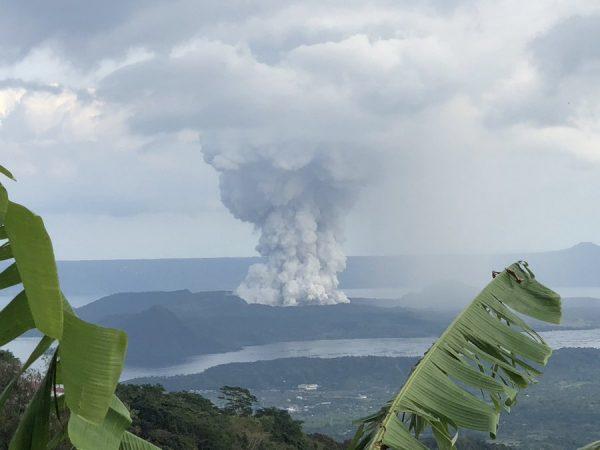 Let's review what we have witnessed over the past 7 days.
Last Tuesday, one of the most important volcanoes in Alaska shot hot ash 25,000 feet into the air…
Shishaldin Volcano erupted at 5 a.m. Tuesday, the Alaska Volcano Observatory announced, and sent up an initial ash cloud to 19,000 feet. Clouds initially obscured the mountain, but satellite imagery confirmed the ash cloud, U.S. Geological Survey geophysicist Hans Schwaiger said.

Seismicity diminished for a few hours, but it then increased again. During the increase, the volcano spewed an ash cloud to 25,000 feet, the observatory announced. The later eruption increased the volume of ash.
There are 5280 feet in a mile, and so we are talking about an ash cloud nearly 5 miles high.
Then on Thursday, Mt. Popocatepetl in Mexico shot hot ash nearly 4 miles into the sky…
Mexico's Popocatépetl volcano burst to life on Thursday in a spectacular gush of lava and clouds of ash that hurled incandescent rock about 20,000 feet into the sky.

The dramatic explosion of the active stratovolcano, a little over 40 miles southeast of Mexico City, was captured on video by Mexico's National Center for Disaster Prevention, CENAPRED.
Those that follow my work on a regular basis already know that I am deeply concerned about Mt. Popocatepetl. It has the potential to create the worst natural disaster in the modern history of North America because it is quite close to Mexico City. The following summary of the potential threat that Mt. Popocatepetl poses comes from one of my previous articles…
Approximately 26 million people live within 60 miles of Popocatepetl's crater, and so we are talking about the potential for death and destruction on a scale that is difficult to imagine. In ancient times, Mt. Popocatepetl buried entire Aztec cities in super-heated mud, but then it went to sleep for about 1,000 years. Unfortunately for us, it started waking up again in the 1990s, and now this is the most active that we have seen it ever since the volcano originally reawakened.
Let us hope that Mt. Popocatepetl settles down because the death and destruction that a catastrophic eruption would cause would be off the charts.
Meanwhile, down in South America the Sabancaya volcano in Peru just shot a plume of volcanic ash approximately 24,000 feet into the air…
Explosive activity continues. Volcanic Ash Advisory Center (VAAC) Buenos Aires warned about a volcanic ash plume that rose up to estimated 24000 ft (7300 m) altitude or flight level 240 and is moving at 15 kts in S direction.
But hardly anyone is paying any attention to what just took place in Peru because of what just happened in the Philippines.
On Sunday, Taal volcano roared to life, and it is being reported that the eruption sent "steam, ash and pebbles up to 10 to 15 kilometers (6 to 9 miles) into the sky".
Can you imagine that?
According to USA Today, ash has already reached Manila, and "red-hot lava" has started gushing out of the volcano…
StevieRay Hansen
Editor, HNewsWire.com
The Birth Pains Are Growing Stronger….
One of the signs of ruling class collapse is when they can no longer enforce the rules that maintain them as a ruling class. When the Romans started making exceptions to republican governance, it was a matter of time before someone simply decided the rules no longer applied to them. Perhaps the robot historians will consider Obama our Marius or Sulla. Maybe that person is in the near future. Either way, the rule of law is over and what comes next is the rule of men.
"Man will ultimately be governed by God or by tyrants." as in Nancy Pelosi (D-San Fran-feces)
Our government has been overthrown. As evidenced by Trump's capitulation on the border, his recent servitude to the GMO industry and his acquiescence to the warmongers, our President has been compromised. Our liberties are being eliminated one by one. Gun confiscation is next. The Constitution is gasping its last breaths. Our borders are destroyed and our culture has been turned upside down by every perversion known to man.
The watchman does not confuse truth with consensus. The Watchman does not confuse God's word with the word of those who happen to hold power at present, or with the opinion of the majority. This is because powerholders and the majority can fall victim to a lying spirit-and this means a power that actually seizes the majority of experts, the political leadership, and the public.
Everything is right on schedule and, now, the time is come to remove one of the final obstacles standing in the way of a New World Order: The United States Constitution – even if, over the course of many decades, it has already been greatly diminished by the B.E.A.S.T. system; or, more specifically, Bullshit Emerging As Strategic Totalitarianism (B.E.A.S.T.).
They are tolerant of everything except dissenting values and opinions — meaning, of course, they are tolerant of nothing that matters, only themselves."
The Watchman does not confuse truth with consensus. The watchman does not confuse God's word with the word of those who happen to hold power at present, or with the opinion of the majority. This is because powerholders and the majority can fall victim to a lying spirit-and; this means a power that seizes the majority of experts, the political leadership, and the public.StevieRay Hansen
Taal volcano, Coronavirus, biblical truth, tribulation, antichrist, B.E.A.S.T, tribulation, end times, Electronic Prison, Birth Pains