Nancy Pelosi Chuck Schumer and the Hollywood Pedophile Elitist So Every Nutcase in the World Wants to Become Famous by Assassinating the President…
They will try to kill Trump before they let him be reelected as president. It could be a Republican or a Democrat that instigates the shutting up of Trump. Don't be surprised if Trump has an accident.
The Moment Secret Service Shoots Gun-Toting Man Outside White House
Video has emerged of the man shot by Secret Service Monday afternoon:
White House Shooting | Secret Service Shoot Gun-wielding Man [CAUGHT ON TAPE] pic.twitter.com/tMsal8aw8z— ⭐⭐⭐ ς ivυɒƧǝϱnɒnoM_ƖმlǝϱnɒbǝvɒƧText TRUMP to 88022 (@ARaisinghell) August 10, 2020
* * *
In the latest indication of just how chaotic things are becoming in America, on a day when the city of Chicago is being overrun by violent criminal gangs, President Trump was abruptly pulled from the podium at the start of Monday night's WH press briefing.
However, Trump soon returned, and explained that a shooting had just taken place outside the White House.
"There was a shooting outside of the White House," Trump said. "There was an actual shooting and somebody's been taken to the hospital."
He added that Fox News reporter John Roberts had heard two gunshots. Asked if he was rattled, Trump replied "do I seem rattled?"
An individual was shot by the Secret Service outside the White House at 17th and Pennsylvania. The armed suspect has been taken to a nearby hospital.
Reporters at the briefing tweets photos of locked doors and generally sounded more panicked than the situation probably warranted. And especially since so many of them have actively supported violent rioters and looters.
How long before the left starts looting and rioting to show support for the crazed armed gunman that was just shot outside of the White House?— Alex Bruesewitz (@alexbruesewitz) August 10, 2020
They Want to Get Rid of Trump Because for the First Time in Their Careers, They Can Be Prosecuted for What They Have Done…
Former CIA Officer and counter-terrorism expert Kevin Shipp says the threat of outright war with Iran is over – for now.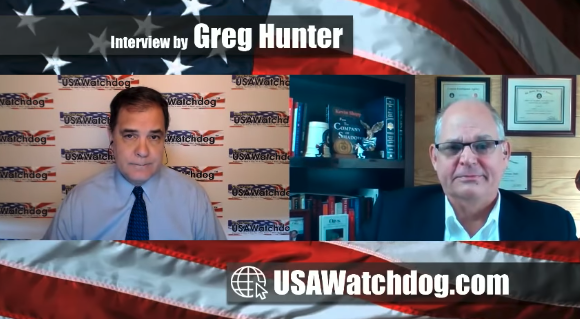 But, Shipp warns that Iran will change its strategy from overt conflict to covert conflict against the US…
"Iran has backed down. There is no question about that, and even their so-called missile strikes against the U.S. are basically just kicking sand, intentionally missing their target. Iran understands if they entered into a war with the U.S., they would be left with nothing more than a burnt stump. So, Iran is backing down…

What Iran is going to do is engage in asymmetrical warfare. I think they are going to start activating their sleeper cells in the United States and other countries like Saudi Arabia. We are going to start seeing attacks on easy targets in places like Iraq and activation of cells within the United States."
Shipp is also an expert on the Deep State Shadow Government. Shipp says things are "quiet" on the prosecution of the failed coup plotters who tried to remove President Trump, but 'that is a good thing.' Shipp says,
"The evidence is already there to pass an indictment on Hillary Clinton and some of the others. So, there is not even an investigation in that regard…

Barr's investigation is now a criminal investigation. They are trying to get a hold of Brennan's (former CIA Director) emails and correspondence, through subpoenas, during this soft coup, and it looks like they are in the middle of that now, so, hence the silence. They are quiet now and that is a frustrating thing about any investigation…

They can't come out and reveal where they are heading, especially when it comes to the CIA and intelligence agencies. You can't tip your hand to the person you are investigating. Then they start destroying documents, and people start getting afraid and start covering things up."
Shipp says the Democrats know they most likely will not win back the White House in the upcoming Presidential election.
"Their chance of winning in 2020, especially now with Trump's success, is getting slim, and they are getting desperate.

When they get desperate, and they have done this before, I think we can count on voter fraud. They are going to have to use it, and they have used it before. In any event, they have very little chance of winning now, in my view, because the majority of Americans find their platform distasteful. So, I think this (voter fraud) is going to happen."
Shipp says the Deep State is worried that Trump will have a second term:
"I think they (Deep State) are in a state of shock.

They want to get rid of Trump because for the first time in their careers, they can be prosecuted for what they have done. I think they are afraid of that, and that's why John Brennan and others are coming out as mocking birds on CNN and MSNBC and constantly attacking the President."
Join Greg Hunter as he goes One-on-One with former CIA Officer Kevin Shipp.
The World Is In Big Trouble, for Those That Believe We Will Go Back to Some Sense of Normal Life Here on Earth, You Will Be Sadly Disappointed, Seven and Half Years of Hell on Earth Which Began January 1, 2020
"Our courts oppose the righteous, and justice is nowhere to be found. Truth stumbles in the streets, and honesty has been outlawed" (Isa. 59:14, NLT)…We Turned Our Backs On GOD, Now We Have Been Left To Our Own Devices, Enjoy…
While Mainstream Media Continues to Push a False Narrative, Big Tech Has Keep the Truth From Coming out by Shadow Banning Conservatives, Christians, and Like-Minded People, Those Death Attributed to the Coronavirus Is a Result of Those Mentioned, They Truly Are Evil…
StevieRay Hansen
Editor, HNewsWire.com
Watchmen does not confuse truth with consensus The Watchmen does not confuse God's word with the word of those in power…
In police-state fashion, Big Tech took the list of accused (including this site), declared all those named guilty and promptly shadow-banned, de-platformed or de-monetized us all without coming clean about how they engineered the crushing of dissent, Now more than ever big Tech has exposed there hand engaging in devious underhanded tactics to make the sinister look saintly, one of Satan's greatest weapons happens to be deceit…
The accumulating death toll from Covid-19 can be seen minute-by-minute on cable news channels. But there's another death toll few seem to care much about: the number of poverty-related deaths being set in motion by deliberately plunging millions of Americans into poverty and despair.
American health care, as we call it today, and for all its high-tech miracles, has evolved into one of the most atrocious rackets the world has ever seen. By racket, I mean an enterprise organized explicitly to make money dishonestly.
All the official reassurances won't be worth a bucket of warm spit. The Globals are behind the CoronaVirus, It Is a Man-Made Bioweapon.
You do recall, don't you, that the governors and mayors who imposed the lockdowns never asked their citizens about their views about instantly getting rid of all rights and freedoms. They didn't consult legislatures. They didn't consult a range of expert opinion or pay attention to any serious demographic data that showed how utterly preposterous it was to force non-vulnerable populations into house arrest while trapping vulnerable populations in nursing homes that became Covid-soaked killing fields. Google that and see what response you get, I can tell you Google hides the truth, as they do on their YouTube platform…
They thought nothing of shattering business confidence, violating contractual rights, wrecking tens of millions of lives, prohibiting freedom in the association, tanking the stock market, blowing all budgets, shutting down international travel, and even closing the churches. Amazing. Every government executive except a few became a tin-pot dictator and so we will give credit where credit is due, mainstream media, and especially high tech, Twitter, Facebook, you know the list of tyrants that are turning this country into hell on earth. Enjoy…
The number of Orphans aging out of Child Protective Custody has grown at an alarming rate. The 127 Faith Foundation receives many requests each week to house them at our ranch. Our prayer is that the good people of our country will step up to the challenge and offer financial support for "the least among us." We need your help! StevieRay Hansen, Founder, The 127 Faith Foundation