Update: 1/14/22 @ 8:35 AM The Detention of World No. 1 Tennis Player Novak Djokovic. Czech Tennis Player Renata Voracova Has Also Been Detained by the Australian Border Force — Prison Camps Are
in the Future, People. It Was Only a Matter of Time — American FEMA Camps Coming Soon — Tribulation
A Thrilling Ride!
Every once in awhile, a book comes across your path that is impossible to put down. A Long Journey Home is not a casual book that you read in a week or earmark to complete at a later date. Once you begin, cancel your schedule, put your phone on silent, find a quiet place where you cannot be disturbed, and complete the journey. Click Here to Purchase on Amazon.com!
Australia Re-Cancels Novak Djokovic's Visa After Minister Steps In
Australian Immigration Minister Alex Hawke has used his discretionary ministerial power to cancel tennis star Novak Djokovic's visa on the grounds of health and good order, saying it was in the public interest to do so.
"This decision followed orders by the Federal Circuit and Family Court on 10 January 2022, quashing a prior cancellation decision on procedural fairness grounds," Hawke said in a statement on Jan. 14.

"In making this decision, I carefully considered information provided to me by the Department of Home Affairs, the Australian Border Force and Mr Djokovic.

"The Morrison Government is firmly committed to protecting Australia's borders, particularly in relation to the COVID-19 pandemic."
This comes after days of deliberation about the tennis star's fate after he won a court case to overturn an earlier visa cancellation.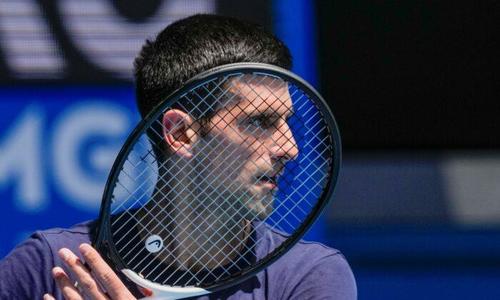 It is not known if the Serbian player will contest the minister's decision.
Djokovic had applied for a medical exemption to enter Australia to compete in the Australian Open tennis tournament because he is unvaccinated against COVID-19.
He contended that he should be granted the exemption because he had tested positive in December.
The tennis world number one player was detained by Australian Border Force upon arrival on Jan. 6 and his visa cancelled because he did not meet Australia's entry requirements that overseas arrivals must be fully vaccinated.
Djokovic was released from immigration detention on Jan. 11 after federal judge Anthony Kelly re-instated his visa, deeming the cancellation "unreasonable" because the player had not been given enough time to respond to officials.
The Australian government acknowledged it had not given Djokovic enough time to make his case while he was being held after arriving in the country.
The revelation that Djokovic had tested positive for COVID-19 in December also forced him to issue a public statement apologising for not isolating after getting his result. He said that he had felt obliged to do an interview and believed since he was asymptomatic and was practising social distancing that it would be alright.
"This was an error of judgement, and I accept I should have rescheduled this commitment," Djokovic said.

"I felt obliged to go ahead and conduct the L'Equipe interview as I did not want to let the journalist down, but did ensure I socially distanced and wore a mask except when my photograph was being taken."
Djokovic was scheduled to play against fellow Serb Miomir Kecmanovic in the first round of matches on Jan. 17 at the Australian Open.
Meanwhile, deported Czech tennis player, Renata Voracova, has vowed to pursue Tennis Australia for compensation after she left the country on the weekend over a visa dispute.
Source: ZeroHedge
The World

Will Be Ruled By a Godless Man Presiding Over an Evil Governmental System. The Bible Associates This End-Times Ruler With a Terrible Beast in Revelation and in Daniel, the Day is Here–Get ready…

The diplomatic standoff between an increasingly authoritarian Australian government and World's No. 1 Tennis champion Novak Djokovic has just taken an absurd new turn.

After Aussie immigration authorities left Djokovic to rot in immigration detention - confining him to a very modest room at the Park Hotel - for the better part of a week following his arrival in the country (despite Djovokic having all the proper paperwork to enter the country), an Australian judge on Monday decided to reject the government's decision to abruptly cancel the tennis player's visa (after he had already arrived in the country) and ordered that the tennis star be immediately released.

As a result of the decision, which was handed down at 1716 local time (around 0115ET), the Australian Ministry of Home Affairs - which has played a role akin to the antagonist in this saga - must pay Djokovic's costs from his time in detention. And all of his belongings - including, especially, his passport - must be returned to him "as soon as reasonably practicable."

Judge Anthony Kelly explained that his ruling had been made because Djokovic hadn't been given sufficient notice of his visa cancellation, leaving him no time to prepare appropriate materials.

In response to the judge's ruling, government barrister Christopher Tran said the government would comply with the judge's decision, but that the Minister for Immigration, Citizenship, Migration Services and Multicultural Affairs (whew that's a mouthful, eh?) would now consider "whether to exercise...[the] personal power of cancelation."

In response to this, Judge Anthony Kelly - who initially made the ruling - insisted that he must be informed if such a response might be imminent. He added that if the Australian minister decided to officially "deport" Djokovic - which is now the government's only option, since the tennis player will likely leave the country before it has time to appeal - that it would mean that Djokovic would be officially barred from entering Australia for three years.

This leaves the Australian government in a difficult spot: the only option left to it is a rather extreme option that might intensify the diplomatic firestorm that has erupted over its treatment of Djokovic. Already, domestic critics of the Aussie government have seized on the opportunity to bash the Morrison government for its "incompetence". Here's former Aussie PM Kevin Rudd:

Let's recap: there has been rampant speculation that the main reason the Aussie government decided to abruptly cancel the tennis player's visa once he had arrived in the country for the Australian Open (set to start Jan. 17) because Djokovic had tweeted about being infected with COVID again in December 2021, the reason for his medical exemption allowing him to enter the country despite not being vaccinated.

The government was clearly uncomfortable with this being made public. While it had allowed these exemptions before, the Aussie government is scrambling to shore up public confidence in its authoritarian crackdowns on travel and business, even as the country's extreme measures to combat COVID have done practically nothing to prevent infections from soaring.

By publicizing that he had been given an exemption over his "natural" immunity, the tennis player was perhaps inadvertently pushing the debate on natural vs. artificial immunity - a conversation that plenty of governments, not just the Australians, have been loath to have.

The world now waits to see how the Aussies will react. Will they double down and deport the world's best tennis player, effectively barring him from the next three Australian Opens? Since they have already whipped millions of people into a frenzy by accusing Djokovic of being a "privileged" athlete wantonly putting the public's health at risk (as if his presence in the country would have any impact on the larger COVID situation), they're now in a difficult spot: if they turn back now, a massive loss of confidence could ensue.

And let's not forget: Djokovic isn't the only athlete who has seen his visa canceled. The Aussie government has been quietly cancelling visas of other athletes who had been granted similar vaccine exemptions.

According to a statement released by Immigration Minister Alex Hawke, the government is still considering whether to "deport" Djokovic. The minister's office released a statement below:

Following today's Federal Circuit and Family Court determination on a procedural ground, it remains within Immigration Minister Hawke's discretion to consider cancelling Mr Djokovic's visa under his personal power of cancellation within section 133C(3) of the Migration Act. The Minister is currently considering the matter and the process remains ongoing."

Meanwhile, Djokovic's family is preparing to host a news conference in Belgrade at 0600ET.

In the mean time, the judge in the case has just released some documents pertaining to the case, including Djoko's affidavit. The 41-page document includes Djoko's account of the hostile treatment he faced at the hands of the Australians.

Read it below:

Affidavit of Novak Djokovic Sworn on 10 January 2022 by Joseph Adinolfi Jr. on Scribd

They (Satan Soldier) Will Break You down and Destroy You, Get in the Box Car…
The scandal over Australia's botched response to No-vax Djokovic is getting worse by the day.
After being stuck in immigration limbo for half a week, the world's tennis number one Novak Djokovic said in a legal challenge on Saturday to being refused entry to Australia that he had been given medical exemption from vaccination against COVID-19 because he had contracted the illness last month.
In a court filing ahead of a hearing on Monday over his visa cancellation Djokovic said he had received the exemption from scandal-plagued tournament organizer, Tennis Australia, with a follow-up letter from the Department of Home Affairs saying he was allowed into the country. By revealing his recently infected status, Djokovic is effectively pushing the debate of natural immunity, which has been extensively maligned by the authorities, vs vaccinations (and their numerous adverse side-effects) to the forefront.
"Mr. Djokovic understood that he was entitled to enter Australia and Victoria and to compete in the Australian Tennis Open," the lawyers wrote. The 35-page filing was released on Saturday.
The Serbian player, hoping to win his 21st Grand Slam at the Australian Open later this month, is on his third day in immigration detention in Melbourne - a case that has caused a sporting, political and diplomatic furor.
A vocal opponent of vaccine mandates, Djokovic has been confined since Thursday in a modest hotel after his visa was cancelled due to problems with the medical exemption from the country's immigration requirement for coronavirus vaccination that he presented. The drama has caused tensions between Serbia and Australia and has also become a flashpoint for opponents of vaccine mandates around the world.
"I explained that I had been recently infected with COVID in December 2021 and on this basis I was entitled to a medical exemption in accordance with Australian Government rules and guidance," Djokovic said in the filing about his experience being detained at Melbourne Airport.
Djokovic said he told Australian Border Force officers that "I had correctly made my Australian Travel Declaration and otherwise satisfied all necessary requirements in order to lawfully enter Australia on my visa".
Djokovic had his first positive COVID-19 test on Dec. 16 but by Dec. 30 "had not had a fever or respiratory symptoms of COVID-19 in the last 72 hours", the filing said.
On Jan. 1, it said, he received a document from Home Affairs telling him his responses indicated that he met "the requirements for a quarantine-free arrival into Australia".
The federal court has ordered Home Affairs of Australia which has the most draconian and ruthless lockdown measures of any country, to file its response by Sunday. The Border Force, a unit of Home Affairs, did not respond to a Reuters request for comment on Saturday.
Australian Home Affairs Minister Karen Andrews said on Friday that Djokovic "is not being held captive" and is "free to leave at any time that he chooses to do so and Border Force will actually facilitate that."
Djokovic said he was personally opposed to vaccines in 2020, but later clarified that he was no expert and would make the decision that's right for him. Djokovic hasn't previously disclosed his vaccination status.
"I wouldn't want to be forced to take a vaccine in order to be able to travel," Djokovic said in 2020, months before the first coronavirus vaccines were available.
He's known to have tested positive for Covid-19 in 2020, shortly after staging a tennis competition in Belgrade while most of pro sports was still locked down. At least three other players contracted coronavirus after the event. On Friday, Djokovic thanked his supporters via an Instagram post. He'll remain in detention following a court decision to adjourn his appeal to a visa cancellation. The proceedings will resume Monday.
The Australian Open starts on Jan. 17.
Many countries allow a recent COVID infection as a reason for an exemption from vaccine requirements. But Australia's federal government released a letter soon after Djokovic arrived showing that it had notified Tennis Australia that was not necessarily the case in the country.
Meanwhile, the federal and Victorian state governments and Tennis Australia have denied responsibility for the dispute which threatens to make a mockery out of Australia's ridiculous lockdown regime which, incidentally isn't working at all.
Djokovic's court filing confirmed a media report that he had asked to be moved to lodgings with access to a tennis court but that his request was denied. He is being held at Melbourne's Park Hotel, notorious for its poor conditions including reports of maggots in the food served. It is also home to dozens of asylum seekers trying to enter the country. A special request for Djokovic to have access to a personal chef and a tennis court were denied, The Australian newspaper reported.
Serbian Prime Minister Ana Brnabic told Serbian media that the government had managed to get Djokovic a laptop, SIM card and exercise equipment, as well as a delivery of gluten-free food to cater to his restricted diet.
"He's staying in Park Hotel until the final decision is made," Brnabic told Serbian media. "We've managed to make sure gluten-free food is delivered to him, as well as exercising tools, a laptop and a sim card so that he is able to be in contact with his family."
"It's a positive tone from the Australian side. The Serbian government is ready to provide all the guarantees necessary for Novak to be allowed to enter Australia, the Serbian president (Aleksandar Vucic) is also involved," Brnabic said.
Of course, any concession from Australia now that everyone in the world is closely watching this ridiculous scandal, would be concession that it's approach has been flawed.
The player's family has been vocal in its support in recent days and his father, Srdjan Djokovic, said on Saturday he was "disgusted" at his son's treatment in Australia.
"He feels the love, he is a mental rock. If the court decides that he must leave Australia, he will leave. If it decides that he can stay, he will stay. But politicians will not decide the fate of the world's best athlete of all times," he told a rally in front of parliament in Belgrade on Saturday, attended by a scattering of people.
Djokovic's filing said he had expressed "shock, "surprise" and "confusion" when he was held overnight, and had a bed prepared near his airport interview room so he could rest while waiting until the morning when he would be able to reach legal representatives and Tennis Australia, the filing says. Customs officers ultimately "pressured" Djokovic to undertake an interview before he had spoken to either, the filing said.
Meanwhile, it appears that the real culprit for the scandal is lack of communication between Australia's various authorities where everyone is now scrambling to maximize their power by piggybacking on covid. Case in point, Tennis Australia said it never knowingly misled players and had always urged players to be vaccinated, even after News Corp papers published a document from the organizing body apparently advising players on ways to enter the country with a medical exemption from vaccination.
"We have always been consistent in our communications to players that vaccination is the best course of action - not just as the right thing to do to protect themselves and others, but also as the best course of action to ensure they could arrive in Australia," Tennis Australia said in a statement quoted by local media. "We reject completely that the playing group was knowingly misled."
And yet, that's precisely what happened, and so the Tennis organization is passing the buck on to the government. To wit, Tennis Australia's advice was based on the contents of a federal government website to which it had been referred by the federal health minister, the statement added.
Meanwhile Czech player Renata Voracova, who was also detained in the same detention hotel as Djokovic and had her visa revoked after issues with her exemption, was seen by reporters leaving the hotel in a van on Saturday evening.
Her destination was not immediately clear, but she told Czech media earlier that she was still waiting to leave the country after deciding not to appeal the decision.
"The Courts Oppose the Righteous, and Justice Is Nowhere to Be Found. Truth Stumbles in the Streets, and Honesty Has Been Outlawed" (Isa. 59:14, Nlt)…We Turned Our Backs on God, Now We Have Been Left to Our Own Devices, Enjoy…
I SRH, fiercely defend my anti-Vaccine position, and advocate a pro-God, pure immune system for all true Believers.
Novak Djokovic remains in Australian detention, waiting for a hearing on his medical exemption for the vaccination requirement for those entering the country.
And although Australian Home Affairs Minister Karen Andrews previously told reporters that the tennis star "is free to leave at any time that he chooses to do so and Border Force will actually facilitate that," his father Srdjan says otherwise, speaking out in Serbian capital Belgrade per Sky Sports.
"Novak and his team filed the same type of documents as those 25 other tennis players and they didn't have any problems, just Novak. They wanted to humiliate him," Srdjan said.
"He's not in detention, he's in prison," he continued. "They took all of his stuff, even his wallet. They left him with just a phone and no change of clothes, nowhere to wash his face. He's in prison, our pride is a prisoner of these idiots."
Anti-Christ Germany, Ungodly Politicians, Preparing To Impose Austria-Style Lock-down On The Unvaxx'd — It's Coming to America...
I know Americans tend to think this kind of Nightmare could not happen here, simply refusing to take a kill shot into your body. People, it can and will happen here. It's just a matter of time. This time next year, real pressure will be on this country's unvaccinated and locked down will be reality. You can thank Google, social media, the liberal demonic News for approving someone like Biden and his kind to run this country. Tribulation...
Germany is preparing to follow the example of Austria by imposing new lock-down measures that will exclusively apply to the unvaccinated.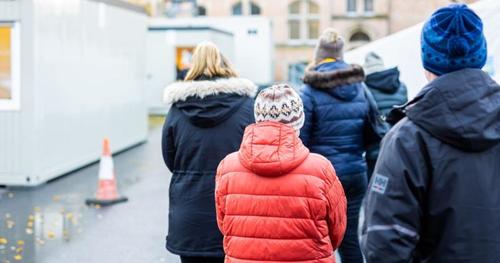 As we highlighted yesterday, Austrian authorities are enforcing the new measures by having police patrol supermarkets and highways, stopping people and checking their vaccination status.
Similar scenes could now be about to unfold in neighboring Germany.
The Guardian reports that the COVID situation in the country is worse now than it was before the vaccine was introduced.
"On Tuesday the country's disease control agency, the Robert Koch Institute, recorded a seven-day incidence rate of 312 cases per 100,000 people, with several areas at more than 1,000.

A year ago, before the vaccine was introduced, the rate stood at 139," reports the newspaper.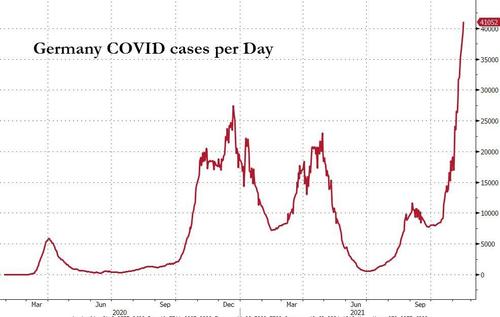 While "not as stringent" as the measures imposed on unjabbed Austrians, several states are now moving to exclude the unvaccinated from numerous venues.
The state of Saxony, where 85% of ICU beds are occupied by Covid patients, became the latest to introduce so-called 2G rules in all non-essential shops and facilities, meaning only people who can prove they have been vaccinated or have recovered from Covid will be allowed entry. Saxony's social minister, Petra Köpping, said that in addition tests would be required if the incidence continued to rise to the extent that hospitals were unable to cope. 2G is a reference to the German words for vaccinated and recovered (geimpft and genesen).

North Rhine Westphalia is due to follow suit, with unvaccinated people to be excluded from entry to all non-essential facilities and events including football matches and Christmas markets. People wanting to attend carnival events as the season kicks off will be required to take a test in addition to being vaccinated or having recovered.

Berlin is also on track to introduced similar "2G-plus" rules, its mayor, Michael Müller, said on Tuesday. The city hopes to reopen vaccine centres, which were closed across the country at the end of the summer when they were deemed no longer necessary, but authorities have said this would happen in January or February at the earliest.
New measures that solely impact the unvaccinated will be imposed despite a choir concert earlier this month in Germany which only the fully vaccinated were allowed to attend ending in a substantial COVID outbreak that infected at least 24 people.
Meanwhile, an opinion poll in the UK found that a majority of Brits also want to impose a lock-down on the unvaccinated.
Days Into Lock-down For The Unvaccinated, Anti-Christ Austria COVID Cases Hit Record High
As the debate rages over the effectiveness of lockdowns in combatting the spread of Covid-19, Austria is experiencing its biggest surge to date, hitting a record high number of confirmed infections three days into its government-imposed total 'quarantine for the unvaccinated'.
Daily infections surpassed 14,000 for the first time since the start of the pandemic. On Wednesday health authorities recorded 14,416 new infections, a fresh record, according to Reuters.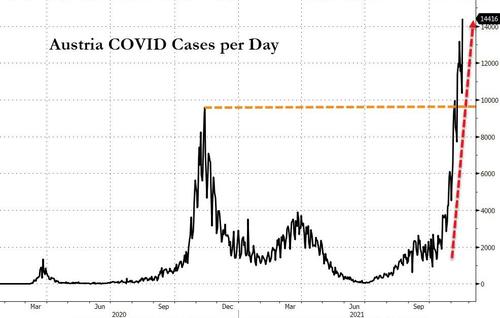 This is compared to the peak from a year ago of just under 10,000 daily infections.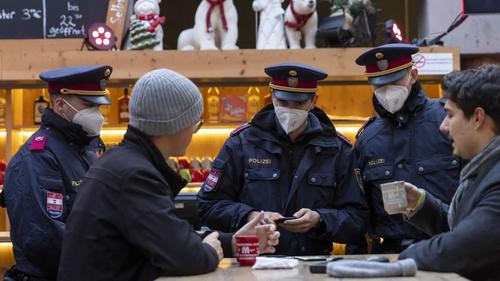 Austria has recently reported that about 65% of its population is now fully vaccinated. At the start of this week the government enacted a ban on any unvaccinated person going outside their home for reasons other than getting food, going to work, or attending health appointments - and even then they are subject to testing.
In recent days images and footage have emerged of police literally patrolling streets and department stores asking random citizens for proof of vaccination. Those under the stay at home order number at least a couple million unvaccinated Austrians.
Reuters details that despite being days in to the draconian lockdown measures, hospitals in many regions are at capacity:
The situation is worst in two of Austria's nine provinces, Upper Austria and Salzburg, where hospitals are coming under increasing strain. Salzburg has said it is preparing for a triage situation when the number of people needing intensive care beds exceeds supply, though that stage has not yet been reached.
Austrian police demand people show proof of vaccination as they shop in one of Vienna's busiest shopping streets Mariahilferstraße pic.twitter.com/Rs6Fu4gX6S

— Richard Medhurst (@richimedhurst) November 16, 2021
It remains to be seen whether the Austrian government's plan to essentially "punish" the unvaccinated will actually allay the rapidly rising case numbers. As we previously detailed based on disturbing emerging videos of police in action:
Those caught outside without proof of vaccination face fines of up to $1,660.

Last week, Austria's Chancellor Alexander Schallenberg said the lockdown was designed to make the unvaccinated "suffer" as everyone else had done during earlier lockdowns.

Whether these draconian patrols will continue remains to be seen.
Austrian police hunt for The Unvaccinated, who have been confined to their homes and face fines of $1660 for being in public (except when working).

And the human rights industry, the EU, US and much of the int'l left are silent, if not quietly approving. pic.twitter.com/Wc26Eh09EC

— Max Blumenthal (@MaxBlumenthal) November 16, 2021
Recall too that Israel was early on among the "most vaxxed nations", and yet this summer the country experienced a huge surge as the Delta variant spread.
Israel even had 'Covid green passes' - or what amounted to a "vaccine passport" to control the movements of the populace, particularly the unvaxxed, which similar to Austria now were barred from restaurants, hotels, and other public venues.  Source: ZeroHedge    ZeroHedge   HNewsWire     ZeroHedge
The Australian army has begun forcibly removing residents in the Northern Territories to the Howard Springs quarantine camp located in Darwin, after nine new Covid-19 cases were identified in the community of Binjari. The move comes after hard lockdowns were instituted in the communities of both Binjari and nearby Rockhole on Saturday night. Howard Springs Quarantine Facility has capacity for 2,000 overseas arrivals and about 1,000 domestic travellers. (AAP: Glenn Campbell) "Residents of Binjari and Rockhole no longer have the five reasons to leave their homes," said Northern Territory chief minister, Michael Gunner, referring to the country's five allowable reasons to avoid lockdown (buying food and supplies, exercising for up to two hours, care or caregiving, work or education if it can't be done from home, and to get vaccinated at the nearest possible location). "They can only leave for medical treatment, in an emergency, or as required…
of the Counterfeit Christianity on a Global Scale… Have you ever been around a boaster? He goes around telling everyone how wonderful he is, how smart he is, how much…
Read More
A Thrilling Ride!
Every once in awhile, a book comes across your path that is impossible to put down. A Long Journey Home is not a casual book that you read in a week or earmark to complete at a later date. Once you begin, cancel your schedule, put your phone on silent, find a quiet place where you cannot be disturbed, and complete the journey. Click Here to Purchase on Amazon.com!
of the Counterfeit Christianity on a Global Scale… Have you ever been around a boaster? He goes around telling everyone how wonderful he is, how smart he is, how much…
Read More