Advisory: Be careful of what you read on social media. The algorithms used by these platforms have no regard for Biblical truth. They target your emotions to keep you engaged on their site so their advertisers can drop more ads. These platforms exist to enrich their stockholders. Consider God's promise to Believers in James 1:5, "If any of you lacks wisdom, you should ask God, who gives generously to all without finding fault, and it will be given to you."
Vaccines — It's Coming , Get Prepared…
Mr. Evil, a.k.a Dr. Death ( Dr. Fauci ) agrees with the White House and Biden himself, saying vaccination mandates should be the next step.
The nation's highest-paid employee in the US government, Anthony Fauci, has gone full-throttle on vaccines – this time with a Sunday appearance on CNN's "State of the Union," where he pushed for vaccine mandates at the local level, and slammed a guest speaker at CPAC (Alex Berenson) for applauding young people for researching vaccine side-effects.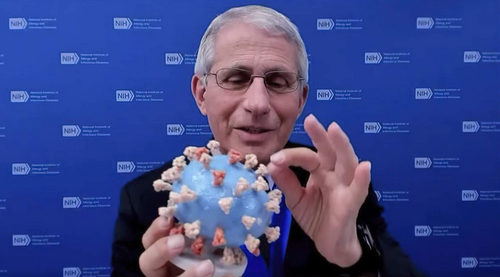 More on local mandates from Jenny Goldsberry via SaraACarter.com,
Dr. Anthony Fauci of the National Institute of Allergies and Infectious Diseases Director appeared on CNN's State of the Union Sunday to give his opinion on vaccine mandates. He agrees with the White House and President Biden himself, saying vaccination mandates should be the next step.
"I have been of this opinion, and I remain of that opinion, that I do believe at the local level, Jake, there should be more mandates," Fauci told host Jake Tapper. "There really should be."
For fear of more people dying, Fauci strongly supports mandates. "We're talking about life and death situation. We have lost 600,000 Americans already, and we're still losing more people," Fauci said. "There have been 4 million deaths worldwide. This is serious business. So I am in favor of that."
Meanwhile, at the Conservative Political Action Conference, author Alex Berenson called out the vaccination efforts as a scam. "The government was hoping that they could sort of sucker 90% of the population into getting vaccinated," Berenson said. "And it isn't happening." People in the audience cheered when they heard that. On the other hand, Fauci called the reaction "horrifying."
On #CNNSOTU w/ @jaketapper, Dr. Anthony Fauci calls the reaction by the crowd at the Conservative Political Action Committee to a conservative author's comments about the US falling short of it's vaccination goal 'horrifying' https://t.co/riMPKronHA— State of the Union (@CNNSotu) July 11, 2021
As a result, the NIAID director says the solution to vaccine hesitancy is official approval from the Food and Drug Administration. "One of the things that will happen, and I think the hesitancy at the local level of doing mandates is because the vaccines have not been officially fully approved," Fauci said. "But people need to understand that the amount of data right now that shows a high degree of effectiveness and a high degree of safety is more than we've ever seen with the emergency use authorization, so these vaccines are as good as officially approved with all the I's dotted and T's crossed. It hasn't been done yet because the FDA has to do certain things. But it's as good as done. So people should really understand that. But they are waiting now until you get an official approval before. And I think when you do see the official approval, you'll see a lot more mandates."
Meanwhile, Steve Watson of Summit News notes Fauci's shock at the 'horrifying' facts presented by Berenson.
Appearing on CNN Sunday, Anthony Fauci described it "horrifying" that a crowd at the CPAC gathering applauded when a guest speaker declared that young people are educating themselves about the side effects of the COVID vaccine.
Conservative writer Alex Berenson was speaking about the government's attempts to indiscriminately push the vaccine on people of all ages, including young people who are statistically more at risk from the vaccine than from the virus.
"They were hoping, the federal government was hoping, they could sucker 90 percent of the population into getting vaccinated," Berenson said, adding "younger people are well aware of what the risks really are and they are well aware of the side effect profile of the vaccines."
The comments drew applause from sections of the crowd.
Watch:
CPAC crowd applauds a comment about the U.S. failing to reach a 90% vaccination rate pic.twitter.com/iGX6FD4SaU— Andrew Solender (@AndrewSolender) July 10, 2021
When asked for his thoughts by CNN host Jake Tapper, Fauci responded "It's horrifying…I just don't get that. I mean, and I don't think that anybody who is thinking clearly can get that."
"We've got to put aside this ideological difference or differences thinking that somebody is forcing you to do something," Fauci continued.
"The public health officials, like myself and my colleagues, are asking you to do something that will ultimately save your life and that of your family, and that of the community," he continued.
"I don't know. I really don't have a good explanation, Jake, about why this is happening. I mean, it's ideological rigidity, I think. There's no reason not to get vaccinated," Fauci further proclaimed.
Watch:
Jake Tapper asks Dr. Anthony Fauci to react to the CPAC Texas crowd cheering that the government has been unable to reach its vaccine goals so far.

Fauci: "It's horrifying… I just don't get that. I mean, and I don't think that anybody who is thinking clearly can get that." pic.twitter.com/4nY7CMor5i— Justin Baragona (@justinbaragona) July 11, 2021
The government has failed to reach its targets on fully vaccinating 70 percent of the population, with the White House suggesting "herd immunity is kind of an outdated term," and vowing to send "strike forces" to people's homes in an effort to get more vaccinated.
Meanwhile, the Vaers report continues to monitor deaths from side effects of the vaccine, which are at time of writing approaching 10,000 in the U.S. alone, with in excess of 438,000 adverse reactions also reported.
The likes of CNN are declaring that it is "time to start mandating" corona-virus vaccines for all Americans to counter people opting not to take the shots because of hesitancy over potential side effects.
Satan Soldier Fauci: "There Are Now Two Americas, The Vaccinated & The Unvaccinated" — America's Favorite Chinese Lab Funding Corona-virus Doomonger Doctor Anthony Fauci Announced Tuesday That There Are Now Two Americas, a Vaccinated America and an Unvaccinated america….
There's plenty of reason to suspect China intended to use Covid-19 as a bioweapon. Even if it wasn't the intent, that was its effect. Yet as bio-weapons go, it delivered unimpressive results. Without minimizing those who have suffered from Covid, the data from across the world shows Covid-19 was exceptionally effective at killing older people who were already very ill. For everyone else, not so much.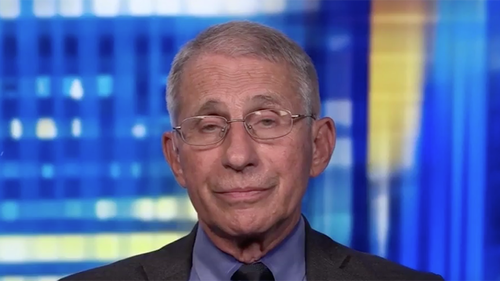 The Crimes Of Gates And Fauci, Forced inoculation violates established medical standards governing experimentation on human subjects.
The FAKE virus was most successful in destroying the American economy, while also creating social chaos and suppressing liberty. The Chinese government must be delighted that their middling bio engineered weapon turned out to be a foreign social re-engineering bonanza.
In an appearance on Dom Lemon's CNN panic hour, Fauci declared that "When you have such a low level of vaccination super-imposed upon a variant that has a high degree of efficiency of spread, what you are going to see among under-vaccinated regions, states, cities or counties you're going to see these individual types of blips. It's almost like it's going to be two Americas."
"You're going to have areas where vaccination rate is high, where more than 70% of the population received at least one dose," he continued, adding "When you compare that to areas where you may have 35% of the people vaccinated, you clearly have a high risk of seeing these spikes in those selected areas."
Inevitably, Fauci concluded "The thing that's so frustrating about this, Don, is that this is entirely avoidable, entirely preventable."
"If you are vaccinated, you diminish dramatically your risk of getting infected and even more dramatically your risk of getting seriously ill. If you are not vaccinated, you are at considerable risk," Fauci once again repeated.
Watch:
https://content.jwplatform.com/players/zFGNWyxD-o73dHpYz.html
Fauci is completely ignoring the science on natural immunity again.
As Senator Rand Paul noted earlier this week, there is a boat load of misinformation on the matter coming from a government that is indiscriminately pushing vaccinations:https://rumble.com/embed/vgagap/?pub=4#?secret=tH6k1dSok1
American health care, as we call it today, and for all its high-tech miracles, has evolved into one of the most atrocious rackets the world has ever seen. By racket, I mean an enterprise organized explicitly to make money dishonestly.
All the official reassurances won't be worth a bucket of warm spit. The Globals are behind the CoronaVirus, It Is a Man-Made Bioweapon.
Reprobate and "rejected" are the same word here. Webster's dictionary defines this word as "not enduring proof or trial; not of standard purity or fitness; disallowed; rejected."
In times past, it was American leadership worldwide which provided a haven for religious freedom. Now that the U.S. has succumbed to evil it is no longer seen as a protector, but instead as an aggressor, signaling a collapse in virtue the world over. Now that we have turned our back on right and truth we have entered into a period of moral free fall.
If anyone is to blame for the state of worldwide Christian persecution it is America herself due to the betrayal of its own founding principles. Christian persecution is on the rise because the pastors and leaders of America have allowed America to fall into the hands of God-haters, warmongers, and moral reprobates.
You need to understand that behind all this Virus "envisioning" and experimenting, there is the solid conviction that freedom and free will are illusions that don't exist. Therefore, all experiments are permitted, since they simply substitute one determinism for another, one machine for another. Life itself is viewed as nothing more than a pattern, a structure.
Mr.Evil, a.k.a Dr.Death ( Dr.Fauci ) agrees with the White House and Biden himself,saying vaccination mandates should be the next step.
Who is to blame? Corrupt politicians or the stupid people who vote for them
Source: HNewsWire ZeroHedge HNewsWire
StevieRay Hansen
Editor, HNewsWire.com
HNewsWire: Former President Donald Trump announced on June 8 that special counsel Jack Smith had indicted him in connection with an investigation into his……...
Read More
We make every effort to acknowledge sources used in our news articles. In a few cases, the sources were lost due to a technological glitch. If you believe we have not given sufficient credit for your source material, please contact us, and we will be more than happy to link to your article.