Advisory: Be careful of what you read on social media. The algorithms used by these platforms have no regard for Biblical truth. They target your emotions to keep you engaged on their site so their advertisers can drop more ads. These platforms exist to enrich their stockholders. Consider God's promise to Believers in James 1:5, "If any of you lacks wisdom, you should ask God, who gives generously to all without finding fault, and it will be given to you."
Sold Texan OUT…
Contact your Texas State Legislators and Demand No Forced Vaccination, No Vaccine Passports, No Exceptions – Support SB 1669
George Soros Must Be Proud of Greg Abbott (R) TX
We Are Witnessing Biblical Prophecy as it's Playing Out, Matthew 3:12 Separating the Wheat From the Shaft…
Make No Mistake, Greg Abbott Is a New World Order Guy, He's a Wolf in Sheep's Clothing.
Governor Abbott's Executive Order Prohibiting COVID-19 Vaccine Passports "Worthless", Falls Short at Protection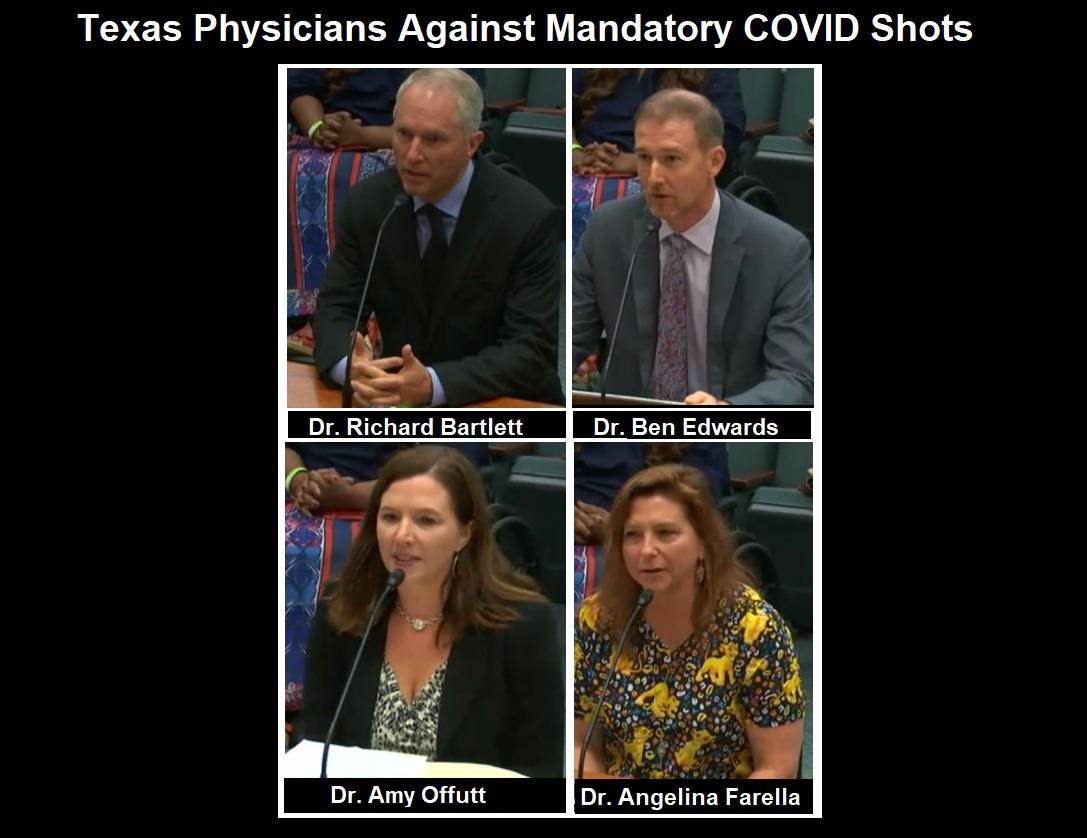 This past week the Texas Senate Committee on State Affairs took testimony from Texas physicians regarding SB 1669: Stop Forced Vaccination and Vaccine Passports in Texas.
SB 1669 was sponsored by Senator Bob Hall.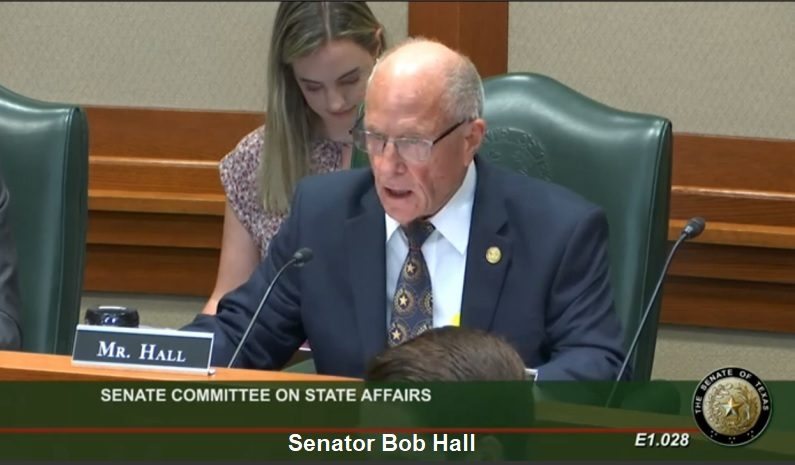 You can learn more about this bill at the National Vaccine Information Center's Advocacy Portal (registration required.)
Here is some of the text provided to the public regarding Senate Bill 1669:
Contact your Texas State Legislators and Demand No Forced Vaccination, No Vaccine Passports, No Exceptions – Support SB 1669

Mandated vaccination in Texas with COVID-19 vaccines will be the reality unless the legislature takes decisive action now. In fact, it has already started happening.

Houston Methodist Hospital has told its 26,000 employees to get vaccinated by June 7th or get fired. Atria Senior Living, which has 16 facilities in Texas, is requiring all employees to receive 2 COVID-19 vaccines by May 1, 2021 as a condition of employment or face termination.

The city of Farmer's Branch, Texas is requiring COVID-19 vaccination to access the city run facility called The Branch Connection. Forget taking a cruise with Royal Caribbean from Texas unless you've been COVID-19 vaccinated. St. Edwards University in Austin became one of the first colleges to mandate COVID-19 vaccines.

This is just the beginning.

Governor Abbott's Executive Order Prohibiting COVID-19 Vaccine Passports Falls Short at Protection

Texas Governor Greg Abbott has been quoted saying that in Texas, COVID-19 vaccines "are always voluntary and never forced."

The truth is Executive Order GA 35 falls short at preserving the right of law-abiding Texas citizens to be able to function normally in society without having to show proof of a COVID-19 vaccination.

EO GA 35 only prohibits the government, or public or private entities funded by the government, from requiring documentation of an individual's COVID-19 vaccination status. This does nothing to prohibit businesses not receiving government funding from banning customers who don't have a COVID-19 vaccine. Also, this executive order fails to give any protection to employees whose employers are requiring COVID-19 vaccination as a condition of employment.

In addition, the limited protections offered in EO GA 35 will be short lived because the order only applies to "Emergency Use Authorization" (EUA) COVID-19 vaccines. Once a vaccine has received full FDA approval, the EUA designation no longer applies and therefore neither will any protection in this executive order including the ban on forced vaccination by the government. Full FDA approval will be soon. Moderna, the manufacture of one of the 3 available COVID-19 vaccines, is already seeking full FDA approval, and Pfizer, one of the other manufacturers, announced it would seek full approval in the first half of 2021.

Governor Abbott's executive order also falls short when compared to Florida Governor Ron DeSantis's executive order banning vaccines passports which additionally prohibits all business from requiring COVID-19 vaccination status or post infection recovery status to gain access to or service from the business, and it applies to all COVID-19 vaccines instead of expiring after full FDA approval is achieved. It also protects personal privacy rights by prohibiting the government from publishing or sharing a person's COVID-19 vaccination status to third parties.

Texans Need a Law Passed to Protect them From Forced Vaccination and Vaccine Passports (If you want to immediately see what you can do to help pass SB 1669 into law in Texas scroll down to "Action Needed)"

We are grateful to announce that Texas history has been made with the filing of
SB 1669 in the Texas Legislature by Senator Bob Hall.

SB 1669 prohibits discrimination or segregation based on vaccination or immune status and prohibits forced vaccination in all areas of your life.

We need your help getting SB 1669 moving as the bill is currently stalled awaiting a hearing in the Senate State Affairs Committee. Legislators need to be educated about the shortcomings in Governor Abbott's executive order and the vulnerabilities for mandated vaccination in Texas based on current law so they can pass this bill or amend parts of it onto other bills.

This is by far the most comprehensive bill prohibiting mandated vaccination in all areas that could affect your life including government orders, employment, healthcare, education, access to businesses, access to events and venues like sports and concerts, long-term care, nursing homes, insurance, and childcare.
Read more at the National Vaccine Information Center's Advocacy Portal.
Senator Bob Hall, in his opening statements at the Senate hearing this week stated:
The chief responsibility and Constitutional role of our government is to protect the rights of the individual. Employees can take off their helmets, masks, and uniforms at the end of the work day, but they cannot remove a vaccine.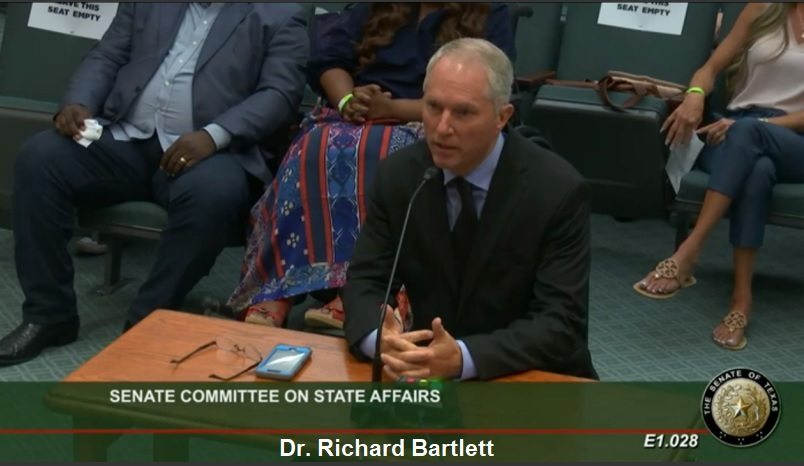 Dr. Richard Bartlett was the first physician to testify in favor of SB 1669 to Stop Forced Vaccination and Vaccine Passports in Texas.
Dr. Bartlett has over 28 years of medical practice experience and is a veteran primary care and emergency room doctor in West Texas.
Dr. Bartlett is best known since the COVID crisis started as a doctor who has cured many patients using an older, already FDA approved drug, called budesonide, which is an inhaled corticosteroid. (Learn more here.)
During his testimony, Dr. Bartlett explained that there are existing treatments already available to treat COVID patients, making it unnecessary to mandate experimental new "vaccines."
He pointed to a recent Oxford University study just published that showed 90% success rate in using inhaled budesonide with COVID patients in preventing long-term care or hospitalization.
From the Oxford study:
The STOIC study found that inhaled budesonide given to patients with COVID-19 within seven days of the onset of symptoms also reduced recovery time. Budesonide is a corticosteroid used in the long-term management of asthma and chronic obstructive pulmonary disease (COPD).

Findings from the phase 2 randomised study, which was supported by the NIHR Oxford Biomedical Research Centre (BRC), were published on the medRxiv pre-print server.

The findings from 146 people – of whom half took 800 micrograms of the medication twice a day and half were on usual care – suggests that inhaled budesonide reduced the relative risk of requiring urgent care or hospitalisation by 90% in the 28-day study period. Participants allocated the budesonide inhaler also had a quicker resolution of fever, symptoms and fewer persistent symptoms after 28 days. (Source.)
Dr. Bartlett works in the Emergency Room, and he stated that there are very few patients coming in now with COVID, but "I am now seeing more people come in (to the ER) who are having complications from the COVID shot."
And Dr. Bartlett points out that these are mostly younger people who were in excellent health before the shot, since Dr. Bartlett works in Lubbock, Texas, which is a college town.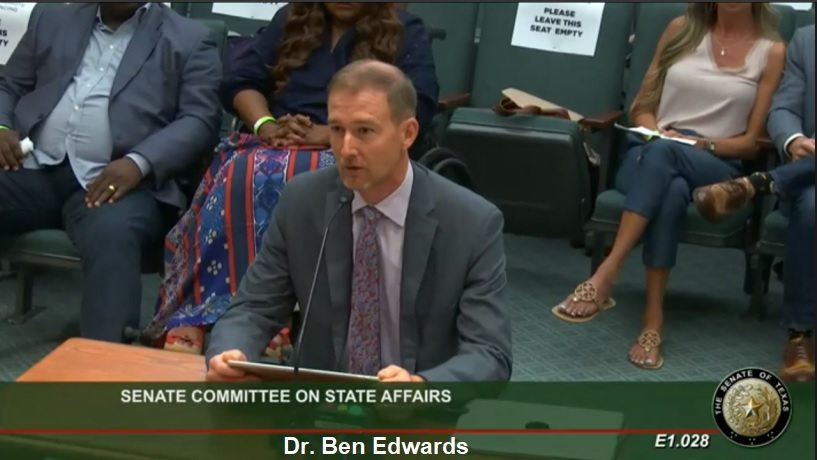 Dr. Ben Edwards of Veritas Medical in Lubbock, Texas, was the next physician to give testimony in favor of SB 1669 to Stop Forced Vaccination and Vaccine Passports in Texas.
Dr. Edwards received his degree from Baylor University, and later graduated from UT-Houston Medical School. He moved to Waco to complete his training at the Waco Family Practice Residency Program where he was Chief Resident. He now operates three clinics in West Texas.
Dr. Edwards stated his concern that "the forced and coerced COVID-19 vaccinations would, in my opinion, be a violation of the Nuremberg Code," as well as several other international codes on bioethics and human rights.
He cited the fact that the CDC is now reporting 4,178 deaths reported to VAERS, while for the previous 20 years combined there were 4,182 deaths recorded from all vaccines.
He also pointed out that a Harvard Study has previously estimated that only about 1% of all adverse reactions to vaccines are ever reported to VAERS. Two other subsequent studies showed the same thing.
In his own practice, Dr. Edwards stated that he has received "numerous reports within hours of receiving the COVID vaccines that people have suffered strokes, heart attacks, pulmonary embolisms (blood clots), and sudden death."
Dr. Edwards went on to cite research which shows that those with natural immunity to COVID (they already had it) will see a 2 to 3 fold increase risk of adverse reactions from the COVID shots.
Over half of Texans now have this natural immunity. He stated:
On a personal note, I believe that God gave us an amazingly robust immune system, and I don't think you can improve on God.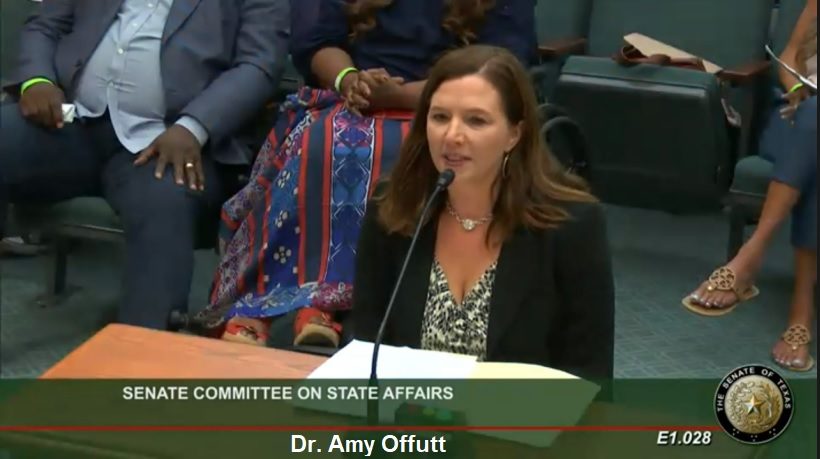 The next physician to testify in favor of SB 1669 to Stop Forced Vaccination and Vaccine Passports in Texas was Dr. Amy Offutt from St. Marble Falls, TX.
Dr. Offutt is trained in Integrative Medicine. She was recently appointed by Governor Greg Abbott to the Pediatric Acute-Onset Neuropsychiatric Syndrome Advisory Council. In addition, she serves on the Board of Directors for ILADS (International Lyme and Associated Diseases Society).
Dr. Offutt is another physician who has been successfully treating COVID patients with existing early treatment protocols.
She testified:
As of last Friday, my practice has treated 579 acutely ill patients as old as 98 years of age, with only ten hospitalizations and one dead.

The man who died presented on the 12th day of illness was a transplant patient and had already been to the ER multiple times before seeking care from us. This was such an unnecessary tragedy.
Dr. Offutt believes that "informed consent is the core to shared decision making in medicine."
The next physician to testify in favor of SB 1669 to Stop Forced Vaccination and Vaccine Passports in Texas was Dr. Angelina Farella from Webster, TX.
Dr. Farella is a pediatrician with over 25 years experience. She started out her testimony to the Senate Committee by stating:
I am here today to protect our children in Texas. This is a very scary situation that we are in right now.
Dr. Farella stated that as a pediatrician she has given out tens of thousands of vaccines, and that she is not "anti-vaccine," but:
I am against this COVID vaccine, if we can even call it that (a vaccine.)

What we are doing to our children with this vaccine is actually criminal.
All of these physicians are "frontline physicians" who actually treat patients, but their clinical experiences in treating COVID patients is being censored by the corporate media, and ignored by the government and Big Pharma, in favor mass vaccination instead.
Here is their testimony. This is from our Rumble Channel, and it is also on our Bitchute Channel.
George Soros Must Be Proud of Greg Abbott (TX)
We Are Witnessing Biblical Prophecy as it's Playing Out, Matthew 3:12 Separating the Wheat From the Shaft…
Make No Mistake, Greg Abbott Is a New World Order Guy, He's a Wolf in Sheep's Clothing.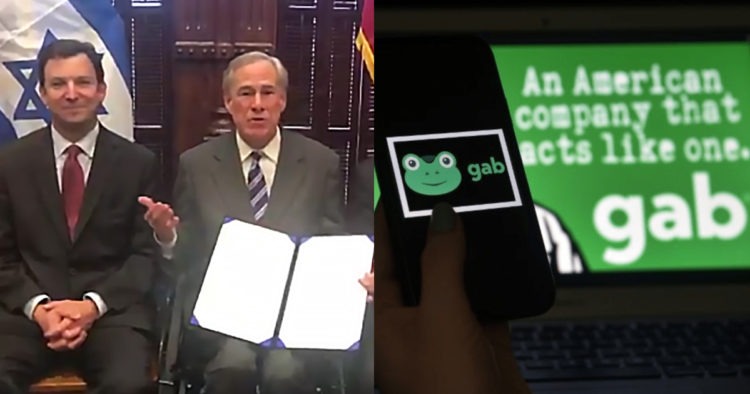 Over 8.8million Texans, or about one-third of the state's 29million people, reported outages, spread across 199 counties in the state.
Over 250 boil-water notices were rescinded, Texas Commission on Environmental Quality media specialist Gary Rasp noted, but still was not enough for others living without water.
In a bizarre video posted to Twitter on Wednesday, the Republican governor of Texas Greg Abbott falsely claimed that free speech social media website Gab is "an anti-semitic platform" that has "no place in Texas," drawing immediate mockery online for his inaccurate statements.
In the video, Abbott is seen sitting in his wheelchair while flanked by the American and Texan flags, with the Israeli flag taking a prominent role centered directly behind him.
Anti-Semitic platforms do not represent Texas values.

Proud to support @PhilKingTX & @GoldmanCraig's bill to fight anti-Semitism in our communities. #txlege pic.twitter.com/ZVri3z0Wis— Gov. Greg Abbott (@GovAbbott) March 11, 2021
Texas Governor Accuses Gab Of Be Anti-Semitic, Andrew Torba Responds
Via Gab:
Every month 30 million people use Gab's services to get access to the free flow of information online. Gab is the home of free speech in a world where Big Tech oligarchs have censored, deplatformed, and demonized tens of millions of good, honest, and decent people with whom they disagree politically.
Tonight Texas Governor Greg Abbott, a "Republican," issued a despicable and false statement smearing Gab as an "anti-semitic platform that quote "has no place in Texas." This is the same Gov. Abbott who just five days ago said he was "taking a stand against Big Tech censorship."
Gov. Abbott's statement will likely not sit well with the nearly 800,000 Texans who have visited Gab.com in the past 24 hours alone. What is even more strange is that the Texas GOP itself is on Gab with a verified account.
Gab is not an "anti-semitic" platform. We protect the political speech of all Americans, regardless of viewpoint, because in this age of cancel culture nobody else will. That means unpopular viewpoints may be found on the site.
The enemies of freedom smear us with every name in the book because they hate America and they hate free speech. It's a shame to see a GOP politician fall for this trap when conservative values are under sustained attack all over the country.
People smear Gab for the kinds of people we host. They never smear Gab for the kinds of people we ban. That's because we don't have political tests for our users. Ban decisions are made on an individual basis. Our test for political speech is whether it is legal or not. Pretty simple rule.
There are many Jewish Gab users and customers, whose lawful speech we protect with just as much zeal as we would protect the lawful speech of any person of any faith, ethnicity, or creed.
This is what America used to be like: a place where The People could speak freely regardless of their faith, ethnic background, or beliefs. This is the America Gab is fighting to preserve.
Apparently Gov. Abbott doesn't agree.
Andrew Torba
CEO, Gab.com
March 10th, 2021
Jesus is King
Source: crusadechannel HNewsWire
Source: HNewsWire HNewsWire HNewsWire vaccineimpact
Please Do Not Post HNewsWire Articles on Parler, Face Book, Reddit or Twatter Social Media Platform, We Are Not Comfortable With Their Anti-Christian — Anti-American Nazi Philosophy
StevieRay Hansen
Editor,
HNewsWire.com
Bow down to satan soldiers, comply, submit!
In police-state fashion, "Demonic Big Tech" took the list of accused (including this site), declared all those named guilty and promptly shadow-banned, de-platformed or de-monetized us all without coming clean about how they engineered the crushing of dissent, Now more than ever big Tech has exposed there hand engaging in devious underhanded tactics to make the sinister look saintly, one of Satan's greatest weapons happens to be deceit
This is what Satan Soldiers do all day long! They influence opinion by spewing lies. they shut down debate, factual information, and opinions that don't line up with their godless worldview. They claim to be open to civil discourse and yet they silence speech. This is un-American and unconstitutional! They say they want unity, but they demand submission. And they will punish those who disagree.
The 127 Faith Foundation: We do not want donations from "those on disability, on a fixed income, those that cannot afford to give" Please Pray!
We make every effort to acknowledge sources used in our news articles. In a few cases, the sources were lost due to a technological glitch. If you believe we have not given sufficient credit for your source material, please contact us, and we will be more than happy to link to your article.