Advisory: The editorial board of HNewsWire adopted the official policy to bypass many social media platforms. Some of these include: Facebook, Instagram, Twitter, Parler, and YouTube. We believe these companies are responsible for many of the spiritual ills our world faces today. In some cases, however, we have allowed our guest contributors to include content from their YouTube channel while we search for alternatives.
Elected Officials, Tribulations in Play — It's Going to Get ugly…
There are only two real mandates for the government, only two reasons for its existence in our republic: To secure America's borders from invasion and to protect the freedoms of the citizenry. That's it. It is not the job of the government to compel you to take an experimental and questionable covid vaccine over a virus that 99.7% of people will easily survive. It is not the job of the government to create artificial "social equity" by favoring one group or ethnicity over another. It is not the job of the government to spy on millions of Americans because they do not agree with the leftist ideology. It is not the job of government to make war on the very people it is mandated to protect.
On Friday the Department of Homeland Security (DHS) issued an almost unbelievable new "terrorism" alert contained in a so-called 'awareness bulletin'. While focused heavily on the threat posed by "false narratives and conspiracy theories about the 2020 election" – clearly making connections to Jan.6, the bulletin pivoted to unprecedented territory.
It's nothing new for the Biden administration to warn and hype about "calls to violence" related to the "Capitol insurrection" – but what is new and unprecedented is its warning about potential "attacks" by "violent extremists" related to COVID-19 "conspiracy theories". Screengrab of NBC broadcast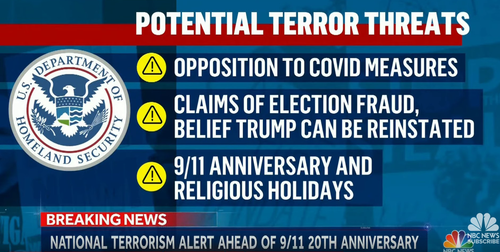 The document was the result of a DHS meeting held with top officials and high ranking intelligence officers across multiple agencies from departments in New York, Washington, and Las Vegas, NBC News reported.
The threat bulletin describes that extremists "may seek to exploit the emergence of COVID-19 variants by viewing the potential re-establishment of public health restrictions across the United States as a rationale to conduct attacks."
This is the first time to our knowledge that "terrorism" is linked to the movement among large groups of skeptical Americans to push back against local, state and federal efforts to impose drastic mask, vaccine, and so-called 'COVID passport' mandates.
Interestingly the DHS document is heavily focused on such "extremism" initially manifest online in social media and chat forum groups.
Presumably, given the demographic breakdown, this means DHS is accusing young black folk of being "domestic terrorists?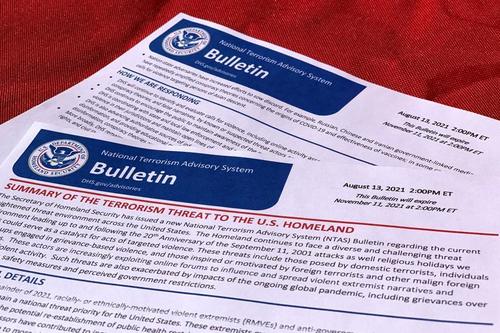 The following warning now appears directly on the official DHS website, as contained in the newly published bulletin: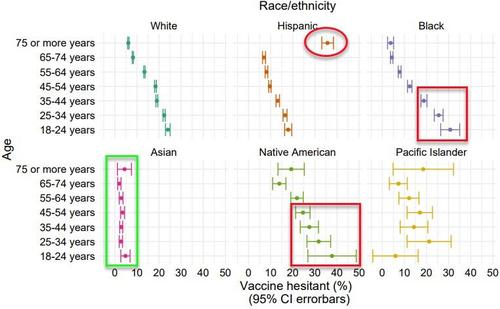 Through the remainder of 2021, racially- or ethnically-motivated violent extremists (RMVEs) and anti-government/anti-authority violent extremists will remain a national threat priority for the United States. These extremists may seek to exploit the emergence of COVID-19 variants by viewing the potential re-establishment of public health restrictions across the United States as a rationale to conduct attacks. Pandemic-related stressors have contributed to increased societal strains and tensions, driving several plots by domestic violent extremists, and they may contribute to more violence this year.
However, nothing specific is mentioned of the "several plots" which DHS seems keen on associating with resistance to "public health restrictions" – i.e.: mask and social distancing mandates.
Officials seemed to later admit in a follow-up by NBC to not actually knowing of any "specific" plot in the works: "Currently, DHS lacks specific or credible reporting indicating that violent extremists are planning to target specific events," a DHS spokesperson said.
All of this is made further interesting and alarming for Americans' Constitutional rights by the bulletin's attempt to tie these trends into pro-Trump movements related to the last election:
A second DHS official told NBC News that the agency has watched conspiracy theories about the 2020 election migrate from obscure internet forums to more mainstream ones, and "we are concerned about calls to violence."
Meanwhile, this was actually discussed at the White House within the Biden administration…
The Biden Admin is discussing mandating vaccines for interstate travel pic.twitter.com/5utzxproOM— Jack Posobiec 🇺🇸 (@JackPosobiec) August 13, 2021
This further comes in context of far reaching censorship on the part of major US social media companies like Facebook, Twitter, and YouTube – which have long been banning "non-CDC approved" information and discussion of vaccines and other pandemic-related matters.
s I have noted in previous articles, this is the common mantra of the tyrants:****
Biden,"Those that disagree with me are wrong because I will never allow them to prove they are right. Those that defend themselves against my attacks are evil because if they fight back they might harm me. Those that demand the truth do not understand how important my lies are to the stability of the world I have built for them. Why would I engage in battle when I can get others to fight my battles for me? When people are free, it means they are free to criticize or ignore me, so I must take away their freedom, so that they are made to revere me and recognize my importance. Morals are relative and principles are for suckers. The ends justify the means, and the greater good of the greater number is paramount – And as long as I am the one that determines what the definition of the "greater good" is, then I am the one that controls everything else."
Who is to blame? Corrupt politicians or the stupid people who vote for them
FakeBook, Parler Tweeter Gab, and YouTube Are Un-Reliable News Sources
Ask The Blind Man ,He Saw it All
Source: HNewsWire ZeroHedge HNewsWire HNewsWire
StevieRay Hansen
Editor, HNewsWire.com
Everybody wrap something around your face again even though they said you wouldn't need to if you got vaxxed! But they didn't lie – no, apparently a bunch of people – and not just those evil white nationalist-Christian-gun-Jesus-flag people – are refusing to get the vaccine, and the reason is that they are moral defectives somehow in thrall to Tucker Carlson's Svengali-like powers of persuasion.
The 127 Faith Foundation: We do not solicit donations from "those on disability, on a fixed income, or those who cannot afford to give." Please Pray!
Or, make checks payable to:
The 127 Faith Foundation
PO Box 127
Pontotoc, TX 76869
The number of Orphans aging out of Child Protective Custody has grown at an alarming rate. The 127 Faith Foundation receives many requests each week to house them at our ranch. Our prayer is that the good people of our country will step up to the challenge and offer financial support for "the least among us." We need your help! StevieRay Hansen, Founder, The 127 Faith Foundation
We make every effort to acknowledge sources used in our news articles. In a few cases, the sources were lost due to a technological glitch. If you believe we have not given sufficient credit for your source material, please contact us, and we will be more than happy to link to your article.