Advisory: Be careful of what you read on social media. The algorithms used by these platforms have no regard for Biblical truth. They target your emotions to keep you engaged on their site so their advertisers can drop more ads. These platforms exist to enrich their stockholders. Consider God's promise to Believers in James 1:5, "If any of you lacks wisdom, you should ask God, who gives generously to all without finding fault, and it will be given to you."
The Bank Run…In a worrying sign for the banks, JPM just reported that it will be closing 1,000 Chase branches out of the more than 5,100 across the US. This comes just one day after Treasury Secretary Mnuchin insisted that no banks were considering closures, "Law and Order Are About to Break Down".
Banks are about to drown in an ocean of defaults
There's $250 TRILLION in global debt right now– mortgages, credit card debt, business loans, government debt, etc.
And banks own a large portion of that debt.
This virus crisis is going to trigger a wave of defaults from consumers, businesses, and even governments.
Think about it: tourism alone makes up 10% of global GDP. Revenue in that entire sector– hotels, airlines, cruise ships, etc. have collapsed, and many of those companies aren't going to survive.
The crash in oil prices is going to wipe out countless oil companies.
Many large retail chains, which were already struggling in the age of e-commerce, will likely declare bankruptcy.
Countless businesses around the world have 'temporarily' closed due to public health policies, and many of them will go out of business entirely.
MOST of these businesses owe lots of money to the banks, whether it's a small business working line or the $34 billion in debt that American Airlines owes. So the defaults are going to be massive.
On top of that, millions of people are going to lose their jobs and be unable to make payments on their credit card debt, auto loans, and even mortgages.
Again, there's $250 trillion in global debt right now. Total bank capital worldwide is less than $10 trillion.
So if the coming defaults trigger a mere 4% loss in total debt, it will exceed the entirety of global bank capital.
And this doesn't even take into consideration the impact of the $1 QUADRILLION derivatives exposure.
In a worrying sign for the banks, JPM just reported that it will be closing 1,000 Chase branches out of the more than 5,100 across the US. This comes just one day after Treasury Secretary Mnuchin insisted that no banks were considering closures.
Source ZeroHedge
This looming wave of loan defaults over the next few months could spark a crisis in the global financial system that completely dwarfs what happened back in 2008.
I desperately want to be wrong.
Toilet paper run is any indication, US depositors will soon shift their attention to that other "paper"…what An American Bank Run Would Look Like, Once a bank run gets going, even a healthy bank can have a hard time stopping it because just giving everyone their money right then and there usually isn't an option.
Bank run (bank panic)
A series of unexpected cash withdrawals caused by a sudden decline in depositor confidence or fear that the bank will be closed by the charteringagency, i.e. many depositors withdraw cash almost simultaneously. Since the cash reserve a bank keeps on hand is only a small fraction of its deposits, a large number of withdrawals in a short period of time can deplete available cash and force the bank to close and possibly go out of business.
Technically the title of this post is wrong: the truth is that nobody could possibly know or predict what a bank run would look like in detail suffice to say that it would have terminal and devastating results on the global economy. One needs only remember what happened when the Reserve Fund broke the buck and the $3 billion money market industry was at risk of unwinding (for those who do not, Paul Kanjorski does a good summary here). What we do, however, wish to demonstrate is the tenuous balance between physical money – yes, just like precious metals, there is actual "physical money", better known as currency in circulation – and more abstract, confidence-based, "electronic money." Now when it comes to talking about systemic instability, pundits often enjoy bringing up the case of the $600+ trillion (recently discussed here in a different capacity) in synthetic derivatives, whose implosion would "wipe out the world." While that may indeed be the case (the memory of the CDS-precipitated AIG implosion is still all too fresh), since nobody really can comprehend the side effects of the collapse of the global derivative system, which by some estimates is over $1 quadrillion when combining exchange and OTC based derivatives, it is largely based on pure conjecture. And, as we demonstrate below, one doesn't even need to do get that high up in the pyramid of credit money.
The truth is that should there be an American bank run, what would happen is the conversion of all electronic dollars into physical dollars, as retail Americans rush to empty their checking and savings accounts, exit their money markets, while institutional America converts all "shadow" liabilities into hard dollar assets (Zero Hedge has a specific methodology of defining what liabilities make up the shadow banking system). The truth is that should there be a D-Day in the American banking system and there is a global scramble for the physical paper (ignore gold) the conversion ratio for binary dollars into hard ones could be as high as 30 to 1. Which begs the question: should one apply a 90% discount when evaluating their electronic dollar exposure? That, and many other questions too…
Preparing for the worst, America's largest bank is going on lock down to prepare for the coronavirus. It's all part of JPMorgan's "virus contingency plan" that calls on thousands of US employees to work from home and others to be relocated. The bank's risk department said the plans are a "precautionary" measure to reduce physical contact should a case of coronavirus arise.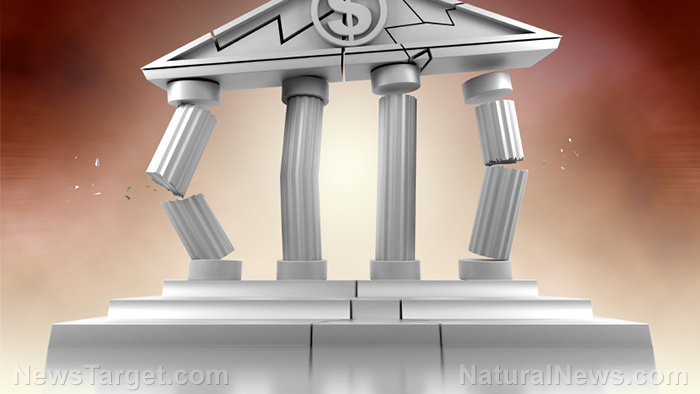 JPMorgan preparing to relocate some New York and London employees
Not only will thousands of employees get to work from home, but the bank will also be relocating some of their sales and trading staff to backup locations. JPMorgan will shift some workers in New York and London to new locations where the coronavirus is not reportedly spreading.
"Dividing our workforce into different locations improves our ability to serve clients continuously while reducing the health risks associated with physical contact should a case arise," says Brian Marchiony, a bank spokesman.
JPMorgan to let 12,000 select employees work from home
The bank is preparing for the worst. Should they have to close their domestic offices, at least 10 percent of the workforce will be able to work remotely and continue to serve customers in some capacity.
JPMorgan has code-named the resiliency plan "Project Kennedy." With 127,137 employees, JPMorgan has a lot at stake. During this time of preparedness, at least 12,000 employees will be cleared to work from home. According to internal memos, the bank is having branch workers sanitize offices, equipment, elevators, and door handles, too. No one knows how long this scenario will play out. No one knows how long the fear of this virus will last.
These are not the only plans being discussed. The bank's risk department is debating how they might quarantine staff or how far apart they might require traders to sit from one another in meetings. The bank is also testing out its telecommuting policy in case of a pandemic, utilizing digital tools such as teleconference. The bank is also restricting non-essential international travel for all employees, limiting person-to-person contact.
Even if this resiliency plan works at first, JPMorgan won't be operational unless thousands of tellers show up to the bank's 4,976 branches located around the country. The tellers have to show up to work in order for the bank to function. If the tellers don't show up because of sickness, panic, travel restriction, food shortage or quarantine, it's possible that the bank's elite would have to leave their cozy offices and serve customers in the field. Regardless, in the event of a pandemic, the bank's highest-paid employees will get preferential treatment first, with the ability to work away from the public, in cubicles or home offices.
JPMorgan isn't just limiting travel and contact between employees; the bank is also encouraging consumers not to come into the branches. Instead, JPMorgan is encouraging consumers to access bank services through digital channels.
Midtown Manhattan Bank Runs Out Of $100 Bills Amid Corona Panic
With the stock market plummeting as the realities of the COVID-19 outbreak sink in, nervous New Yorkers flooded a Midtown Manhattan Bank of America – taking out large sums of cash into the tens of thousands of dollars at a time.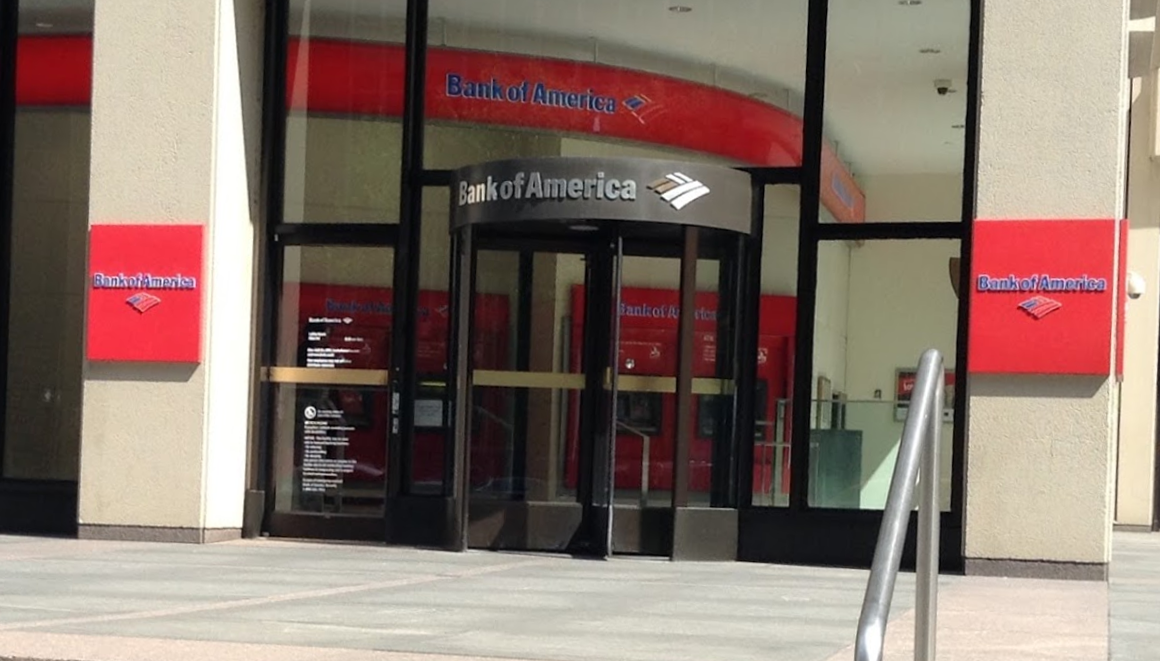 So much so, in fact, that the branch at 52nd St. and Park Avenue ran out of $100 bills according to the New York Times, citing three people familiar with the branch's operations. Of note, the problem was limited to large bills – with smaller denominations remaining stock. Two days later, the bank was resupplied.
The shortage hit after a rash of requests for as much as $50,000, said two people who witnessed the rush.

The problem was limited to large bills — the bank's A.T.M.s stayed stocked and customers with routine transactions were still able to take out cash. By Friday morning, the bank had refilled its supply of big bills, two of the people said.

But the desire for cash persisted: A teller at a JPMorgan Chase branch across the street said on Friday that there had been a "nonstop" stream of customers stockpiling cash over the past two days. –NYT
"We don't keep large amounts of cash in big bills in the branches because it's dangerous for our employees and there is low demand," said Bank of America spokesman Bill Halldin, who added that the bank had enough cash available to meet its clients' needs.
As the Times words it, "it appears the deep level of fear that has set in on Wall Street — as weeks of market gyrations have wiped trillions of dollars of wealth — has also permeated people's personal lives."
Notably, cash transportation company Brink's reported "a big spike in demand" last week from some of its bank clients according to company spokesman Edward Cunningham.
"They're putting more cash into branches, they're requesting more frequent replenishment of A.T.M.s," he said.
Panic began to set in last Monday after the S&P 500 triggered a "level one circuit breaker" following a drop of 7%. Google searches for "Black Monday" spiked, along with inquiries for "Vix," "NYSE circuit breakers," and "what was Black Monday."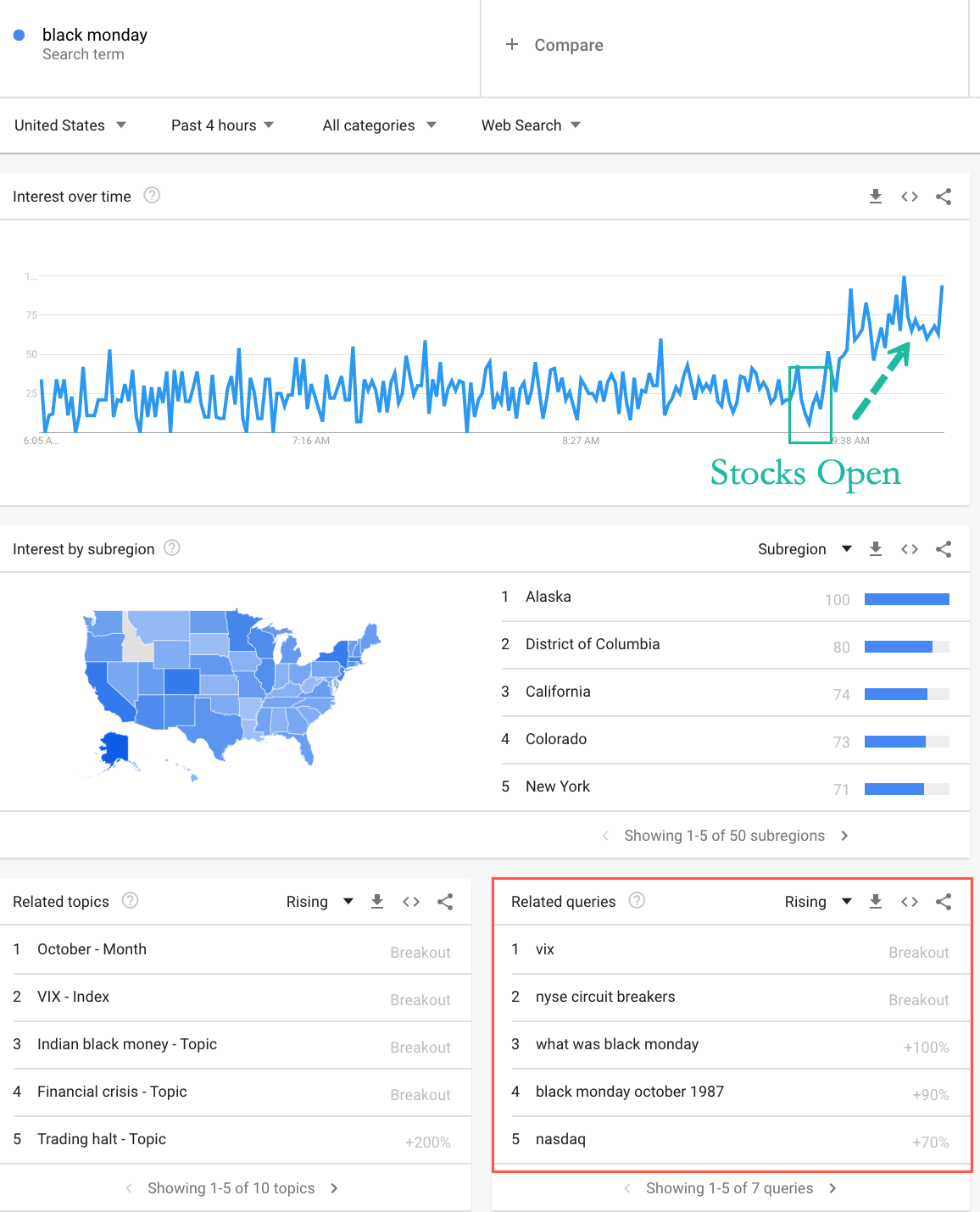 The Fed, meanwhile, announced a $1.5 trillion repo intervention to try and calm the markets as the S&P 500 tumbled nearly 10% on Thursday – its worst day since the Black Monday crash of 1987. That said, markets were pleased after President Trump declared a national emergency which freed up billions in funding to fight the epidemic.
The AntiChrist
Many speculate that there is an ongoing effort behind-the-scenes to bring a New World Order, a global government, to the forefront. The work to bring a New World Order is a topic that I do not write about often. In this article, I will primarily focus on whether we can use the Bible to support the notion that there's an ongoing effort to bring a New World Order to the forefront.
In police-state fashion, Big Tech took the list of accused (including this site), declared all those named guilty and promptly shadow-banned, de-platformed or de-monetized us all without coming clean about how they engineered the crushing of dissent.
Coronavirus kills the oldest and has no respect for authority, Many of the most powerful people in the world are old, and coronavirus does not discriminate based on social status. Deaths are now hitting at high levels (not of death but of status), which can change the political conflicts of our world:
The Bible suggests that the Antichrist will someday have an empire whose influence will dominate the earth:
(23) Thus he said, The fourth beast shall be the fourth kingdom upon earth, which shall be diverse from all kingdoms, and shall devour the whole earth, and shall tread it down, and break it in pieces. (24) And the ten horns out of this kingdom are ten kings that shall arise: and another shall rise after them; and he shall be diverse from the first, and he shall subdue three kings. (25) And he shall speak great words against the most High, and shall wear out the saints of the most High, and think to change times and laws: and they shall be given into his hand until a time and times and the dividing of time." (Daniel 7:23-25)
The Bible also suggests that this empire is likely going to form as a result of Antichrist conquering many countries and from leaders surrendering their power to Antichrist:
"(36) And the king shall do according to his will; and he shall exalt himself, and magnify himself above every god, and shall speak marvellous things against the God of gods, and shall prosper till the indignation be accomplished: for that that is determined shall be done. (37) Neither shall he regard the God of his fathers, nor the desire of women, nor regard any god: for he shall magnify himself above all. (38) But in his estate shall he honour the God of forces: and a god whom his fathers knew not shall he honour with gold, and silver, and with precious stones, and pleasant things. (39) Thus shall he do in the most strong holds with a strange god, whom he shall acknowledge and increase with glory: and he shall cause them to rule over many, and shall divide the land for gain." (Daniel 11:36-39)
"(12) And the ten horns which thou sawest are ten kings, which have received no kingdom as yet; but receive power as kings one hour with the beast. (13) These have one mind, and shall give their power and strength unto the beast." (Revelation 17:12-13)
Based on the verses cited above, it appears that the Antichrist is the main catalyst that brings us a New World Order (global government) rather than the potential efforts of people today. Again, Antichrist will establish his dominance over the world by conquering countries and by persuading leaders to surrender their power to him.
You are going to have difficulty finding a verse in the Old Testament or in the New Testament that explicitly states something like: "watch out because Satan has followers who are working to build a New World Order". However, there may be evidence that Satan has had and continues to have the capacity to work towards bringing a New World Order. The Apostle Paul warned us that Satan has spiritual forces at work to such a major extent that they should be our primary cause of concern:
"(11) Put on all the armor of God, for you to be able to stand against the wiles of the Devil, (12) because wrestling against flesh and blood is not to us, but against the rulers, against the authorities, against the world's rulers, of the darkness of this age, against the spiritual powers of evil in the heavenlies." (Ephesians 6:11-12) Source
Watchmen, of today, are called to speak the word of the Lord from within the court, mounting an internal critique. The pressures on Nathan to keep silent after David seized Bathsheba and sent her husband to his death must have been enormous. He could have vented himself in a scathing editorial and then kept his head down. From all appearances, though, Nathan had free access to the court, was a friend of David, and a close adviser. It is said that prophets spoke truth to power, but that goes beyond cliché when we realize that prophets spoke the truth face to face with power, to powerful men and women whom the prophets knew intimately, frequently from their own position of power.SRH…
Coronavirus ("Chinese virus") kills the oldest and has no respect for authority
Many of the most powerful people in the world are old, and coronavirus does not discriminate based on social status. Deaths are now hitting at high levels (not of death but of status), which can change the political conflicts of our world:
Now a global pestilence has erupted, and in Luke 21 we were specifically warned to watch for "pestilences" in the last days.
StevieRay Hansen
Editor, HNewsWire.com
Watchmen does not confuse truth with consensus The Watchmen does not confuse God's word with the word of those in power…
The Bill and Melinda Gates Foundation Have NOT Got The Memo Yet, "Pestilences" Has No Cure
The Coronavirus Was Most Certainly Produced by Crazy (Un-Godly) Men in Laboratories, WGO and CDC Knew All Along That the Coronavirus Was a Bioweapon, There're in Charge?
If a mandatory vaccination program were to be implemented again in the U.S. for ("Chinese virus") COVID-19, the government would have to reassure the public its previous negligence of such side effects would not be repeated, an unlikely scenario after the corporate breach of trust exposed on Wall Street in recent years involving large pharmaceutical firms. Regardless, Big Pharma is already partnering with the U.S. Army to develop a vaccine for the coronavirus which would have to be tested and evaluated before licensing by the Food and Drug Administration (FDA) and recommended for use by the Centers for Disease Control and Prevention (CDC), both of which partner with the WHO whose largest financial contributor is the U.S. government.
One of the WHO's other largest benefactors is the Bill and Melinda Gates Foundation with whom it has a partnership on vaccinations. The billionaire Microsoft Corporation founder has used his enormous wealth to dodge paying taxes under the guise of philanthropy and his 'charitable' private ventures have mostly focused on producing vaccines for developing countries and purportedly tackling global poverty, especially in Africa. On the surface, this may appear to be benevolent work, but like many so-called altruistic projects, it is a scheme which allows ultra-wealthy plutocrats like Gates to influence global policy and obtain political power with no accountability by investing in "fixing" the social problems caused by the very system which made them rich, with the expansion of neoliberalism as their real agenda. The consequences of this can be seen with charitable projects involving Gates in the Congo which forced its local agribusiness into using GMO seeds which only benefited private companies like Monsanto.
More disturbing is that in regard to environmental concerns about man-made climate change, Gates has made public his views on curbing human population growth as a solution. At a 2010 TED Conference, Gates stated:
"First we got population. The world today has 6.8 billion people. That's headed up to about 9 billion. Now if we do a really great job on new vaccines, health care, reproductive health services, we lower that by perhaps 10 or 15 percent."
To put it another way, one of the world's wealthiest men admitted in public he believes vaccines should be used for depopulation, just as he is financially investing in both developing and delivering them to countries in the global south. The misanthropic myth of 'overpopulation' pushed by Gates and the elite not only suggests that depopulation is a solution for slowing the warming of the climate but retains the logic of an essential component of eugenics with the implicit idea that the quality of life for the human species can be improved by discouraging human reproduction. Since developing countries have the highest child mortality rates, families are more likely to be larger because children are less likely to survive. Hence, the inherent racism and classism in such a misconception.
Given that the vast majority of carbon emissions are produced by a shortlist of fossil fuel companies and the world's largest polluter is the U.S. military, promoting this dangerous fallacy is the perfect way for the ruling elite to shift the responsibility for climate change onto the world's poor. Unfortunately, this dangerous falsehood has been popularized in the mainstream environmental movement and pseudo-left with examples such as BirthStrike, a group of mostly female activists protesting the lack of regulations on the ecological crisis by refusing to bear children that has been irresponsibly endorsed by popular "progressive" politicians such as U.S. Congresswoman Alexandria Ocasio-Cortez (D-NY). 'AOC' is also the face of the Democratic Party's Green New Deal which has troubling ties to the United Nations Agenda 21 sustainable development program that calls for "achieving a more sustainable population."
The false notion of "overpopulation" became a misguided cornerstone of the modern-day environmental movement thanks to the publication of German scientist Paul Ehrlich's best-selling book The Population Bomb in 1968, an alarmist diatribe that has in the years since become famous for its inaccurate doomsday predictions as a result of the mistaken belief which never came to fruition. Today's doom merchants regarding the climate, no doubt a serious issue, are in many respects channeling Ehrlich's false prophecies which are considered a modern rehash of the influential 18th-century British economist and philosopher, Thomas Malthus. No single scholar was more loathed by Karl Marx and the working-class movement than Malthus, whose pseudo-scientific theories about demography were thought to have been intellectually defeated until they found new life in Ehrlich's eco-fascism. As much as today's 'population bombers' like Bill Gates may shun the more explicitly racist Malthusian ideas that the global north should contain the population of developing countries, they still tacitly endorse them by arguing that the size of the population itself is a source a poverty and climate change.
Bill Gates has cited business tycoon John D. Rockefeller, the richest man in American history who had an even greater monopoly on the oil business as Gates had at one time on the computer industry, as an inspiration in using his wealth to invest in medical research as a focus of his philanthropy. However, Gates has something else in common with the Rockefeller family in his views on population, as the Rockefeller Foundation was the single largest donor to the American eugenics movement in the 1920s and 30s and helped establish its German branch, even subsidizing the Kaiser Wilhelm Institute of Anthropology, Human Heredity, and Eugenics that Nazi physician Josef Mengele worked in prior to his wartime experiments. Despite the fact that a line can be traced from the American eugenics movement to the Nazi regime's programs, which Nuremberg defendants even tried to use as justification for their atrocities in court, Rockefeller's grandson John Rockefeller III continued the family legacy of interest in demography with the founding of the Population Council NGO which conducts research in "reproductive health" (sterilization) in developing countries. The Nazi government was also the first to ever pass legislation safeguarding the environment which they equated with German national identity, another unexpected intersection between brown and green politics.
In an astonishing coincidence, the Gates Foundation hosted an event just last October with the Johns Hopkins Center for Health Security and the World Economic Forum called Event 201, a pandemic simulation that gathered elite figures in government, business and health experts to plan for the possibility of a worldwide outbreak. Gates himself has warned of pandemics for years and ominously wrote that the world should "prepare for epidemics the way the military prepares for war." The Event 201 fictional scenario just so happened to be a coronavirus called CAPS from Brazilian pigs which infected people globally and after a year and a half in the exercise caused tens of millions of deaths and set off a worldwide financial crash. Since the outset of the real COVID-19 coronavirus, Gates himself has stepped down from Microsoft to focus on his philanthropy while his foundation is busy working on a vaccine.
Many have observed that some characteristics of COVID-19 bear a resemblance to HIV that could not have happened organically. The recent documentary Cold Case Hammarskjöld, which won an award at last year's Sundance film festival, puts forth a chilling theory that a South African white supremacist organization deliberately spread HIV/AIDS among black Africans through vaccines in previous decades. The film begins as an investigation of the mysterious plane crash in Northern Rhodesia which killed Swedish diplomat and United Nations Secretary-General Dag Hammarskjöld in 1961. In 1998, a document authored by a shadowy paramilitary organization called the South African Institute for Maritime Research (SAIMR) was uncovered by the Truth and Reconciliation Commission justice assembly in post-apartheid South Africa which indicated that Hammarskjöld was the victim of an assassination. Not only do the filmmakers discover in their inquiry the distinct likelihood that the plane was shot down by a Belgian mercenary employed by SAIMR which was operating under orders from MI6 and the CIA, but the more stunning revelation is a recorded confession from a former SAIMR soldier to having deliberately spread HIV/AIDS to black Africans through immunization. If what is claimed about SAIMR is true and that they were connected with Western intelligence, that the COVID-19 virus could be something deliberately spread is not outside the realm of possibility.
Maybe it will prove to be the case that the yellow press's version of the coronavirus beginning with the zoonotic transfer of the disease after the consumption of a pangolin or wild bat by a 'patient zero' in Wuhan is accurate. Nevertheless, the pandemic should be a chilling reminder of the elite's eco-fascist agenda and the continuous danger that the military-industrial complex puts the world's population is by continuing to conduct dangerous research into deadly pathogens where the risk vastly outweighs the benefits. If the outbreak has led many to be suspicious of the official story, it is exactly because of the history of U.S. biological warfare and the elite's potentially genocidal and pessimistic worldview that the only way to prevent the demise of humanity is by thinning the herd.
Bill Evil Gates and The"Chinese virus"
Wuhan, CoronaVirus, Bill Gates, Gates Foundation, AntiChrist, NWO, "Chinese virus", biological warfare, StevieRay Hansen
Daily Devotional: Psalm 102:15 says, "The nations will fear the name of the Lord, and all the kings of the earth Thy glory. The Disciples'…
Read More
We make every effort to acknowledge sources used in our news articles. In a few cases, the sources were lost due to a technological glitch. If you believe we have not given sufficient credit for your source material, please contact us, and we will be more than happy to link to your article.