Yet another devastating piece of news for the financial markets and global supply chains, consumer products giant Proctor & Gamble has warned that the company's 17,600 products used 9,000 materials that come from 387 factories/suppliers across China, and that all of them may be disrupted by the coronavirus pandemic…
"Each of these suppliers faces their own challenges in resuming operations," said CFO Jon Moeller during a speech at the Consumer Analyst Group of New York conference, as reported by CIPS.org.
Chinese demand for both copper and petroleum fuels has plummeted over the last 30 days, indicating a sharp plunge in factory production. CIPS.org quotes a TrendForce report that reveals the coronavirus is hitting the semiconductor industry especially hard, resulting in "high impact" on the smartphone industry due to supply chain chaos.
That same report also explains, "Although automakers can compensate for material shortage through overseas factories, the process of capacity expansion and shipping of goods is still expected to create gaps in the overall manufacturing process."
As CIPS.org explains, "Analysts Mintec said the virus was "swamping" markets with uncertainty." According to the article, supply chain chaos is also hitting food and spice markets:
Other products affected include pork – the price has rocketed 167% year-on-year and 11% month-on-month to the first week of February – and chicken, where ships carrying it from the US to mainland China are being diverted to ports in Hong Kong, South Korea, Taiwan, and Vietnam.
Supplies of garlic are also under threat (China commands 80% of the export market), along with dried ginger – prices delivered to the US have grown by 26% quarter-on-quarter.
Proctor & Gamble owns hundreds of brands representing thousands of products globally
P&G is a massive chemical giant, producing thousands of chemically-manufactured consumer products that are sold almost everywhere around the world. These products are, of course, heavily laced with toxic chemicals, making P&G one of the worst polluters in the world when it comes to the use and discarding of their products, but that's a point for another day.
Some of the many products P&G represents include Dawn dish soap, Tide, Bounce, Cascade, Gain, Ivory soap, Joy, Pantene, Head & Shoulders, Crest, Scope mouthwash, Oral-B, Covergirl, Olay, Gillette, Tampax, Always, Charmin, Tampax, Old Spice and many more.
P&G is also known as a left-wing cult-like "virtue signaling" company that uses advertising to try to attack men and promote cultural "progressivism" along the lines of LGBT themes, including transgenderism. But again, that's a different topic for a different day.
Seriously, if the world runs out of P&G products, the world would be a far less toxic place.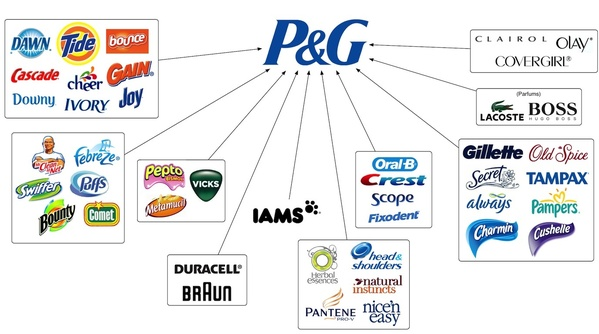 The bigger story in all this, however, is that if P&G can't maintain its own supply lines, then many other large manufacturers and retailers won't be able to maintain their supply lines, either.
And the coronavirus pandemic in China has only just begun. To date, only a tiny percentage of the total population in China has been infected, which means this will continue to play out for many months or even years to come.
In this new podcast, I explain what's happening with food supply lines in world markets, specifically with food items related to preparedness and survival supplies:
Global Crop Failures Continue: In Australia, This Is Going To Be The Worst Harvest Ever Recorded
Global food production is being hit from seemingly every side. Thanks to absolutely crazy weather patterns, giant locust armies in Africa and the Middle East, and an unprecedented outbreak of African Swine Fever in China, a lot less food is being produced around the world than originally anticipated. Even during the best of years we really struggle to feed everyone on the planet, and so a lot of people are wondering what is going to happen as global food supplies become tighter and tighter. The mainstream media in the United States is so obsessed with politics right now that they haven't been paying much attention to this emerging crisis, but the truth is that this growing nightmare is only going to intensify in the months ahead.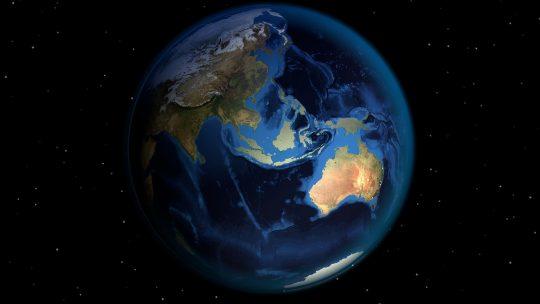 In Australia, conditions have been extremely hot and extremely dry, and that helped to fuel the horrific wildfires that we recently witnessed.
And everyone knew that agricultural production in Australia was going to be disappointing this year, but it turns out that it is actually going to be the worst ever recorded…
Australia's hottest and driest year on record has slashed crop production, with summer output expected to fall to the lowest levels on record, according to official projections released Tuesday.

The country's agriculture department said it expects production of crops like sorghum, cotton and rice to fall 66 percent — the lowest levels since records began in 1980-81.
The continent of Australia is considered to be one of the breadbaskets of the world. According to the U.S. Department of Agriculture, in 2018/19 Australia exported over 9 million tons of wheat to the rest of the world.
But thanks to relentless crop failures, Australia has started to import wheat, and that is likely to continue for the foreseeable future.
So instead of helping to feed the rest of the world, Australia is now relying on the rest of us to help feed them.
And what is happening this year didn't just barely break the old records. In fact, one senior economist says that this will be the worst summer crop production the country has ever seen "by a large margin"…
"It is the lowest summer crop production in this period by a large margin," Peter Collins, a senior economist with the department's statistical body ABARES told AFP.
Of course, if the rest of the world was doing great we could certainly survive a downturn in Australia.
Unfortunately, that is definitely not the case.
Right now, billions upon billions of locusts are voraciously devouring farms in eastern Africa and the Middle East. As I detailed the other day, giant armies of locusts the size of large cities are traveling up to 100 miles per day as they search for food. When they descend on a farm, all the crops can be consumed literally within 30 seconds. It is a nightmare of epic proportions, and UN officials are telling us that this crisis is only going to get worse over the next couple of months.
In Uganda, the army has been called out to help fight this locust plague, but it is making very little difference…
Under a warm morning sun scores of weary soldiers stare as millions of yellow locusts rise into the northern Ugandan sky, despite hours spent spraying vegetation with chemicals in an attempt to kill them.

From the tops of shea trees, fields of pea plants and tall grass savanna, the insects rise in a hypnotic murmuration, disappearing quickly to wreak devastation elsewhere.
The most effective way of fighting these locust swarms is to spray insecticide on them from the air, but even that only produces very limited results.
However, at least it is better than doing nothing.
The UN is trying to raise a lot more money to get more planes into the air, because if nothing is done the number of locusts "could grow up to 500 times by June"…
The U.N. has said $76 million is needed immediately. On Tuesday, U.S. Secretary of State Mike Pompeo during a visit to Ethiopia said the U.S. would donate another $8 million to the effort. That follows an earlier $800,000.

The number of overall locusts could grow up to 500 times by June, when drier weather begins, experts have said. Until then, the fear is that more rains in the coming weeks will bring fresh vegetation to feed a new generation of the voracious insects.
Overall, these locusts are affecting nations "with a combined population of nearly 2 billion", and the amount of food that these locusts are destroying is unprecedented.
Meanwhile, China has been dealing with the worst outbreak of African Swine Fever in history.
African Swine Fever does not affect humans, but it sweeps through herds of pigs like wildfire. There is no vaccine, there is no cure, and once African Swine Fever starts infecting pigs in a certain area the only thing that can be done is to kill the rest of the pigs to keep it from spreading anywhere else.
Unfortunately, China has not been able to get this outbreak under control, and the losses have been staggering.
According to the New York Times, the number of pigs that have been wiped out in China already is equivalent to "nearly one-quarter of all the world's pigs"…
The disease was first reported in Shenyang, Liaoning Province, in early August 2018. By the end of August 2019, the entire pig population of China had dropped by about 40 percent. China accounted for more than half of the global pig population in 2018, and the epidemic there alone has killed nearly one-quarter of all the world's pigs.
But of course, China is not the only one dealing with African Swine Fever.
In fact, cases of African Swine Fever have now been identified "in 50 countries", and U.S. pig farmers are deathly afraid of what would happen if this disease starts spreading here.
As a result of this crisis, pork prices in China have gone through the roof, and many families are no longer able to eat pork at all.
Never before in the modern era have we seen so many major threats to global food production emerge simultaneously.
There are more than 7 billion people living on our planet today, and we need to be able to grow enough food to feed everyone.
If we aren't able to do that, food prices will start to get really high, and people in the poorest areas simply will not have enough food to feed their families.
In troubled times that lie ahead, many people will have their hope shattered. The plans and the projects to which they have given their lives will collapse. Often they will feel as if God has abandoned them. The nations will need prophets who can give new vision in these times of shaking… Source: ZeroHedge
There Are Not Enough Pigs in the World to Fill China's Pork Hole.
China's Soaring Food Prices Will Lead to War, The global food crisis is slowly ramping up. China's food prices jump 9.1% in July to surge to a 7-year high.
China's July food prices jumped 9.1% from a year ago, as the country battles soaring pork prices amid the spread of African swine fever.
In particular, pork prices rose 27% from a year ago in July while fresh fruit prices rose 39.1%, the data showed.
The July figures follow an 8.3% year-on-year jump in June. Non-food items in July were 1.3% higher, government data showed.
Chinese fruit supply has been hurt by severe weather that hurt crop production this year, sending prices of apples up sharply. China is the world's largest producer and a major consumer of the staple fruit.
The official inflation data came after China confirmed Tuesday it will be suspending imports of agricultural products from the U.S. in response to President Donald Trump's new tariffs. Source
This is really not a good sign of the oncoming financial and food crisis.
Read more:https://www.cnbc.com/2019/08/09/china-inflation-july-2019-producer-prices-ppi-and-consumer-price-index-cpi.html
African swine fever has wiped out herds of pigs all over China – by some estimates more than half – and it now appears the global supply of pork might not be able to satisfy the country's demand in early 2020, reported Bloomberg.
The Ministry of Agriculture and Rural Affairs published new data on Friday that shows the number of hogs in China dropped 40% in Oct. YoY. The decline is mostly due to the African swine fever and farmers culling their herds to prevent further transmission of the dangerous disease.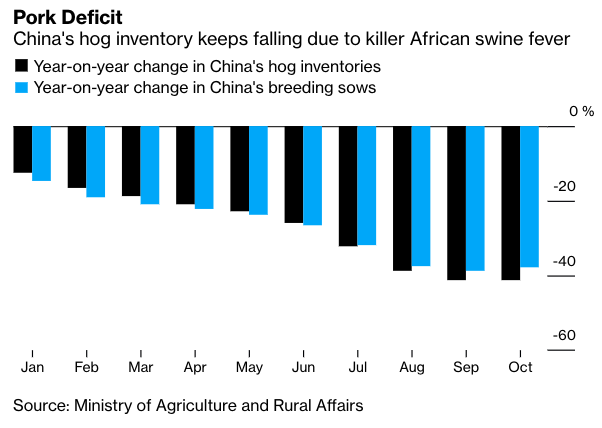 The disease has spread from Africa to Europe, and currently across Asia, and are fears pork supplies around the world are dwindling and might not be able to fill China's deficit. Just this week, the Dutch government announced plans to shrink its hog industry (why? because apparently pigs smells – the government says fewer pigs means less odor nuisance and a better living environment, as well lower emissions of ammonia, in the European country with the most cows and pigs relative to land area).
13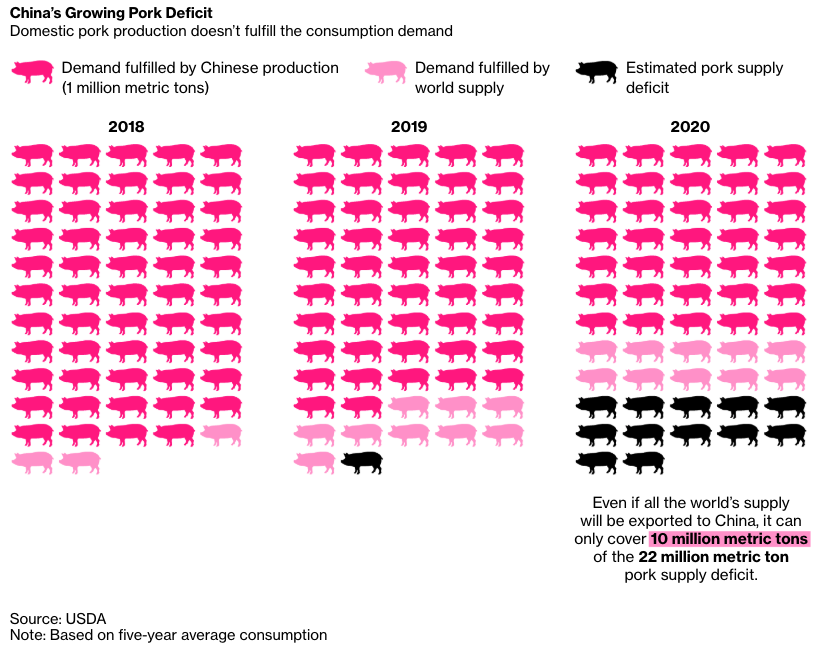 A new Rabobank report projects that domestic pork supplies could hit a three-decade low and lead to higher spot pork prices early next year.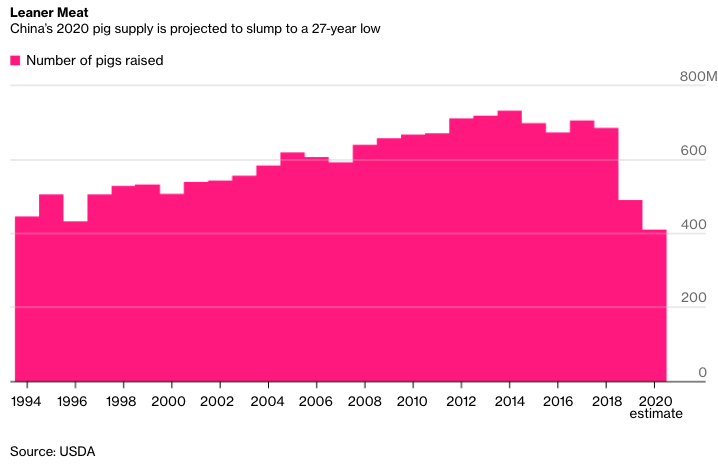 In southern China's Guangdong province, spot prices have jumped 230% since January, with much of the gains seen in late summer as the disease gained momentum and farmers were forced by the government to cull more pigs.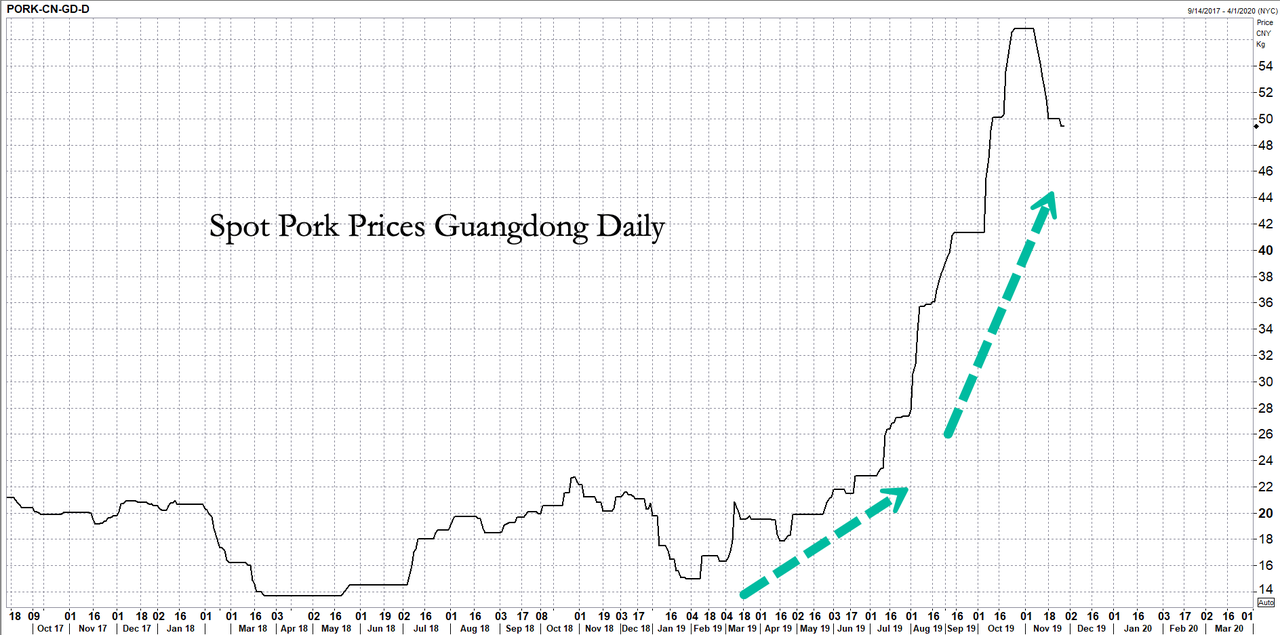 The jumped in spot prices wasn't just because domestic pork production collapsed, but the government has had difficulty sourcing products from abroad. It seems the world doesn't have enough pork for China.
The trade war, until recently, prevented Chinese importers from souring US pork. China has found alternative sourcing in South America, signing trade deals with Argentina and Brazil for agriculture products. Though it could take months for the pork to arrive in China, the pork deficit will likely increase in early 2020, and spot prices will move higher.
Food inflation and a decelerating economy in China are a recipe for socio-economic problems in 2020. Source
China's pig herd has halved to 200 million head over the past year because of a deadly swine disease that may depress pork supplies for years, a Rabobank analyst said.
The emergence of African swine fever in China in August 2018, and the subsequent deaths and culling of pigs, have wiped out 25% the country's pork production, or about 13 million metric tons, which is "unprecedented," said Pan Chenjun, Rabobank's Hong Kong-based senior animal proteins analyst, in an emailed statement Friday.
"This has resulted in a serious shortage in animal protein, with the market shrinking by 8 million tons — even with the considerable increase in imports this year," she said.
Chinese consumers are switching from pork to other proteins, including beef, not only due to the 50-to-80% increase in the price of pork but also on concerns surrounding its quality and safety, Pan said.
A Direct Quote from a Notice that was recently posted in a Kroger supermarket. a Food Shortage Is on the Way…
Our sovereign God is Lord of any pestilence (Habakkuk 3:5). He promises protection for those who trust in Him: "You will not fear the terror of night, nor the arrow that flies by day, nor the pestilence that stalks in the darkness, nor the plague that destroys at midday. (Psalm 91:5–6). Whatever happens, the children of God do not need to fear.
I know that this headline is alarming, but it is actually a direct quote from a notice that was recently posted in a Kroger supermarket. And as you will see below, similar notices are being posted in the canned vegetable sections of Wal-Mart stores nationwide. I would encourage you to examine the evidence in this article very carefully and to come to your own conclusions about what is happening. At this moment, social media is buzzing with reports of shortages of canned vegetables all around the country. But so far, the mainstream media is being eerily quiet about all of this. Is there a reason why they aren't saying anything? For months, I have been reporting on the extremely bizarre weather patterns that are causing crop failures all over the planet. But I certainly did not expect that we would already begin to see product shortages on the shelves of major U.S. supermarkets this summer. What I am about to share with you is shocking, but the truth needs to get out. For those that share my articles on your own websites, I know that all of the images in this article are going to be an inconvenience, but it is imperative that you include them when you republish this article because they tell a story. All of the images are taken directly from Facebook, and they prove that we are now facing a nationwide shortage of canned vegetables.
Widespread Crop Failures The U.S. Is Facing In 2019.
Torrential rains have been hammering the heartland of America for months, and at this point, vast stretches of farmland in the middle of the country are nothing but mud. As a result of the endless rain and unprecedented flooding that we have witnessed, millions of acres of farmland will have nothing planted on them at all in 2019, and that is a major national crisis. But most farmers were able to get seeds planted in the deplorable conditions, and now they are desperately hoping that something will actually grow. Unfortunately, on-farm after farm what is coming out of the ground looks absolutely terrible. Even if we get ideal weather conditions for the rest of the summer, there is no way that many of these fields will be ready before the first hard frost arrives. As you will see below, the truth is that we are potentially facing the most widespread crop failures in all of U.S. history.
This is the biggest news story in America so far this year, and the mainstream media is finally starting to understand the gravity of what we are facing. Just consider the following quote from a recent Quartz article…
The stories across the Midwest are wrenching. Scrolling through the #NoPlant19 hashtag turns up dozens of posts about farmers staring out at soggy fields or farm equipment foundering in deep mud. It's likely many will see their harvests devastated this year, and global grain prices could spike.
But of course, a picture is worth a thousand words, and so let me share a before and after photo that a farming couple in Indiana named Kyle and Tori Kline recently shared on Facebook…
According to Tori, the corn was almost above Kyle's head at this time last year, but today it is barely out of the ground…
"These two pictures speaks volumes to the crisis American Farmers are facing this spring. Kyle is about 6'3" and the corn was nearly above his head. Most corn around our area is lucky to be out of the ground, let alone knee high. It's just some food for thought for those who think farmers are "rich" or "greedy" or what have you. It's the reason food and gas prices will be getting higher as the summer goes on. I pray for those who didn't or still haven't gotten their crops in – for their safety and mental health. This year will be one to remember."

Do you think that corn is going to be ready when harvest time rolls around?

And of course, the Klines are far from alone. All over the nation, farmers are facing either dramatically reduced yields or no harvest at all.
Let me share four more extremely disturbing before and after photos that were recently posted to Facebook by TD Hale…
We have never seen anything like this before.
Now that you have seen these pictures, are you starting to understand why so many of us have been warning that U.S. agricultural production is going to be way, way down this year?
Corn is not supposed to grow in mud, but due to the horrific weather conditions, many farmers in the middle of the country had absolutely no choice in the matter. For example, corn farmer Scott Labig confessed that he was "ashamed" of what the nightmarish weather conditions forced him to do…
Labig was doing something he had never done in his career. Something his father and his grandfather never did either in their time working this same land for the last century.

"I am ashamed of how I am planting corn today," Labig told Campbell on the phone. "This is terrible."

He was putting seeds into mud. How could things actually grow in this mess?
If you do not live in the middle of the country, you may have a difficult time grasping the true scope of what we are potentially facing.
If farmers do not grow our food, we do not eat. This is not a drill, and widespread crop failures are going to have dramatic implications for all of us in the months ahead. Food prices are going much higher, and I urge you to get prepared while you still can.
According to John Newton, the chief economist at the American Farm Bureau Federation, we have never faced "anything like this since I've been working in agriculture". We are truly in unprecedented territory already, and it won't take very much at all to turn 2019 into a complete and utter national catastrophe.
If the weather is absolutely perfect for the next few months, 2019 will still be a horrible, horrible year for farmers in the middle of the country.
And guess what? Over the weekend the middle of the country was pounded by even more severe storms…
Hundreds of people were without power in Missouri and Kansason Sunday as storms ripped through the area, prompting officials to warn drivers to remain off the roads as flash flood warnings were in effect.

Until 8:45 a.m. central time, a flash flood warning was in effect in Missouri's Trenton, Bethany and Gallatin cities, according to the National Weather Service, while such warnings were in effect until 8:30 a.m. central time in Saint Joseph, Atchison and Savannah.
But if the rain doesn't stop, or if there is too much heat, or if a very early hard frost happens, we could be facing a national nightmare that is beyond what most of us would even dare to imagine.
Just when you think that this crisis cannot possibly get any worse, it does.
PESTILENCE IS CONTAGIOUS, VIRULENT, AND DEVASTATING……
The torrential rain of Biblical proportions in the Midwest " pestilence in history have been a punishment for sin
MY MISSION IS NOT TO CONVINCE YOU, ONLY TO INFORM YOU…
Midwestern bankers are tightening the purse strings on farm credit lines amid some of the toughest financial times for farmers and ranchers in decades.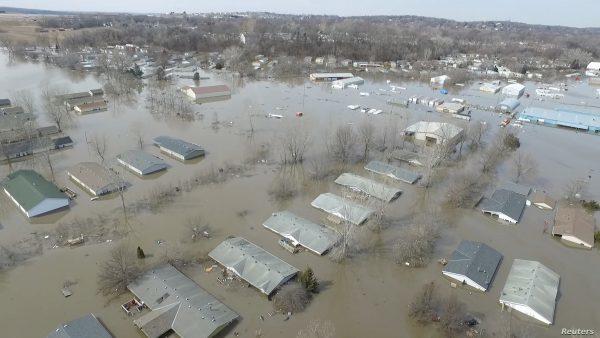 The wettest 12 months in all of U.S. history was followed by the second wettest May on record, and for some parts of the Midwest, the month of June will be even worse. Some portions of Ohio and Indiana have gotten 10 more inches of rain since Friday, and more rain is literally falling on the Midwest.
For many Midwest farmers, this will be their last year in operation. Farm bankruptcies had already risen to the highest level since the last recession even before all of this rain, and this unprecedented disaster will be the final nail in the coffin for a lot of farms that have been teetering on the brink.
According to one recent survey, it is expected that the number of farm loan defaults over the next year will be double what we saw in 2017…
Midwestern bankers are tightening the purse strings on farm credit lines amid some of the toughest financial times for farmers in decades.

A survey of bank CEOs by Creighton University's Heider College of Business found they expect the percentage of farm loan defaults over the next 12 months in a number of Midwestern states, including Illinois, to be double the default rates for 2017.
GOD planet is becoming increasingly unstable and that global weather patterns are changing dramatically. Midwest farmers are desperately hoping for some drier weather….
Rain is in the forecast every day this week until Friday, and then we have a break over the weekend with more rain coming in Tuesday, Wednesday, Thursday of next week.
The USDA is projecting that somehow we will get to 13.68 billion bushels of corn, but a lot of experts are convinced that the USDA's reduced projection is still wildly optimistic.
In some parts of the heartland, it literally looks like a hurricane just came through. When the Ohio Department of Agriculture Director Dorothy Pelanda recently toured farms in her state, she saw fields that were "filled with water and weeds instead of crops"…
Fields are visibly filled with water and weeds instead of crops," states Ohio Department of Agriculture Director Dorothy Pelanda in the press release.
And for Ohio farmer Charles Kettering, hundreds of acres that he recently planted with corn and soybeans can't be seen at all because they are currently underwater…
As much as a third of the 800 acres of corn and soybeans that Kettering planted a few weeks ago is currently underwater. The chances of that part of his crop surviving are next to nothing. As little as a full day underwater is enough to kill off whatever he planted. The deluge of heavy rain in late May and early June flooded much of the area's fertile farmland, including Kettering's acreage, which sits in the bottom of a valley.
As a result of the flooding here in June, the Ketterings will lose approximately $100,000.
Could you imagine how you would feel if you were suddenly hit with a financial loss of that magnitude?
Other farmers will be hit with huge losses at the end of the season when yields are way down. Thanks to the absolutely horrific weather, it is being projected that yields could be down by more than 50 percent for some Ohio farmers…
For those planting corn in June, yield losses are likely—even if the grower has switched to a shorter-season variety, said Peter Thomison, a corn field specialist with CFAES. The losses hinge on growing conditions after planting, but they could be more than 50% for some farmers, he said.
In the end, there is no way that we are going to come anywhere close to the 14.3 billion bushels of corn that was harvested in the U.S. last year, and that is going to have ripple effects that are going to last for a very long time.
The true scope of this crisis will not be fully known until harvest time rolls around, but right now the outlook for U.S. agricultural production in 2019 is exceedingly grim.
Hopefully, things will soon dry out and we will have picture-perfect weather for the rest of the growing season. There is also the possibility that Midwest farmers could be hammered by extreme rain, extreme heat and/or an early frost. Sadly, at this point, it certainly wouldn't take very much to turn an exceedingly bad growing season into a catastrophic one.
pes'-ti-lens (debher; loimos): The word translated "pestilence" is often translated as "plague" or "disaster" in new versions of the English Bible. However, because the word is often paired with both of those, it may imply greater devastation than a mere physical disease. Pestilence incorporates any and all forms of public and mass destruction and often accompanies famine (Ezekiel 7:15) or war (Jeremiah 21:9). Jesus forewarned of pestilence when He described the end times (Luke 21:11).
Any sudden fatal epidemic is designated by this word, and in its Biblical use, it generally indicates that these are divine visitations. The word is most frequently used in the prophetic books, and it occurs 25 times in Jeremiah and Ezekiel, always associated with the sword and famine. In 4 other passages, it is combined with noisome or evil beasts or war. In Amos 4:10 this judgment is compared with the plagues of Egypt, and in Habakkuk 3:5 it is a concomitant of the march of God from the Arabian mountain. There is the same judicial character associated with pestilence in Exodus 5:3; 9:15; Leviticus 26:25; Numbers 14:12; Deuteronomy 28:21; 2 Samuel 24:21; 1 Chronicles 21:12; Ezekiel 14:19,21. In the dedication prayer of Solomon, a special value is besought for such petitions against pestilence as may be presented toward the temple (2 Chronicles 6:28). Such deliverance is promised to those who put their trust in God (Psalms 91:6). Here the pestilence is called noisome, a shortened form of "annoy some," used in the sense of "hateful" or that which causes trouble or distress. In modern English, it has acquired a sense of loathsome. "Noisome" is used by Tyndale where the King James Version and the Revised Version (British and American) have "hurtful" in 1 Timothy 6:9.Acts 19:8 the King James Version writes "persuading the things" (the Revised Version (British and American) "as to the things") for "present the things persuasively." And in Galatians 1:10 (the English Revised Version and the King James Version, not in the American Standard Revised Version) and 2 Corinthians 5:11, there is a half-ironic force in the word: Paul's enemies have accused him of using unworthy persuasion in making his conversions.
The Latin word pestilentia is connected with pestis, "the plague," but pestilence is used for any visitation and is not the name of any special disease; debher is applied to diseases of cattle and is translated "murrain."
pes'-ti-lens (debher; loimos): In the New, Testament pestilence is mentioned in our Lord's eschatological discourse (Matthew 24:7 the King James Version; Luke 21:11) coupled with famine. The assonance of loimos and limos in these passages (loimos is omitted in the Revised Version (British and American) passage for Mt) occurs in several classical passages, e.g. Herodotus vii.171. The pestilence is said to walk in darkness (Psalms 91:6) on account of its sudden onset out of obscurity not associated with any apparent cause.
Pestilence is a deadly disaster, usually a disease, that affects an entire community. Pestilence is contagious, virulent, and devastating. For example, the Black Plague in Europe that killed over thirty percent of the population during the late Middle Ages was a pestilence. In the Bible, pestilence is usually a sign of God's judgment on a nation or people group (Deuteronomy 32:24; 1 Chronicles 21:12; Ezekiel 7:14–15). The God who protects and blesses is also the God who sends disaster and pestilence when it accomplishes His righteous purposes on earth (Isaiah 45:7; Ezekiel 5:16–17; Amos 4:10). Pestilence is promised as part of God's final judgment on the world in Revelation 18:8.

This article was originally published by Michael Snyder at The Economic Collapse Blog.
The things that I am going to share with you in this article are definitely very alarming. But if you live in a wealthy neighborhood and are always surrounded by other wealthy individuals that never have to worry about missing a meal, then some of the numbers in this article may not ring true to you.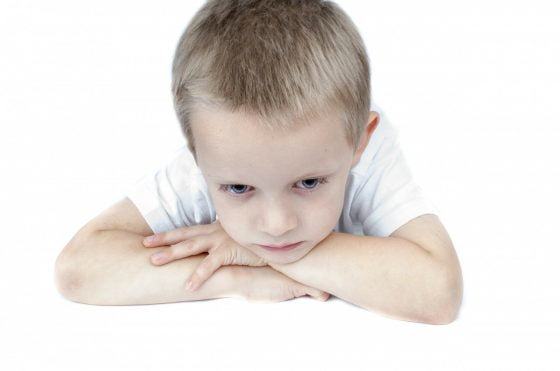 Today, the gap between the wealthy and the poor in the United States is larger than ever, and many wealthy Americans don't have too much sympathy for the struggles that other people are going through. But the truth is that most Americans are currently living paycheck to paycheck. And when you are living right on the edge financially, there are times when it can be really tough to even afford the basic necessities. If you have never had to miss a meal involuntarily, good for you. Unfortunately, there are millions upon millions of Americans for which hunger is a very real problem.
If you had to guess, what would you say if someone asked you how many Americans struggle with food insecurity each year?
According to a CBS News article that was published a few months ago, "roughly 4o million people" struggle with not having enough food to eat…
The U.S. economy is enjoying nearly a decade of expansion since the Great Recession. Yet food insecurity — a lack of money or resources to secure enough to eat — still grips almost one in eight Americans. That's roughly 40 million people. While slowly improving, that figure remains stubbornly higher than before the recession, when more than one in 10 U.S. residents had difficulty knowing when and how they might eat next, according to data from the U.S. Department of Agriculture.

Hungry people live in every county in America, according to the latest annual research from nonprofit relief organization Feeding America. It compiled federal and other data for 2017, its ninth year examining the issue, for a report called Map the Meal Gap. Feeding America serves 4 billion meals each year for one in eight Americans through 200 food banks and 60,000 meal programs and pantries.
We should be incredibly thankful for Feeding America and its vast network of food banks and pantries, but what happens when the need for food dramatically escalates and the food banks start running empty?
Just a few days ago I heard from a good friend in the middle of the country, and she told me that her local food bank is really pressing hard for donations right now because things are starting to get really, really right.
And we haven't even officially entered the next recession yet.
Normally there wouldn't be too much reason for concern, but this has definitely not been a normal year. Crops have been failing across the globe, and African swine fever is killing millions upon millions of pigs all over the planet.
In fact, thanks to the horrific outbreak of African swine fever in China, pork prices over there are 69.3 percent higher than they were a year ago…
Pork prices in China jumped 69.3% in September from a year ago as the country continued to battle a shortage of the meat that followed an outbreak of African swine fever.

Last month's surge in pork prices was higher compared to the 46.7% increase seen in August, according to data from China's National Bureau of Statistics. That pushed up food prices in China by 11.2% in September, accelerating from the previous month's 10% gain.
If that sounds really bad to you, that is because it is really bad.
And what we have witnessed so far is just the beginning.
One of the big reasons why the Chinese just agreed to buy billions of dollars worth of our agricultural products is because they have a desperate need for them.
Here in the United States, food prices have also been rising steadily and we were already going to be facing one of the worst years for Midwest farmers ever, and now an unprecedented October blizzard is going to cause widespread crop failures.
An absolutely massive storm just dumped very deep snow from Colorado to Minnesota, and it hit just as farmers were getting ready to harvest their corn and soybeans.
As I noted in a different article that I just posted, one lawmaker in North Dakota is telling the press that we should expect "massive crop losses – as devastating as we've ever seen".
Millions of acres of corn and soybeans are going to be "a total loss", and that means that all of us will soon be facing higher food prices at the supermarket.
If you are independently wealthy and food prices don't really matter to you, then you are in good shape.
But for the rest of us, these higher prices are going to be quite painful. I would encourage you to stock up ahead of time while you still can.
Earlier this year, I extensively documented the major problems that farmers in the Midwest were having with rain and flooding, and I warned that we were potentially facing a disastrous harvest season.
Well, now that this historic blizzard has wiped out millions of acres of crops, we are potentially facing a scenario that is far worse than anything that I originally warned about.
That means that soon far more than 40 million Americans will be dealing with food insecurity. Much higher prices at the grocery store will make it much more difficult for most of us to afford the basic necessities, and those on the bottom rungs of the economic pyramid will suffer more than anyone else.
Micahel Snyder is the author of The Rapture Verdict. You Are Never Going To Look At The Book Of Revelation The Same Way Again. The worst times in all of human history are coming, and what Michael Snyder has uncovered is this book has dramatic implications for every man, woman, and child on the entire planet. The Rapture Verdict is likely to become one of the most controversial Christian books in decades, and it addresses many of the hottest questions being debated today.
People's hearts are troubled, their minds are in a state of confusion, the Bible tells us a time of great delusion that will come upon the people, that time has arrived, the politicians must come up with more significant and more believable lies in order to bring on the antichrist, we have entered the doorstep Tribulation.
"Unless God has raised you up for this very thing, you will be worn out by the opposition of man and devils"…
StevieRay Hansen
Editor, HNewsWire.com
The Birth Pains Are Growing Stronger….
"Man will ultimately be governed by God or by tyrants."
My name is Steve Meyers and I need to share a vision and warning that the Lord showed me back in April 2007….
Many of you will ask why I waited so long to share the warning. I didn't. I shared the story with everyone that would listen from pastors to friends to family to colleagues. Immediately following the initial vision, I called a close friend. I told him to sit down that I had something to tell him. I needed it documented as I knew this was supernatural and from God. As I witness events unfolding today, I need to share the vision again.
The risk of loss in trading futures and options on futures can be substantial. The author does not guarantee the accuracy of the above information, although it is believed that the sources are reliable and the information accurate. The author assumes no liability or responsibility for direct or indirect, special, consequential or incidental damages or for any other damages relating or arising out of any action taken as a result of any information or advice contained in this commentary. The author disclaims any express or implied liability or responsibility for any action taken, which is solely at the liability and responsibility of the user. Steve Meyers
The silencing of the American people before 2020?
"The human heart is an idol factory."
The Un-Godly — Those That Suppress the Truth, the social media giants built multi-billion dollar empires by giving everyone a voice, but now that they have such a dominant position on the Internet they have decided that many prominent conservative voices should be completely silenced.
Our government has been overthrown. As evidenced by Trump's capitulation on the border, his recent servitude to the GMO industry and his acquiescence to the warmongers, our President has been compromised. Our liberties are being eliminated one by one. Gun confiscation is next. The Constitution is gasping its last breaths. Our borders are destroyed and our culture has been turned upside down by every perversion known to man.
The Left, a broad term for Liberal Socialist Democrats that can only be explained fully by using the Bible explanation of the human race is as follows. A servant of Satan, because you are either saved or lost. This election has brought out the true nature of who you serve. Simply put, it's Donald Trump, Conservatives, and Christians against the rest of the world. The Left's Love applies only to those who believe as they do. They Love evil and commit Anarchy against those who love good. They are governed by lies and never tell the truth. On this Friday, Inaugural Day for the swearing-in of Donald Trump as the 45th President of the United States the Left wants to commit widespread Anarchy to shut down the swearing-in ceremony. Their goal of transforming America, which was founded in Judea Christian values into a Pagan Nation is almost complete. Their goal has always been the total removal of God from American society and the downfall of America. Donald Trump says he is a Presbyterian, but he left off the USA, an apostate church.
Everything done in dark will be brought to light, being biblically bankrupt will not exclude the elitist.
Let Me Make This Abundantly Clear. (I Am Apolitical) While I Have a General Distaste for Politicians No Matter the Party They Belong To, I Am Unashamedly Politically a Bible Believing Conservative Christian. I Have a Severe Distrust of Government. I Believe It Is the Most Inefficient and Ineffective Way to Accomplish Most Things. While I Strongly Disagree with Liberals/Progressives and Conservative on Most Political Issues, and While I Believe Liberals/Progressives and Most Politicians Are Terribly Misguided and Naive About What Big Government Will Eventually Result In, I Strive to Not Question Their Motives. at the Same Time, While I Find Myself in Agreement with Conservative Politicians on Some Issues, I Do Not Believe Electing Republicans Is the Answer to Everything. for Me, Very Sadly, the Main Difference Between Republicans and Democrats Is How Quickly They Want to Drive the Car Towards the Cliff. Simply Put, I Do Not Believe the Government Is the Solution for Everything. I Do Not Place Any Faith, Trust, or Hope in Any Politicians to Fix What Is Wrong with the World. "Come Lord Jesus!" (Revelation 22:20) StevieRay Hansen
Tagged Under: Banks, tribulation, hnewswire StevieRay Hansen, HNewsWire, antichrist, digital gulag, antichrists, Apple, Bible, Big Tech, bigotry, Christian baker, Christianity, Christians, Colorado, Colorado Civil Rights Commission, conservatives, deep state, demonic assault, end of days, end times, Facebook, First Amendment, free speech, Google, hate groups, Hate speech, Electronic Prison, Birth Pains