Advisory: Be careful of what you read on social media. The algorithms used by these platforms have no regard for Biblical truth. They target your emotions to keep you engaged on their site so their advertisers can drop more ads. These platforms exist to enrich their stockholders. Consider God's promise to Believers in James 1:5, "If any of you lacks wisdom, you should ask God, who gives generously to all without finding fault, and it will be given to you."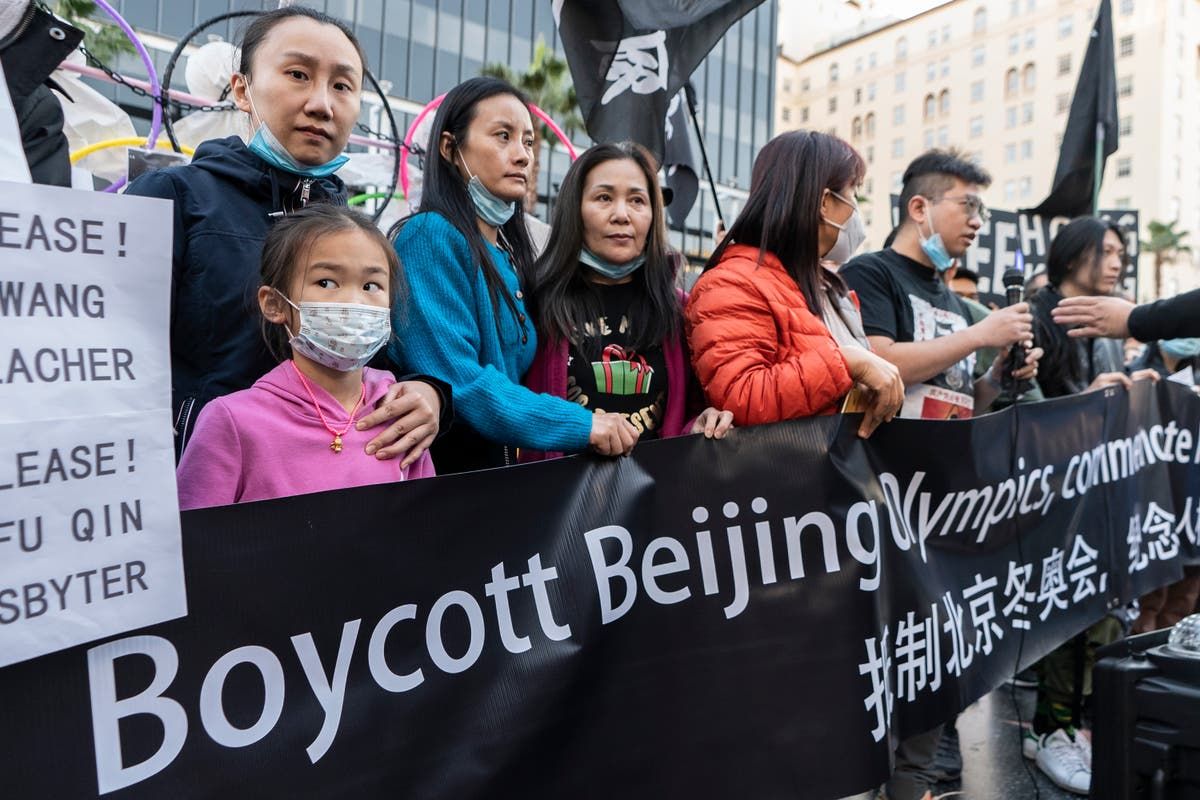 The United States, Australia, the United Kingdom, Canada, Lithuania, Belgium, Denmark, and Estonia have all announced diplomatic boycotts of the Games. As a Beijing court has sentenced a Falun Gong practitioner to eight years in prison as the 2022 Winter Olympics approach.
The heavy-handed sentence again spotlights the Chinese Communist Party's human rights violations as the regime seeks to exalt its political image during the upcoming Games, according to Wu Shaoping, a Chinese human rights lawyer in the United States.
"The International Olympic Committee should open its eyes to the current situation of human rights in China under the Chinese Communist Party and should not continue to cooperate with it," and "This is a shame for the IOC." Wu stated in an interview
Xu Na, a 53-year-old Beijing still-life painter, was one of 11 Chinese citizens jailed in July 2020 for giving images and information to The Epoch Times' Chinese-language edition during China's early COVID-19 pandemic.
Falun Gong is practiced by all 11 imprisoned. Falun Gong is a spiritual discipline centered on the main values of truthfulness, compassion, and tolerance, and it was practiced by between 70 and 100 million individuals in China in 1999. The Chinese authorities saw the practice's popularity as a danger at the time, and initiated a statewide drive to abolish it.
"Xu Na and others are not only innocent but also meritorious," stated her defense attorney, Xie Yanyi, who was barred from representing his client during the trial on Oct. 15, 2021.
Since the 11 were detained, Xu had been kept in a local jail center awaiting trial for more than a year. She was given a sentence just three weeks before the Winter Olympics began.
On Jan. 14, the court sentenced Xu to eight years in prison, the longest of the 11 sentences. According to her representative counsel, the others received sentences ranging from two to five years.
As the globe prepared for the 2008 Olympics, the communist iron hand had already broken Xu's family apart 14 years previously.
In January 2008, Beijing police arrested Xu and her husband under the guise of a "Olympic check."
Yu Zhou, a folk musician, was tortured to death within two weeks of his incarceration, at the age of 42, for his beliefs. Xu was denied access to his burial and eventually sentenced to three years in prison.
Wu believes that what occurred to this couple should be enough to draw international notice.
Despite international calls for a full boycott due to the CCP's appalling human rights record, which should disqualify China as a host country, Beijing is the first city to host both the Summer and Winter Games.
In a personal statement, Xu stated, "Every injustice in this world, even if it is far away, is still relevant to you, because it is always torturing your conscience,"
She can't forget the excruciating suffering she felt during her lengthy confinement in Beijing, she said in a statement, recalling the dark days she endured.
"It makes living worse than dying," Xu said of the first five years of her captivity, which began in 2001. She was 32 at the time, and she had been subjected to a great deal of torture. She has served a total of nearly ten years in prison.
"How I wish I were in Auschwitz instead of a Chinese prison." "One could die quickly in the Nazi gas chambers," Xu added in the statement. "The purpose of the Nazis' crimes against humanity was to destroy the Jewish body, while the CCP's purpose is to destroy the human spirit, the conscience."
"I should apply for a craniotomy and remove your brain." a police officer said seriously when she refused to give up her faith under torture.
"The CCP has violated international human rights norms," claimed rights lawyer Wu, who called for a boycott of the Beijing Olympics, which begin on February 4th.
In an email to The Epoch Times last August, the United States State Department expressed concern about the 11 Chinese citizens, including Xu.
"The United States calls on the People's Republic of China government to release journalists and their contacts detained for their reporting on COVID-19 restrictions and to cease its efforts to silence those who seek to report the truth" a spokeswoman said.
In an August statement, the Committee to Protect Journalists, a New York-based journalist advocacy group, called for an immediate release and the dismissal of all charges.
Massimo Introvigne, editor-in-chief of Bitter Winter magazine, previously discussed the arrest in an interview, saying that the regime is more terrified of the truth and free information than of weaponry.
The CCP's bellicose behavior is at an all time high trending upward, and most people are completely unaware of their crimes against humanity all together. They're too busy distracting themselves from the despotic globalist elite manufactured society around them. Who knows, perhaps in the coming months Fauci and his constituents will be brought to justice and the truth will prevail. I'd only say that now because the omicron variant being less virulent and more transmissible inevitably means COVID is endemic in the eyes of the government. This still gives politicians and the CDC the ability to wiggle into our lives for the coming years.
One thing is for certain, and it's that Xi will not stop his human rights violations without direct confrontation. Whoever attends the Beijing olympics are either wildly uninformed, or are actively showing support for the Chinese regimes crimes against humanity. Hosea 4:6 says: "My people are destroyed for lack of knowledge; because you have rejected knowledge, I reject you from being a priest to me. And since you have forgotten the law of your God, I also will forget your children." Stay inquisitive in the word of God, and the world around you.
Since China's anti-COIVD-19 program imposed a strict lockdown, causing food scarcity for more than twenty days, Chinese people in Xi'an city have continued to seek foreign assistance.
After the abrupt lockdown in Xi'an, 62-year-old decoration worker Liang Yanping from Hubei and his coworkers were locked down in an unfinished house without heating, a stove, or any furnishings, according to a Jan. 11 report in the state-run China Youth Daily. Only three boxes of instant noodles kept them alive for three weeks throughout the coldest part of the year. The workers were praised for being the "loveliest people" who did not cause any trouble for Xi'an and merely asked for a meal during the New Year festival, according to the story.
Through another citizen's inability to get to the hospital for a sudden bone dislocation, the report implicitly validated the difficulty of accessing medical assistance during the lockdown.
According to the Washington Post, a bleeding pregnant woman sat at the door of Xi'an Gaoxin Hospital waiting for medical assistance before miscarrying due to a lack of timely treatment.
"we can never see vegetable delivery by the authorities," Ms. Le, a resident of Yangjiacun neighborhood in Yanta district in Xi'an city, told the Chinese-language Epoch Times. "we were given a phone number of a vegetable deliverer, but the phone was always turned off and didn't get through."
According to Le, her living community compound was left with only a QR code for a group chat and a "just for show" volunteer following the lockdown.
Officials are "only responsible for power, not for people," according to Le. People outside of China "need to see the real life of ordinary people in Xi'an, and not be confused by the illusion shown by the authorities."
On Jan. 9, Du Weilong posted on Weibo (China's version of Twitter) that she resides in the Xi'an high-tech Gaoxin zone and has been locked down at home for nearly 20 days, with the exception of performing nucleic acid testing.
"I only received vegetables once, 2 potatoes, 2 onions, one cabbage, and two white radishes" she said, adding that she had not received any other food. "What do we eat? Are we going to be starved to death at home?"
"Why can't we, the people, receive them?" Du questioned the authorities' propaganda about veggies being transported to Xi'an from other cities across the country. "It's everyone who is starving." she added.
Du believed that by enlisting the support of social media users, they would be able to obtain food and "not die of hunger at home."
Mr. Chen, a resident of Xianyang city, which is 31 kilometers (19 miles) east of Xi'an, told the Chinese-language Epoch Times on Jan. 10 that a few days before, when he finished work and was heading home in the evening, he was suddenly cut off by a tin fence erected on Wangxian road, which runs along the eastern border of Weicheng district.
The defense and control personnel had built up a barrier a few hundred meters distant on the other side, and individuals who had exited that side were similarly barred from entering or leaving.
Chen said he and more than 200 individuals were trapped in a "emergency blockade" that encircled the two borders for over one kilometer.
When they explained that they were out getting 48-hour nucleic acid certificates and just wanted to get home for a hot lunch, the security personnel over the gate remained silent.
There was an ambulance and a truck with a banner stating "fight the epidemic, protect people's livelihood, overcome the difficulties together" in addition to the inhabitants who were unable to return home. "It's very ironic," Chen added.
The throng waited for 10 hours till 3 a.m. in the frigid evening of 4°C (39.2°F) until they struck an arrangement with epidemic prevention officers that they could finally go home, but that they had to stay at home and not come out again after that.
That's what it looks like when you give the government the slack to disrespect its people. It's all about money and control. This defense and control personnel are likely only there because they have steady pay and they get to be the bullies not the bullied. "fight the epidemic, protect people's livelihood, overcome the difficulties together" said the banner on the vehicle blocking people from returning home; To prevent the spread of a virus from one side of a fence to the other mind you. An excuse to interfere is all the authoritarian regime needs to impose itself upon its citizens. With that being said, watch closely how people of power choose to use said power in the context of COVID measures. With that insight, you'd probably assume that the Wuhan virus is objectively a means for governments across the world to impose restrictions and exercise authoritarian rule over their people.
To break with China's status quo, we must let go of the delusion that the CCP is a genuine political party. The Chinese people are entitled to democracy and freedom from the oppressive CCP. Xi has decided to choose his "leaders" based on how egregious their capabilities are when given the power to oppress percentages of the population. These are the actions of feeble minded men, who seek to live for the world. They'll never let go of the power they've attained willingly.
It should come as no surprise to anyone who pays attention to global politics that this is happening. However, one could speculate and say that tensions across the board are running higher than ever for the Chinese Communist Party. Something has got to give, America is no longer able to turn a blind eye from persecution due to the rapid spread of information in this digital age. The question remains, who will stop the CCP from committing further violations against human rights, and how much longer until that takes place? The people could surely rise up and put a stop to it, but i guess we'll have to see if the CCP will be able to survive the tumble it's currently Taking. Stay inquisitive in the word of God, and the world around you.
The 127 Faith Foundation: We do not solicit donations from "those on disability, on a fixed income, or those who cannot afford to give." Please Pray!
Or, make checks payable to:
The 127 Faith Foundation
PO Box 127
Pontotoc, TX 76869
The number of Orphans aging out of Child Protective Custody has grown at an alarming rate. The 127 Faith Foundation receives many requests each week to house them at our ranch. Our prayer is that the good people of our country will step up to the challenge and offer financial support for "the least among us." We need your help! StevieRay Hansen, Founder, The 127 Faith Foundation
We make every effort to acknowledge sources used in our news articles. In a few cases, the sources were lost due to a technological glitch. If you believe we have not given sufficient credit for your source material, please contact us, and we will be more than happy to link to your article.