Advisory: Be careful of what you read on social media. The algorithms used by these platforms have no regard for Biblical truth. They target your emotions to keep you engaged on their site so their advertisers can drop more ads. These platforms exist to enrich their stockholders. Consider God's promise to Believers in James 1:5, "If any of you lacks wisdom, you should ask God, who gives generously to all without finding fault, and it will be given to you."
Humanity was treated to an important lecture on peace at a recent event for the NIR School of the Heart by none other than Ellen Degeneres BFF and world-renowned peace expert George W Bush.
"I don't think the Iranians believe the peaceful Middle East is in their national interest," said the former president according to The Washington Post's Josh Rogin, whose brief Twitter thread on the subject appears to be the only record of Bush's speech anywhere online.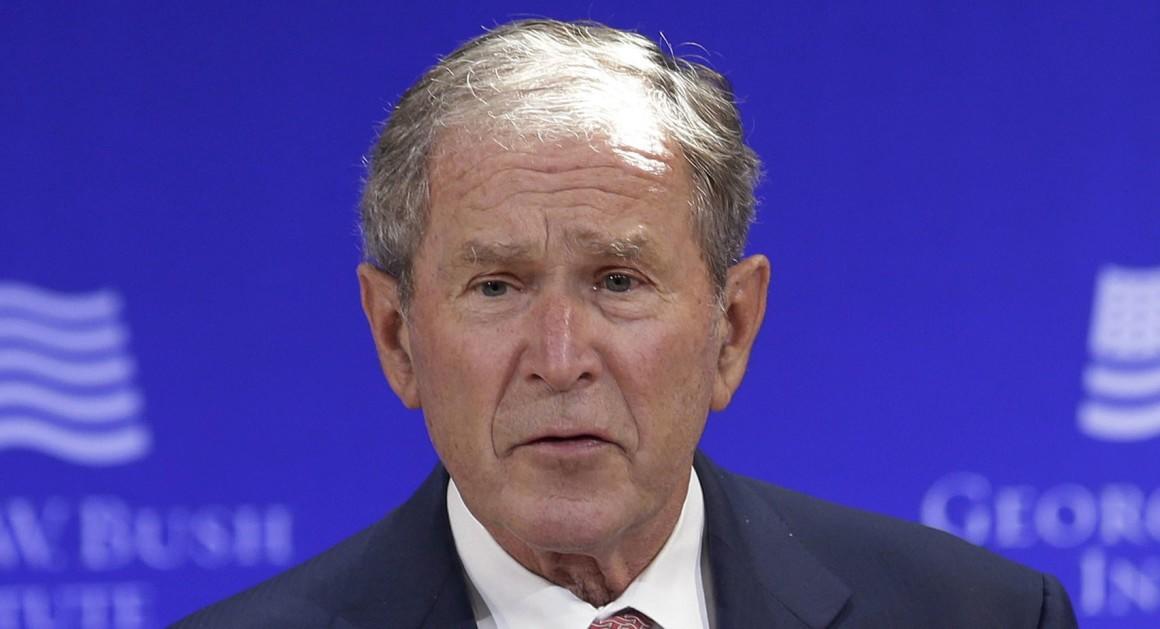 "An isolationist United States is destabilizing around the world," Bush said during the speech in what according to Rogin was a shot at the sitting president.

"We are becoming isolationist and that's dangerous for the sake of peace."
For those who don't speak fluent neoconservative, "isolationist" here means taking even one small step in any direction other than continued military expansionism into every square inch of planet Earth, and "We are becoming isolationist" here means "We have hundreds of military bases circling the globe, our annual military budget is steadily climbing toward the trillion-dollar mark, and we are engaged in countless undeclared wars and regime change interventions all around the world."
Josh Rogin✔@joshrogin · Oct 16, 2019
President George W. Bush tonight at the Nir School of the Heart event: "I don't think the Iranians believe a peaceful Middle East is in their national interest."
George W Bush takes a direct shot at Trump: "The isolationist United States is destabilizing around the world. We are becoming isolationist and that's dangerous for the sake of peace."5,0226:26 PM - Oct 16, 2019Twitter Ads info and privacy2,695 people are talking about this
It is unclear why BushWacker is choosing to present himself as a more peaceful president than Trump given that by this point in his first term Bush had launched not one but two full-scale ground invasion wars whose effects continue to ravage the Middle East to this very day, especially given the way both presidents appear to be in furious agreement on foreign policy matters like Iran. But here we are.
From a certain point of view it's hard to say which is stranger:
(A) a war criminal with a blood-soaked legacy of mass murder, torture and military expansionism telling Trump that he is endangering peace with his "isolationism", or

(B) the claim that Trump is "isolationist" at all.
As we've discussed previously, Trump's so-called isolationism has thus far consisted of killing tens of thousands of Venezuelans with starvation sanctions in an attempt to effect regime change in the most oil-rich nation on earth, advancing a regime-change operation in Iran via starvation sanctions, CIA covert ops, and reckless military escalations, continuing to facilitate the Saudi-led slaughter in Yemen and to sell arms to Saudi Arabia, inflating the already insanely bloated US military budget to enable more worldwide military expansionism, greatly increasing the number of bombs dropped per day from the previous administration, killing record numbers of civilians in airstrikes for which he has reduced military accountability, and of course advancing many, many new cold war escalations against the nuclear superpower Russia.
But these bogus warnings about a dangerous, nonexistent threat of isolationism are nothing new for Dubya. In his farewell address to the nation, BushWacker said the following:
"In the face of threats from abroad, it can be tempting to seek comfort by turning inward. But we must reject isolationism and its companion, protectionism. Retreating behind our borders would only invite danger. In the 21st century, security and prosperity at home depend on the expansion of liberty abroad. If America does not lead the cause of freedom, that cause will not be led."
As we discussed recently, the use of the pro-war buzzword "isolationism" has been re-emerging from its post-Bush hibernation as a popular one-word debunk of any opposition to continued US military expansionism in all directions, and it is deceitful in at least three distinct ways. Firstly, the way it is used consistently conflates isolationism with non-interventionism, which are two wildly different things. Secondly, none of the mainstream political figures who are consistently tarred with the "isolationist" pejorative are isolationists by any stretch of the imagination or even proper non-interventionists; they all support many interventionist positions which actual non-interventionists object to. Thirdly, calling someone who opposes endless warmongering an "isolationist" makes as much sense as calling someone who opposes rape a man-hating prude; opposing an intrinsically evil act is not the same as withdrawing from the world.
The Forever War Is So Normalized That Opposing It Is "Isolationism"
"Under our current Orwellian doublespeak paradigm where forever war is the new normal, the opposite of war is no longer peace, but isolationism." #war #peace #TulsiGabbardhttps://medium.com/@caityjohnstone/the-forever-war-is-so-normalized-that-opposing-it-is-isolationism-8b4062aed18b …The Forever War Is So Normalized That Opposing It Is "Isolationism"After getting curb stomped on the debate stage by Tulsi Gabbard, the campaign for Tim "Who the fuck is Tim Ryan?" Ryan posted a statement…medium.com1,3118:33 PM - Jun 28, 2019Twitter Ads info and privacy666 people are talking about this
Nobody actually believes that US foreign policy is under any threat of anything remotely resembling isolationism. The real purpose of this buzzword is to normalize the forever war and drag the Overton window so far in the direction of ghoulish hawkishness that the opposite of "war" is no longer "peace", but "isolationism". By pulling this neat little trick, the propagandists of the political/media class have successfully made endless war seems like a perfectly normal thing to be happening and any small attempt to scale it back looks weird and freakish when the truth is the exact opposite. War is weird, freakish and horrific, and peace is of course normal. This is the only healthy way to see things.
It would actually be great if George W Bush could shut the f*** up forever, ideally in a locked cell following a public war tribunal. Failing that, at the very least people should stop looking at him as a cuddly widdle teddy bear with whom it's fun to share a sporting arena suite or a piece of hard candy or to hang award medals on for his treatment of veterans. This mass murdering monster has been growing more and more popular with Democrats lately just because he offers mild criticisms of Trump sometimes, as have war pigs like Bill Kristol and Max Boot and even John Bolton for the same reason, and it needs to stop. And in the name of a million dead Iraqis, please don't start consulting this man on matters of peace. Source
There are those who turn justice into bitterness and cast righteousness to the ground. 8 He who made the Pleiades and Orion, who turns midnight into dawn and darkens day into night, who calls for the waters of the sea and pours them out over the face of the land— the LORD is his name. 9 With a blinding flash, he destroys the stronghold and brings the fortified city to ruin. 10 There are those who hate the one who upholds justice in court and detests the one who tells the truth. 11 You levy a straw tax on the poor and impose a tax on their grain. Therefore, though you have built stone mansions, you will not live in them; though you have planted lush vineyards, you will not drink their wine. 12 I know how many are your offenses and how great your sins. There are those who oppress the innocent and take bribes and deprive the poor of justice in the courts. 13 Therefore the prudent keep quiet in such times, for the times are evil.
Times seem to be getting worse and worse with good increasingly called evil and evil called good. (Isaiah 5:20. Ecclesiastes 8:11) However, times have been similarly bad before in history. (Ecclesiastes 1:9,10. Ecclesiastes 7:10)
Those who call evil good and good evil are as good as dead, who turn darkness into light and light into darkness, who turn bitter into sweet and sweet into bitter. (Isaiah 5:20)
When a sentence is not executed at once against a crime, the human heart is encouraged to do evil. (Ecclesiastes 8:11)
Do not say, "Why were the old days better than these days?" for it is not wise to ask that. (Ecclesiastes 7:10)
Is there anything about which someone can say, "Look at this! It is new!"? It was already done long ago, before our time. (Ecclesiastes 1:9-10)
StevieRay Hansen
Editor, HNewsWire.com
The Birth Pains Are Growing Stronger….
"Unless God has raised you up for this very thing, you will be worn out by the opposition of man and devils"…
My name is Steve Meyers and I need to share a vision and warning that the Lord showed me back in April 2007….
Many of you will ask why I waited so long to share the warning. I didn't. I shared the story with everyone that would listen from pastors to friends to family to colleagues. Immediately following the initial vision, I called a close friend. I told him to sit down that I had something to tell him. I needed it documented as I knew this was supernatural and from God. As I witness events unfolding today, I need to share the vision again.
The light went out in the church, and that's the reason the world got dark. Dark times were perpetuated by the "last one out, turn out the lights" "The church lights have gone OUT".
Let Me Make This Abundantly Clear. (I Am Apolitical) While I Have a General Distaste for Politicians No Matter the Party They Belong To, I Am Unashamedly Politically a Bible Believing Conservative Christian. I Have a Severe Distrust of Government. I Believe It Is the Most Inefficient and Ineffective Way to Accomplish Most Things. While I Strongly Disagree with Liberals/Progressives and Conservative on Most Political Issues, and While I Believe Liberals/Progressives and Most Politicians Are Terribly Misguided and Naive About What Big Government Will Eventually Result In, I Strive to Not Question Their Motives. at the Same Time, While I Find Myself in Agreement with Conservative Politicians on Some Issues, I Do Not Believe Electing Republicans Is the Answer to Everything. for Me, Very Sadly, the Main Difference Between Republicans and Democrats Is How Quickly They Want to Drive the Car Towards the Cliff. Simply Put, I Do Not Believe the Government Is the Solution for Everything. I Do Not Place Any Faith, Trust, or Hope in Any Politicians to Fix What Is Wrong with the World. "Come Lord Jesus!" (Revelation 22:20)
Our government has been overthrown. As evidenced by Trump's capitulation on the border, his recent servitude to the GMO industry and his acquiescence to the warmongers, our President has been compromised. Our liberties are being eliminated one by one. Gun confiscation is next. The Constitution is gasping its last breaths. Our borders are destroyed and our culture has been turned upside down by every perversion known to man.
Education is useless without the bible (Daniel Webster)
Usually, the Lord doth no great thing for or against his people, without giving warning of it before it comes.
John Wesley who said that what we tolerate in our generation, will be embraced by the next. Wesley is 100% correct! We are living in sick times.
The Left, a broad term for Liberal Socialist Democrats that can only be explained fully by using the Bible explanation of the human race is as follows. A servant of Satan, because you are either saved or lost. This election has brought out the true nature of who you serve. Simply put, it's Donald Trump, Conservatives, and Christians against the rest of the world. The Left's Love applies only to those who believe as they do. They Love evil and commit Anarchy against those who love good. They are governed by lies and never tell the truth. On this Friday, Inaugural Day for the swearing-in of Donald Trump as the 45th President of the United States the Left wants to commit widespread Anarchy to shut down the swearing-in ceremony. Their goal of transforming America, which was founded in Judea Christian values into a Pagan Nation is almost complete. Their goal has always been the total removal of God from American society and the downfall of America. Donald Trump says he is a Presbyterian, but he left off the USA, an apostate church.
Corinthians 4:8-11 New King James Version (NKJV)
We are hard-pressed on every side, yet not crushed; we are perplexed, but not in despair; 9. persecuted, but not forsaken; struck down, but not destroyed— 10. always carrying about in the body the dying of the Lord Jesus, that the life of Jesus also may be manifested in our body. 11. For we who live are always delivered to death for Jesus' sake, that the life of Jesus also may be manifested in our mortal flesh.
Satan has power over (LGBTQE-TRANS PEOPLE). The "sons of disobedience" referred to in Ephesians 2:2 are those who have not trusted Christ as Lord and Savior (cf. Acts 26:18; 2 Corinthians 4:4; Revelation 13:12). The demons are also under the rule of Satan (Matthew 12:24), and one of his titles is "prince of demons" (Matthew 9:34). Satan has a kingdom (Matthew 12:26) and a throne (Revelation 2:13). Satan is called a prince because he is a ruler and possesses the power to manifest evil in the world through influencing people and commanding demons.
HNewsWire- "All political language is designed to make lies sound truthful and murder respectable." Just look at some of our modern-day examples: torture is "enhanced interrogation techniques"; murder is "collateral damage"; the aggression initiation of war is a "pre-emptive strike"; the theft of taxpayers' money is a "bailout", and the theft of depositors' money in a bank is a "haircut" or "bail-in".In a blatant example of Newspeak, the New World Order controllers (through the psychiatric DSM V) have tried to rename pedophiles as "minor-attracted persons" and redefine pedophilia as "sexual orientation". This makes no sense since sexual orientation has to do with gender, not age, with whether you are attracted to males or females, not how old they are. There are even organizations (like B4UAct.org) which are claiming that pedophiles are being unfairly stigmatized for their feelings!
If homosexuality has been posed as healthy, good and normal, in the face of overwhelming evidence to the contrary, so can pedophilia. Pro-pedophilic articles are making their way into academia.
The Cult of LGBTQE-E for EVIL and is often a cover for child-molesting perverts
Tagged Under: abuse, children's health, gender-confused, gender issues, gender madness, the left cult, LGBTQE-E For Evil un-godly Mob, Lunacy, mutilation, transgender, Child molesting perverts LGBTQE- E For Evil, drag queens, perverts
Unfortunately, not all alternative sources are reliable, even some Major Christian (and I use Christian loosely) news sources have been corrupted. They will NOT tell the truth. They just parrot the deceptive narratives perpetrated by those who currently control our government and media. Even those who are honestly trying to present the truth can miss it sometimes. There is so much deception out there. In these last days, you must be wise as serpents and gentle as lambs. It is no time to sleep or slumber. Diligence and vigilance are required. It is critical that you think for yourself and not be a Lemming.
HNewsWire: Imagine a future when earth's inhabitants are not humans, but cyborgs-robot like beings with both biological and mechanical components. With exosuits for added strength,…
Read More
We make every effort to acknowledge sources used in our news articles. In a few cases, the sources were lost due to a technological glitch. If you believe we have not given sufficient credit for your source material, please contact us, and we will be more than happy to link to your article.