Update: 8/1/22 China Is Preparing to Attack Taiwan – At a "Perfect Storm" Moment When All Eyes Are on the Ukraine War? Did Putin Just Set the Stage for Chinese Military Action in the Not-So-Distant Future?
Russia & China Are "Planning Behind the Scenes" Ahead of the Invasion of Ukraine. China Is Attempting to Figure Out What Its Next Move Will Be on Taiwan. HNewsWire
HNewsWire:Would China really commit to an impromptu war with Taiwan over Nancy Pelosi, a person who amounts to nothing more than a political smudge in the history books?  No, they wouldn't, but they would be happy to use her diplomatic visit to Taiwan as a pretense for invasion.
The timing for Pelosi's visit to Taiwan has not been released and will likely remain classified until the event.  China has announced live fire drills this week in the Taiwan Strait as a show of force and a state run newspaper has even suggested that the CCP has the right to shoot Pelosi's plane down (If the CCP is hoping this will scare the American public, they might want to consider again that it's Pelosi on the plane; i.e. no one cares).  China has also insinuated that direct invasion will take place if the visit occurs.
A US carrier strike group is moving near Taiwan after being deployed from Singapore and tensions are high.  Ironically, Democrats chastised Donald Trump for "upsetting" Chinese/US relations over Taiwan only a couple years ago, and now they are one-upping him.
According to an alleged Russian intel leak in 2021, the CCP was already planning a forced annex of the island nation (that the Chinese claim is not a nation) for the fall.  The leak from Russia's FSB has not been verified, but it does parallel the increase in Chinese naval activity in the region, along with even more aggressive rhetoric than usual against Taiwan.
The Russian invasion of Ukraine perhaps triggered a pause in China's plans, but not a complete reversal.  The increase in joint Russian and Chinese naval drills around Japan and Taiwan suggest that a Taiwan event will not be limited.  It could spread north to the Sea of Japan, where China and Russia would seek to nullify a response from US bases.
Yes, this would be quite an escalation and it's far more likely that China would play the long game by waiting for US and European economic turmoil to degrade their ability to respond to a regional conflict.  Of course, there is something to be said for the element of surprise.
Timing is also a major consideration for China.  Weather cycles in the Taiwan Strait make a naval invasion difficult to maintain as dangerous storms rip through the area for a large part of the year.  September and October are the key months when the weather is most advantageous for Chinese naval operations.  Extreme weather fronts can disrupt radar, communications, thermal vision, night vision, drones, air support and obviously normal visibility, making intricate offensive actions very risky.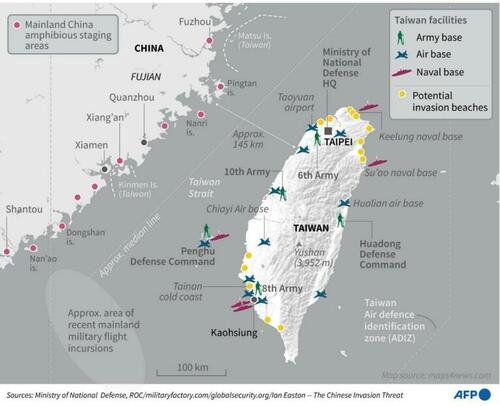 It's interesting that Pelosi appears to be scheduling her visit sometime in the next month, so close to when weather conditions are the most ripe for a Chinese attack.  Typhoons are expected to strike Taiwan through August and then dissipate in September/October when invasion is preferable.
The bottom line is that China WILL invade Taiwan in the near future.  Once communists decide that a group or nation stands as a symbol of opposition to their power, they will stop at nothing to erase that symbol.  Whether or not western interests are taking advantage of the situation is something to consider as well.
A regional war involving Taiwan as a proxy for conflict between the US and China would probably progress much like the war in Ukraine – Lots of big talk and propaganda in the media about how China is being crushed economically and militarily.  But, in the end China sits right across the water from Taiwan, just as Russia sits right across the border from the Donbass.  Logistically, they have the advantage and they have the time.  Wearing the west down financially and through attrition would be their strategy and it would likely succeed given the mental weakness within the White House and among the current military brass.
This is not to say China is justified.  Not in the slightest.  China is one of the most Orwellian nightmare states on the planet and their obsession with Taiwan is a product of communist zealotry rather than any sort of logic or reason.  This doesn't change the fact that they have the strategic advantage if they manage to lure the US into a quagmire across the pacific, and Japan's ability to help defend Taiwan is questionable.
In terms of the bigger picture, certain interests (globalists) within organizations like the WEF might welcome such chaos and conflict.  It could be used as cover for the ongoing global economic decline that they helped create, and give them yet another shot at reducing our freedoms in the name of "security."  One really needs to ask, why would Pelosi go to Taiwan right now?  And, who has asked her to go?  Is this Biden's idea, or are other beneficiaries involved?
Russia & China Are "Planning Behind the Scenes" Ahead of the Invasion of Ukraine. China Is Attempting to Figure Out What Its Next Move Will Be on Taiwan. HNewsWire HNewsWire:Would China really commit to an impromptu war with Taiwan over Nancy Pelosi, a person who amounts to nothing more than a political smudge in the…
Hnewswire-Update: 3/24/22 @ 10:15 Am
As 13 Jets Violate Taiwan Airspace, China Declares That "No One and No Force" Will Be Able to Stop It From Annexing Taiwan
With an eye on the events in Ukraine, China issued another warning over the weekend that was obviously intended at Washington as well as its important regional allies like Australia, saying that any country that supports Taiwan militarily would face "the harshest consequences."
According to China's Ministry of National Defense, "no one and no force" could ever prevent the Chinese military from putting Taiwan under Beijing's rule if it so desired. "The rant was delivered a day after Chinese President Xi Jinping participated in diplomatic meetings with Australia in an effort to mend international ties," Sky News reports. Speaking about Russia's conflict in Ukraine, and the issue of Western-led sanctions in Beijing's perspective. ..
Sullivan will be disappointed if he believes he can convince China to join sanctions against Russia. https://t.co/gEgIVKJWca
— Hu Xijin (@HuXijin GT) posted on March 13, 2022.
The declaration was made in response to Australia's defense minister, Peter Dutton, who said that his nation is prepared to do "everything we can" to stop Chinese aggression against Taiwan. It also comes after Taiwan recently approved an additional $8.6 billion in military expenditure over the next half-decade. Much of the money will apparently go toward improving the island's missile defenses.
On Monday, 13 Chinese PLA aircraft violated Taiwan's air defense identification zone, which has been a weekly – and even daily – occurrence.
However, as Reuters points out, "Taiwan is presently on high alert owing to suspicions China would exploit Russia's invasion of Ukraine to launch a similar military operation on the island, even though Taipei's administration has not detected any unusual Chinese moves."
In reaction to such PLA aviation drills near the island, Taiwan's air force is often scrambled. A Taiwanese Mirage 2000 fighter plane fell into the water on Monday following what was described as a "normal combat training exercise."
Taiwan's Ministry of National Defense: Mirage 2000-5 in the foreground, AIDC F-CK-1 IDF in the rear.
According to information obtained from Taipei sources:
The lone pilot took off from Taitung Air Base at 10:18 a.m. Monday and reported a technical issue about an hour later, according to a Taiwan Air Force statement. The pilot successfully ejected and was recovered about 10 nautical miles south of the base.
According to Taiwan's China News Agency, air force officials subsequently informed reporters that the country's fleet of Mirage 2000 fighter planes will be grounded for inspections.
It's the second Taiwanese air force mishap this year, after an F-16V fighter went into the water during a similar routine training in January. In the last case, the pilot was reported deceased, and 140 flights were briefly grounded while an inquiry was conducted.
HNewsWire- Update: 2/26/22 @ 6:15 PM According to two MPs, Moscow and Beijing have been keeping each other up to date on their intentions in the run-up to the Ukraine strike.
At the Conservative Political Action Conference (CPAC) on Feb. 25, Rep. Ken Buck (R-Colo.) told Epoch-TV's "China Insider" show that "I think they have cooperated and I think China is in a better position letting Russia go first, to analyze."
On June 14, 2019, Russian President Vladimir Putin and Chinese President Xi Jinping stroll through Bishkek as they attend a meeting of the Shanghai Cooperation Organization (SCO) Council of Heads of State.
China is attempting to measure its next actions on Taiwan, the self-ruled island that the Chinese Communist Party claims as its own territory and has long vowed to bring under its control, if necessary by force.
During an interview in Orlando, Florida, the politician stated, "China has designs on Taiwan." "They also want to observe if the international community imposes genuine sanctions on Russia, how much it costs Russians, and how strong the willpower is to prevent an aggressive nation from gaining more land."
Rep. Steve Chabot (R-Ohio) shared this viewpoint.
He cited Russian President Vladimir Putin's meeting with Chinese President Xi Jinping on the opening day of the Beijing Olympics three weeks ago, which resulted in the two nations creating a "no boundaries" alliance.
At the CPAC event, he told NTD, an offshoot of The Epoch Times, that "they've been conspiring behind the scenes."
One of the topics covered during "in-depth conversations" between the two countries' foreign ministers a day before the Xi-Putin meeting was Ukraine. Moscow also "reaffirms its support" for Beijing's assertion that Taiwan is a part of China, according to the Kremlin statement.
Since Russia's invasion of Ukraine, the Chinese foreign ministry has been bombarded with queries about whether Xi knew about the plot ahead of time and even offered Putin "his support," but authorities have refrained from responding directly.
On Thursday, Hua Chunying, a spokesperson for Russia, told reporters, "Russia is an autonomous large country."
When questioned if the timing of the attack, just days after the Beijing Olympics ended, was coincidence, she accused the reporter of having a "rich" imagination.
'Distraction'
According to Buck, the escalating Ukraine situation is a bonanza for Beijing. A military war would divert focus away from the US-China rivalry, giving Beijing an opening to exploit.
"We won't be able to accomplish what we want or need to do in the Pacific if the US starts pouring troops into Europe to defend Europe and do our share as a NATO ally," Buck said.
He went on to say, "It acts as a diversion."
"From China's perspective, it's a manner of siphoning off resources that could be utilized elsewhere," the congressman explained. "China is most concerned in ensuring that this continues, and that Russia continues to pose a danger to the Baltics, Poland, Hungary, and other European nations."
On February 25, 2022, a group of Slavic individuals residing in Taiwan hold banners in Taipei to condemn Russia's military invasion of Ukraine.
Beijing has avoided calling Russia's war on Ukraine an invasion so far, but it has stated that it respects "all countries' sovereignty and territorial integrity," an implicit allusion to its stance that Taiwan is a part of China.
While the US is not prepared to fight Russia on the ground over Ukraine, the stakes are different in Taiwan, according to Buck.
He asserted that "the will to preserve Taiwan is larger than the will to defend Ukraine."
"The concept that China and the way they have abused trade deals, stolen intellectual property, made themselves a military force in recent years, and attempted to disrupt shipping routes that are essential for commerce is different," he added.
"Taiwan is in a situation that might have an influence on our capacity to trade with Japan, Korea, and other neighbors," he continued. "And to truly enable China to meddle in the affairs of important trading partners... "I don't believe the US wants it to happen."
An overwhelming majority of Americans, according to a January survey by the Trafalgar Group, oppose deploying soldiers or military equipment to Ukraine in the event of a Russian invasion. Merely 15% of those questioned agreed that the US should supply soldiers, while 30% said that it should only give guns and other supplies.
On Jan. 7, 2022, Taiwan troops pose next to the domestically manufactured corvette class vessel Tuo Chiang (R) during an exercise in Keelung, Taiwan.
In the case of a mainland Chinese invasion, however, 58 percent of those questioned say that US military capabilities should be utilized to protect Taiwan.
Both congressmen agreed that tougher action by the US is needed to prevent China from following Russia's lead.
"It's absolutely critical that they [Beijing] realize that attacking [Taiwan] will result in a serious military confrontation with the United States," Chabot said, calling on Washington to abandon its long-standing policy of strategic ambiguity, in which the US remains deliberately vague on whether it would defend Taiwan in the event of a Chinese invasion.
"China is not at all cooperative," Chabot remarked. "But it's not surprising, given that Russia and China are the world's two main adversaries right now... the worst of the terrible actors are Putin and Xi—Russia and China."
While the well-known state-linked English language pundit is notorious for mocking the West and criticizing US policies in Taiwan and the South China Sea in general, he also frequently reflects the views of top CCP leaders in Beijing.
Did he just warn the West that China is preparing to invade Taiwan at a "perfect storm" moment when everyone's attention is focused on the Ukraine conflict? Did Putin just create a precedent for Chinese military intervention in the near future?
Taiwan was fast to release an official statement denouncing Russia's early morning attack on Ukraine. At a sensitive time when Beijing continues to see Taiwan as its own territory, foreign ministry spokeswoman Joanne Ou criticized the infringement on Ukraine's sovereignty.
"Gunfire has hit Ukrainian cities like Kyiv, raising concerns of a full-scale conflict between Russia and Ukraine," she warned. "We urge all parties to preserve Ukraine's sovereignty and territorial integrity, and to reject the use of violence or force to alter the current situation."
At the same time, China's first reaction was notable for failing to criticize the invasion, with the Chinese foreign ministry urging for "control" on all sides - until eventually criticizing the US for "fueling fire" in the escalation of tensions.
TaiwanNews.com provided this illustrative file picture.
According to a transcript of a long news conference in Beijing, the ministry spokeswoman repeatedly refused to accept Russia's "invasion" of a sovereign country:
Hua Chunying, the Ministry of Foreign Affairs' spokesman and Assistant Minister of Foreign Affairs, avoided more than 11 questions about Russia's actions in Ukraine during a more than 90-minute briefing. They included frequent questions about whether Russia's actions would be considered an invasion and if they violated Ukraine's territorial integrity by Beijing.
Hua went on to say that China will start purchasing Russian wheat, which might help Russia cope with Western sanctions.
She described the situation as "extremely difficult," while demanding that genuine "security concerns of all parties" be addressed, implying that China takes Moscow's opposition of NATO expansion very seriously.
The following is an excerpt from the conversation with reporters:
"Why are you preoccupied with this question?" Hua said reporters after being asked whether China viewed Russia's efforts an invasion.
"You may inquire with the American side. They continue to stoke the fires... You might inquire about their preparations to put out the fire."
Meanwhile, while the world's attention is focused on Ukraine and Putin's "shock and awe" battle there, Taiwan's air force dispatched fighter jets to warn off nine Chinese PLA planes that entered its air defense identification zone on Thursday.
While Chinese aircraft visiting the region off the island's south coast is nothing new, and has been happening on a weekly basis for more than a year, it has sparked fear that China would follow Putin's lead and launch its own swift overwhelming attack. This comes after the Communist Party's long-awaited capture of Hong Kong through local stooges.
Putin: Keep You're Eye On Me, China Moves Next!
SRH: Armies arrayed for battle
Let's look at a description of the end times in Daniel's book, which mentions a few of the nations participating.
Notice what Daniel 11:40-45 states in Daniel 12:1-3:
"At the end, the king of the South will attack him, and the king of the North will come against him like a whirlwind, with chariots, horsemen, and numerous ships, and he will enter the lands, overrun them, and pass through." He will also invade the Glorious Land, and many kingdoms will be toppled; but, Edom, Moab, and the powerful people of Ammon will escape his grasp.
"He will reach forth his hand against the nations, and Egypt will not be spared." He will have control over Egypt's gold and silver riches, as well as all the country's valuables; the Libyans and Ethiopians will be right behind him. However, news from the east and north will disturb him, so he will strike forth with a vengeance, destroying and annihilating many. And he will pitch his royal tents between the oceans and the majestic holy mountain; but he will meet his end, and no one will be able to save him.
"At that time, Michael, the great prince who watches over your people's boys, will rise; and there will be a time of turmoil like there has never been since there was a country, even to that time." And at that time, all of your people who are listed in the book will be delivered. And many of those who slumber in the earth's dust will awaken, some to everlasting life, others to humiliation and eternal contempt."
Because some Bible interpreters feel this part is actually dealing about a period in the past, it's critical to put these final few lines in the context. However, as you can see, these occurrences are referring to the end days, from just before Jesus Christ comes until the resurrection of the dead upon His return (see 1 Corinthians 15:22-23; 1 Thessalonians 4:16), which has yet to occur.
So we have a glimpse of end-time conflict in this section, with one alliance led by a ruler known as "the king of the South," another known as "the king of the North," and then forces from "the east and the north" (or possibly "northeast," for which there is no equivalent Hebrew term) of the Holy Land that will eventually enter the fray.
A Thrilling Ride
Every once in awhile, a book comes across your path that is impossible to put down. A Long Journey Home is not a casual book that you read in a week or earmark to complete at a later date. Once you begin, cancel your schedule, put your phone on silent, find a quiet place where you cannot be disturbed, and complete the journey. Click Here to Purchase on Amazon.com!
Pharmaceuticals Home Made Pestilence Via Vaccines a.k.a Kill Shots: HNewsWire- Before arriving in San Francisco, the Ruby Princess, a Princess Cruises ship, reported a COVID-19 ...
Read More

→