Advisory: Be careful of what you read on social media. The algorithms used by these platforms have no regard for Biblical truth. They target your emotions to keep you engaged on their site so their advertisers can drop more ads. These platforms exist to enrich their stockholders. Consider God's promise to Believers in James 1:5, "If any of you lacks wisdom, you should ask God, who gives generously to all without finding fault, and it will be given to you."
They are tolerant of everything except dissenting values and opinions — meaning, of course, they are tolerant of nothing that matters, "only themselves"…
In yet another stunning statement from the Director-General of the World Health Organization, up is down, war is peace, and caution is dangerous.
Having once again earlier denied that the novel coronavirus is a 'pandemic', saying instead that it's an epidemic with "multiple foci," and with people dropping down dead on the streets in China (and being forced into ambulances), WHO Director-General Tedros reiterated his previous stunning praise for China's "forceful measures" to halt the spread of the virus.
However, a member of the World Health Organization's emergency committee on coronavirus has accused China of not reporting cases fast enough in the early stages of the outbreak last month, raising fresh questions about Beijing's response to the health emergency. John Mackenzie, emeritus professor at Curtin University, said it defied logic that there was no increase in new cases at the same time that Chinese officials were holding local political meetings in January.
"There must have been more cases happening that we weren't being told about. I think they tried to keep the figures quiet for a while because of some major meeting they had in Wuhan but I think there was a period of very poor reporting, or very poor communication," he said, calling Beijing's response "reprehensible".

"I think [China] were very quick to let WHO know . . . about it being a novel disease, they were very quick in being able to isolate the virus and share the genome sequence but I think on some of the more government public health type issues, they have been rather recalcitrant."
Additionally, Tedros appeared to blast the rest of the world, advising countries NOT to impose travel or trade restrictions on China, saying that such measures can cause "fear and stigma."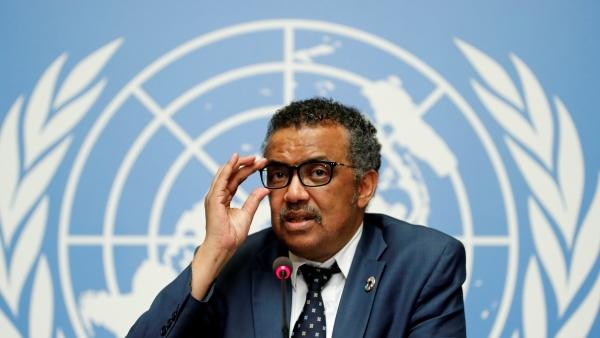 This is happening at the same time as China is blocking travel to Macau and enforcing martial law almost nationwide.
Since when did the WHO not err on the side of caution? This is stunningly irresponsible advice.
We are reminded of Peak Prosperity's Chris Martenson's comments that WHO appears to be prioritizing money over human life.
The W.H.O. then proceeded to downplay the risk to public health and took pains to make it clear it doesn't recommend placing restrictions on global trade & travel at this time. What?!? When we may be in dealing with a viral outbreak as (or more!) virulent than the Spanish Flu? (aka The Great Influenza)
Folks, this is nothing less than a political decision to keep business/commerce flowing without regard to public health. The W.H.O. has chosen money over people's lives.
StevieRay Hansen
Editor, HNewsWire.com
Demon Virus
Asked about the virus while traveling abroad last week, Trump said: "We have it totally under control". In a separate Twitter posting, he offered reassurance but scant detail for his confidence. By Associated Press Updated On: 05:53 PST, Jan 31, 2020
WASHINGTON: Wuhan coronavirus: Donald Trump says deadly outbreak 'very well under control' as WHO declares a global emergency. President Donald Trump regaled a friendly New Jersey campaign crowd with his thoughts about impeachment, the economy, the border wall, local politics and much more.
But he was conspicuously quiet on January 28 about one big issue keeping much of the globe on pins and needles: the spread of a deadly new type of coronavirus. It has killed more than 170 people in China, sickened thousands more there and led to a handful of confirmed cases in the US, including the first US case of person-to-person transmission reported on by health officials. The State Department on January 30 advised all US citizens against traveling to China.
Trump, a self-described germaphobe, generally has discussed the virus in broad terms, but he offered some of his most extensive comments on the issue to date during an appearance on January 30 at a Michigan manufacturing plant. "Hopefully, it won't be as bad as some people think it could be, but we're working very closely with them (Chinese) and with a lot of other people and a lot of other countries, he said. "We think we have it very well under control."
The Birth Pains Are Growing Stronger….
One of the signs of ruling class collapse is when they can no longer enforce the rules that maintain them as a ruling class. When the Romans started making exceptions to republican governance, it was a matter of time before someone simply decided the rules no longer applied to them. Perhaps the robot historians will consider Obama our Marius or Sulla. Maybe that person is in the near future. Either way, the rule of law is over and what comes next is the rule of men.
"Man will ultimately be governed by God or by tyrants." as in Nancy Pelosi (D-San Fran-feces)
Our government has been overthrown. As evidenced by Trump's capitulation on the border, his recent servitude to the GMO industry and his acquiescence to the warmongers, our President has been compromised. Our liberties are being eliminated one by one. Gun confiscation is next. The Constitution is gasping its last breaths. Our borders are destroyed and our culture has been turned upside down by every perversion known to man.
The watchman does not confuse truth with consensus. The Watchman does not confuse God's word with the word of those who happen to hold power at present, or with the opinion of the majority. This is because powerholders and the majority can fall victim to a lying spirit-and this means a power that actually seizes the majority of experts, the political leadership, and the public.
Everything is right on schedule and, now, the time is come to remove one of the final obstacles standing in the way of a New World Order: The United States Constitution – even if, over the course of many decades, it has already been greatly diminished by the B.E.A.S.T. system; or, more specifically, Bullshit Emerging As Strategic Totalitarianism (B.E.A.S.T.).
They are tolerant of everything except dissenting values and opinions — meaning, of course, they are tolerant of nothing that matters, only themselves."
The Watchman does not confuse truth with consensus. The watchman does not confuse God's word with the word of those who happen to hold power at present, or with the opinion of the majority. This is because powerholders and the majority can fall victim to a lying spirit-and; this means a power that seizes the majority of experts, the political leadership, and the public.StevieRay Hansen
If you have a news scoop or an interesting story for us, please reach out at [email protected]
Coronavirus, WHO Chief, biblical truth, tribulation, antichrist, B.E.A.S.T, tribulation, demon virus, CDC, WHO, end times, Electronic Prison, Birth Pains
The Land of the Free doesn't give a rat's-arse how they are perceived anymore.
The 127 Faith Foundation: We do not solicit donations from "those on disability, on a fixed income, or those who cannot afford to give." Please Pray!
Or, make checks payable to:
The 127 Faith Foundation
PO Box 127
Pontotoc, TX 76869
The number of Orphans aging out of Child Protective Custody has grown at an alarming rate. The 127 Faith Foundation receives many requests each week to house them at our ranch. Our prayer is that the good people of our country will step up to the challenge and offer financial support for "the least among us." We need your help! StevieRay Hansen, Founder, The 127 Faith Foundation
We make every effort to acknowledge sources used in our news articles. In a few cases, the sources were lost due to a technological glitch. If you believe we have not given sufficient credit for your source material, please contact us, and we will be more than happy to link to your article.