Advisory: Be careful of what you read on social media. The algorithms used by these platforms have no regard for Biblical truth. They target your emotions to keep you engaged on their site so their advertisers can drop more ads. These platforms exist to enrich their stockholders. Consider God's promise to Believers in James 1:5, "If any of you lacks wisdom, you should ask God, who gives generously to all without finding fault, and it will be given to you."
The truth is that all of the warnings of alleged 'conspiracy theorists' have turned out to be correct The word translated "pestilence" is often translated as "plague" or "disaster" …
Asked about the virus while traveling abroad last week, Trump said: "We have it totally under control". In a separate Twitter posting, he offered reassurance but scant detail for his confidence. Really, Mr.Trump?
Update (1140AM ET): The number of confirmed coronavirus cases in the US is starting to increase at a concerning pace, and moments ago, the CDC confirmed in a telebriefing that there are 11 cases in the US.
U.S. CDC CONFIRMS 11 CONFIRMED CORONAVIRUS CASES IN UNITED STATES – TELEBRIEFING
More ominously, the CDC said that the new Coronavirus case is close contact with other California cases, and was spread person-to-person.
And while traders were not happy with this latest confirmation that the disease is anything but contained, it is what the CDC aid said next that sent stocks and yields both sliding:
CDC: PREPARING AS IF CORONAVIRUS WERE THE NEXT PANDEMIC
Judging by the market reaction, it appears that algos are not fans of that word.
Finally, the CDC also said at its briefing that it has added four more airports for the screening of Coronavirus.
Late last night, we reported that the death toll from the coronavirus outbreak had surpassed 360 as more suspected cases popped up in New York. Though no deaths have been reported overnight, Chinese officials warned yesterday that many more cases and deaths would be confirmed on Sunday/Monday.
In the meantime, Chinese markets finally faced their inevitable reckoning. Despite the best efforts of the PBOC and the government, the Chinese market bloodbath was about as bad as expected.
But over in the US, investors ignored the latest news out of China and have seemingly bought into the WHO's optimistic message and China's accusations about an 'alarmist' Washington.
This is surprising since anybody who has been paying close attention to the situation in China should know that this is far from the truth.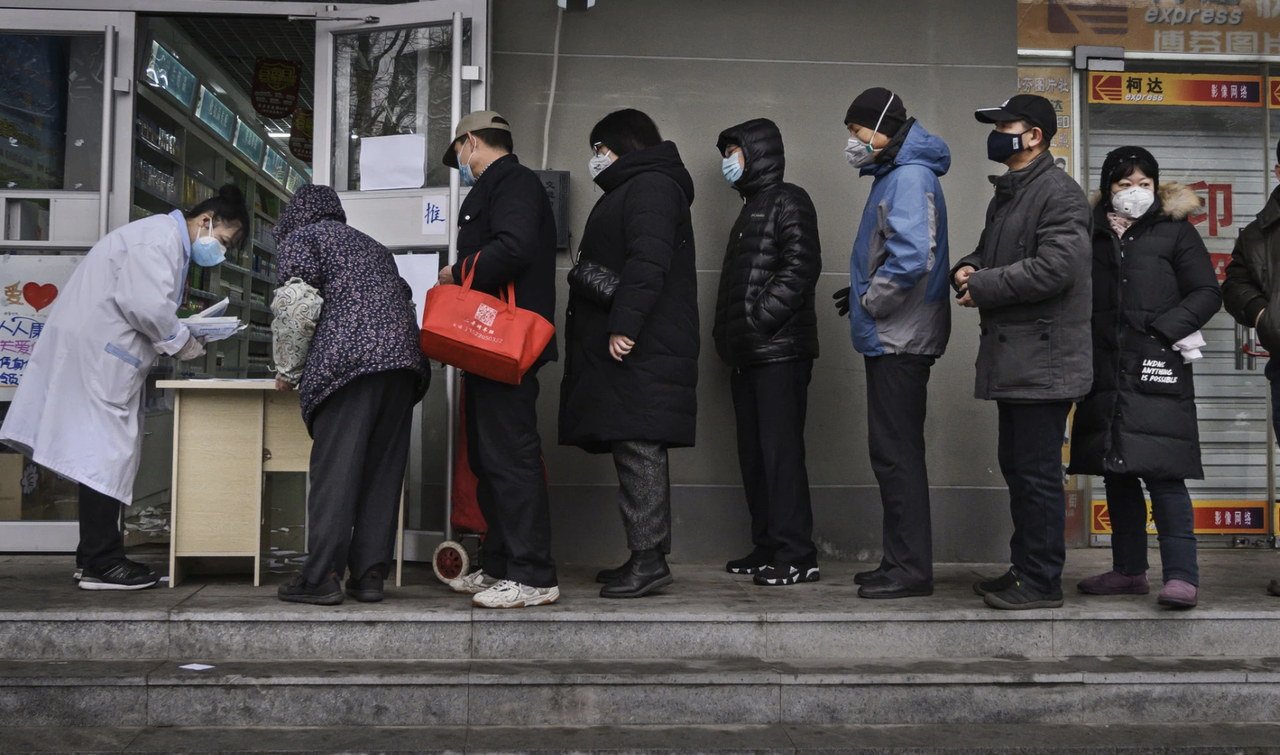 Late last night, while most of America was watching the Superbowl, the New York Times published a scathing story recounting what it's like on the ground in Wuhan right now. The truth is that all of the warnings of alleged 'conspiracy theorists' have more or less turned out to be correct. Supply shortages are still making it impossible for China to diagnose every case of the virus.
Ms. An, 67, needed an official diagnosis from a hospital to qualify for treatment, but the one she and her son raced to last week had no space, even to test her. The next hospital they were referred to here in Wuhan, the city of 11 million people at the center of the outbreak, was full, too, they said. They finally got an intravenous drip for Ms. An's fever, but that was all.

Since then, Ms. An has quarantined herself at home. She and her son eat separately, wear masks at home and are constantly disinfecting their apartment. Ms. An's health is declining rapidly, and even keeping water down is a struggle.

"I can't let my mom die at home," said her son, He Jun. "Every day I want to cry, but when I cry there are no tears. There is no hope."
Chilling stuff. And once again, doctors and health-care workers are leveraging their newfound immunity to shedding a light on the government's brutality.
Last month, the government put Wuhan in a virtual lockdown, sealing off the city and banning most public transportation and private cars from its streets in a desperate effort to contain the outbreak. Now, many residents say it is nearly impossible to get the health care they need to treat – or even diagnose – the coronavirus.

Expressing exasperation, doctors say there is a shortage of testing kits and other medical supplies, and it is not clear why more are not available. The ban on transportation means some residents have to walk for hours to get to hospitals – if they are well enough to make the journey. Layers of bureaucracy stand between residents and help. And the long lines outside hospitals for testing and treatment suggest that the outbreak is spreading far beyond the official count of cases.
For many sickened residents, their best hope is the new coronavirus hospital that has just been finished (a second hospital is also being built).
Those who do make it to the hospital say they are squeezed together for hours in waiting rooms, where infections are easily spread. But the shortages have meant that many are ultimately turned away and sent home to self-quarantine, potentially compounding the outbreak by exposing their families.

Many doctors and residents are putting their hopes on the two new coronavirus hospitals that China has been racing to build in Wuhan in just a matter of days. One of them spans about eight acres, has 1,000 beds and is scheduled to open on Monday. The government says 1,400 military medical workers will be deployed to work there, potentially helping with the shortage of health professionals on hand to combat the outbreak.
Ironically, the hospital, which was supposed to open on Monday, is still undergoing 'finishing touches', and when masses of sick patients showed up at the gates on Monday morning, construction workers were forced to turn them away.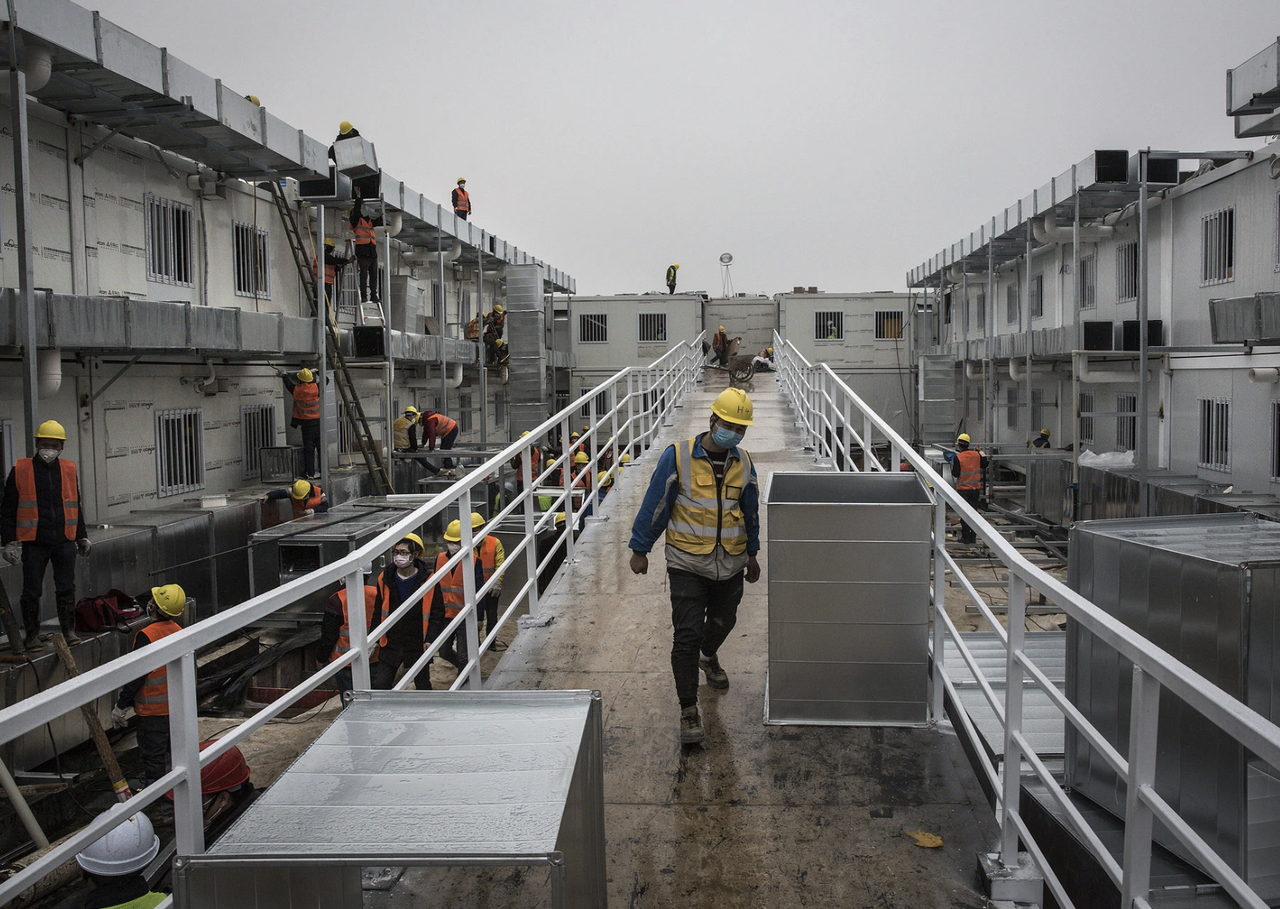 More than a week into the quarantine/lockdown, millions of residents fear the virus has spread much further than the government realizes.
On Sunday, city officials announced plans to set up quarantine stations around Wuhan for people with symptoms of pneumonia and close contacts among coronavirus patients. But just over a week into the lockdown, many residents believe the virus has already spread much further than the official numbers suggest.

"The situation that we've seen is much worse than what has been officially reported," Long Jian, 32, said outside a hospital where his elderly father was being treated. Mr. Long said his father had to go to six hospitals and wait seven days before he could even be tested for the coronavirus.
But after Monday's market shellacking, we suspect Beijing will be diverting more resources away from meeting critical shortages of medical supplies to focus instead on arresting short sellers and locking up 'fearmongers', like the doctors who were arrested by local authorities in December for trying to warn the public about the outbreak.
See the inside of huoshenshan hospital] yesterday, Wuhan huoshenshan hospital was officially delivered.
StevieRay Hansen
Editor, HNewsWire.com
Demon Virus
Asked about the virus while traveling abroad last week, Trump said: "We have it totally under control". In a separate Twitter posting, he offered reassurance but scant detail for his confidence.
By Associated Press
Updated On: 05:53 PST, Jan 31, 2020
WASHINGTON: Wuhan coronavirus: Donald Trump says deadly outbreak 'very well under control' as WHO declares a global emergency. President Donald Trump regaled a friendly New Jersey campaign crowd with his thoughts about impeachment, the economy, the border wall, local politics and much more.
But he was conspicuously quiet on January 28 about one big issue keeping much of the globe on pins and needles: the spread of a deadly new type of coronavirus. It has killed more than 170 people in China, sickened thousands more there and led to a handful of confirmed cases in the US, including the first US case of person-to-person transmission reported on by health officials. The State Department on January 30 advised all US citizens against traveling to China.
Trump, a self-described germaphobe, generally has discussed the virus in broad terms, but he offered some of his most extensive comments on the issue to date during an appearance on January 30 at a Michigan manufacturing plant. "Hopefully, it won't be as bad as some people think it could be, but we're working very closely with them (Chinese) and with a lot of other people and a lot of other countries, he said. "We think we have it very well under control."
The Birth Pains Are Growing Stronger….
One of the signs of ruling class collapse is when they can no longer enforce the rules that maintain them as a ruling class. When the Romans started making exceptions to republican governance, it was a matter of time before someone simply decided the rules no longer applied to them. Perhaps the robot historians will consider Obama our Marius or Sulla. Maybe that person is in the near future. Either way, the rule of law is over and what comes next is the rule of men.
"Man will ultimately be governed by God or by tyrants." as in Nancy Pelosi (D-San Fran-feces)
Our government has been overthrown. As evidenced by Trump's capitulation on the border, his recent servitude to the GMO industry and his acquiescence to the warmongers, our President has been compromised. Our liberties are being eliminated one by one. Gun confiscation is next. The Constitution is gasping its last breaths. Our borders are destroyed and our culture has been turned upside down by every perversion known to man.
The watchman does not confuse truth with consensus. The Watchman does not confuse God's word with the word of those who happen to hold power at present, or with the opinion of the majority. This is because powerholders and the majority can fall victim to a lying spirit-and this means a power that actually seizes the majority of experts, the political leadership, and the public.
Everything is right on schedule and, now, the time is come to remove one of the final obstacles standing in the way of a New World Order: The United States Constitution – even if, over the course of many decades, it has already been greatly diminished by the B.E.A.S.T. system; or, more specifically, Bullshit Emerging As Strategic Totalitarianism (B.E.A.S.T.).
They are tolerant of everything except dissenting values and opinions — meaning, of course, they are tolerant of nothing that matters, only themselves."
Let Me Make This Abundantly Clear. (I Am Apolitical) While I Have a General Distaste for Electric Cars and Politicians No Matter the Party They Belong To, I Am Unashamedly Politically a Bible Believing Conservative Christian. I Have a Severe Distrust of Government. I Believe It Is the Most Inefficient and Ineffective Way to Accomplish Most Things. While I Strongly Disagree with Liberals/Progressives and Conservative on Most Political Issues, and While I Believe Liberals/Progressives and Most Politicians Are Misguided and Naive About What Big Government Will Eventually Result In, I Strive to Not Question Their Motives. At the Same Time, I Find Myself in Agreement with Conservative on Some Issues, and I Do Not Believe Electing Republicans Is the Answer to Everything. Sadly, the Main Difference Between Republicans and Democrats Is How Quickly They Want to Drive the Car Towards the Cliff. Put, I Do Not Believe the Government Is the Solution for Everything. I Do Not Place Any Faith, Trust, or Hope in Any Politicians to Fix What Is Wrong with the World. "Come Lord Jesus!" (Revelation 22:20)
The Watchman does not confuse truth with consensus. The watchman does not confuse God's word with the word of those who happen to hold power at present, or with the opinion of the majority. This is because powerholders and the majority can fall victim to a lying spirit-and; this means a power that seizes the majority of experts, the political leadership, and the public.StevieRay Hansen
If you have a news scoop or an interesting story for us, please reach out at [email protected]
CDC, Corona virus, Coronavirus biblical truth, tribulation, antichrist, B.E.A.S.T, tribulation, demon virus, WHO, end times, Electronic Prison, Birth Pains, MSM, High-Tech & Reddit Engaged in Heavy Censorship of Truthful News Sources, Leftists, President Trump, Project Veritas, revolution, SHTF, Civil War
The Land of the Free doesn't give a rat's-arse how they are perceived anymore.
The 127 Faith Foundation: We do not solicit donations from "those on disability, on a fixed income, or those who cannot afford to give." Please Pray!
Or, make checks payable to:
The 127 Faith Foundation
PO Box 127
Pontotoc, TX 76869
The number of Orphans aging out of Child Protective Custody has grown at an alarming rate. The 127 Faith Foundation receives many requests each week to house them at our ranch. Our prayer is that the good people of our country will step up to the challenge and offer financial support for "the least among us." We need your help! StevieRay Hansen, Founder, The 127 Faith Foundation
HNewsWire: Attorney Travis Miller obtained some of the missives in 2021 and published screenshots of them. At the time, the CDC didn't dispute their authenticity.…
Read More
We make every effort to acknowledge sources used in our news articles. In a few cases, the sources were lost due to a technological glitch. If you believe we have not given sufficient credit for your source material, please contact us, and we will be more than happy to link to your article.