Advisory: Be careful of what you read on social media. The algorithms used by these platforms have no regard for Biblical truth. They target your emotions to keep you engaged on their site so their advertisers can drop more ads. These platforms exist to enrich their stockholders. Consider God's promise to Believers in James 1:5, "If any of you lacks wisdom, you should ask God, who gives generously to all without finding fault, and it will be given to you."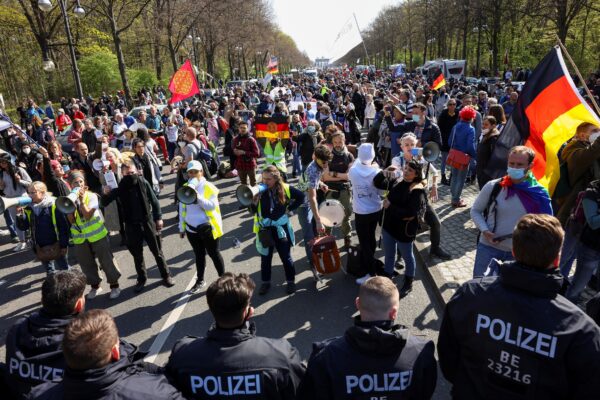 Germany's leadership on Thursday announced it will lock down unvaccinated people as top officials also signaled they would back plans for mandatory vaccinations in the coming months.
German Chancellor Angela Merkel said that individuals who aren't vaccinated for COVID-19 will be excluded from nonessential stores, cultural, and recreational venues. The Bundestag, Germany's Parliament, will also consider a general vaccination mandate, she added.
"The situation is our country is serious," Merkel told reporters, claiming the new measures are an "act of national solidarity."
The German chancellor said masks will be required in schools, and there will be restrictions on private meetings. Vaccinated people, Merkel added, will lose their vaccination status nine months after receiving their last shot.
"We have understood that the situation is very serious and that we want to take further measures in addition to those already taken," Merkel, who is slated to leave office soon, told reporters. "The fourth wave must be broken and this has not yet been achieved," she added.
Numerous studies have shown that fully vaccinated people still have the ability to transmit and contract COVID-19, although some health officials have said that vaccines can protect better against severe symptoms, hospitalization, and death. On Thursday, the Minnesota Department of Health confirmed that the second U.S. case of the Omicron COVID-19 variant was a fully vaccinated male.
Critics of vaccine passport systems, which have drawn weekly protests across Europe, have said they unjustly create a two-tiered society of vaccinated and unvaccinated people. Concerns have been raised about whether vaccine passports could be expanded to become a "social credit" system and if the mass collection of vaccination data could breach individual privacy rights.
In recent weeks, Austria and Greece also announced that vaccinations will be mandatory for everyone aged 60 and older. Those who refuse will face fines for each passing month, said the Greek government earlier this week.
Such rules, however, may be extended to other European Union countries, said European Union Commission President Ursula von der Leyen on Wednesday.
"Two or three years ago, I would never have thought to witness what we see right now, that we have this … pandemic, we have the vaccines, the life-saving vaccines, but they are not being used adequately everywhere," von der Leyen said, adding that EU authorities have to "potentially think about mandatory vaccination."
In her address, Merkel said that the mandatory vaccination measure would take effect in February 2022 and said she would vote in favor of the rule if she were still in Parliament.
According to Germany's health agency, about 68.7 percent of the country's population is fully vaccinated.
Last week, the United States issued a travel advisory for Germany due to the increasing number of COVID-19 cases in the country. The U.S. Centers for Disease Control and Prevention now considers Germany as "Level Four: Very High," and it called on Americans to avoid traveling there.
It's only a matter of time before the UN and the globalist elite makes eye contact with us American conservative Christians. I'd find it hard not to burst into laughter at the sight of a tyrannical globalist organization thinking they truly hold power over us. When it comes down to it, Jesus is my lord and savior and I fear no man. Matthew 10:28 says: "fear not them that kill the body, but are not able to kill the soul; but rather fear Him that is able to destroy both soul and body in hell."
These vaccine passports will be pushed onto America heavily by the UN and other globalist organizations once the two tier system is set in place. Nothing that these tyrants can say or do will convince self aware Christians to relinquish their faith in Christ. 1 Peter 4:12-14 says: "Beloved, do not be surprised at the fiery trial when it comes upon you to test you, as though something strange were happening to you. But rejoice insofar as you share Christ's sufferings, that you may also rejoice and be glad when his glory is revealed. If you are insulted for the name of Christ, you are blessed, because the Spirit of glory and of God rests upon you." Please stay inquisitive the word of God, and the world around you.
Source: EpochTimes
"The pandemic represents a rare but narrow window of opportunity to reflect, reimagine, and reset our world."

Klaus Schwab, Founder and Executive Chairman, World Economic Forum
The world economic forum most certainly does not have our best interest in mind, and plans to take advantage of the "window of opportunity" that the plandemic has provided for them. Above is a graph made by Klaus with seven points revolving around the goal. The Great Reset.
These seven points are in question:
Strengthening Regional Development.
Revitalizing Global Cooperation.
Developing Sustainable Business Models.
Restoring the Health of the Environment.
Redesigning Social Contracts, Skills and Jobs.
Shaping the Economic Recovery.
Harnessing the 4th Industrial Revolution.
As profoundly vague as some of these points are, that's good for Klaus. Because that means he can make up the rules as he goes. With broad strokes of totalitarianism, the perfect world can be manufactured in Klaus' mind.
Strengthening Regional Development
As i stated above, most of these are very vague and nothing seems to come up on the World Economic Forum's site when you search 'Strengthening Regional Development World Economic Forum'. However the United nations has a heavy PDF packet of information linked here detailing their intentions in 'Meeting the Challenges in an Era of Globalization by Strengthening Regional Development Cooperation'. That's the very long drawn out title of this packet. I'd advise anyone reading to look into this packet and note that there are obvious economic benefits to their plan. That has to happen so they can prop up their social constructs and new age social norms.
The great reset is a welcome recognition that this human tragedy be a wake up call. it is imperative that we reimagine, rebuild, redesign, reinvigorate, and rebalance our world. Rebalancing investment, harnessing science and technology, and advancing the transition to net zero emissions. All these are fundamental elements to the great reset, and are fundamental to building the future we need.

Antonio Guterres, Secretary-General of the United Nations
Revitalizing Global Cooperation
Once more, a vague mention of global cooperation. There is so much room for biblical prophecy to be fulfilled when Klaus brings world peace into the picture. Because technocracy isn't the common mans idea of a peaceful world. Only time will tell us what the WEF has in mind to instill global cooperation.
Developing Sustainable Business Models
The World Economic forum posted an article on its site named 'A business model for sustainability'. Which detailed how 'Business leaders must recognize that in global value chains, there is no way to outsource environmental or social responsibility. On the contrary, multinational companies can and must use their extended supply chains to drive change and improve the quality of life in the markets where they operate.' To drive it home, they brought in global emissions data projections for up to the mid century according to their plans.
Restoring The Health Of The Environment
Ultimately this rabbit-hole leads to technological symbiosis in which biology merges with technology. But Klaus doesn't want that point to be brought to the table. In the mean time, the concerns addressed by the WEF are more so targeted towards restoring the balance. Which could easily be done with the conscious and physical embrace of the 4th industrial revolution. We're already seeing that with the fundamental practice of MRNA technology as researchers have found ways to use modified mRNA to make advances in anti-aging research.
Redesigning Social Contracts, Skills and Jobs
Basically, this is the implication that we're going to see parallel infrastructure between physical reality, and the digital world. Both providing a new perspective on reality. The Adecco Group wrote an article backing the inevitable movement and detailed their high expectations in the quote below.
Discussing how the pandemic will impact our economies, Andrey Kostin, President and Chairman of the Management Board of Russia's VTB Bank, said that while we all have embraced digital tools as a quick fix, people will not want to live like this forever. He warned that too high expectations are currently pinned to digital companies, which could potentially lead to asset bubbles further down the road. Mr. Shanmugaratnam believes that the world will need to adjust to the new reality. The possible solution is some form of a hybrid economy that marries both reliance on digital tools and face-to-face interaction.
The next point is Shaping the Economic Recovery. But theres no reason for a header because it's merely the execution of all these plans that leads to the economic recovery in the first place. With that being said, it all ties back into the fourth industrial revolution. Klaus is very intent on ushering it in, so let's talk about it.
Harnessing The 4th Industrial Revolution
It's no surprise that someone would step up and attempt to harness a wildfire of technological innovation. Nor is it a surprise that people are wise enough to know it's not a good idea.The Fourth Industrial Revolution is a way of describing the blurring of boundaries between the physical, digital, and biological worlds. It's a fusion of advances in artificial intelligence (AI), robotics, the Internet of Things (IoT), 3D printing, genetic engineering, quantum computing, and other technologies.
It's the collective force behind many products and services that are fast becoming indispensable to modern life. Things like GPS systems that suggest the fastest route to a destination, voice-activated virtual assistants such as Apple's Siri, personalized Netflix recommendations, and Facebook's ability to recognize your face and tag you in a friend's photo.
So if you take this information into account, and watch American politics through the lense Klaus Schwab's intentions, you'll have a pretty wide frame of reference. It's not far fetched to say that a technocratic dystopia is just over the horizon. Stay inquisitive in the word of God, and the world around you.
HNewsWire Live Stream 24/7 News UpDates and World Events Go Live HNewsWire: By Frank Bergman March 19, 2023 New York's Democrat Governor Kathy Hochul……...
Read More
We make every effort to acknowledge sources used in our news articles. In a few cases, the sources were lost due to a technological glitch. If you believe we have not given sufficient credit for your source material, please contact us, and we will be more than happy to link to your article.