Advisory: Be careful of what you read on social media. The algorithms used by these platforms have no regard for Biblical truth. They target your emotions to keep you engaged on their site so their advertisers can drop more ads. These platforms exist to enrich their stockholders. Consider God's promise to Believers in James 1:5, "If any of you lacks wisdom, you should ask God, who gives generously to all without finding fault, and it will be given to you."
Who's In Charge at 1600 Pennsylvania Ave ?…
Summary:
Smithfield foods closes world's largest pork plant…
US, Europe see decline in new cases
China, Russia report concerning increases in new cases
China ends Gilead drug trial hailed as 'highly successful' a few days ago
Italian death toll passes 20k
South America, Africa see acceleration in new cases
Cali Gov. says he'll release plan to reopen economy tomorrow
Cuomo sees vaccine in 12-18 months
George Stephanopoulos tests positive for COVID-19
WHO says it will release new guidelines for countries restarting economies
New York deaths pass 10k
Cuomo reports another drop in hospitalizations
Florida case total passes 20k
Macron extends French lockdown until May 11
6 governors detail plan to work together to reopen states
Singapore reports record jump in new cases
UK's top scientific advisor warned against lifting lockdown
Global cases top 1.9M, deaths near 120k
2 NYPD detectives die from COVID-19
Senior Israeli rabbi succumbs to virus
EU competition regulator warns about risk of corporate takeovers from China
In Ecuador, police move to collect 800 bodies from a hard hit village
Trump likely to cut money for WHO
Iran reports 1,600+ new cases, 100+ deaths
Putin warns outbreak getting worse
Australia, New Zealand keep restrictions in place despite drop in new cases
Update (1520ET): Not content to let Cuomo and his fellow governors on the East Coast have all the fun, California Gov. Gavin Newsom said he'd release a plan on Tuesday outlining how he'll reopen his state. He said Oregon, Washington and California have developed a cooperative "framework" to get their local economies back on line.
Governors around country (including Texas Gov. Greg Abbott, who expressed impatience in delaying the reopening much longer over the weekend) have now committed to releasing plans for reopening their economies. If a few days pass, and those plans aren't out, that's not going to be great for the market's confidence.
Update (1455ET): Cuomo said that the state has acquired roughly 3k ventilators from private companies, many of them in China, before complaining about FEMA's refusal to buy ventilators and PPE and masks for the states, forcing them to source the items on their own.
He also complained about other federal rules, and insisted that if the Feds imposed guidelines on the states insisting on mass testing before reopening, he wouldn't be able to comply because "I can't purchase enough diagnostic tests."
* * *
Update (1415ET): A hastily organized press conference involving the governors from six northeastern states – NY, NJ, CT, RI, DE, RI, PA – is underway, as the group explain to the public how they will work together to cut costs and pool resources to battle the epidemic, and coordinate the difficult decision of reopening the regional economy.
Earlier, several governors insisted that they and they alone would decide when to reopen their states, and the briefing was apparently called after President Trump insisted he had the sole power to reopen the states – which many immediately rebuffed.
At the briefing, the governors' response was delivered by New Hampshire's Tom Wolfe.
"Since we had the responsibility of closing the state down…we have the responsibilioty for opening it up…you've got to get people healthy first before reopening the economy, or it's not going to work…we're almost ready to start moving on to the next sense which is moving back to some semblance of a new normal," said New Hampshire Gov. Tom Wolfe. "It was our responsibility to steer our way through these uncharted waters and it's our responsibility to steer our way back."
Watch the briefing live below:
HAPPENING NOW: Governors of Northeast states make announcement amid COVID-19 battle. https://www.pscp.tv/w/cWNPqDM3Mzg2fDFZcXhvUUxEYk1sR3ZTep0MyKgGRnEdofwX4IYOl99Aer0Eh2N3xLOPf8qunA== …ABC News @ABCHAPPENING NOW: Governors of Northeast states make announcement amid COVID-19 battle.pscp.tv2271:04 PM – Apr 13, 2020Twitter Ads info and privacy163 people are talking about this
RI Gov. Gina Raimondo said the governors are the ones who have "shown great leadership" in navigating this crisis, while the federal government procrastinated and failed to come up with a consistent, coherent plan.
All six governors pledged to form a regional task force designed to planning the reopening, each to include a public health official, an economic development official and each governors' chief of staff.
As far as when the guidelines would be ready, Gov. Cuomo said it would "have to be within weeks."
And, in what sounded like a direct rebuke to Mayor de Blasio, who tried to cancel NYC school until the end of the year, only for Cuomo to push back and reverse the order, Cuomo said re-starting business would be impossible without re-starting schools.
"We have one state…all areas need to reopen at the same time," Cuomo said.
French President Macron, meanwhile, said Monday night that he would extend the country's lockdown until May 11 as new cases and deaths continue to slide.
Portugal reported 349 new cases of coronavirus and 31 new deaths, for a total of 16,934 cases and 535 deaths. France reported 574 more coronavirus deaths over past 24 hours, raising its toll to 14,967. In Indonesia, which has already admitted to lying about confirmed cases, officials reported 316 new cases, bringing the total to 4,557.
Below, we noted comments from a WHO press briefing earlier where Dr. Tedros insisted that the organization remained on good terms with the US, even as President Trump prepares to pull funding.
The number of confirmed COVID-19 cases around the world has just passed 1.9 million, while the global death toll approaches 120k.
* * *
Update (1255ET): According to the New York Post, the head of the NYPD's detective union described the virus as an "invisible bullet" as two more detectives succumbed to the virus. Roughly one-fifth of NYPD officers have called out sick as many have been exposed to the virus, and many have gone on to develop symptoms and test positive.
The NYPD has lost 22 total employees so far. As of Sunday evening, 2,344 uniformed officers and 489 civilian members of the department had contracted the disease. Civilian employees have taken it the hardest, with 17 dying.
* * *
Update (1240ET): In keeping with the theme of East Asia experiencing the 'second wave' of the novel coronavirus outbreak already, Singapore's Health Ministry reported 386 new cases on Monday, the city's biggest daily jump, taking its total confirmed cases to 2,918. The city-state, which is under a partial lockdown, also reported its 9th death.
Many of the new cases have been linked to dormitory-style housing where migrant workers often stay, giving Singapore cause to follow China's lead and blame the rebound on foreigners, despite Singapore tightening travel restrictions 2 weeks ago on non-residents.
Meanwhile, Sky News reports that the UK's chief scientific adviser said that although the first signs of "flattening" in the UK, lifting lockdown too early would risk a 2nd wave and would be a "complete waste of everything everyone's done until now."
* * *
Update (1153ET): With much of the country on holiday, Italy's Civil Protection Service reported 566 new deaths on Monday, bringing its total to 20,465. Additionally, it reported another 3,153 cases, bringing its total to 159,516. Though Italy's death toll has finally passed 20k, the numbers released on Monday suggest that a slight jump in new deaths over the weekend was, in fact, a blip, and that Italy remains right around the peak.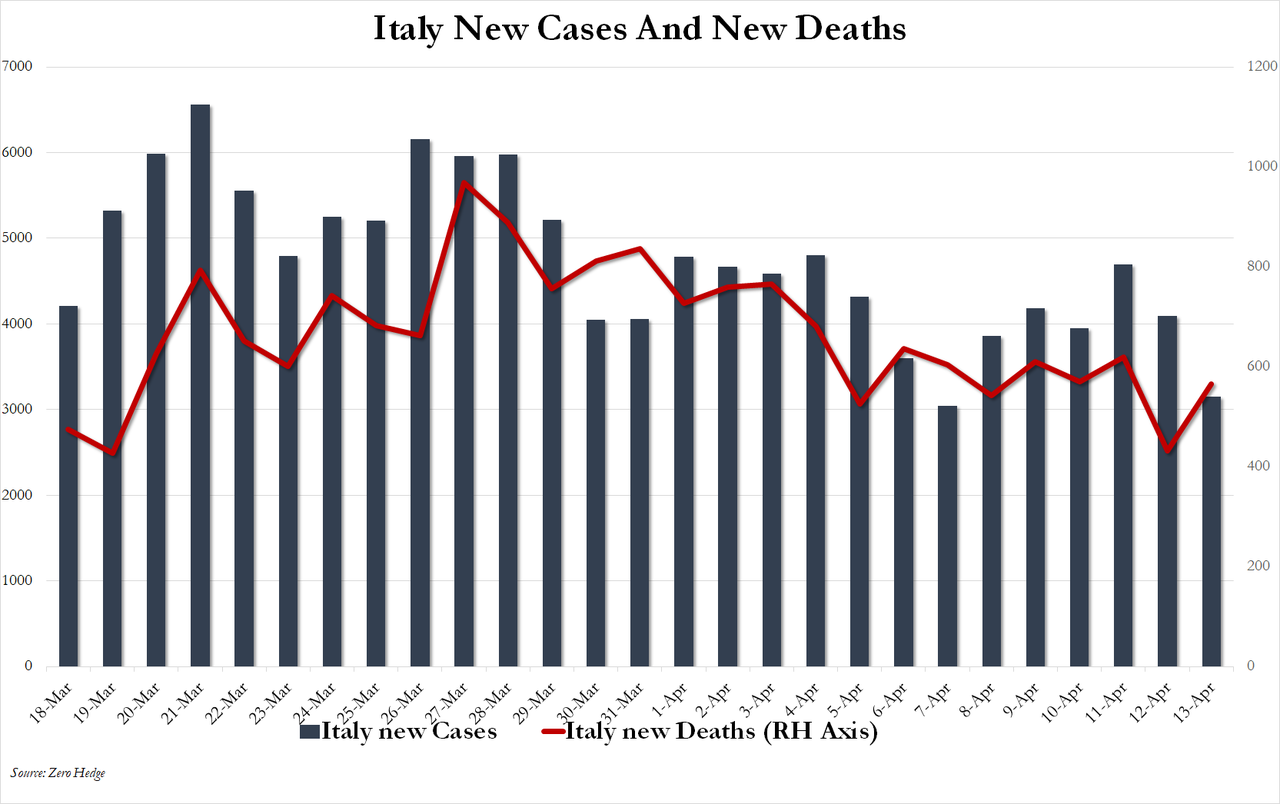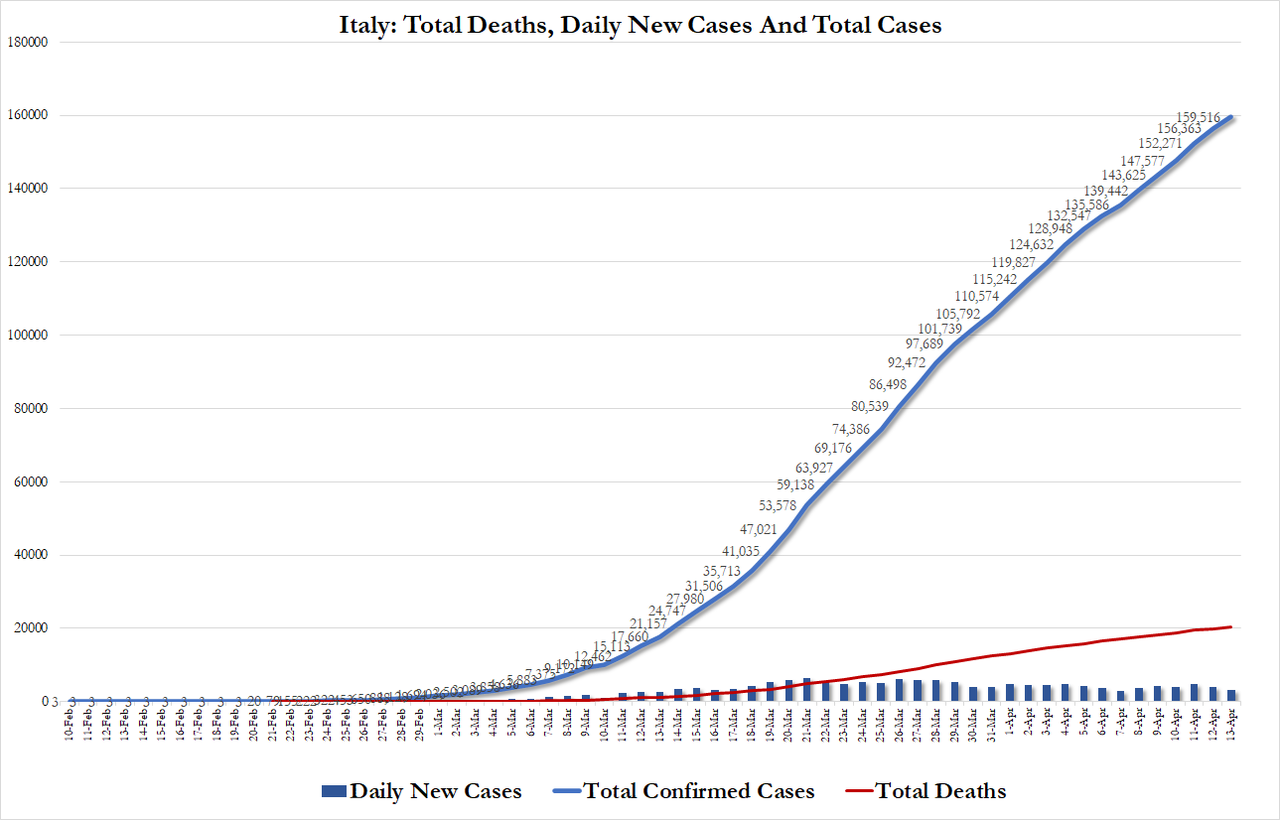 However, on Tuesday, Italy will follow Spain by starting to reopen its economy, as the fact finally sets in that governments simply can't afford to put off reopening longer than absolutely necessary. It's been almost a month, infections are slowing – it's time to get back to work.
But while the economic imperative is an unfortunate reality that, for many, represents a hobbsian choice between risking infection vs. risking everything else, the world will be watching closely as Italy, Spain – and now even Iran – start opening 'non-essential' businesses again.
* * *
Update (1153ET): Gov. Cuomo said later in his press conference that he sees a vaccine arriving for distribution among human patients in 12-18 months, a projection that hasn't changed in 2 months.
* * *
Update (1140ET): Following reports that President Trump was planning to yank US funding for the WHO, the organization announced on Monday that it would announce a new list of guidelines for the handful of countries – including China – that are beginning the process of reopening their economies.
The WHO also proposed that it buy goods in demand to fight against price gouging. One WHO doctor added that he expects things to remain things to stay like this for a while until a cure arrives. Dr. Tedros at one pointed added that he hoped US support for the organization would continue (because otherwise, he will become even more beholden to China, never a comfortable place to be in).
In an update on global research, the organization said that it is tracking more than 70 vaccines in development, with 3 already progressing to human trials.
Maenwhile, as Cuomo insisted New York was hitting a 'plateau', the situation in Florida has continued to worsen, with 1,045 new cases reported over the last 24 hours, bringing the state's total to 20,601.
* * *
Update (1120ET): As Andrew Cuomo begins his Monday briefing, New York State reported another slowdown in hospitalizations linked to COVID-19. As expected, he revealed that coronavirus deaths in the state had passed 10k, the highest in the US, and more deaths than many countries in Europe, including tripling Germany's just over 3k deaths.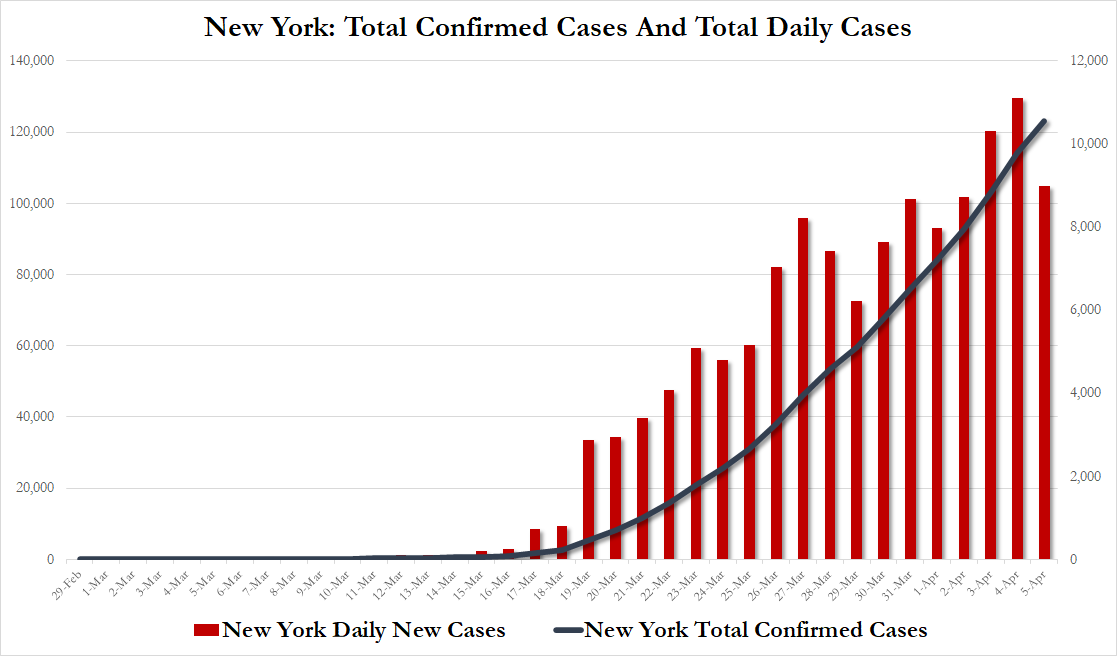 Cuomo insisted that the curve continued to flatten over the last 24 hours.
"Here's the good news, the curve continues to flatten…it appears that we have a plateau…it's flattening, the flattening of the curve. The increases slow down, and flatten out, over a period of time. If you look at the number of total admissions, that's definitely a flattening. Still going up a little bit…"
He also released new data for new patients, as well as patients moved into the ICU.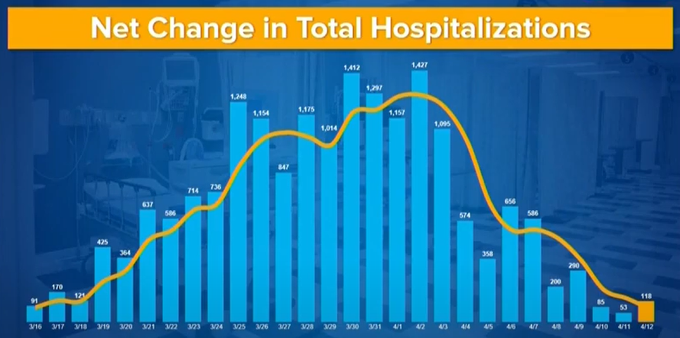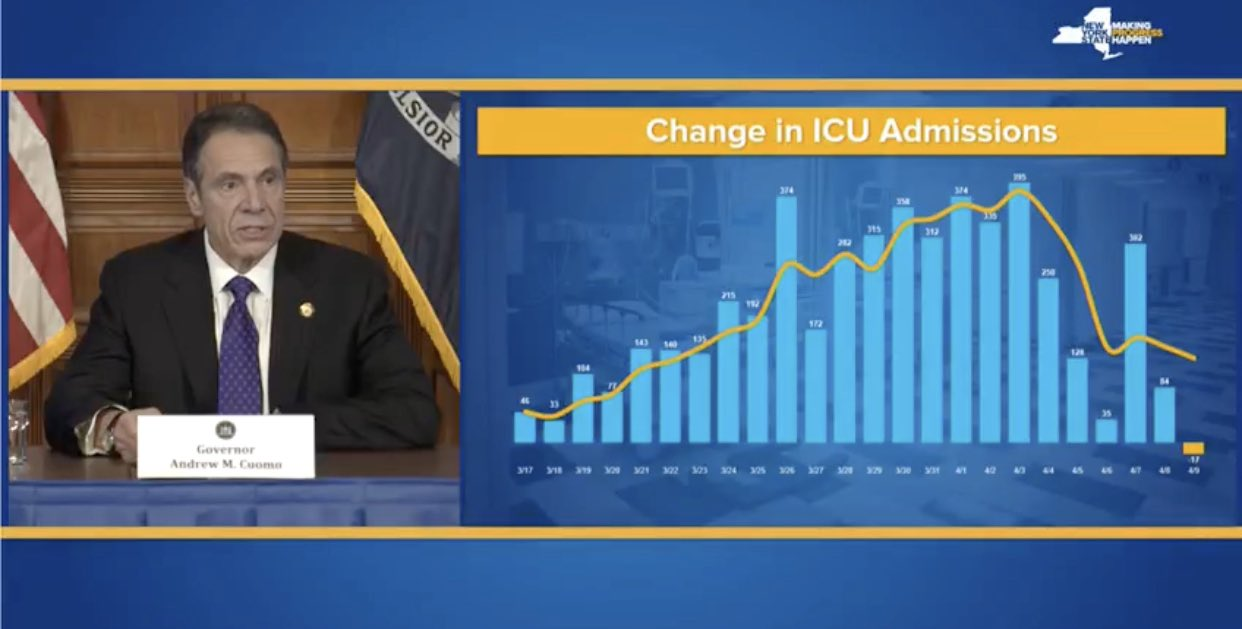 American health care, as we call it today, and for all its high-tech miracles, has evolved into one of the most atrocious rackets the world has ever seen. By racket, I mean an enterprise organized explicitly to make money dishonestly.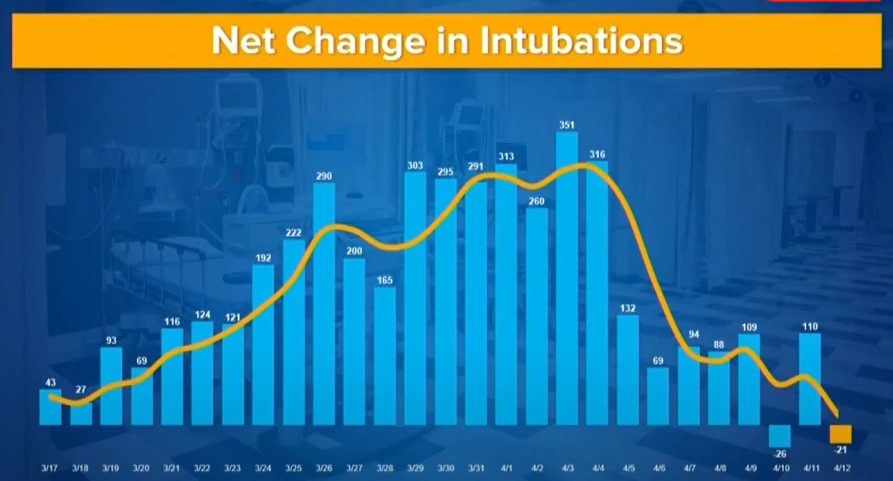 Cuomo added that the concept of dying on Easter – a "high holy day" for Catholics (and, indeed, Christians of all stripes) – made the number from yesterday, which was lower than the day before, bringing the 3-day average to the lowest since NY started publishing data.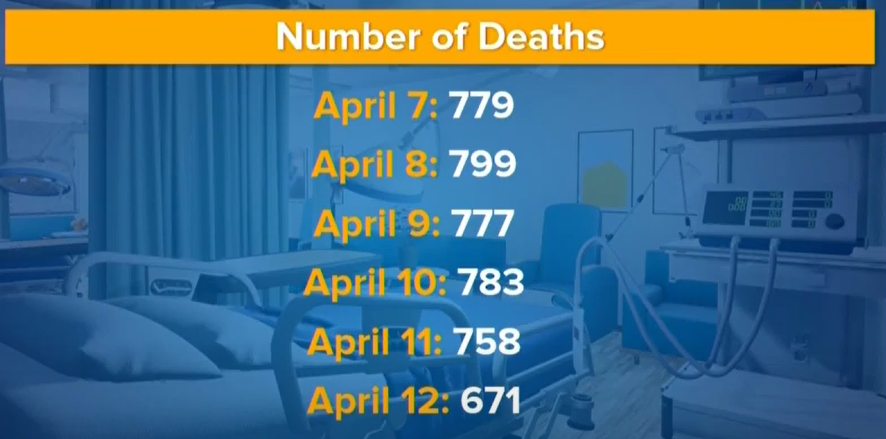 After 585 crewmen aboard the USS Theodore Roosevelt were infected with the virus, one of them died Monday of complications related to the disease, according to a statement from the Navy, released just weeks after the ship's commander was fired for trying to keep his people safe by begging his superiors to take more definitive action in a letter that eventually leaked.The name and other details about the sailor's identity haven't been released. He had tested positive on March 30 and was taken off the ship to "isolation housing" along with four other sailors. On April 9 – Thursday – he was found unresponsive during a medical check, and moved to ICU. He died Monday, per the NYT
* * *
Update (0940ET): ABC News' George Stephanopoulos revealed during Monday's episode of "Good Morning America" that he had tested positive for COVID-19 after his wife, Ali Wentworth, contracted the infection.
He said he is asymptomatic.
"I actually feel great," he said. "I've never had a fever, never had cough, never had shortness of breath, never had chills, any of the classic symptoms you've been reading about."
Stephanopoulos is an anchor at ABC News, and a former press secretary for the Clinton Administration.
* * *
Update (0940ET): Britain's Department of Health and Social Care has just released the latest round of figures, showing a slight drop in deaths after UK for two days in a row reported the most deaths for any country outside the US. 717 new deaths and 88,621 new positive tests emerged.
Department of Health and Social Care✔@DHSCgovuk
As of 9am 13 April, 367,667 tests have concluded, with 14,506 tests on 12 April.

290,720 people have been tested of which 88,621 tested positive.

As of 5pm on 12 April, of those hospitalised in the UK who tested positive for coronavirus, 11,329 have sadly died.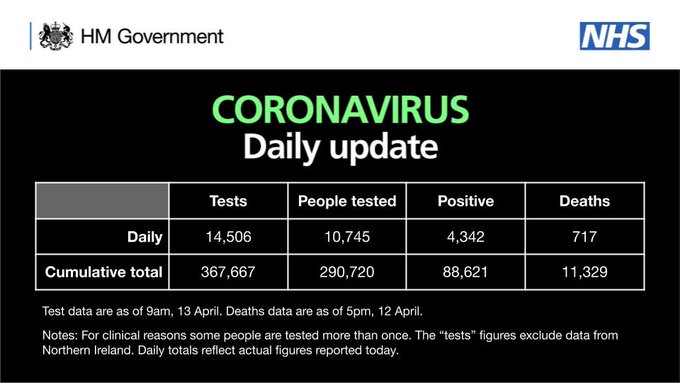 1,2508:38 AM – Apr 13, 2020Twitter Ads info and privacy1,181 people are talking about this
* * *
Update (0830ET): Iran reported 1,617 new COVID-19 cases and 111 new deaths, for a total of 73,303 cases and 4,585 deaths.
* * *
After reporting another promising slowdown in the rate of COVID-19-linked deaths yesterday, Spain reported only 517 deaths on Sunday, the lowest number since the country's lockdown began. Now, with much of Western Europe observing a holiday on Monday, the Spanish government is beginning the process of reopening in the economy, despite still being roughly around the 'peak of the curve'.
Spain wasn't the only embattled European country to report some encouraging progress on Sunday: Italy reported its lowest number of new deaths since March 19, as the number of people in intensive care continues to decline.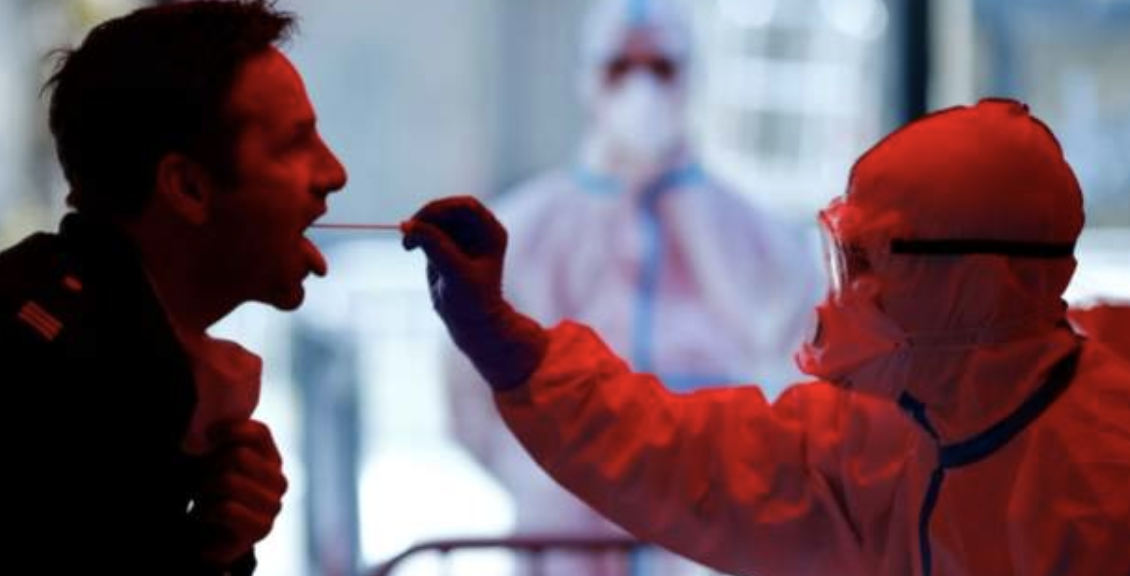 Yesterday was the first day in weeks that Spaniards were allowed to leave their homes and travel to see family for the Easter holiday. Now, on Monday, construction workers in Spain are returning to work after a two-week pause on their activities, though the government has warned that it could reimpose the lockdown if the spread starts to accelerate once again.
Globally, the number of confirmed infections rose by 72,523 on Sunday, the lowest number of additional cases in seven days. According to Johns Hopkins, roughly 1,859,011 have been confirmed worldwide as of Monday morning. Additionally, the daily death toll on Sunday also dropped to 5,417, as the rate of growth slowed to just 5%, its slowest rate since March 9. The US also saw a significant slowdown in deaths on Sunday, with just 1,528 Americans losing their lives. This is down sharply from a peak of more than 2,000 just two days earlier, and represents a daily growth rate of just 7%, the slowest since March.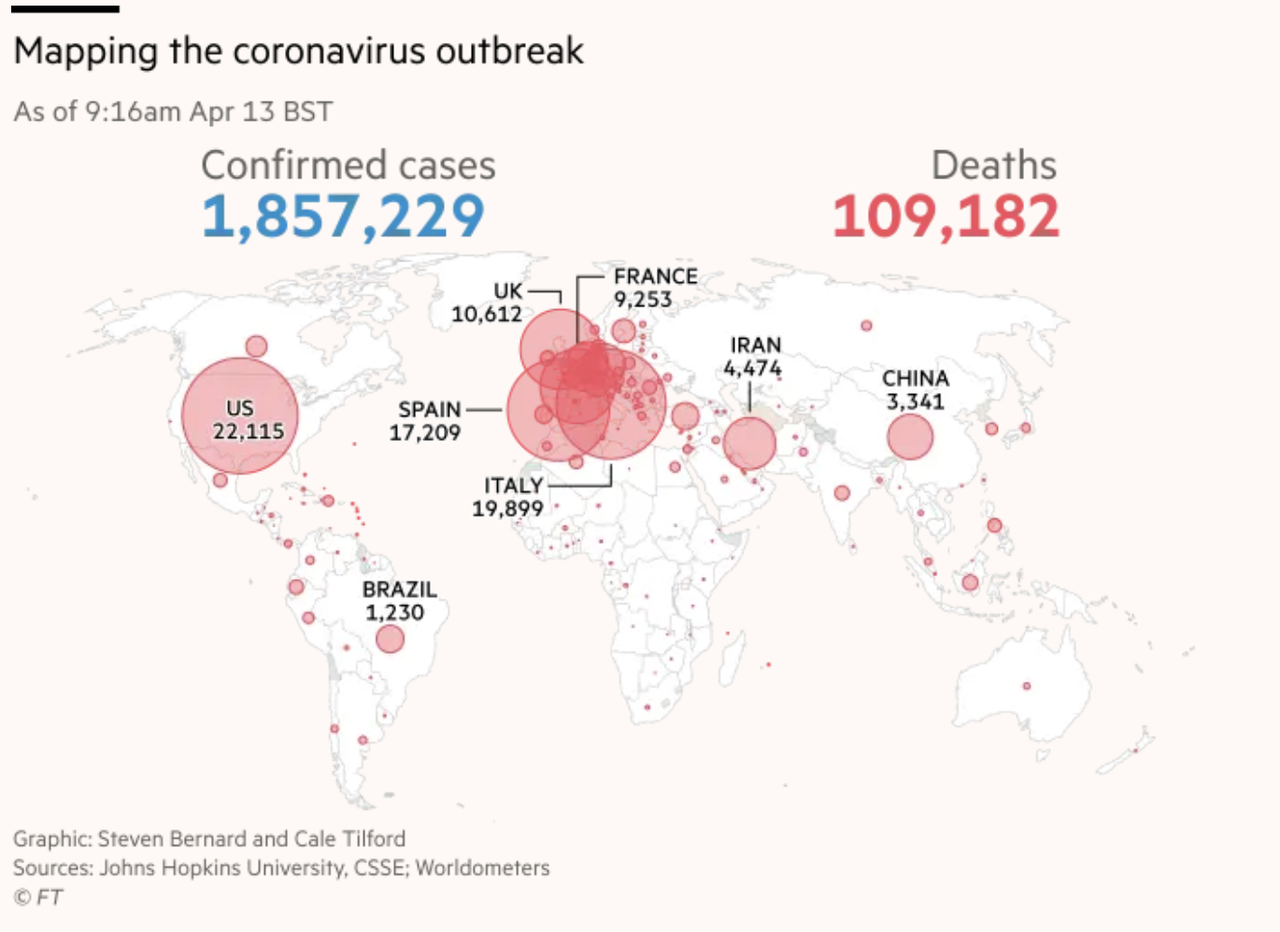 The FT
But more concerning, as the lockdown drags on in the US, are situations like the closure of the world's largest pork producing plant, which is owned by Smithfield Foods, and is situation in Sioux Falls, South Dakota. Slaughterhouse shutdowns are disrupting the supply of US food, and harshly undermine governors' assurances that the food supply is safe and consumers shouldn't hoard supplies. The plant was closed for a few days last week for a deep clean after several employees tested positive for the virus. But worries about the outbreak have prompted management to close the plant 'indefinitely'. That one plant supplies roughly 5% of America's pork.
Europe and the US weren't the only places to report slowdowns in new cases and deaths. Australia and New Zealand plan to keep coronavirus-inspired restrictions on movement in place despite the two countries reporting roughly 50 new cases combined over the weekend.
However, outbreaks in certain regions are only just beginning to accelerate.
As China abruptly ends a Gilead drug trial that had been hailed as 'extremely promising' just days ago, the Indian Council for Medical Research is stepping its own race for a cure after announcing plans for a clinical trial using plasma from recovered coronavirus patients to treat those who are still critically ill, as the country's caseload continues to rise steadily.
Last night, we reported that China reported its largest number of new cases in weeks, as Beijing's claimed that practically all of the 108 new cases involve foreigners or traveling Chinese nationals returning home ring particularly hollow when one considers that China has reduced the number of people crossing its borders by 90% as part of its efforts to contain the virus. According to Al Jazeera, Liu Haitao, an official with the National Immigration Administration, said the number of cases was still on the rise in the countries along China's borders, per Al Jazeera.
The world's wariness of China has continued to intensify, as EU competition regulator Margrethe Vestager urged EU member-states to prevent China from taking advantage of low valuations to launch takeovers of critical companies during an interview with the FT.
The BBC's Robin Brant had some more thoughts on China's 'imported' case problem.
Imported cases have been China's focus for several weeks now. It believes the main threat now to be people bringing the virus back to the country.

Most of these people are Chinese returning home. The arc of China's efforts to tackle, contain and end the outbreak went like this: local officials knew about an emerging outbreak but didn't act; the national government imposed a draconian lockdown of Wuhan; China imposed domestic travel restrictions but insisted that international travel to and from China should not be cut; the virus spread abroad; China believed it had successfully contained the outbreak then switched its focus to people bringing it back here from abroad.

Something like a cat and mouse chase has emerged – despite drastically reducing international flights into China, barring any direct arrivals into Beijing and insisting that passengers now undergo strict quarantine, people found a weak point.

The usually obscure land crossing between Russia and China in the northern province of Heilongjiang has seen a persistent cluster of travellers bringing the virus with them. New 'imported' cases there are almost all Chinese coming home. And they appear to be spreading it. The latest official figures reveal 10 new domestic cases, seven of which are in Heilongjiang, home to that land crossing.
After the total number of confirmed coronavirus cases in Russia doubled last week, Russia reported 2,558 new cases of the novel coronavirus on Monday, representing a 16% acceleration over the previous day, a record daily rise, bringing its overall nationwide tally to 18,328. 18 new deaths brought the death toll to 148. In a rare move, Vladimir Putin warned Monday that the outbreak is getting worse.
A former chief rabbi of Israel has died of COVID-19 – the highest profile death from the disease in Israel. The rabbi, Eliyahu Bakshi-Doron, 79, was chief rabbi of the Sephardi community, which includes Jews or their descendants from the Iberian Peninsula, North Africa and the Middle East, from 1993 to 2003.
In Ecuador, one of the worst-hit countries in South America, police removed almost 800 bodies in recent weeks from homes in Guayaquil, the epicenter of the country's coronavirus outbreak, which has completely overwhelmed its meager health system, per Al Jazeera.
And finally, the Washington Post reports that President Trump is likely to announce restrictions on US funding for the WHO later this week over its handling of the coronavirus pandemic and its persistent kowtowing to Beijing, which Trump argued has jeopardized global health.
This Pestilent Is Revealing to All What Many of Us Have Known for a Long Time: This Godless Nation Was Designed by the Un-Godly to Fail and so Its Failure Was Not Just Predictable but Inevitable
Source: HNewsWire CensoredNews ZeroHedge
StevieRay Hansen
Editor, HNewsWire.com
Watchmen does not confuse truth with consensus The Watchmen does not confuse God's word with the word of those in power…
All the official reassurances won't be worth a bucket of warm spit. The Globals are behind the CoronaVirus, It Is a Man-Made Bioweapon.
The Bill and Melinda Gates Foundation Have NOT Got The Memo Yet, "Pestilences" Has No Cure
The Coronavirus Was Most Certainly Produced by Crazy (Un-Godly) Men in Laboratories, WGO and CDC Knew All Along That the Coronavirus Was a Bioweapon, There're in Charge?
Well-known medical expert Bill Gates did an AMA on Reddit (transcribed here), in which he casually drops some chilling ideas into the conversation: Ummm, people of God! Am I late? Did I miss this? Did we see this already? Digital certificates to identify those who got the #Covid19 vaccines and TO DO BUSINESS?
Eventually we will have some digital certificates to show who has recovered or been tested recently or when we have a vaccine who has received it.
All in all, our freedoms are being swamped. Big corporations and states alike are setting boundaries on individual rights on a flimsy pretext.
Pharmaceuticals Home Made Pestilence Via Vaccines a.k.a Kill Shots: HNewsWire- Before arriving in San Francisco, the Ruby Princess, a Princess Cruises ship, reported a COVID-19…
Read More
We make every effort to acknowledge sources used in our news articles. In a few cases, the sources were lost due to a technological glitch. If you believe we have not given sufficient credit for your source material, please contact us, and we will be more than happy to link to your article.