Advisory: Be careful of what you read on social media. The algorithms used by these platforms have no regard for Biblical truth. They target your emotions to keep you engaged on their site so their advertisers can drop more ads. These platforms exist to enrich their stockholders. Consider God's promise to Believers in James 1:5, "If any of you lacks wisdom, you should ask God, who gives generously to all without finding fault, and it will be given to you."
Theorists" However Government Officials and MSM Are Now Openly Discussing the Very Same System…
Vaccine Passports And Health Passes: Is Showing Your "Papers" The "New Normal"
Life cannot return to normal until there is a vaccine for COVID 19.
At least, that is what governments, corporations, and their mainstream propaganda media outlets have been incessantly arguing. Interestingly, the development of that vaccine was "warp speed," allegedly at the behest of the Trump administration.
"Warp speed" also took place in other countries like the UK, where shots have been administered. This information has caused some to question whether the vaccine was ready long before the announcement was made or, indeed, before the pandemic ever began.
They tried to warn us about mandated vaccines
Years ago, "conspiracy theorists" were ridiculed for warning of a system in which vaccines would be required to access normal aspects of life. Today, however, government officials and MSM are now openly discussing the very same system.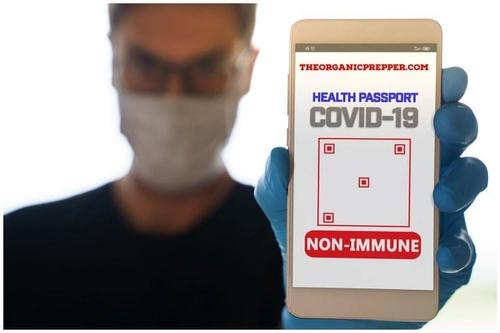 In case you have been living under a rock for the past several weeks, here are several instances where the "public discussion" has centered around the idea of a "vaccine passport" or "immunity passport" or the general blockade and sanctioning of anyone not willing to take the jab.
Chief Medical Officer of Health for Ontario Dr. David Williams recently stated that individuals who refuse the COVID-19 vaccination might "face some limits." Some of the "limits" he suggested included not being able to enter a hospital or nursing home without showing proof of having been vaccinated without personal protective equipment.
Welcome to the new normal: Vaccine Passports and Health Passes
For the moment, vaccine passports are mainly intended for international travel. However, their use can be extended to many other areas of life. Vaccine passports in the form of free mobile apps in which a traveler (or event goer, employee, or shopper) uploads their COVID-19 test results or vaccination status.
There are currently two existing vaccine passports options, one being operational in the United States right now.
Common Pass: Created by Commons Project, this health pass has been in international use since October on United and Cathay Pacific flights between New York, London, Singapore, and Hong Kong. Common Pass operates via Apple's Health app on iOS and CommonHealth for Android. It connects to 230 US health systems. It functions as a scannable QR code and can store a passenger's test or vaccine data and travel plans. (It is not yet publicly available for download.)
IATA Travel Pass: Expected to launch in early 2021, IATA Travel Pass, is currently under development by the International Transport Association. According to the IATA website, the digital pass for travelers is: A global and standardized solution to validate and authenticate all country regulations regarding COVID-19 passenger travel requirements.
Vaccination tickets: the future of concert and event-goers
Ticketmaster announced that it is exploring the possibility of requiring proof of vaccination for ticket purchases and entrance to events. An article published on Billboard stated:
Ticketmaster has been working on a framework for post-pandemic fan safety that uses smartphones to verify fans' vaccination status or whether they've tested negative for the coronavirus within a 24 to 72-hour window.
Many details of the plan, still in development, will rely on three separate components: the Ticketmaster digital ticket app, third party health information companies like CLEAR Health Pass or IBM's Digital Health Pass, and testing and vaccine providers like LabCorp and CVS Minute Clinic.
If the vaccination tickets are approved, how would it work?
The Billboard article gives further details about what people will have to do to attend concerts and other events.
After purchasing tickets, concert fans will have to provide proof of COVID-19 vaccination or test negative 24-72 hours before the event
Fans must have proof of vaccination or test results delivered to a health pass company, such as CLEAR or IBM
Health pass company verifies the attendee's COVID-19 status to Ticketmaster (Ticketmaster will not be granted access to fan's medical records)
Vaccinated fans or those with negative test results would be issued the credentials needed to access the event by Ticketmaster
Fans testing positive or who can not verify their status will not be granted access to any event.
Different states will have different requirements
The primary role of health pass companies will be to collect data from testing and medical providers and deliver status updates to partner companies. This would be done in a secure, encrypted way that complies with the Health Insurance Portability and Accountability Act (HIPAA).
For individuals financially privileged enough to afford to buy the ever-more expensive tickets from the Ticketmaster's monopoly, the world will have taken a giant step forward into the "new normal."
Airlines are quickly following suit
From CNN:Australia's national carrier Qantas will require future international travelers to provide proof of vaccination against Covid-19 before flying.
The airline's CEO Alan Joyce said in an interview with CNN affiliate Nine News on Monday that the move would be a "necessity" when coronavirus vaccines are readily available.
Joyce said the airline was looking at changing its terms and conditions to "ask people to have a vaccination before they get on the aircraft."

"Whether you need that domestically, we will have to see what happens with Covid-19 in the market. But certainly, for international visitors coming out and people leaving the country, we think that's a necessity," the Qantas chief said.
While Qantas is the first airline to indicate that Covid-19 vaccinations would be a must before travel, others may soon require this as well.
Whatever the "new normal" is for travel will quickly spill over into everyday life
Researchers suspect these new "passports" will quickly be extended to employment, education, and even buying food.
Judging by the behaviors of those around us, all of those concerns are entirely legitimate.
Virginia Plans Mandatory COVID-19 Vaccinations for All Residents, the Politicians Have Been Conditioning the Masses for Quite Some Time Now, You Will Obey. Once They Got the People to Submit to the Face Mask Bull Crap It Was Game Over…
As Friday's hospitalization numbers across the Sun Belt appear to confirm CDC head Dr. Robert Redfield's assertion that the American COVID-19 outbreak has peaked and is starting to fade, the State of Virginia is setting a new precedent by seriously discussing forcing Virginians to be vaccinated with whatever rushed-to-marked candidate the FDA approves first.
During an interview that aired on Friday, the state's health commissioner said he planned to invoke state law to make vaccinations mandatory – once a western product is available, presumably.
One "who with perversity in his heart continually devises evil." That is, he revels in the natural inclinations of he's own depravity (Jer. 17:9; Mark 7:21-22), and in his activities "spreads strife" among men.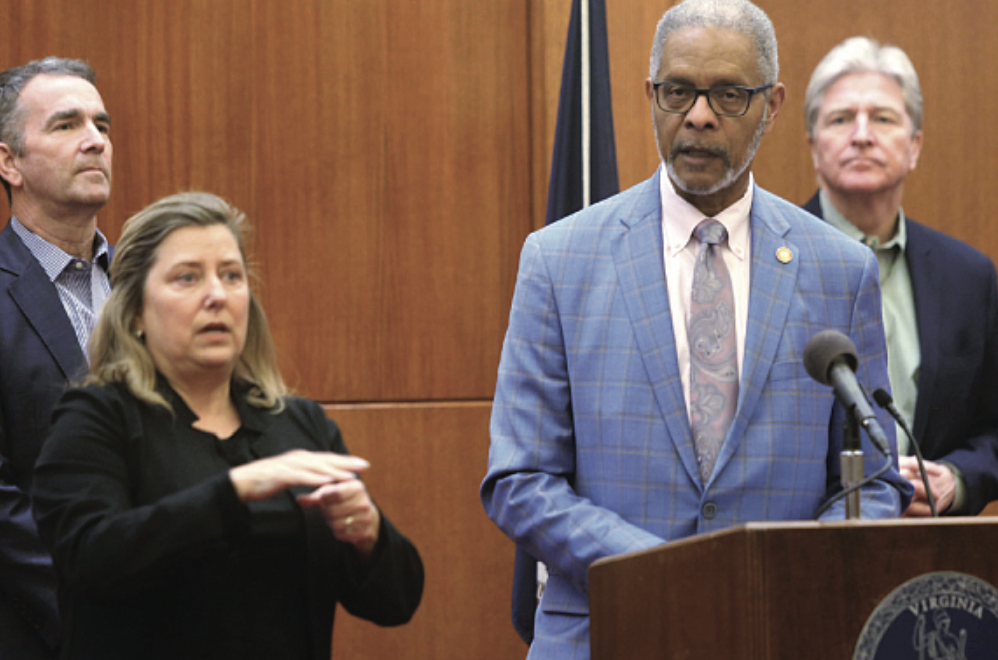 Here's more from ABC News 8:
State Health Commissioner Dr. Norman Oliver told 8News on Friday that he plans to mandate coronavirus vaccinations for Virginians once one is made available to the public.

Virginia state law gives the Commissioner of Health the authority to mandate immediate immunizations during a public health crisis if a vaccine is available. Health officials say an immunization could be released as early as 2021.

Dr. Oliver says that, as long as he is still the Health Commissioner, he intends to mandate the coronavirus vaccine.

"It is killing people now, we don't have a treatment for it and if we develop a vaccine that can prevent it from spreading in the community we will save hundreds and hundreds of lives," Oliver said.
Pro-medical-choice activists in the state argue that the issue is a matter of medical choice, and that the hasty "expedited" approval process being implemented by the FDA is grounds for concern. State health authorities insist, meanwhile, that they would never mandate a vaccine that hadn't already proven to be safe.
Virginia Freedom Keepers Director of Communications Kathleen Medaries, a mother of three from Chesterfield, says this is a matter of medical choice.This is not a Republican or Democrat issue. It's not a pro-vaccine or anti-vaccine issue," Medaries said. "For me, it's an issue of being able to assess each vaccine for myself and my family one at a time."

"He shouldn't be the one person to make a decision for all of Virginians,""Medaries responded.
The state's top medical official is opposed to a bill that has been put forth in the state assembly that would create more exemptions to the mandatory vaccination power, allowing exemptions on religious and other grounds.
Oliver believes that COVID-19 is a public health emergency that should take precedent over everything else, and that vaccine-assisted herd immunity is the state's best and only real defense.
The decision comes after Massachusetts said it would make the flu vaccine mandatory this year as part of a campaign to protect the state's medical system. We suspect Virginia and Massachusetts won't be the only states to discuss mandatory COVID and/or flu vaccination in the coming weeks, as the school year begins.
While Mainstream Media Continues to Push a False Narrative, Big Tech Keep the Truth From Coming out by Shadow Banning Conservatives, Christians, and Like-Minded People, Those Death Attributed to the Coronavirus Is a Result of Those Mentioned, They Truly Are Evil…
We are quickly reaching the end of reality, we have now entered a state of what God had promised, Hell On Earth (Tribulations)… Galatians 6:7 warns us what happens when we remove the authority of God from our values, our goals, and our laws: Society reaps what it sows as well…
The light went out in the church, and that's the reason the world got dark. Dark times were perpetrated by the "last one out, turn out the lights" "The church lights have gone OUT". What's so Hard to Understand, We Have Taking God out of Society, the End Result "Mayhem"
Denmark has passed an emergency law that allows the government to force people to take a vaccine for coronavirus.
The emergency law gives authorities sweeping powers to tackle the COVID-19 pandemic and will remain in force until March 2021.
Citizens who refuse to be tested for the coronavirus will face fines and potential prison time and will be prevented from entering shops, grocery stores, public institutions, and hospitals while also being restricted from using public transport.
"As well as enforcing quarantine measures, the law also allows the authorities to force people to be vaccinated, even though there is currently no vaccination for the virus," reports the Local.
Copenhagen University law professor Jens Elo Rytter said the new measures were "certainly the most extreme since the Second World War."
The initial draft of the law was even more draconian and would have allowed police to enter private homes without a warrant if there was a suspicion of coronavirus infection.
However, this measure was dropped after opposition from other parties in the Parliament.
Denmark currently has 875 recorded coronavirus cases and has registered 2 deaths. Paul Joseph Watson
Comin Tribulation
We live in a world marred by sin. Often, those who molest children have themselves been molested. They may have been hurt in some other way as well and choose to victimize children in an attempt to regain a sense of power or worthiness. Many times, sexual abuse is a misguided attempt to find intimacy. Whatever the emotional, familial, or psychological history of the molester, sexual abuse is evil.
You judges who corrupt God's laws, you so-called Supreme Court Justices who violate the people's faith conscience, times is short:
They perverted justice among themselves (v. 7): "You turn judgment to wormwood, that is, you make your administrations of justice bitter and nauseous, and highly displeasing both to God and man.'' That fruit has become a weed, a weed in the garden; as nothing is more venerable, nothing more valuable, than justice duly administered, so nothing is more hurtful, nothing more abominable, than designedly doing wrong under color and pretense of doing right. Corruptio optimi est pessima —The best, when corrupted, becomes the worst.
Source: HNewsWire ZeroHedge HNewsWire HNewsWire HNewsWire HNewsWire HNewsWire HNewsWire
StevieRay Hansen
Editor, HNewsWire.com
Watchmen does not confuse truth with consensus The Watchmen does not confuse God's word with the word of those in power…
We make every effort to acknowledge sources used in our news articles. In a few cases, the sources were lost due to a technological glitch. If you believe we have not given sufficient credit for your source material, please contact us, and we will be more than happy to link to your article.