Advisory: Be careful of what you read on social media. The algorithms used by these platforms have no regard for Biblical truth. They target your emotions to keep you engaged on their site so their advertisers can drop more ads. These platforms exist to enrich their stockholders. Consider God's promise to Believers in James 1:5, "If any of you lacks wisdom, you should ask God, who gives generously to all without finding fault, and it will be given to you."
Was Out of Control and That Authorities Were Covering up New COVID-19 Diagnoses There…
God warns that "a fourth of the earth" will die from the ride of the four horsemen of the Apocalypse—including by warfare, food shortages and disease epidemics (Revelation 6:7-8). This makes the current crisis look like a drop in the bucket compared to what is prophesied to come. To learn more about these four horsemen
Update: 2/8/21 Virus Outbreak Continues to Worsen in China's Harbin City as Mass Lockdowns Cause Anxiety
The situation is severe in Harbin city, the provincial capital of China's northeastern province Heilongjiang, which is one of the hardest-hit areas of the CCP virus pandemic in China. Local residents suspect that the government is covering up the real situation of the pandemic in the city, as extreme lockdown measures were applied to "low-risk areas," scores of private companies in the area have closed down, and prices for food have skyrocketed.
According to Chinese authorities, on Feb. 3 another infected COVID-19 case was confirmed in Hulan district of Harbin. At least 88 people were in close contact with the patient and at least 542 people were in close contact with the 88 people. All these people have been "isolated and controlled."
Currently, there are 11 regions designated as "high-risk" for COVID-19 spread, including seven in Heilongjiang and four in Harbin.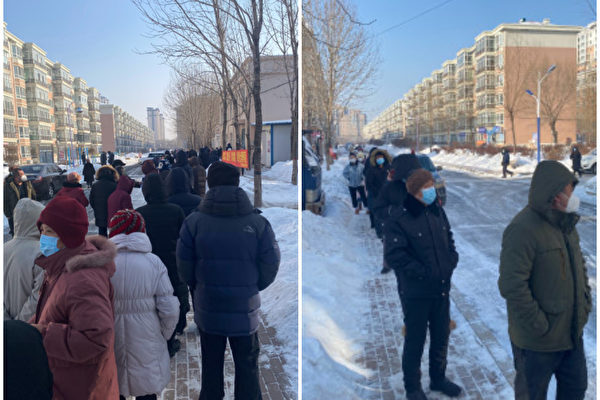 Mass Lockdowns
On Feb. 4, a number of residents in Harbin told The Epoch Times that the local epidemic situation was much more serious than the authorities reported. Many communities have been under lockdown for more than half a month, and residents cannot leave their apartment buildings.
Mr. Gao (alias), a resident of Building 3 in Changyuxinggangwan Yutian Community, Limin Street of the Limin Development Zone, said that there were two employees of Zhengda Foods living in the same building. After they were confirmed to be diagnosed with COVID-19, their building was sealed around Jan. 20, and no one has been allowed to leave the building since. Many people said they cannot bear the isolation much longer.
"Limin Street's risk level has been raised to 'high,' and the situation is much more serious than reported," Mr. Gao told The Epoch Times. "Infected cases are found in Limin every day."
Mr. Gao revealed that there were people infected in many communities around them, most of whom contracted the disease through the Zhengda food company. More than 80 positive cases were found in Zhengda a few days ago, which were not announced by the government, Gao said. Many people in the Limin Development Zone dare not open their businesses anymore. Now if people are found walking on the road, they are arrested immediately and put in isolation sites, he added.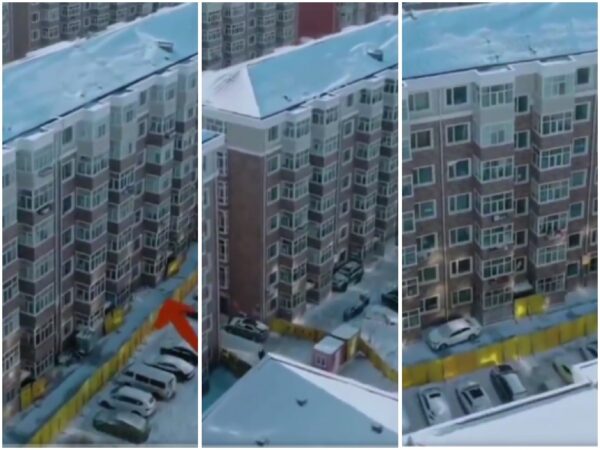 Harbin resident Mr. Yu told The Epoch Times that the epidemic situation in Harbin is very serious. The area he lives in has been under lockdown since Jan. 19, despite it being a low-risk area. The government does not tell or report anything, and he has been locked in without knowing the epidemic situation and what is going on. "An order came from above [in the government], then they've made a mess, sealing everyone inside their homes. Only one person in each household can go out every two days, and they have to be back in two hours."
Yu said that the restrictions are also implemented in other areas nearby. "A lot of communities are under strict lockdown now, and the restrictions are stricter in each community now than last year. One community whose residents are all civil servants has been closed off, and they can't get out. Since the civil servants are locked in their homes, the government is not operating."
Some residents also said that more and more resident buildings have been suddenly sealed off lately. They suspect the actual epidemic situation may be far more severe than announced by the officials.
Many Private Companies Closed, Food Prices Soar
Yu also said that prior to the lockdown, he went out and saw that many private companies were closed. "How long can this kind of lockdown and household closure last? It is very difficult to recover."
"In the Chinese New Year, it's time for everyone to go out to spend money and for the businesses to make money. Now everyone is locked in, and it will have a big impact on the lives of the people in the future," he added.
Another Harbin resident Ms. Zou told The Epoch Times that a dental hospital located on the first floor of her building was closed. "When it closes, there is no income, but they still have to pay the rent."
"Now the price of vegetables is also very expensive, green onions are more than 16 yuan ($2.5) per kilo, and in the store in the community, cabbage costs 8.4 yuan ($1.3) per kilo. I have never seen such high prices for vegetables! If the wages do not increase, and the vegetables are so expensive, how can ordinary people live?" she said.
She also revealed, "it costs money to get nucleic acid test reports back, despite the test being free. And those who are placed in isolation sites need to pay for their stay out of their own pocket, which is very expensive. Who can afford it!?" Source: theepochtimes
"The LORD will make the pestilence cling to you until He has consumed you from the land where you are entering to possess it, Australia, China "The LORD will smite you with consumption and with fever and with inflammation and with fiery heat and with the sword and with blight and with mildew, and they will pursue you until you perish.
Plagues are also a sign, along with hostility to Christians, that we are and have been in the End Times, as Jesus Himself says:
10 Then he said to them, "Nation will rise against nation, and kingdom against kingdom. 11 There will be great earthquakes, and in various places famines and pestilences. And there will be terrors and great signs from heaven. 12 But before all this they will lay their hands on you and persecute you, delivering you up to the synagogues and prisons, and you will be brought before kings and governors for my name's sake. 13 This will be your opportunity to bear witness. (Matthew 24)
And the Book of Revelation describes the judgments of the apocalypse in terms of pestilence and plagues:
7 When he opened the fourth seal, I heard the voice of the fourth living creature say, "Come!" 8 And I looked, and behold, a pale horse! And its rider's name was Death, and Hades followed him. And they were given authority over a fourth of the earth, to kill with sword and with famine and with pestilence and by wild beasts of the earth. (Rev. 6:7-8)

15 Then I saw another sign in heaven, great and amazing, seven angels with seven plagues, which are the last, for with them the wrath of God is finished. (Rev 15:15)
But, along with this terrifying judgment of the Law, we also see the Gospel expressed in an Intercessor who stands between us and the plagues.
Chinese authorities on Feb. 2 only announced new CCP (Chinese Communist Party) virus infections in Heilongjiang and Jilin provinces.
But an official in Beijing told the Chinese-language Epoch Times that the CCP virus outbreak in the capital was out of control and that authorities were covering up new COVID-19 diagnoses there.
In Harbin, capital of Heilongjiang, residents said the regime underreported the outbreak and they were worried about the situation due to the authorities' lack of transparency.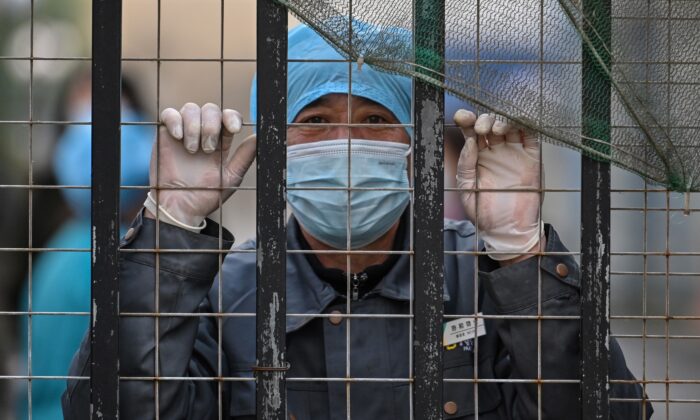 Meanwhile, Chinese cities began allowing people to travel for the Lunar New Year holiday, following a new policy issued by China's State Council. But citizens complained that it is still difficult to travel due to the different requirements enacted by local governments.
Underreporting
Wang is an official working in the Beijing government. She revealed that the real outbreak is worse than what the official announcements have described. "Xihongmen [township in Daxing] has an outbreak which started on Jan. 23. [As a result,] we have locked down the Xingguang community since day one."
Wang said that though the city government said on Feb. 1 that there was only one area, the Ronghui community, designated as a high-risk region for virus spread, and no medium-risk regions, there were in fact another five communities in Daxing district that were being treated as medium-risk regions.
In Harbin city of northeastern China, resident Wang Fang (pseudonym) said that the Rongyao Tiandi residential compound where she lives was fully locked down on the morning of Feb. 2, after a resident was diagnosed with COVID-19 on the day prior.
"We have about 1,700 families in our compound. They moved all residents from the first floor to the 30th floor of one building [to a quarantine center], and sealed off all the others, including my family," Wang Fang said.
The Harbin government didn't announce any virus cases from Rongyao Tiandi.
Harbin netizens posted scores of online videos in recent days, which showed newly sealed-off residential compounds in areas where authorities have not yet announced any infections.
Travel Ban
The Lunar New Year falls on Feb. 12, and is the most important festival in China. Schools have two to four weeks winter break around Lunar New Year, while companies and governments are issuing a seven-day public holiday from Feb. 11 to Feb. 17. People normally travel to reunite with their families.
But amid a resurgence in virus cases, the CCP Central Committee's General Office had issued a policy mandating citizens to stay in the areas where they live and not travel for the Lunar New Year.
Then, on Jan. 31, China's State Council did an about-face and encouraged people to travel for the Lunar New Year. Local governments were told to lift their travel bans. China analysts commented that the central government likely wanted to increase consumption and stimulate the economy.
In the past two days, Chinese people told the Chinese-language Epoch Times that their local governments allowed them to travel under certain conditions, but it was very difficult to get permission.
"Shijiazhuang [in northern China's Hebei Province] government asked us to present three certifications before leaving the city," Li Tong (pseudonym) said on Feb. 2. "But we couldn't get them all."
Shijiazhuang authorities announced on Jan. 30 that residents could leave the city with three certifications: a negative nucleic acid test result that was taken within seven days; a permission slip issued by the local community office; and a permission slip issued by the government authorities in one's destination.
Li is a postgraduate student at a university in Shijiazhuang. Her hometown is Wu'an in Hebei, a city that is located about 120 miles away from Shijiazhuang. She eagerly wants to return to her hometown.
"I always spend the New Year with my parents," Li said. "I'm alone and feel lonely in Shijiazhuang."
Li said the community office would not issue certification if she did not have a permission slip from the destination government. But the Wu'an government said it couldn't issue any certification because Hebei Province does not have such a policy.
Wang, the Beijing official, said that the city government allows people to leave, if they have a negative nucleic acid test result that was taken within three days and a leaving permit issued by the local community office.
Wang said, "Who dares to issue the leaving permit? The permit means the official can guarantee the resident won't get infected during the trip…Who can guarantee a person won't be infected? If this person is later diagnosed, you will lose your position." Source: theepochtimes
HNewsWire: Watchman Says Dr. Mandy Cohen, the New Director of the CDC, Is a Master Liar, Has Demonic Problems, and Indicates Satan Directs Her Thoughts…
Read More
We make every effort to acknowledge sources used in our news articles. In a few cases, the sources were lost due to a technological glitch. If you believe we have not given sufficient credit for your source material, please contact us, and we will be more than happy to link to your article.