Advisory: Be careful of what you read on social media. The algorithms used by these platforms have no regard for Biblical truth. They target your emotions to keep you engaged on their site so their advertisers can drop more ads. These platforms exist to enrich their stockholders. Consider God's promise to Believers in James 1:5, "If any of you lacks wisdom, you should ask God, who gives generously to all without finding fault, and it will be given to you."
(HNewsWire) On January 1, 2020, HNW Reported :
An Israeli biological warfare expert is linking China's deadly Wuhan virus to China's 'covert biological warfare' laboratory(s); It's believed that the Wuhan Institute of Virology is where the disease may have originated.
An Israeli biological warfare expert by the name of Dany Shoham, who is now with the Begin-Sadat Center for Strategic Studies at Bar Ilan University in Israel, believes that the deadly Wuhan virus is likely connected to one of China's covert biological warfare laboratories; in this case, the Wuhan Institute of Virology. While there is a lot of speculation at this point, there are several truths that validate his concern. Shoham stated, "Certain laboratories in the institute have probably been engaged, in terms of research and development, in Chinese biological weapons, at least collaterally, yet not as a principal facility of the Chinese BW alignment."
Fox News reports that COVID-19 originated in the Wuhan Institute of Virology and that "patient zero" was a lab employee who became infected before spreading it in the community – just as we have reported repeatedly over the past three months, in exchange for which Twitter's "appropriate content" arbiters de-platformed us without reason or explanation.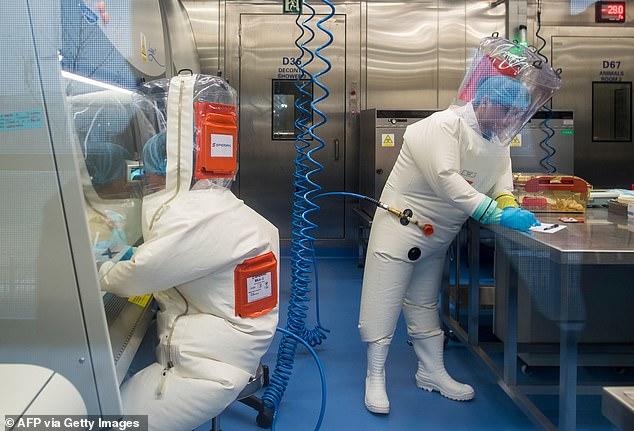 According to 'multiple sources who have been briefed on the details of early actions by China's government,' the initial transmission of the virus was bat-to-human, and that the 'official' story amplified by the MSM – namely that the virus originated at the Wuhan wet market – was a coverup by Chinese officials 'in order to deflect blame from the laboratory, along with the country's propaganda efforts targeting the U.S. and Italy,' reads the report.
In what may or may not be a bit of narrative shaping from 'official sources,' Fox reports that China's Wuhan laboratory was working with COVID-19 "not as a bioweapon, but as part of China's effort to demonstrate that its efforts to identify and combat viruses are equal to or greater than the capabilities of the United States."
UPDATE: US NIH Awarded Wuhan Lab that Studied Bat Coronavirus a $3.7 Million US Grant — AFTER WARNINGS ABOUT THEIR RISKY TESTS
https://thegatewaypundit.com/2020/04/revealed-national-institute-health-awarded-wuhan-lab-studied-bat-coronavirus-3-7-million-us-grant/?utm_source=Twitter&utm_medium=PostBottomSharingButtons&utm_campaign=websitesharingbuttons… via @gatewaypunditUPDATE: US NIH Awarded Wuhan Lab that Studied Bat Coronavirus a $3.7 Million US Grant — AFTER…As early as 2018 US State Department officials warned about safety risks at the Wuhan Institute of Virology lab on scientists conducting risky tests with the bat coronavirus. US officials made…thegatewaypundit.com
So – lab accident while trying to compete with America's capabilities appears to be the official story.
On Tuesday, the Washington Post reported that the US State Department received two cables from US Embassy officials in 2018 warning of inadequate safety at WIF, which was conducting 'risky studies' on bat coronaviruses, according to the Washington Post, which notes that the cables have "fueled discussions inside the U.S. government about whether this or another Wuhan lab was the source of the virus."
Responding to the report, Gen. Mark Milley, Chairman of the Joint Chiefs of Staff confirmed that the United States has taken a "keen interest" in the theory that COVID-19 originated at the Wuhan lab, but that "we don't know for certain."
save extra 10% on CyberLink Media Suite 15. Coupon Code: CMS10
On Tuesday, President Trump hinted that there was more to the story about the lab after a Fox News reporter asked him about the Wuhan Institute and whether the US had considered the possibility that the virus may have leaked.
Trump's response was extremely interesting, to say the least.
"More and more we're hearing the story…we are doing a very thorough examination of this horrible situation that happened."
As a follow-up, the reporter continued, "did you ever discuss with him concerns about lax safety protocols about that lab?"
Trump replied: "I don't want to talk about what I discussed with him about the laboratory. I just don't want to talk about it," Trump responded.
Trump on reporting that the coronavirus, while a naturally-occurring virus, came from a Wuhan laboratory:

"I don't want to say that … but I will tell you more and more we're hearing the story…we are doing a very thorough examination"

Fox News' report: https://t.co/dU7bU2qk05 pic.twitter.com/eks49IvbST— JM Rieger (@RiegerReport) April 15, 2020
China's suppression campaign
Meanwhile, Fox News also reports that China "100 percent" suppressed and altered data – destroying samples, scrubbing contaminated areas, and stifling academic articles.
There were doctors and journalists who were "disappeared" warning of the spread of the virus and its contagious nature and human to human transmission. China moved quickly to shut down travel domestically from Wuhan to the rest of China, but did not stop international flights from Wuhan.

Additionally, the sources tell Fox News the World Health Organization (WHO) was complicit from the beginning in helping China cover its tracks. -Fox News
And now a word from Brendan Carr, commissioner of the FCC to Twitter CEO, @Jack.
I'm old enough to remember when posting this would get you deplatformed.https://t.co/zfbqFHiyqe— Brendan Carr (@BrendanCarrFCC) April 15, 2020
And One Crazy Person,Completely Nuts
In Other News
Survival Fishing: How to Catch Fish When SHTF
Give a man a fish, you feed him for a day. Teach a man to fish and you feed him for a lifetime.
This Pestilent Is Revealing to All What Many of Us Have Known for a Long Time: This Godless Nation Was Designed by the Un-Godly to Fail and so Its Failure Was Not Just Predictable but Inevitable
This is exactly what Hitler did to Germany. He slowly took over their Constitution and enacted Marshall Law to "protect" the people.
Walter Veith & Martin Smith – Coronavirus, Noahide Laws, End Time
Source: HNewsWire CensoredNews ZeroHedge
StevieRay Hansen
Editor, HNewsWire.com
Watchmen does not confuse truth with consensus The Watchmen does not confuse God's word with the word of those in power…
American health care, as we call it today, and for all its high-tech miracles, has evolved into one of the most atrocious rackets the world has ever seen. By racket, I mean an enterprise organized explicitly to make money dishonestly.
All the official reassurances won't be worth a bucket of warm spit. The Globals are behind the CoronaVirus, It Is a Man-Made Bioweapon.
The Bill and Melinda Gates Foundation Have NOT Got The Memo Yet, "Pestilences" Has No Cure
The Coronavirus Was Most Certainly Produced by Crazy (Un-Godly) Men in Laboratories, WGO and CDC Knew All Along That the Coronavirus Was a Bioweapon, There're in Charge?
Well-known medical expert Bill Gates did an AMA on Reddit https://www.gatesnotes.com/Health/A-coronavirus-AMA?WT.mc_id=20200319223000_Coronavirus-AMA_BG-LI&WT.tsrc=BGLI&linkId=84658834 (transcribed here), in which he casually drops some chilling ideas into the conversation: Ummm, people of God! Am I late? Did I miss this? Did we see this already? Digital certificates to identify those who got the #Covid19 vaccines and TO DO BUSINESS?
Eventually, we will have some digital certificates to show who has recovered or been tested recently or when we have a vaccine who has received it.
All in all, our freedoms are being swamped. Big corporations and states alike are setting boundaries on individual rights on a flimsy pretext.
HNewsWire Live Stream 24/7 News UpDates and World Events Go Live HNewsWire: By Frank Bergman March 19, 2023 New York's Democrat Governor Kathy Hochul……...
Read More
We make every effort to acknowledge sources used in our news articles. In a few cases, the sources were lost due to a technological glitch. If you believe we have not given sufficient credit for your source material, please contact us, and we will be more than happy to link to your article.