Advisory: Be careful of what you read on social media. The algorithms used by these platforms have no regard for Biblical truth. They target your emotions to keep you engaged on their site so their advertisers can drop more ads. These platforms exist to enrich their stockholders. Consider God's promise to Believers in James 1:5, "If any of you lacks wisdom, you should ask God, who gives generously to all without finding fault, and it will be given to you."
Break the Spirit of People! Race War Coming, Martial Law, Hard Lockdown Imminent for Americans, This Is Exactly What the Elitist (New World Order) People Wanted, Evil, as We've Never Seen Before, Has Be Unleashed–Tribulations a Part of Reality Going Forward, Pray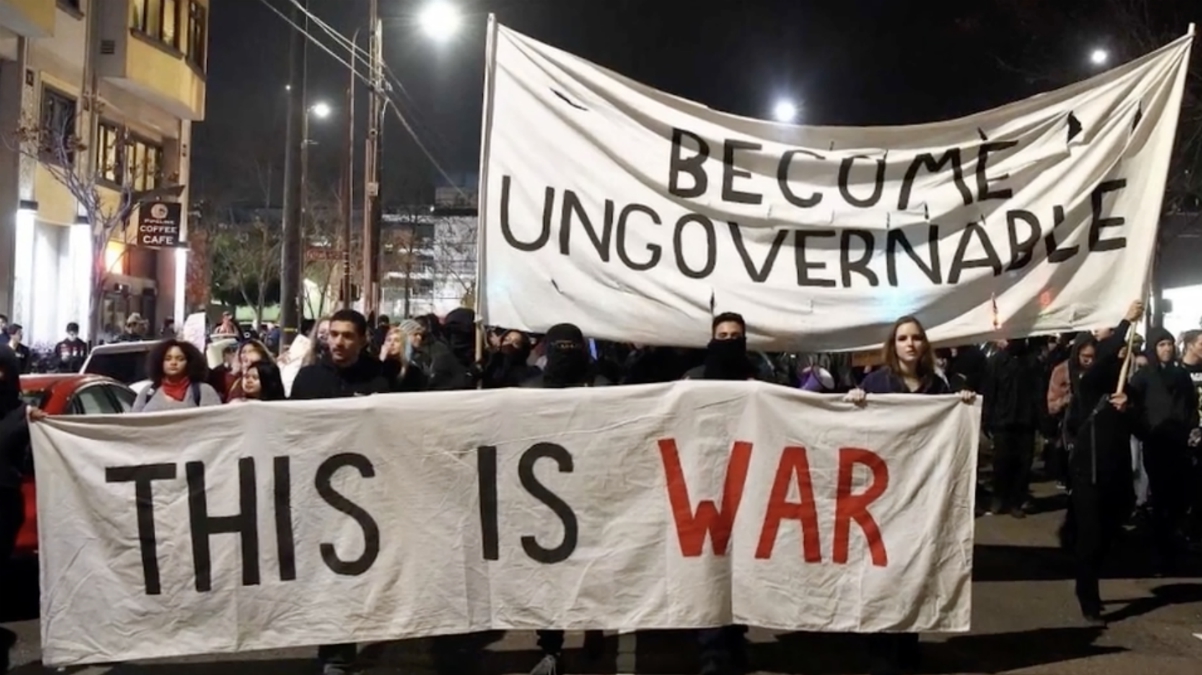 It is hard to understand why anyone would want an outbreak of racial violence. To do so, one must understand that our elites are unencumbered by any hint of Christian morality. Their only goals are to amass more money and power. All of the policies they support are aimed at achieving these goals.
The elites are globalists. While they may live in the US, they don't necessarily feel an attachment to this country or any other. Their monetary interests benefit from the free flow of capital and labor throughout the world. National borders are a hindrance. Therefore, the elites probably do not want a race war per se, but they would be more than willing to use it as a mechanism to prevent a healthy nationalism coming to power in the US.
The people responsible for instituting the policies that will lead us to a race war will not suffer once it begins. These individuals live in wealthy, homogenous neighborhoods with excellent security systems in their homes. They never take public transportation, and if they are important enough, they have chauffeurs who drive them to work. Their children almost always attend private schools. They will watch everything unfold on television from the safety of their own homes. Thus, they have little to lose and a lot to gain by setting off the powder keg of racial animus.
Racial tensions across the US between blacks and whites seem to be heating up. One could be forgiven for thinking that something pretty awful is brewing. Perhaps the fuse has well and truly been lit, and it is simply too late to stop this seemingly imminent juggernaut of a race war from exploding in white peoples' faces.
Will there really be a race war, or is this merely more of the same kind of Soros-style stir-up we've seen in the past? Or on the other hand, is it just more trumped-up media hype aimed at helping to facilitate the usual, good ol' divide and rule strategy?
The book of Amos has some very strong prophecies that every American should know about. In it, God condemns our nation for our sins and describes many punishments that will come upon us as a consequence. These include some curses that we have already seen to some degree, like drought in certain areas and flooding in others, and plagues on our food production. But there are also nation-destroying curses that have not yet happened, like nuclear fire devouring our cities!
Only deep repentance could prevent such a nightmare. But where do you see any indication of repentance in America today?
In Amos 7, the prophet writes, "Thus he shewed me: and behold, the Lord stood upon a wall made by a plumbline, with a plumbline in his hand. And the Lord said unto me, Amos, what seest thou? And I said, A plumbline. Then said the Lord, Behold, I will set a plumbline in the midst of my people Israel [in prophetic terms, that is referring to the modern-day descendants of ancient Israel, which includes America]: I will not again pass by them any more: And the high places of Isaac shall be desolate, and the sanctuaries of Israel shall be laid waste; and I will rise against the house of Jeroboam with the sword" (Amos 7:7-9).
A plumbline is a measuring instrument. What is God using it to measure, in this case? He is measuring destruction to come upon America!
Think about this. The coming destruction is spoken of in many Bible prophecies. But it will not be wild and indiscriminate. God is measuring it precisely and carefully in order to accomplish something specific and wonderful!
Whenever God punishes, He does so to correct people, to turn them away from sin! As He said through the Prophet Ezekiel, "As I live, saith the Lord God, I have no pleasure in the death of the wicked; but that the wicked turn from his way and live: turn ye, turn ye from your evil ways; for why will ye die, O house of Israel?" (Ezekiel 33:11).
We are living in the time frame of Amos's prophecy—and notice what God says there: "I will not again pass by them any more"! God has given many warnings over a period of many years, but America has ignored those warnings. So God says, This is the last warning. I'm not going to pass by again!
That shows you just how urgent these times are!
As my booklet Great Again points out, as well as my booklet America Under Attack, we have been living in the time of an end-time type of Antiochus, a leader who has done tremendous damage to the most powerful nation on Earth. Read these booklets to understand the spiritual dimension to the decline America has been suffering for the past eight years.
The Amos 7 prophecy indicates a different time—a period with a different man in charge: an end-time type of King Jeroboam. I believe the shift in administration is a transition into this time prophetically. This means America has very little time left—and you have very little time to respond to God's final warning!
Many Americans are troubled by the divisions and hatreds being expressed right now. But they need to be a lot more concerned than they are! The problems are going to get worse and worse until people get the message, and they learn why these disasters are happening!
Donald Trump's win is a prophetic sign of impending civil war and anarchy, followed by America's worst military defeat ever! But don't blame the politicians or the race-baiters or the professional rioters. This situation exists in America only because of the sins of the nation—of all Americans! We can no longer ignore what we have reaped by giving ourselves over to sin. This is a reckoning!
The good news, though, is that the destruction about to sweep over us is all for a purpose. It is precisely measured, and it is purposeful. It is preparing our people to come to know God!
Even the book of Amos, which contains a lot of bad news, concludes by showing the inspiring outcome. "'Behold, the days are coming,' says the Lord, 'When the plowman shall overtake the reaper, and the treader of grapes him who sows seed; the mountains shall drip with sweet wine, and all the hills shall flow with it. I will bring back the captives of My people Israel; they shall build the waste cities and inhabit them; they shall plant vineyards and drink wine from them; they shall also make gardens and eat fruit from them. I will plant them in their land, and no longer shall they be pulled up from the land I have given them,' says the Lord your God" (Amos 9:13-15; New King James Version).
There are dark days ahead—but never lose sight of why God is allowing it—and the inspiring conclusion!
The World Is In Big Trouble, for Those That Believe We Will Go Back to Some Sense of Normal Life Here on Earth, You Will Be Sadly Disappointed, Seven Years of Hell on Earth Which Began January 1, 2020
"Our courts oppose the righteous, and justice is nowhere to be found. Truth stumbles in the streets, and honesty has been outlawed" (Isa. 59:14, NLT)…We Turned Our Backs On GOD, Now We Have Been Left To Our Own Devices, Enjoy…
While Mainstream Media Continues to Push a False Narrative, Big Tech Has Keep the Truth From Coming out by Shadow Banning Conservatives, Christians, and Like-Minded People, Those Death Attributed to the Coronavirus Is a Result of Those Mentioned, They Truly Are Evil…
Source: HNewsWire ZeroHedge HNewsWire ZeroHedge
Do Not Post HNewsWire Articles on Parler, Gab, Face Book, Reddit, Gettr or Twatter Social Media Platform, We Are Not Comfortable With Their Anti-Christian — Anti-American Nazi Philosophy…Stevieray Hansen
StevieRay Hansen
Editor,
HNewsWire.com
[email protected]
Watchmen does not confuse truth with consensus The Watchmen does not confuse God's word with the word of those in power…
In police-state fashion, Big Tech took the list of accused (including this site), declared all those named guilty and promptly shadow-banned, de-platformed or de-monetized us all without coming clean about how they engineered the crushing of dissent, Now more than ever big Tech has exposed there hand engaging in devious underhanded tactics to make the sinister look saintly, one of Satan's greatest weapons happens to be deceit…
The accumulating death toll from Covid-19 can be seen minute-by-minute on cable news channels. But there's another death toll few seem to care much about: the number of poverty-related deaths being set in motion by deliberately plunging millions of Americans into poverty and despair.
American health care, as we call it today, and for all its high-tech miracles, has evolved into one of the most atrocious rackets the world has ever seen. By racket, I mean an enterprise organized explicitly to make money dishonestly.
All the official reassurances won't be worth a bucket of warm spit. The Global s are behind the Corona-virus, It Is a Man-Made Bio-weapon.
Dr. Hotez From The PITS of Hell… Dr. Death 'Scientists' As Hate Crime… Physicist Richard P. Feynman once said "Religion is a culture of faith; science is…
Read More
We make every effort to acknowledge sources used in our news articles. In a few cases, the sources were lost due to a technological glitch. If you believe we have not given sufficient credit for your source material, please contact us, and we will be more than happy to link to your article.