Advisory: Be careful of what you read on social media. The algorithms used by these platforms have no regard for Biblical truth. They target your emotions to keep you engaged on their site so their advertisers can drop more ads. These platforms exist to enrich their stockholders. Consider God's promise to Believers in James 1:5, "If any of you lacks wisdom, you should ask God, who gives generously to all without finding fault, and it will be given to you."
in "Detention Camp" "I Stressed in My Intervention That the Pandemic
( She Mean Plandemic) Is Not Over Until All People in the World Have Been Vaccinated…"
Warning: Satan Soldiers fight with raw hate, and a drive that cannot be fathomed by those who are merely play-acting at politics and terror. Tribulation Year Two…
It's been a little more than one year since the globalists have been reshaping our lives after the outbreak of COVID-19. Even with collapsing global infections and herd immunity that may be around the corner, elites are still desperately attempting to fearmonger people to justify additional rounds of stimulus and worldwide vaccinations as this 'crisis' is definitely not being wasted.
The latest fearmongering comes from German Chancellor Angela Merkel, who was quoted by Reuters on Friday after a meeting with G7 leaders. She said:
"I stressed in my intervention that the pandemic is not over until all people in the world have been vaccinated."
Merkel said the Biden administration has already improved international cooperation:
"The change of government in the United States of America, in particular, has strengthened multilateralism," she said.
Within the Biden administration, there's been consistent fearmongering from top officials despite the drastic improvement since the inauguration. That appears particularly evident with White House coronavirus advisor Dr. Anthony Fauci who gave a new prediction last week that the pandemic might not end until 2022. Fauci has also frightened Americans into "double-masking" for added protection against the infection.
On Tuesday, President Biden told Americans at a CNN Town Hall that some form of normality to life could be coming as soon as "Christmas."
But while Western leaders continue to put the fear of god into tens of millions of people, there appears to be some light at the end of the pandemic tunnel as soon as this spring.
Johns Hopkins surgeon, Dr. Marty Makary, penned an op-ed in the WSJ on Thursday, explaining how herd immunity could be observed by April.
"…the consistent and rapid decline in daily cases since Jan. 8 can be explained only by natural immunity. Behavior didn't suddenly improve over the holidays; Americans traveled more over Christmas than they had since March. Vaccines also don't explain the steep decline in January. Vaccination rates were low and they take weeks to kick in."
Taking a look at global COVID-19 cases daily change on a 7-day average, the worst of the pandemic might have peaked in January.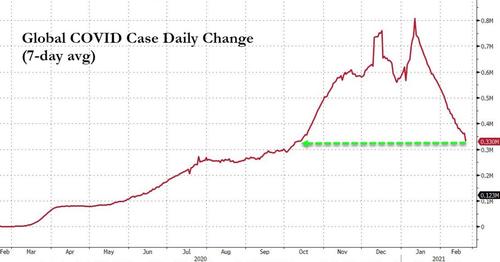 In the US, infections, hospitalizations, and deaths appear to have also topped last month and are utterly collapsing…
Critically, as we detailed previously, Makary explains the recent plunge in cases, hospitalizations, and deaths is not policy-related (no matter how much the politicians and their media lackeys push that narrative):
"…the consistent and rapid decline in daily cases since Jan. 8 can be explained only by natural immunity. Behavior didn't suddenly improve over the holidays; Americans traveled more over Christmas than they had since March. Vaccines also don't explain the steep decline in January. Vaccination rates were low and they take weeks to kick in."
While herd immunity could just be a few months away, Western leaders and their media outlets continue to push scary virus narratives – of course – there's a reason behind this madness – that is – not just to continue justifying reckless money printing but also continue to seize more power and control over the populace.
Some blue states in the US, who have been very strict with virus restrictions, are beginning to reject the Biden administration's latest set of measures as they ease draconian restrictions (like Florida did all along to no detriment) as residents finally start thinking for themselves, and in the case of California, demand the Governor's recall.
The worst of the scaremongering comes not just from Western leaders but billionaire vaccine pusher Bill Gates who advocates for lockdowns, masks, and social distancing well into 2022… and a complete "change to every aspect of the economy."
Merkel's comments – amid the 'science' showing the pandemic's collapse – merely serve to confirm there is a globalist agenda to fulfill. Their only way to complete it is through consistent fearmongering (new mutant, much more deadly and infectious variants).
As Time Goes on There Will Be a Lot of Politicians, Police Officers, Judges That Will Take Cover in Other Words They Are Going to Remain Neutral Out for Fear for Their Lives. You Are On Your Own, Prepare For The Worst, Pray for the Best –Tribulations Will Be Very Ugly
I Want Everyone to Know, Never Take Anyone's Word for the Gospel, Especially Revelations, Here's How It Works. When You're in the Word God Will Speak to You Through His Holy Spirit He Will Move You in the Direction He Wants You to Go. Please Stop Looking For That Individual Here on Earth That Has All the Answers, They're Not Here and That Confuse You.. That Includes Anything I Say, Always Test Every Spirit. Every Word That Is Uttered Out of Any Man's Mouth Must Be Verified Through the Holy Spirit… Stevieray Hansen
I Have Never Seen The Righteous Forsaken or Begging For Rain…
You forgot the long lines and empty shelves in Texas grocery stores.
Michael Allen@AllenciaMiguel·$3 gas, $500 insulin, no jobs, 2 masks, deadly vaccines and $20k electric bills.
Socialist justice utopia…
As a reminder, please do not post HNewsWire articles on Christian News Network, Now the End Begins, Shoebat, Parler, FakeBook, Reddit or Twatter social media platforms, We are not comfortable with their anti-Christian, anti-American, Nazi philosophy. ~Stevieray Hansen
StevieRay Hansen
Editor,
HNewsWire.com

Watchmen does not confuse truth with consensus. The Watchmen does not confuse God's word with the word of those in power…
In police-state fashion, Big Tech took the list of accused (including this site), declared all those named guilty and promptly shadow-banned, de-platformed or de-monetized us all without coming clean about how they engineered the crushing of dissent. Now more than ever, Big Tech has exposed their hand. They engage in devious underhanded tactics to make the sinister look saintly. One of Satan's greatest weapons happens to be deceit.
The accumulating death toll from Covid-19 can be seen minute-by-minute on cable news channels. But there's another death toll few seem to care much about: the number of poverty-related deaths being set in motion by deliberately plunging millions of Americans into poverty and despair.
American health care, as we call it today, for all its high-tech miracles, has evolved into one of the most atrocious rackets the world has ever seen. By racket, I mean an enterprise organized explicitly to make money dishonestly.
All the official reassurances won't be worth a bucket of warm spit. The Globalists are behind the Corona-virus. It Is a Man-Made Bio-weapon.
We make every effort to acknowledge sources used in our news articles. In a few cases, the sources were lost due to a technological glitch. If you believe we have not given sufficient credit for your source material, please contact us, and we will be more than happy to link to your article.